The latest looks and lines will hit the runway this week at New York Fashion Week. The H&M-backed fashion brand Ivyrevel plans to make a digital splash, using YouTube to unveil Coded Couture, a new technology that creates customised, unique dresses for each user.
Now that every street is a potential runway and every phone can snap 100 photos in an instant, fashion-forward consumers are always on the prowl for unique, show-stopping pieces. And in our user-first world, consumers expect not only great clothing, but also outfits made just for them.
Sweden's Ivyrevel, founded in 2013 as the world's first digital fashion house, believes this trend is more just than just a trend—it will be crucial to the future of fashion. The brand's simple yet ambitious goal? Help consumers find bespoke personalised clothing at reasonable prices.
Ivyrevel and its agency MediaMonks teamed up with Google ZOO to see what they could stitch together from the combination of fashion creativity and innovative user-first technology.
Contextual signals and seamless experiences are en vogue
Ivyrevel and Google ZOO came to the project knowing that a lot of the customisation tools now available can be intimidating or cumbersome to use. They set out to design an app that could consolidate each person's preferences while being very easy to use.
The beta version of the Ivyrevel Coded Couture app (not available publicly just yet) uses contextual signals to get to know each user—and then automatically generates pieces customised to them. Specifically, the app uses Google's Snapshot API within the Awareness API platform to passively monitor users' daily activity and lifestyles—with their permission, of course.
The app can detect things like whether the places people regularly go for dinner are low-key or more formal spots and what the weather is usually like where they live. Over the course of a week, these context signals are passed through an algorithm—and out comes a digitally tailored dress design.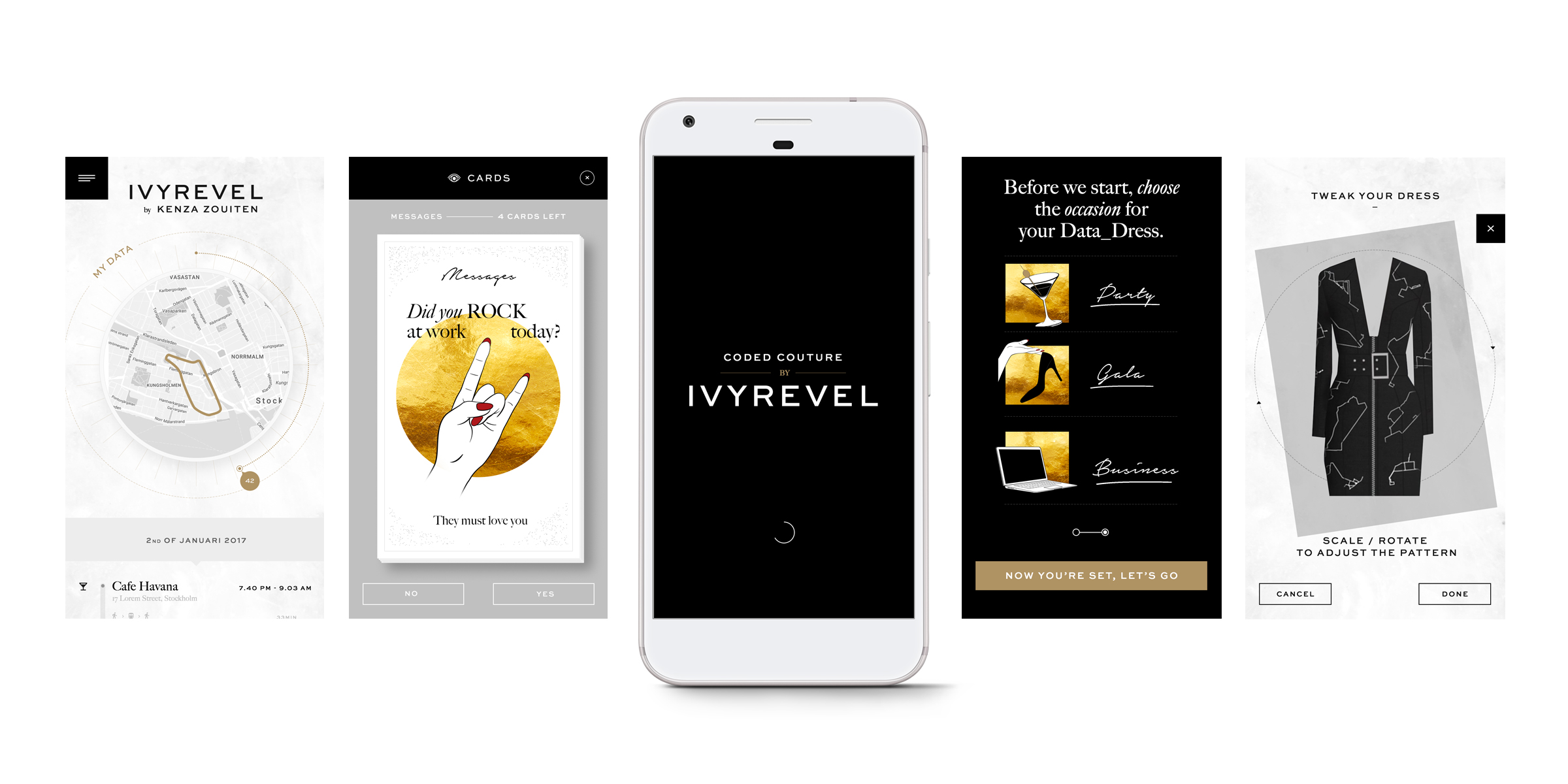 The "Data Dress" can then be purchased right then and there in the app. Seamless.
"It's such an exciting moment. We're about to change the fashion industry by bringing the customer's personality into the design process through data technology," said Aleksandar Subosic, cofounder of Ivyrevel. "To get a unique piece of clothing today, you need to either buy a custom-made design piece or design it yourself, but that is generally not an affordable option, and most people lack the design experience. The Data Dress enables women around the world to order a dress made entirely for them, one that reflects how they live their lives."
Making a statement with YouTube content
With this game-changing technology in place, Ivyrevel wants to get the word out among their core audience: women 20–24 who are very interested in fashion as a way to show off their personality. And for that, the brand turned to YouTube.
YouTube is an increasingly important platform in the fashion world, particularly for such fashion influencers as one of Ivyrevel's founders, Kenza Zouiten. Fashion-minded consumers flock to the platform to get fashion inspiration, keep up on the latest trends, and connect with their favorite YouTube creators.
Ivyrevel chose key influencers in six large European markets to test the technology and receive a personalised data dress. Zouiten and other fashion influencers including Angelica Blick, Janni Delėr, Julia Wulf, Shanti Joan Tan, and Iva Nikolina Juric had their whole adventure filmed. TrueView ads will allow viewers to follow along with the influencers' experiences using the app, from getting started all the way to unboxing and trying on the dress.
The brand created several different cuts of each film (short, long, with and without animation, etc.) to test on the platform and see what resonates with audiences. Each influencer will also share her dress creations on YouTube and other social platforms.
As Ivyrevel's Data Dress takes the fashion world by storm, the brand plans to continue innovating as well as create new and compelling content to reach engaged viewers on YouTube.