REMA 1000 is one of Norway's leading grocery retail brands, with a chain of over 500 stores nationwide. Committed to offering affordable quality, they operate in a value-driven market with tight margins, heavy competition, and price-aware customers. As part of their strategic plan to nurture long-term customer relationships, REMA 1000 decided they wanted to increase their focus on families with small children.
THE GOALS
Build awareness around the new Lev Vel brand among hard-to-reach target families with small children and soon-to-be parents
Influence families' consideration to switch to Lev Vel brand
Reach 30k baby packages orders online within the first year and drive families to stores
THE APPROACH
Employed YouTube as the main communications platform
Coordinated and supported YouTube campaigns with search and display to follow the customer along the online journey and ensure visibility at all stages of the decision-making cycle online
Ensured sufficient reach and facilitated dialogue with the target audience by smart use of frequency capping and remarketing
THE RESULTS
34.1% lift in brand awareness
27.8k baby packages orders within 3 months
One of REMA's most successful product launches
With family-oriented retail already being a crowded space, and with many popular consumer brands involved in exclusive deals, REMA 1000 ultimately decided that the right approach was to launch their own private label product line. The result of that decision is Lev Vel, a range of baby- and child-focused products built around three core attributes: value for money; environmental friendliness; and freedom from parabens, allergens and palm oil.
REMA 1000's launch strategy involved providing a free sample package containing 7 full size Lev Vel products, which customers could order online and collect in store. As much of Norwegian CPG marketing is focused on traditional media such as television and direct mail, REMA 1000 wondered if there was an opportunity for them to promote Lev Vel by acknowledging the shift in consumer behaviour towards digital media. "Consumer habits are changing," observes Marianne Lånkan Laurendz, REMA 1000's marketing director, "people watch less TV, and more and more of them stop unsolicited and unwanted mail, so reaching them is increasingly difficult."
While the team at REMA 1000 were aware that significant changes had taken place in consumer behaviour, they wanted more insight into the shift to online, and reached out to Google and to their media agency for assistance. As a result of the subsequent research and insight generation, REMA 1000 decided to try YouTube and other Google platforms, such as search and display, along with their traditional media mix.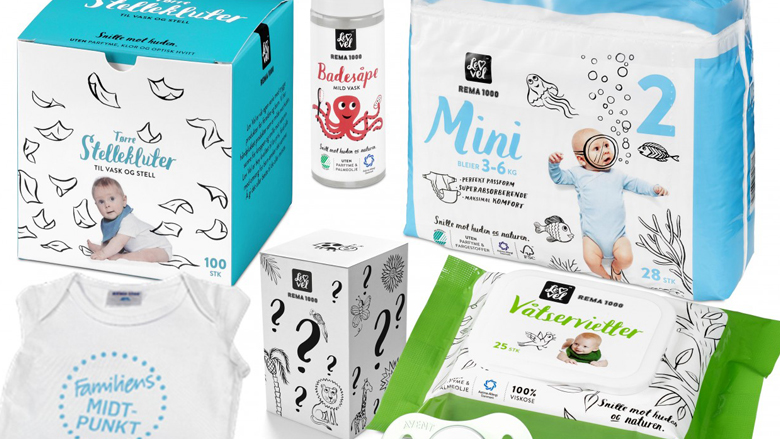 "We wanted to secure presence and visibility during all meaningful micro-moments for families," explains Tone Helene Angsund, Head of Performance, McCann. "Given that many of these micro-moments take place online, REMA decided to adopt a digital first strategy." Three short videos were produced specifically for YouTube, highlighting key product benefits in a succinct and engaging manner, with key branding and messaging displayed in the first five seconds to acknowledge that busy parents may well be among the most likely viewers to skip advertising.
The videos contained a range of interactive elements, including clear calls to action, and an associated website card that linked to the page where viewers could order their free trial package. In order to create a highly focused and engaging campaign, REMA 1000 took advantage of affinity targeting and in-market segments, and used frequency capping and remarketing to ensure that the audience were exposed to Lev Vel messaging at the right time and at the right pace. Running alongside the TrueView campaign, they also utilised supporting search and display campaigns, and undertook social activity with select bloggers and brand advocates.
The results of the campaign have been outstanding, almost reaching its first year target for sample package requests in only three months. After the launch, Lev Vel diapers increased their value share by 33.6% compared to other brands sold by REMA 1000, becoming the third biggest diaper brand in Norway for the period of the campaign. In fact, across the baby and childcare category, Lev Vel became REMA 1000's leading brand, with some products taking away as much as 61% share from the previous top seller. The campaign also outperformed its audience targets, with a 30% lift in website traffic, over 1.5m views on YouTube, and a 34.1% lift in brand awareness. In total, the watch-time for the three 16 second ads amounted to almost three-quarters of a year, with view-through rates of 25% and 35% for retargeted users.
By launching Lev Vel into a highly competitive marketplace, REMA 1000 took a big risk, but thanks to a combination of agile campaign strategy and strong partnerships, the risk has really paid off. According to Marianne Lånkan Laurendz, the campaign and product launch is now regarded as "one of the most successful in REMA 1000's history, all due to tight collaboration between us, our agency McCann, and Google!"