A huge opportunity exists for marketers to drive offline sales more efficiently by optimising their media mix. Research shows that the ROI for YouTube campaigns is higher than that of TV when measured at current spend levels.
Marketers face a huge challenge in being able to keep pace with changing consumer behaviour and media consumption. As consumers increasingly turn to digital, marketers are faced with the issue of how to best optimise budgets across channels and understand the role digital media can play in brand-building and driving long term sales. Marketers and agencies need robust metrics to demonstrate effectiveness and help them make the right decision on how best to allocate their ad spend.
New data is now available that shows how online video contributes to offline sales and proves that it should play a bigger part in the media mix.
A meta-analysis1 of 56 case studies across eight countries shows that advertising on YouTube delivered a higher Return On Investment than TV in nearly 80% of cases. The research was carried out with a range of partners including BrandScience, Data2Decisions, GfK, Kantar Worldpanel, MarketingScan and MarketShare and used a variety of robust methodologies to understand the correlation between media exposure and offline sales.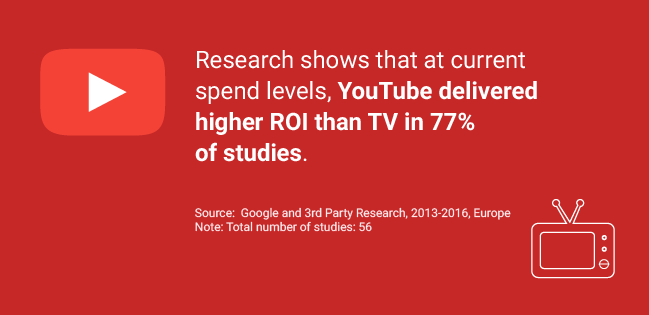 Lucien van der Hoeven, General Manager EMEA at MarketShare, a Neustar Solution, said: "We at MarketShare were proud to contribute our analytics to this major data study, addressing one of the most pressing marketing issues of our day.
"We found [in our projects] that while TV maintains a powerful impact in the digital age, digital video is under-invested in several categories we measured in the UK, France and Germany. In every case it was key to understand not only how each medium performed on its own but, most importantly, how to orchestrate the optimal combination of various media channels for maximum impact."
Sally Dickerson, Global Director of BrandScience, added: "We find online video to be particularly effective, short term and medium term, versus other online tactics, and always an enhancer of "total video" ROI. Where we have been able to drill down further and isolate the impact of YouTube versus other online video, we find YouTube to be more effective in ROI terms, for both online and offline purchased products"
Specific examples from the meta study illustrate key findings
Mars UK ran a Snickers campaign in summer 2015. The campaign tested the mix of TV and online video activity in order to see whether the media plan across channels and devices was optimised to maximise in-store sales. The results showed that YouTube delivered more than double the ROI of TV for each pound spent reaching the main shopper.2
Danone's French campaign for Danette desserts saw an ROI two to three times higher for YouTube than TV for every Euro spent with 7% of the sales attributable to the online video activity. The brand noted that YouTube particularly increased sales among light purchasers of Danette, accounting for 66% of sales within this segment.3
These are just some of the stats showing that marketers are under-investing in YouTube and so failing to maximise sales. Marc Zander, UK/Global Media Director for Mars Chocolate, said: "This test2 highlights the importance of YouTube as a medium as part of our overall media strategy. YouTube clearly has a role to play in our ongoing media plans in addition to TV."
Marie Mathieu, Mediacom Connection Planner in charge of Danone, added: "This study3 really strengthens our global approach to optimise video communications to complement our TV communications."
Maximise Sales By Optimising The Media Mix
As part of the meta study1, a forecast was created for 17 of the campaigns to demonstrate how shifting a portion of media spend into online video would improve the efficiency of the media mix. In more than 80% of these cases, the 'recommend to spend' on YouTube was more than double that of historic levels to optimise the media mix.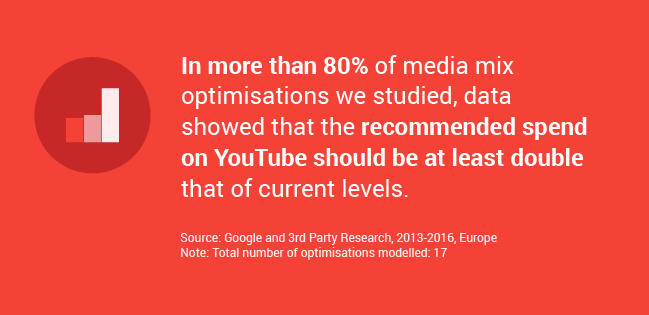 The forecast for Diageo's Guinness UK campaign illustrates this point – the brewer's optimised media mix to achieve maximum ROI included a fourfold increase in planned YouTube investment.4
Paul Dyson, Founder of Data2Decisions said: "We have been modelling online video for clients throughout the past 5 years and our experience consistently finds higher ROIs from online video compared to TV. So it was no surprise to see this repeated in the studies we conducted with Google. We used traditional industry accepted MMM techniques but supplemented these with our own Ecosystem Modelling approach allowing us to separate out YouTube from other online video platforms. This produced the same findings we have found in the past – higher YouTube ROIs with optimisations across a range of clients suggesting spend should be 2 - 6x higher."
Data Will Drive Success
In a fast-changing market, the opportunity for media planners and marketers to gain competitive advantage is huge. They will need access to data and the ability to take action quickly. For the first time, Google can provide advertising spend data across channels such as display, search and YouTube ad formats to input into media mix models. The opportunity moving forward will be to integrate this data into planning processes and move quickly to take action based on the results.
Key Takeaways
Research shows YouTube drives higher ROI than TV at current spend levels.
Increasing spend on YouTube can better optimise the media mix.
Google can supply richer and deeper data to plug into an advertiser's media mix modelling tools for increased transparency into YouTube ROI.