With only 6% of Finnkino's media mix, YouTube and Google Search drove 15% of total sales for Paramount films with the strongest ROI of any media.
Goals
Drive incremental ticket sales for Paramount films
Find cost-efficient ways to reach the right audience
Evaluate marketing channels and optimise media mix
Approach
Used econometric modelling to find out which factors drive Paramount movie ticket sales
Evaluated the impact of media on driving sales effectively and efficiently
Quantified ticket sales by marketing media across channels, including YouTube, paid Google Search and other online video
Took into account external factors such as economic situations, seasonality and weather
Calculated return on media investment by media and channel
Results
YouTube and paid Google Search made up only 6% of the media mix, yet generated 15% of total sales
YouTube delivered the strongest return on investment in the mix: 9.1X better than TV and 4.4X better than other video
Paid Google Search had the second highest return on investment in the mix: 5.1X better than TV
Google Search on desktop was 5X more efficient than on mobile and tablet
Overall, total Google media had the highest return on investment of all publishers
During 2015, Finns went to the movies 8.8 million times. Of these visits, two-thirds (5.9 million) were to a Finnkino cinema. "Advertising with AV formats online is growing fast," says Mika Nieminen, Head of Theatrical Distribution for Finnkino Theatrical Distribution. "Being in the film industry, naturally it's crucial that our campaigns effectively impact our local audiences and drive ticket sales." 
This is easier said than done in an industry increasingly affected by changing consumer behaviour through the rapid rise of on-demand home entertainment services. Despite the challenging competitive landscape, Finnkino were able to grow sales by 38% in 2015 thanks to increasing the role of digital media in the marketing mix.  
With 23 Paramount Pictures films distributed by Finnkino between 2013 and 2016, both organisations were keen to know more about the impact of various media channels on driving movie ticket sales. They tasked Finland's largest marketing agency and Google Marketing Mix Model Partner Dagmar to take a deep dive into the performance of each element of the media mix in promoting Paramount films. Dagmar used econometric modelling to take into account all online and offline media.
Proving the power of digital
The study found that compared to TV, YouTube accounted for approximately 8% of the spend but was estimated to drive approximately 73% of incremental sales. In other words, at current investment levels YouTube delivered 9X better return on investment than TV. This was the first time both Paramount Pictures and Finnkino saw YouTube's impact in terms of the overall media strategy relative to the small investment in the mix.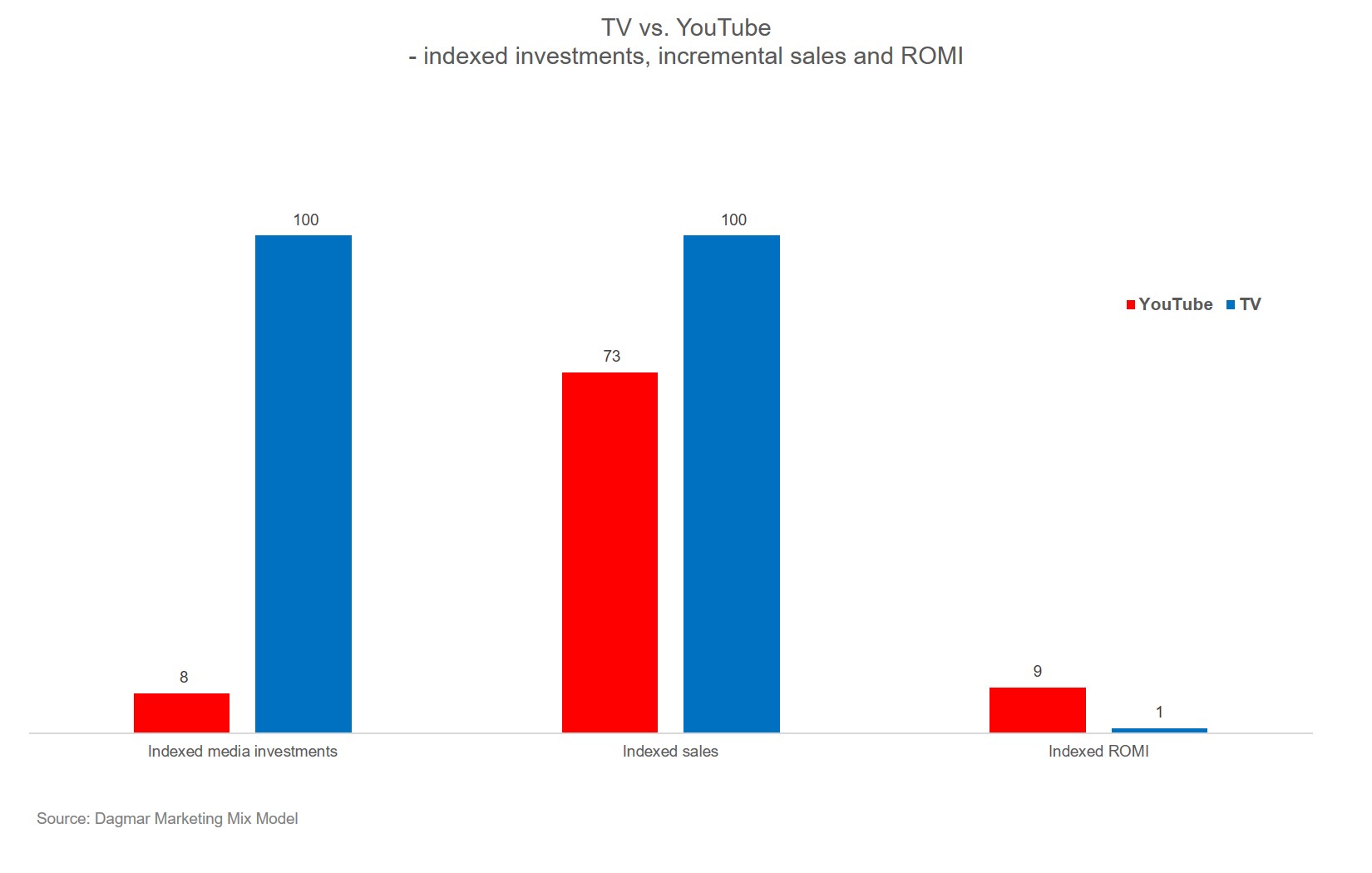 "Advertising with online AV formats is growing fast. Being in the film industry, naturally it's crucial that our campaigns effectively impact our local audiences and drive ticket sales. YouTube played a large role here for us, and we are continuing looking for ways to leverage the attentive audience on the platform to drive sales for future campaigns."
– Mika Nieminen, Head of Theatrical Distribution, Finnkino
Paid Google Search was estimated to be the second most efficient media in the study. Compared to TV, search accounted for approximately 4% of the spend but was estimated to drive just short of a third of the sales driven by TV. This high level of efficiency resulted in a return on investment approximately 6X higher than TV.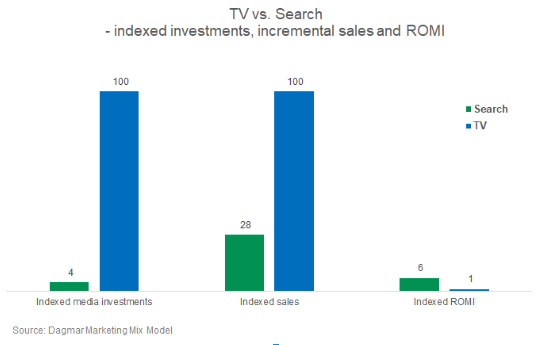 Looking across the broader media mix, the model revealed digital's very strong performance at current investment levels. In general, digital media (led by YouTube) demonstrated a relatively high proportion of sales compared to the proportion of invested media spend. This "fair share" perspective is illustrated below.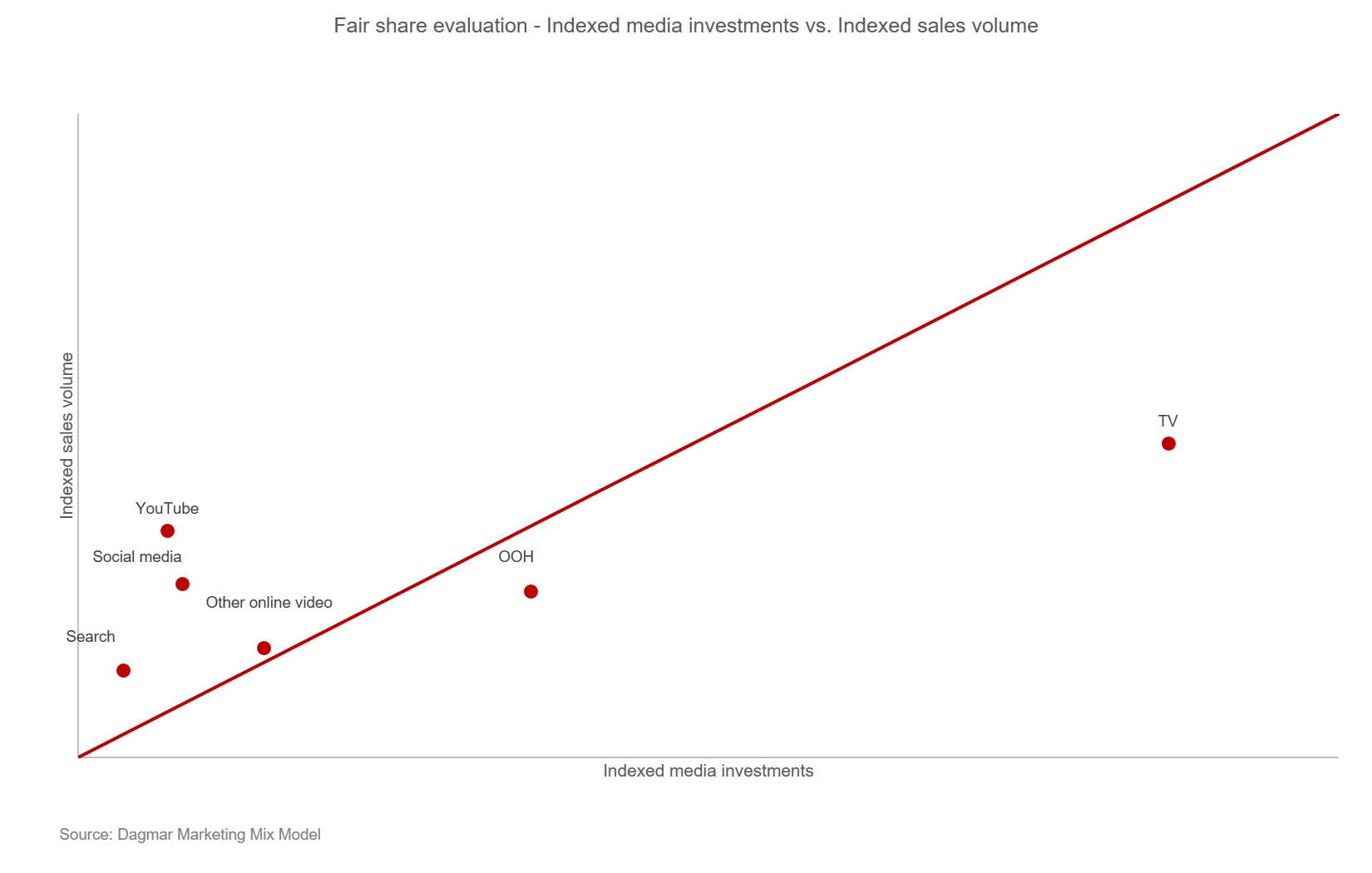 Dagmar's modelling also revealed the impact of paid Google Search on desktop, which drove 10X more incremental ticket sales than mobile or tablet. "In general, Google's media channels are cost efficient compared to other channels", explains Ilkka Keskiväli, Senior Data Scientist for Dagmar. "In particular, SEM is a really effective media to bring people to web pages and drive sales."
A starring role for YouTube
The study found that there were no significant differences in efficiency between device types for YouTube in-stream skippable TrueView videos. To ensure relevant ad content being shown to the right people, Dagmar actively leveraged Google's audience data to reach genre-specific affinities on YouTube such as comedy or horror movie fans. Based on the study results, tapping into the platform's attentive audience was the winning formula and resulted in a high-impact YouTube marketing strategy that delivered the most cost efficient media of all.
Having seen the high volume of incremental sales efficiently driven by Google platforms, Mika believes Finnkino is going in the right direction by adding more YouTube and Google Search to their media mix to reach more moviegoers in Finland. "Our media mix will strive to be more optimised in the future", she says "The role of YouTube continues as a pivotal media channel for us, driving admissions efficiently by increasing rich data and understanding the audience better. With close cooperation with YouTube, we can crack our local code and further increase the return on investment."
About Finnkino, Founded in 1986, Finnkino Oy is the biggest cinema chain in Finland with 14 cinemas in 11 cities and a total of 102 screens. In 2016, nearly 6 million viewers visited Finnkino theaters. Finnkino is also a distributor of films, including those by Paramount evaluated in this study.  
Dagmar is Finland's largest marketing agency by billings, gross profit and personnel.Dagmar's extensive range of expert marketing services supports clients in analytics, business development, planning inspiring content, understanding digital channels and effective project management.
"The results reflect that YouTube drove sales effectively. Our media mix will strive to be more optimised in the future, and YouTube and Google SEM will continue to be part of our digital marketing campaigns."
– Mika Nieminen, Head of Theatrical Distribution, Finnkino