Analysis of Mars' mixed media campaign for Snickers reveals that YouTube delivers a better ROI than TV
During summer 2015, Snickers joined forces with Mr Bean for the ultimate 'You're Not You When You're Hungry' moment in a spoof martial arts adventure. The campaign from Mars UK tested the mix of TV and online video activity in order to see whether the media plan across channels and devices was optimised to maximise in-store sales.
Shopper research expert Kantar Worldpanel (KWP) measured the correlation between sales and media activity for the campaign and their analysis provided two key learnings for Mars:
i) YouTube ads drove in-store Snickers sales.
ii) Investing in a higher frequency of YouTube ads per viewer would probably result in greater ROI.
For the study, KWP applied its Consumer Mix Modelling tool to data sourced from a 17,000 strong panel of UK households. Research recorded the purchases of Snickers made by the main shopper and at the same time measured the shopper's exposure to different media.
The Results
The overall campaign reached over 20m people. On a like-for-like basis, for these impressions YouTube was the more effective advertising channel than TV for Snickers and delivered more than double the ROI of TV for each pound spent on reaching the main shopper.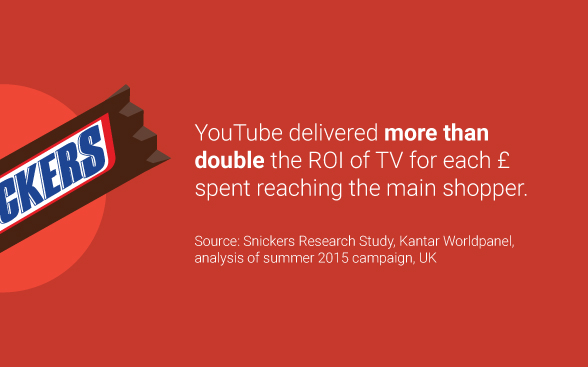 There was a low frequency cap set for YouTube ads and modelling suggests that raising this cap would help to optimise the performance of the media mix.
The findings also show that YouTube was the better channel for reaching younger families.
"This test highlights the importance of YouTube as a medium as part of our overall media strategy. YouTube clearly has a role to play in our ongoing media plans in addition to TV"
- Marc Zander, UK/Global Media Director for Mars Chocolate
The Snickers results form part of a Meta Study that analysed 56 case studies carried out across eight European countries. In 77% of the studies YouTube delivered a higher ROI than TV.
Summary
The Client: Mars UK
The Product: Snickers
The Goal: Better understand the correlation between media activity and sales
The Strategy: Analysis of summer 2015 campaign by Kantar Worldpanel
The Insight: For each pound spent YouTube delivered an ROI over 2 times higher than TV