Gone are the days when YouTube was the domain of cat videos and slapstick. YouTube is moving the world, and that includes the Nordics. With that in mind, those at the forefront of digital marketing were invited into 'YouTube's living room'.
Guests from media agencies, creative agencies and the advertising world joined the event in Stockholm, which aimed to showcase the best in what YouTube has to offer - and why it's proved a success for creatives, vloggers and brands.
There has been a significant rise in people watching YouTube in their living rooms, whether it be via their internet connected TV or console, or even just watching with their smartphone on the sofa, so it was fitting that the theme was 'At Home with YouTube'.
Sweden has taken YouTube to its heart with 38% of the population watching YouTube daily. There is a thriving creator community, with a large number of advertisers using the platforms in their media mix, so there is a lot of interest in the latest trends, research and best cases from the platform.
YouTube: Where The World Chooses To Watch
Hamish Priest, Head of YouTube's EMEA B2B Marketing held the evening's keynote. The theme was how lines are blurring between traditional TV and online video, creating new content opportunities in both areas. One good example is the hugely popular 'Carpool Karaoke' by The Late Late Show host James Corden.
Ben Winston, the Executive Producer of The Late Late Show, recently commented revealed that YouTube views are more relevant than TV ratings. In fact, they rely so heavily on YouTube as a driver for growth that when he gets up in the morning, the first thing he he checks is not the TV ratings, it's the YouTube views. He explains: "The overnights just tell us who managed to stay awake. The YouTube hits tell us which bits flew."
Hamish also flagged how important it is to focus not only on the reach of YouTube but also on making the most of attention and engagement when creating for the platform. Two great creative cases that came from Swedish agencies include IKEA and Volvo Cars.
The beauty of YouTube is that we get to adapt our craft to suit consumer behaviour and media of today. VOLVO have captured this with their 'Made by People' advert, as well as their campaigns with Swedish footballer Zlatan Ibrahmić.
IKEA created a series of 10 different 15 minute episodes that ran on the IKEA Sweden YouTube channel, focusing on high quality drama centered around the kitchen. Instead of just seeing this as great content on their web- and YouTube channels they chose to distribute each episode on YouTube with TrueView advertising, reaching over 500,000 views per week - that's about 5% of the population! Is this content or advertising? Does it matter? For IKEA it's about getting closer to the hearts of the consumers with content that they care about.
Reach: How The World Is Moving To YouTube
Mattias Behrer, Head of Dentsu Group in Sweden, took to the stage next. With extensive experience and global leadership positions at H&M and MTV, Mattias discussed how online video now has the same strengths that TV has always had: great reach and great impact.
Additionally, online video adds features like personalisation and choice. Mattias highlighted extensive econometric research made within Dentsu showing 50% uplifts in ROI for online video investments vs. traditional TV. According to Mattias, advertisers should spend 2-6X more than today on online video in order to maximize the ROI of media investments.
Carsten Andreasen, the Head of Research for Google in Northern Europe, considered the new media landscape and how media consumption is changing – and changing fast!
Carsten showcased a brand new case where Google and the Eye Tracking company Tobii followed 34 people and analysed their media consumption during a week. The audience could see how some consumers actually watch different screens. It became clear how commonplace it is for a typical TV viewer to simultaneously use their mobile devices to watch content, especially during commercial breaks. This further establishes the YouTube as a key part of the living room.
Impact: How YouTube Is Moving The World
Anna Gernandt, Head of YouTube Partnerships in the Nordics, chaired a panel discussion with three Swedish YouTube creators, Johan Hedberg (Matgeek), Sara Lindeholm (Sara Songbird), and Jon Olsson who head's up his eponymous channel.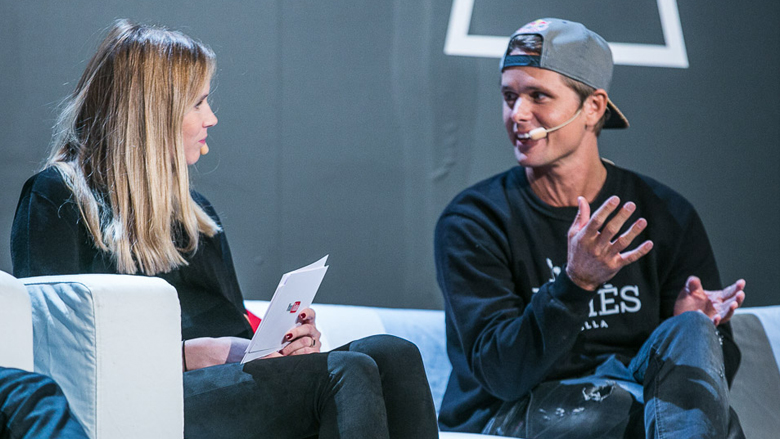 They discussed how the Creators work actively with their fanbase, and how the feedback from the fans is extremely important for them. Key to their work is partnering with brands on their YouTube platform, and all three agreed that it was hugely important that they were able to have creative freedom in such partnerships in order to keep authenticity and stay credible to the fans. (In fact, this autonomous creativity is evident in Jon Olsson's video which he posted after the YouTube Pulse event, charting his experience!).
Results: How YouTube Can Move Brands
Following the YouTuber panel, two creators from the well-known Swedish creative agency Forsman & Bodenfors, Agnes Stenberg Schentz and Tove Eriksen Hillblom, talked about their thinking and work with the latest global campaign for H&M, 'She's A Lady'. The campaign features Tom Jones' famous song, but it is executed in a totally new way and context, focusing on powerful and individual women around the globe.
For Agnes and Tove, the YouTube platform makes it possible to tell the full story instead of being restricted by the format of traditional TV. YouTube ensures that they can keep their finger on the pulse of popular culture and what's trending in society.
Charlotte Henriksson, from communication agency, Matter, shared insights on how to be successful in the complex media landscape of today when reaching audiences. Key to the discussion were the success of campaigns featuring Swedish footballer Zlatan, not least the Vitamin Well campaign on which Matter worked on.
Charlotte's three tips for successful campaigns working with influencers are:
Find the right one that connects with your brand
Orchestrate with a detailed plan including PR
Buy media to maximise reach and views in the target group, for example TrueView advertising on YouTube
The key takeaway from the event was just how much YouTube can bolster reach to global and targeted audiences and impact on them, and ultimately gain strong results for brands and agencies alike.