Editor's note: Data in this article comes from the report e-Conomy SEA 2020: At full velocity — Resilient and racing ahead.
In 2016, Google and Temasek launched a multi-year research to delve into the digital economies of Southeast Asia (SEA) with Bain & Company joining as a research partner in 2019. This year's research examines the digital economy of the region against the backdrop of COVID-19 across multiple industries, including e-Commerce, online media and more.
For marketers trying to navigate the road ahead, here's a snapshot of what the state of the internet looks like for SEA brands in 2020 and how you can prepare for the massive digital shift and current trends that are happening.
There is a massive wave of consumers using digital services for the first time
In the last year alone, 40 million people started using the internet in SEA, as opposed to the 100 million new users who joined over the prior five years from 2015 - 2019.1 This enormous growth means 70% of the region's population now uses the internet.2
Total internet Users in SEA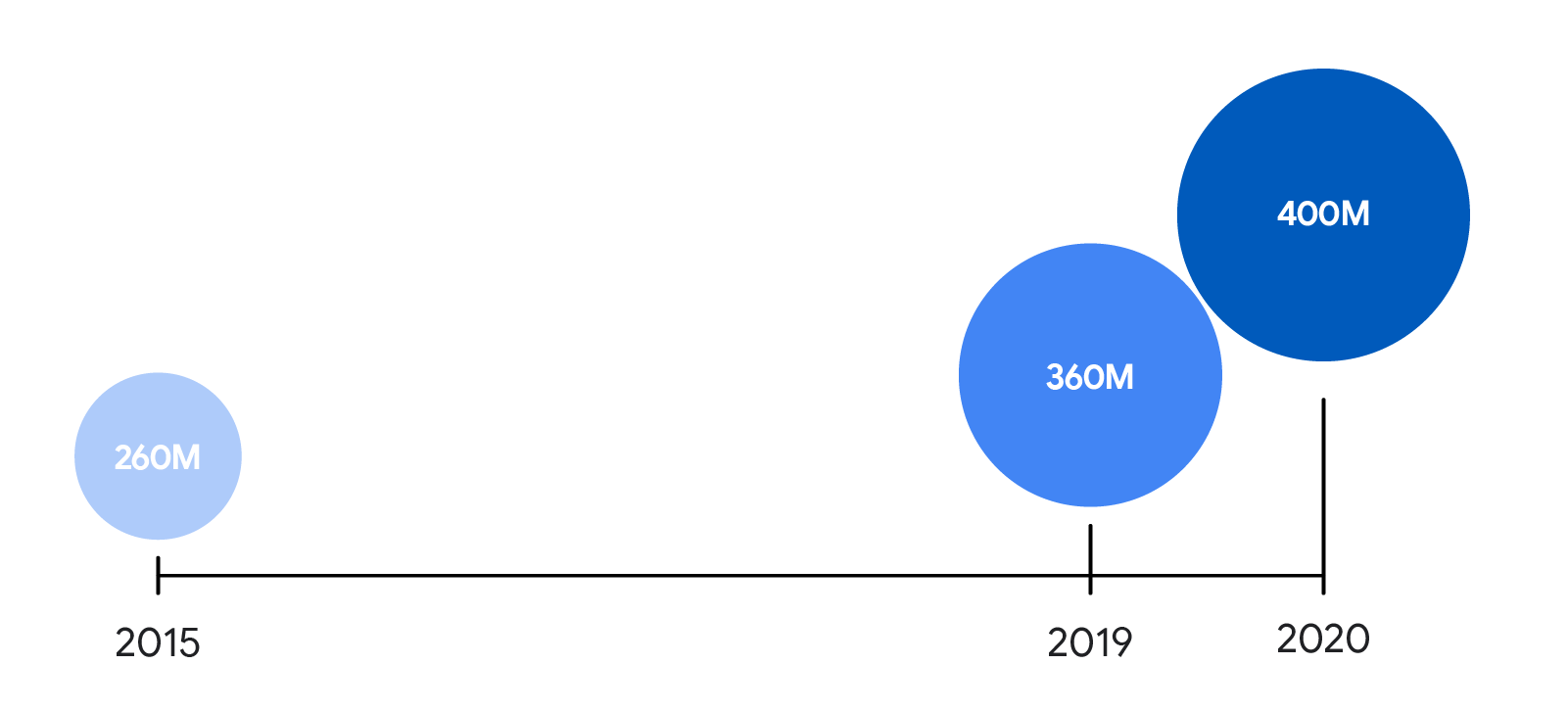 At the same time, people increasingly tried out new digital services, with 1 in 3 digital consumers being new to the service due to COVID-19 lockdowns.3
New users to digital services, by sector (SEA aggregate)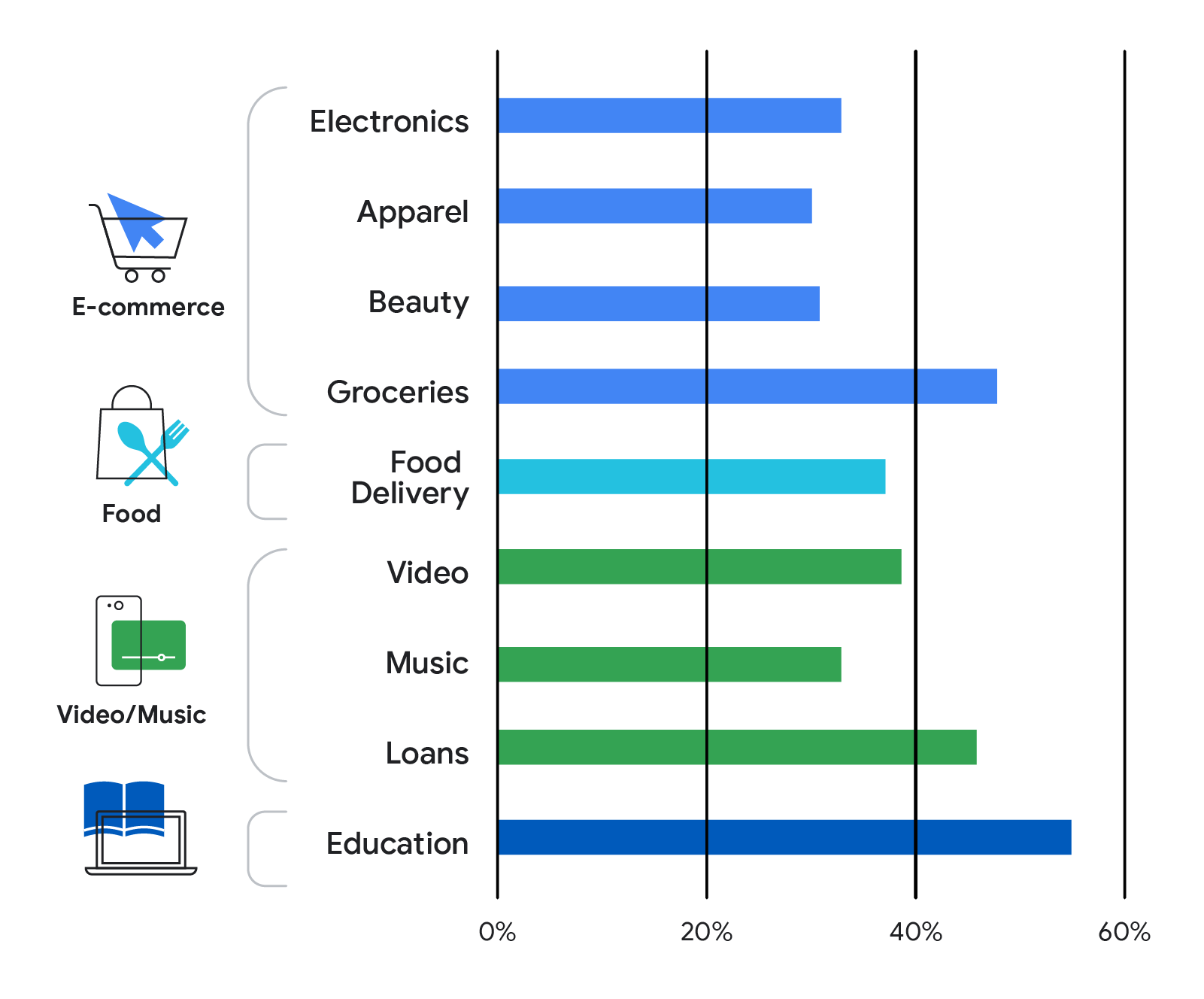 Those new people started taking advantage of online education, groceries, finance, entertainment and other digital services for the first time, causing huge jumps across industries.
Tips for marketers: Welcome the newcomers. With so many first-time users looking for help getting the most out of technology, it's important that brands provide training and tutorials and find ways to onboard people who are new to using technology.
The acceleration of digital adoption is here to stay
As people start to put their trust in more digital tools, consumer behavior and buying patterns are changing. Across SEA, 9 in 10 new users stated they will continue using digital services post-COVID-19.4 As a result, by 2025, it's estimated that online gross merchandise value will exceed $300 billion.5

Tips for marketers: As people become more accustomed to switching their behavior online, there's an opportunity for brands to reach these new audiences. Reach out to new users who aren't set on which products they will purchase, and continue investing in your digital presence, as growth is expected to continue from pre-COVID-19 levels.
Stay ahead by looking within. Talent continues to be a core need for many businesses, but don't wait to find external people with experience. The future is happening fast, so train your marketing team on the latest tools, and bring further education inside your organization to keep up with digital changes.
Show how you help people
This increase in usage is expected to remain consistent across all countries. Indonesia saw the highest increase of 27%, while the Philippines remains the highest, increasing to 4.9 hours on average spent online each day.6
Average number of hours per day online for personal use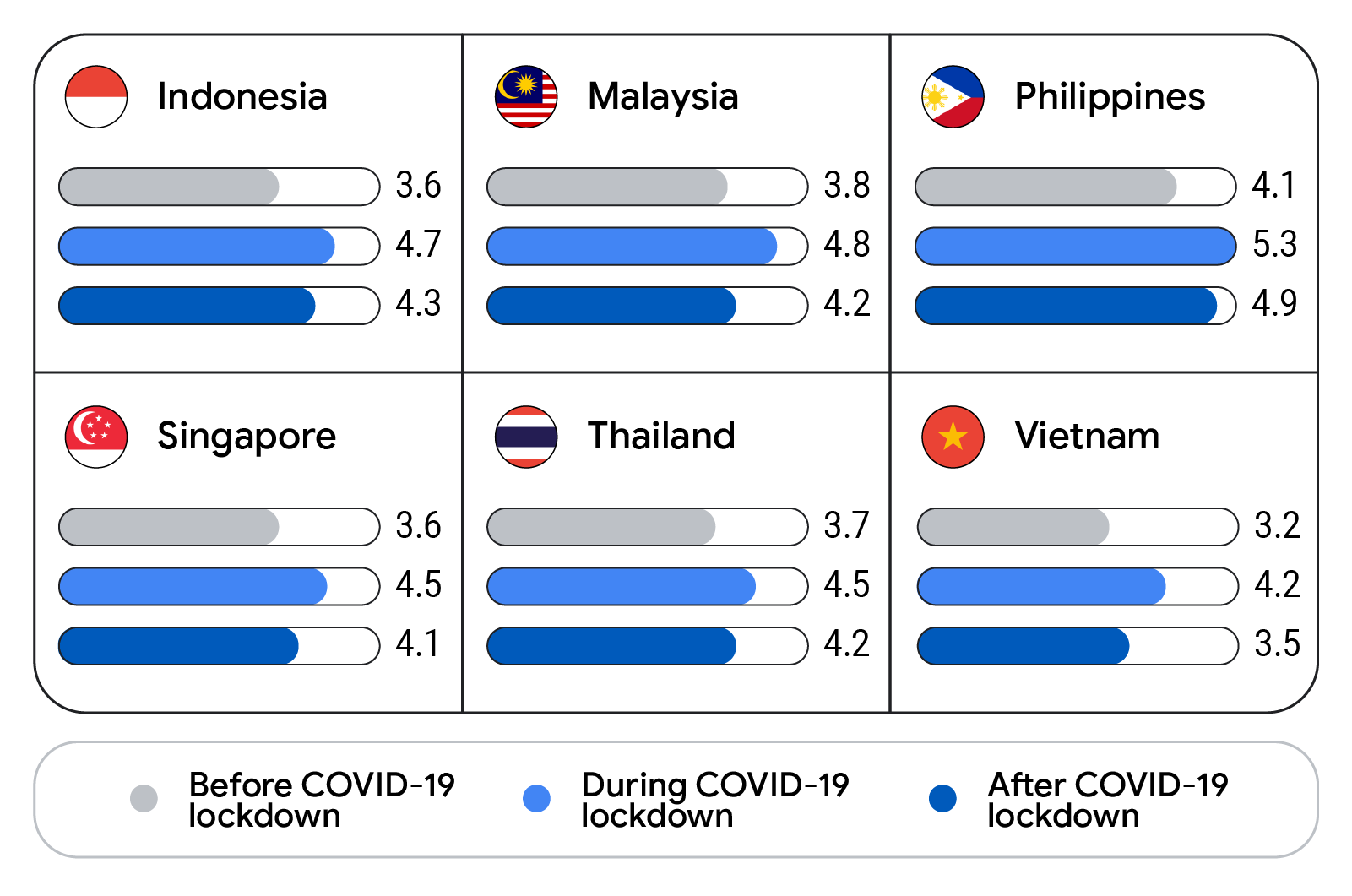 This increase in adoption is due in part to people discovering new ways that technology can help them. From the convenience of buying groceries online to remote learning or accessing health services, 80% of people in SEA thought that technology had been helpful for them during the pandemic.7
Online shoppers are spending differently, now and in the future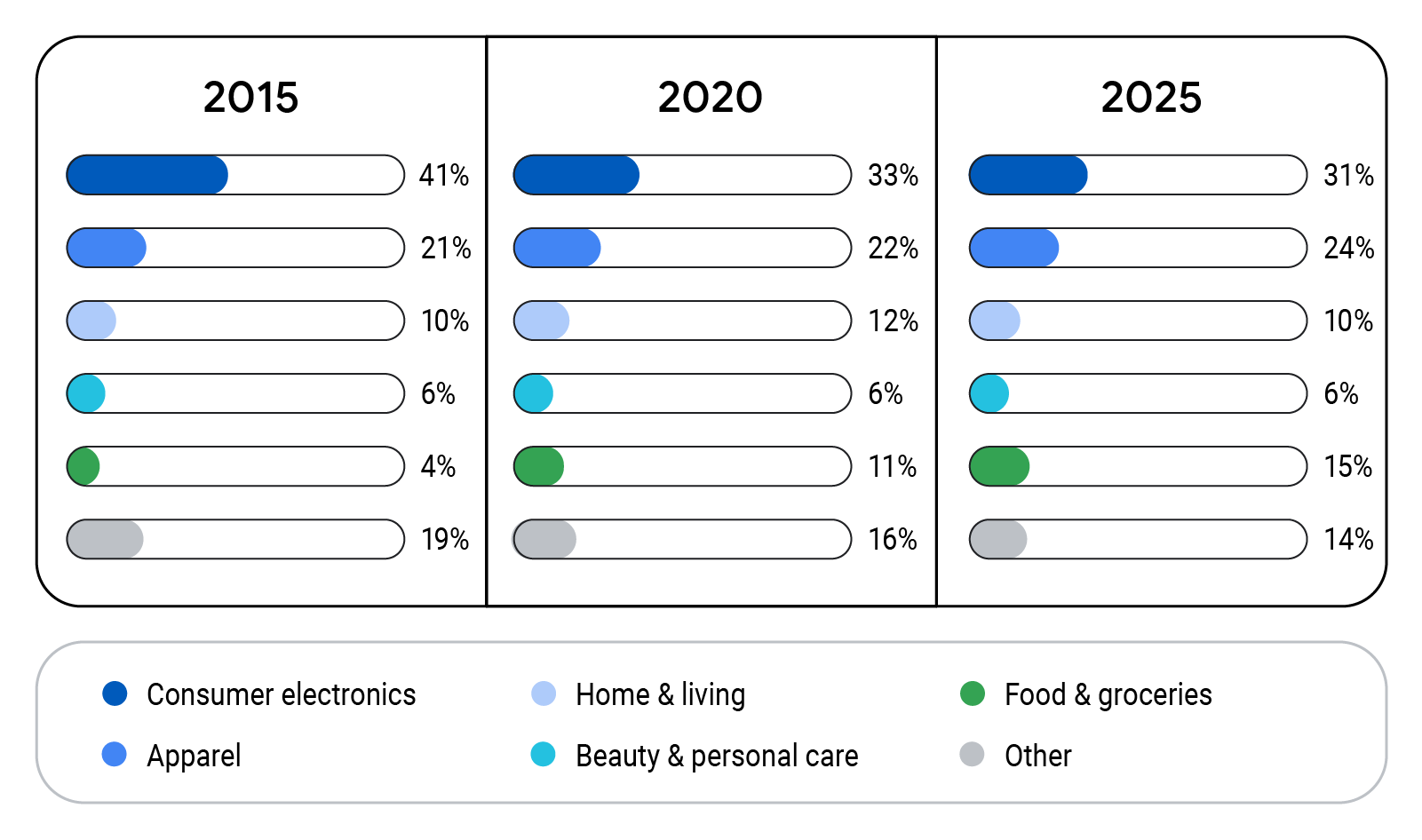 Use data to make smart investments
As new audiences come online, there's also increased competition from brands vying for people's attention. To cut through the noise, it's important to focus on your core audience. Appeal to specific users by leading with messaging about how your product helps improve their lives.
Find ways to reach in-market audiences with unique messages and focus on your budget spend. For example, e-Commerce brands can improve the user experience by using progressive web apps to provide a seamless experience across devices and platforms, while food and transport companies can use Google App campaigns to drive app downloads; and online travel agents should look at Google Trends to understand real-time shifts in customer behavior to reach them with personalized messaging.
Looking ahead: How sectors are shifting
Overall, gains in e-Commerce, media and food delivery have offset the contractions in travel and transport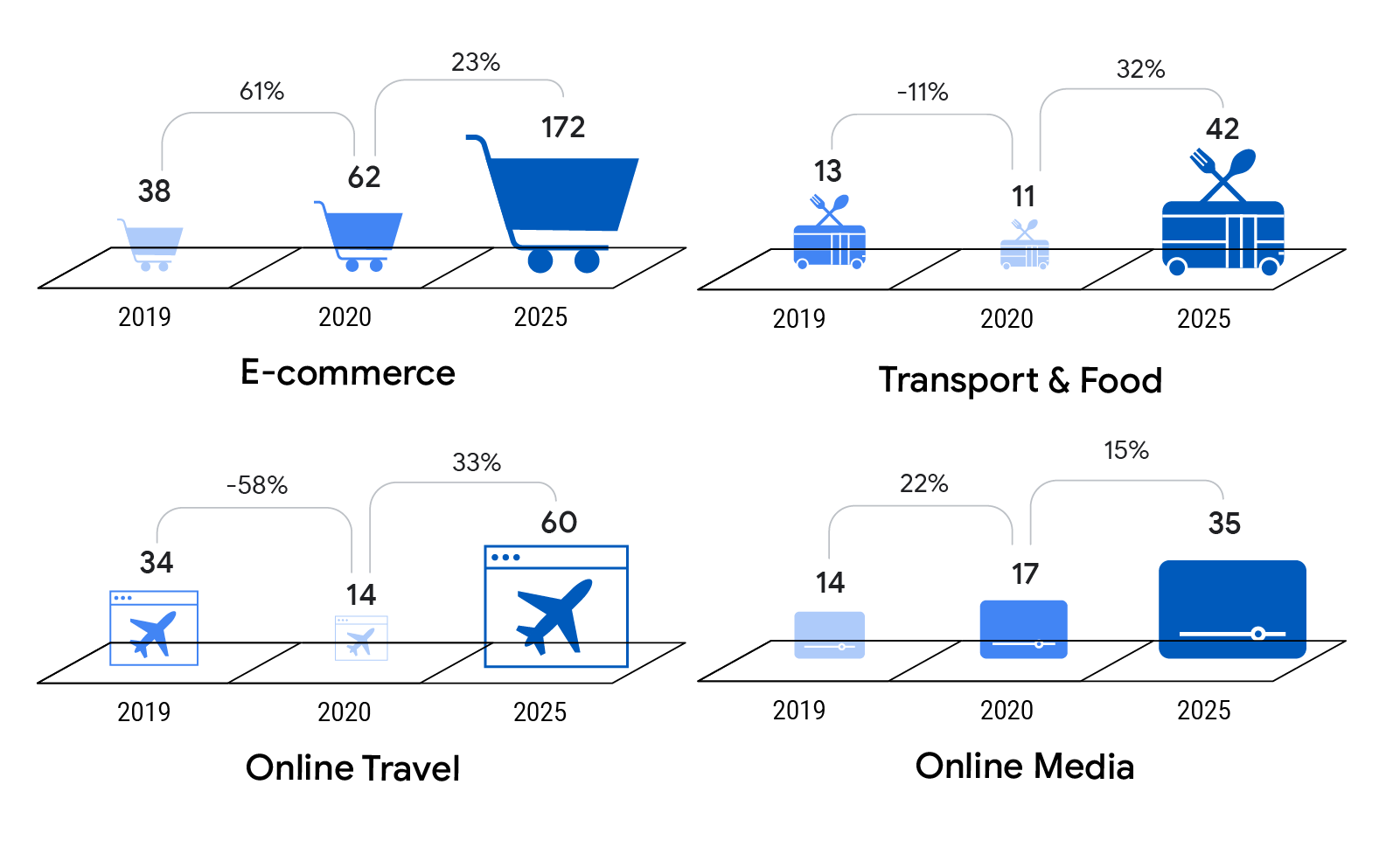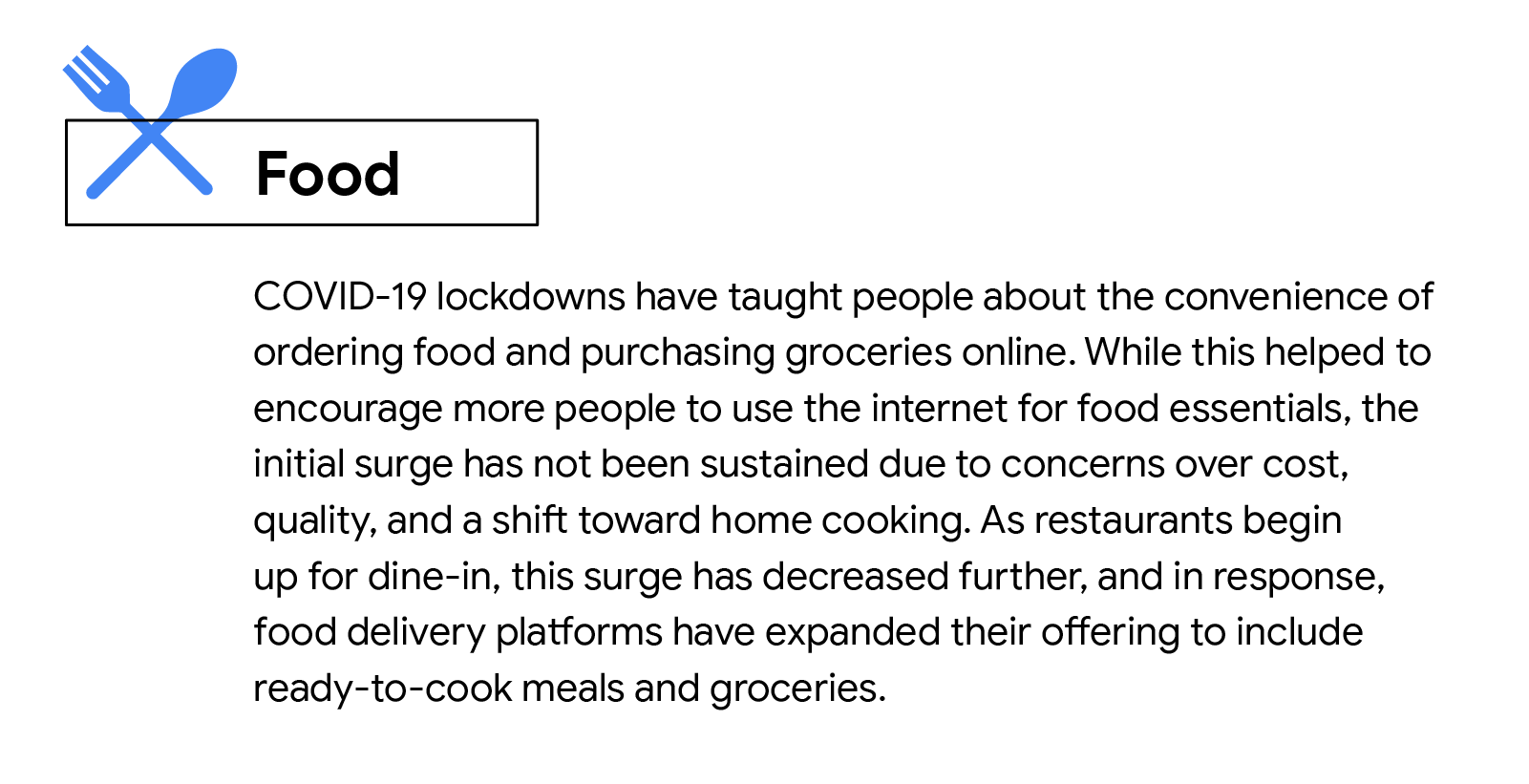 Tips for the Food sector: To keep up with this constantly shifting consumer behavior, look for early signs by using Google Trends to see how demand for certain food products or delivery services is changing to meet people's needs.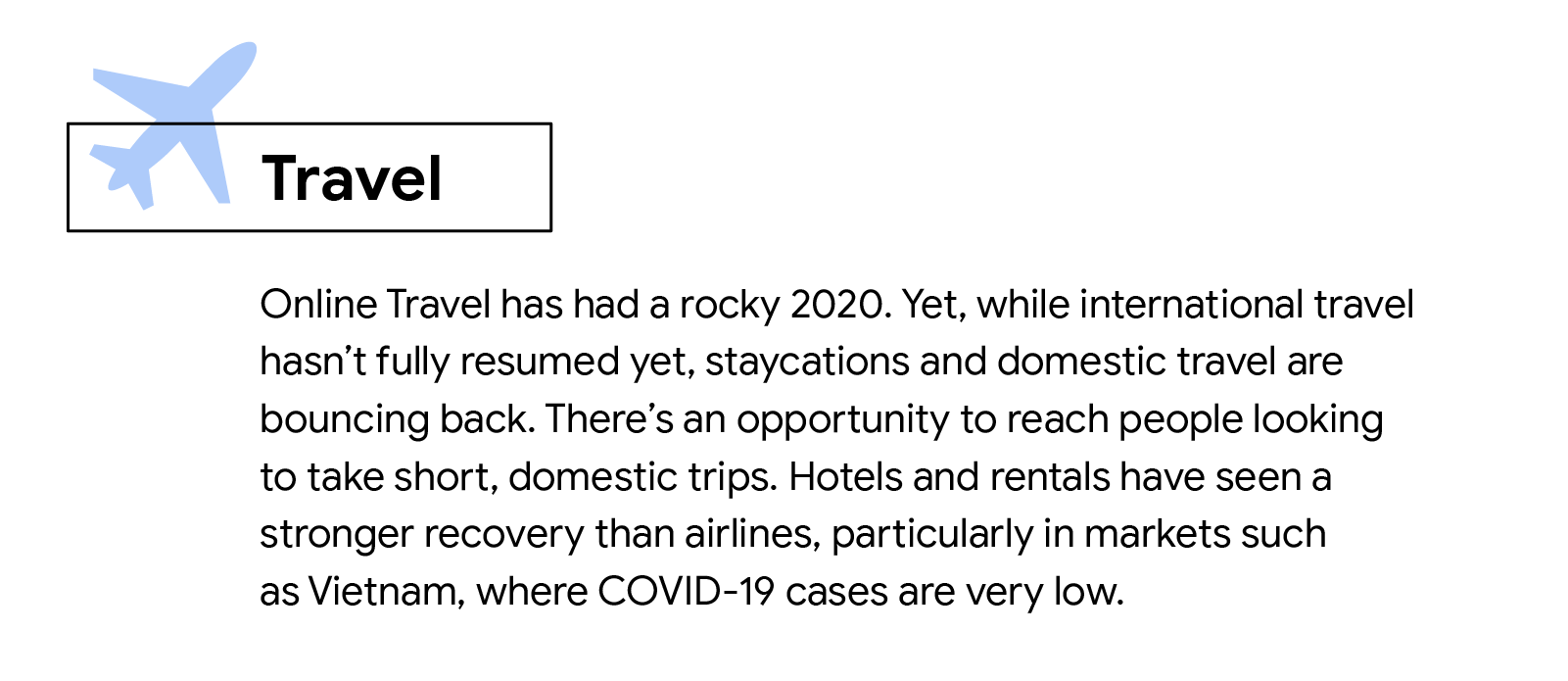 Tips for Travel marketers: Our APAC travel recovery itinerary revealed that people have local trips and safety in mind, so marketers should seek to provide safety information upfront and present local product offerings and fun activities.

Tips for keeping people entertained: Though some people who signed up for a new entertainment source might stay, there's also a higher likelihood of churn when their trial period ends. If you saw an increase in people signing up for your online products and services, focus on retention to keep them coming back, especially if you offered a free trial during the pandemic.

Tips for merchants: Make sure you integrate digital payment options for your consumers. Digital payments are expected to see a continued boost post-COVID-19, and trust in e-Wallets will likely increase.
Although there is still some instability, the internet sector in SEA is set to emerge stronger than ever in a post-COVID-19 world. The digital economy remains a bright spot in a very challenging economic environment, and e-Commerce remains a key driver of growth. The biggest takeaway for brands and marketers is the need to focus on people and their changing habits online, as well as keeping up with changing trends, as we continue to understand what our new normal will look like in the future.
To learn more about potential business opportunities, sector breakdowns, and business challenges, visit our website or download the full whitepaper below.
Contributors: Charlotte Mart, Product Marketing Manager ⎯ Singapore; Deborah Ko, Research Manager ⎯ Consumer and Market Insights; Samuele Saini, Sector Lead ⎯ Apps, E-Commerce, Entertainment; Weisheng Lee,Industry Head ⎯ Finance; Well Smittinet, Analytical Consultant ⎯ E-commerce; Iñaki Moreno, Analytical Consultant ⎯ Finance; Christopher Siantar, Analytical Consultant ⎯ Travel; Crystal (Sujeong) Choi, Analytical Consultant ⎯ Apps, Online Entertainment