Every day marketers are challenged by industry changes — in the competitive landscape, in market dynamics, and, most importantly, in people's expectations. Their success depends on how they respond.
Before Google, I led large retail marketing teams for years, guiding them through immense industry and consumer shifts driven by technology. The shopping experience became easier for shoppers yet more competitive and challenging for brands. We had to evolve our strategies to be more assistive and value the new journey — one where shoppers called the shots.
What would've happened if we didn't pivot? Easy. We would've lost relevance and failed. I witnessed others fall victim to change because they didn't see it as an exciting opportunity to establish a more meaningful, useful connection with shoppers.
Today, I see a similar inflection point in consumer packaged goods (CPG) as shoppers change. How they become inspired, research or browse, and decide their purchase is different. When I meet with leaders of America's top CPG brands, I remind them that over half of grocery purchases are influenced by digital today,1 on par with categories like health and apparel.
And, with the majority of CPG categories losing their "must-have" status in 2015,2 I stress how they must think differently or risk failure. They no longer hold the reins. Instead, shoppers are having a say on when and in what ways brands can be assistive.
Change is hard, but change CPG marketing leaders must. If we don't, I fear I'll see companies go the way of retailers who didn't adapt. So, I'm challenging the industry to make three mindset shifts.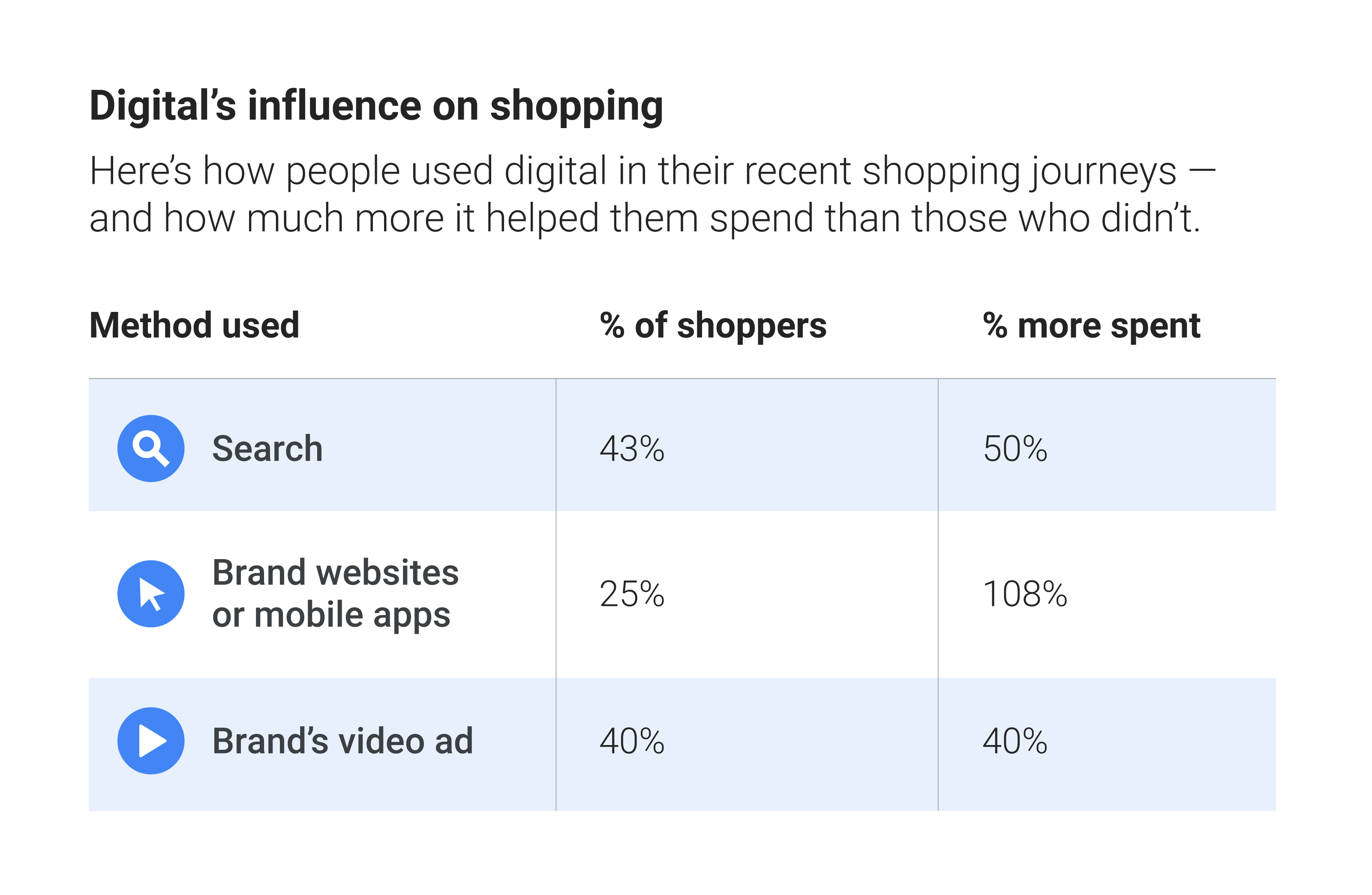 Stop worrying about "high" vs. "low" consideration
One of my biggest pieces of advice for CPG marketers: Stop categorizing products as "high" or "low" consideration. There's simply consideration in the mind of shoppers today.
If they're searching, shoppers are considering. It's that simple. To illustrate my point: CPG-related searches are significantly up in categories, like soft drinks, condiments and dressings, and even salt.3 Shoppers are telling you they're interested in your products, presenting an invaluable opportunity to assist that cannot be missed.
In a recent study, we found that 43% of CPG shoppers said they used search in their most recent shopping journey to become inspired, browse, or research.4 Even more meaningful: Those shoppers reported spending 50% more than those who didn't say they used search.5 That's telling. They're knocking on your door, ready to spend; be sure to invite them in.
Direct people to a website that's useful
Searching is only part of the equation. CPG brands' work isn't finished once they show up in search results. The power of search is in the click. It's critical that brands direct people to a destination that's useful.
In fact, the one-quarter of shoppers who said they used brand websites or mobile apps to browse or research before or during their most recent journey also reported spending 108% more than shoppers who didn't.6 You have the ability to use search to bring more people to your website and deliver an assistive, delightful interaction with your product.
It's promising to see leaders understand the value of their websites, like Shiseido, which now updates its websites more quickly to deliver on the ever-changing expectations of today's digitally literate shoppers. Since CPG shoppers search multiple times, visit multiple destinations during their journey, and won't accept poor experiences,7 marketers must invest in their website to stay relevant, be competitive, be useful, and win decisions.
Find your next customer through digital video
Shopper engagement extends to platforms like YouTube where people go to learn, connect, and be entertained. There's something for everyone, making it a leaned-in environment where you can reach prospective shoppers.
I'm excited about YouTube's ability to be a solution for shoppers while also acting as a business driver for CPG marketers. Why? Because those shoppers spend. One successful example is Kellogg's Rice Krispie Treats, which experienced a 4% sales lift during the back-to-school season thanks to activating on YouTube.
In beauty, there's a similar opportunity to deliver positive impact. Shoppers shared with us how YouTube advertising influenced their purchase. Forty percent of beauty shoppers who said they watched a brand's video ad on YouTube reported spending over 40% more in their most recent shopping journey than shoppers who didn't.8 CPG brands should harness the influence of YouTube or risk missing out on the opportunity to grow their business with valuable shoppers.
I've experienced major change before, and I'm ready to tackle what's occurring in the CPG industry today. Though the challenge may appear formidable, there are simple mindset shifts you can adopt today to have an impact on your business and prepare for what awaits tomorrow.