More of Australia's small- and medium-size businesses (SMBs) are investing in digital marketing to achieve results without increasing their overall spend. Here, Megan Brownlow, former industry leader for technology, media, and telecommunications at PwC Australia, breaks down how digital tools can uniquely benefit SMBs and how Aussie businesses are already finding success online.
In the last decade, Aussie SMBs have become a major force in the country's economy. More and more small businesses are being started in Australia every year, and that growth isn't expected to slow anytime soon. The future for Aussie SMBs is bright — and, based on new research from PwC, commissioned by Google, it's clear that digital marketing is part of the reason why.
Earlier this year, Google Australia asked me to study the ways Aussie SMBs are embracing new digital tools, skills, and opportunities. After assessing the marketing activities of over 600 small, medium-size, and micro business owners across different states and industries, we learned why SMBs are devoting more of their marketing budgets to digital, and what tools and strategies they're using to reach new customers.
Put simply, SMB owners who embrace digital tools are finding more efficient ways to showcase their products and services, expand their markets, and measure the results. Our research showed that multi-channel marketing is still the preferred approach for both SMBs and larger businesses, and we also met some terrific SMB owners who have found success by tapping into digital tools and technology.
Surveying a shifting business landscape
In the pre-internet advertising world, brands typically had to reach consumers with one-size-fits-all creative. As smartphones and digital technology have become a central part of Aussies' daily lives, people have grown to expect more of a personal touch from brands. Being authentic and relevant to consumers' needs in the moment is crucial.
"Digital advertising is a great leveller … It doesn't matter how much money you have or how big you are — if you understand your market, you'll do well."
Digital ads give brands hundreds — even thousands — of opportunities to connect with people throughout the day, and they also unlock a one-to-one conversation with potential customers. With new analytics and measurement tools, SMBs can also see which campaigns are resonating with the right audiences and make creative tweaks on the fly.
As WebSavvy Founder and CEO Mike Rhodes explained, "Digital advertising is a great leveller. You don't need to invest millions of dollars into building a brand or creating assets that might get used for a few weeks. It doesn't matter how much money you have or how big you are — if you understand your market, you'll do well."
The proof is in the data: In the last 10 years, Aussie businesses have shifted half of their ad spend from traditional to digital channels. And PwC predicts this trend will only continue: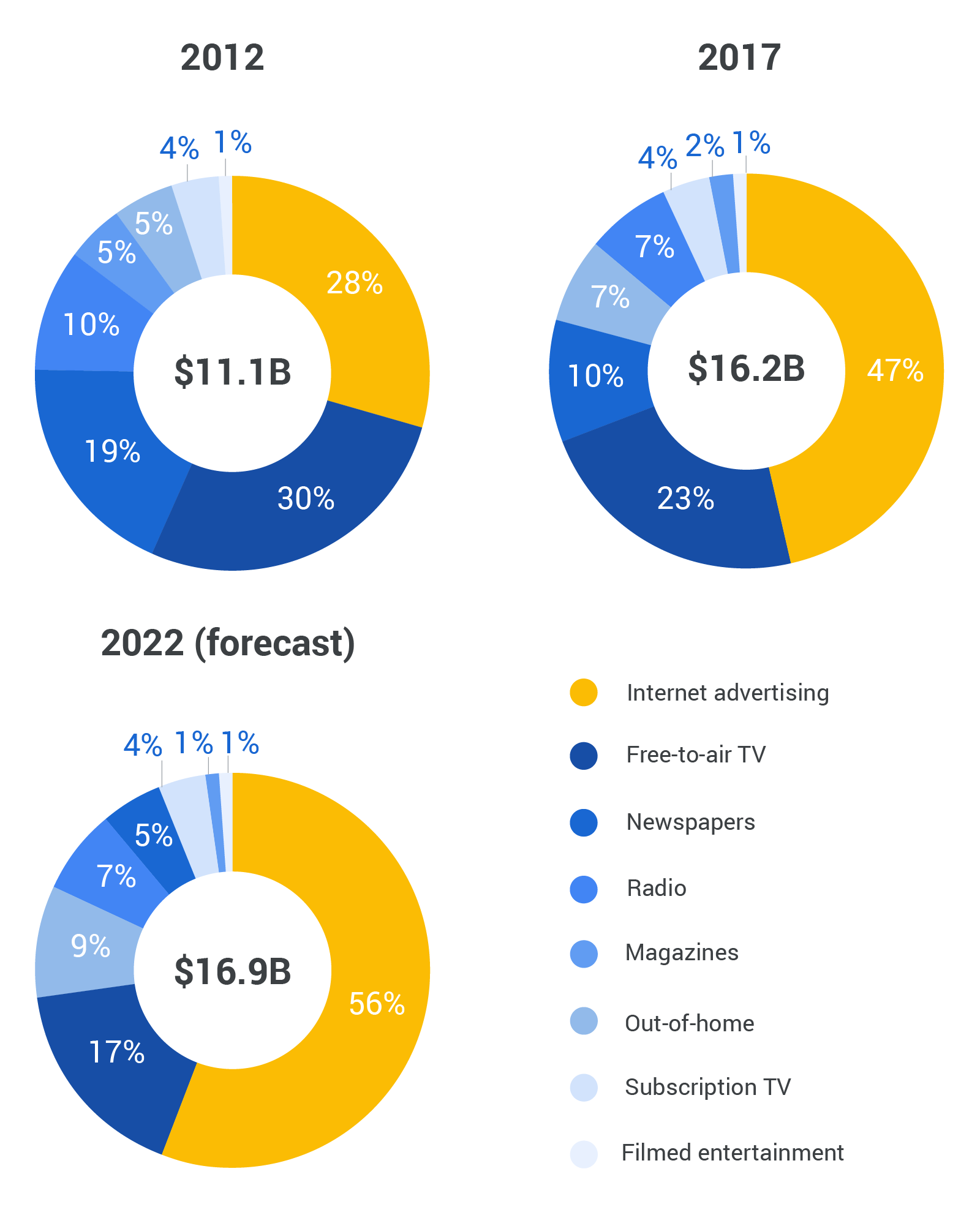 Looking specifically at Australia's SMBs, one finding in our research was especially eye-opening: While SMBs have more than tripled their spend on digital marketing in the last 10 years, their total ad budgets have largely remained the same.
Aussie SMBs are devoting more of their marketing spend to digital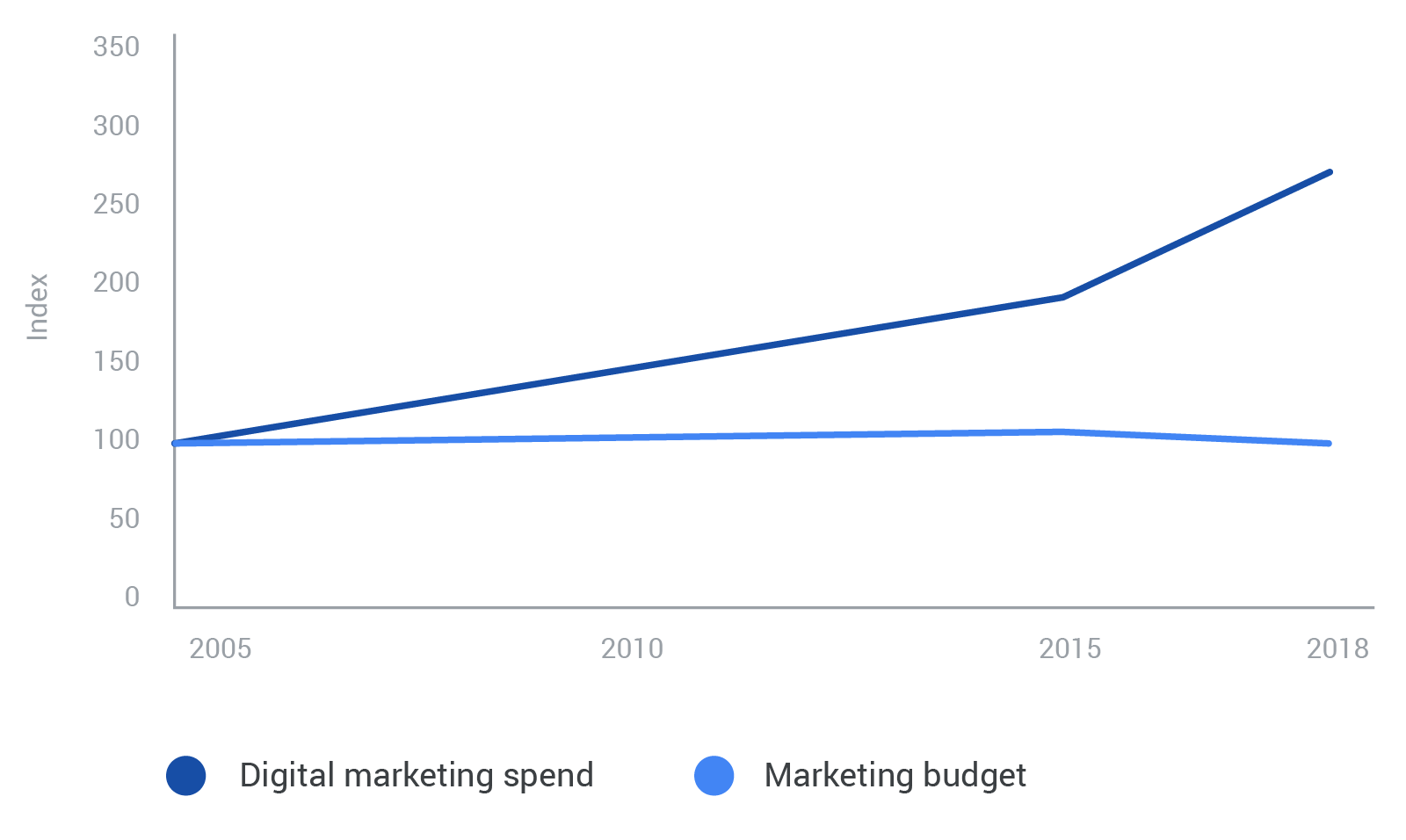 This indicates that Aussie businesses are recognising digital's ability to reach even more people without overextending their budgets. Virginia Hyland, Hyland Media's managing director, said it best: "SMBs are more willing to experiment and are more open to new ways of talking to customers. They realise by using digital, they can zero in on their customers and have a conversation with them — not just once, but with different messages over time, and at a lower cost."
Why more Aussie SMBs are going digital
Some small businesses are run by teams as small as five or ten people, or they might even be one-person operations. To compete with brands backed by million-dollar ad budgets, SMBs need to be precise in how they execute and measure their campaigns. Every dollar and every campaign has to have an impact.
Thanks to smartphones, SMBs can reach their customers with relevant mobile ads in the right moments, and platforms like YouTube allow brands to create and share their own content with potential customers looking for relevant information. It only takes a smartphone and internet connection for businesses, even those in regional and remote locations, to produce useful content and showcase their products and services. Moreover, digital advertising can be bought at any time of the day using online self-serve tools.
"[SMBs] realise by using digital, they can zero in on their customers and have a conversation with them — not just once but with different messages over time, and at a lower cost."
Looking beyond convenience, small business owners we spoke to said they primarily use digital ads to be more visible, efficient, and competitive in the marketplace.
Why Aussie SMBs use digital marketing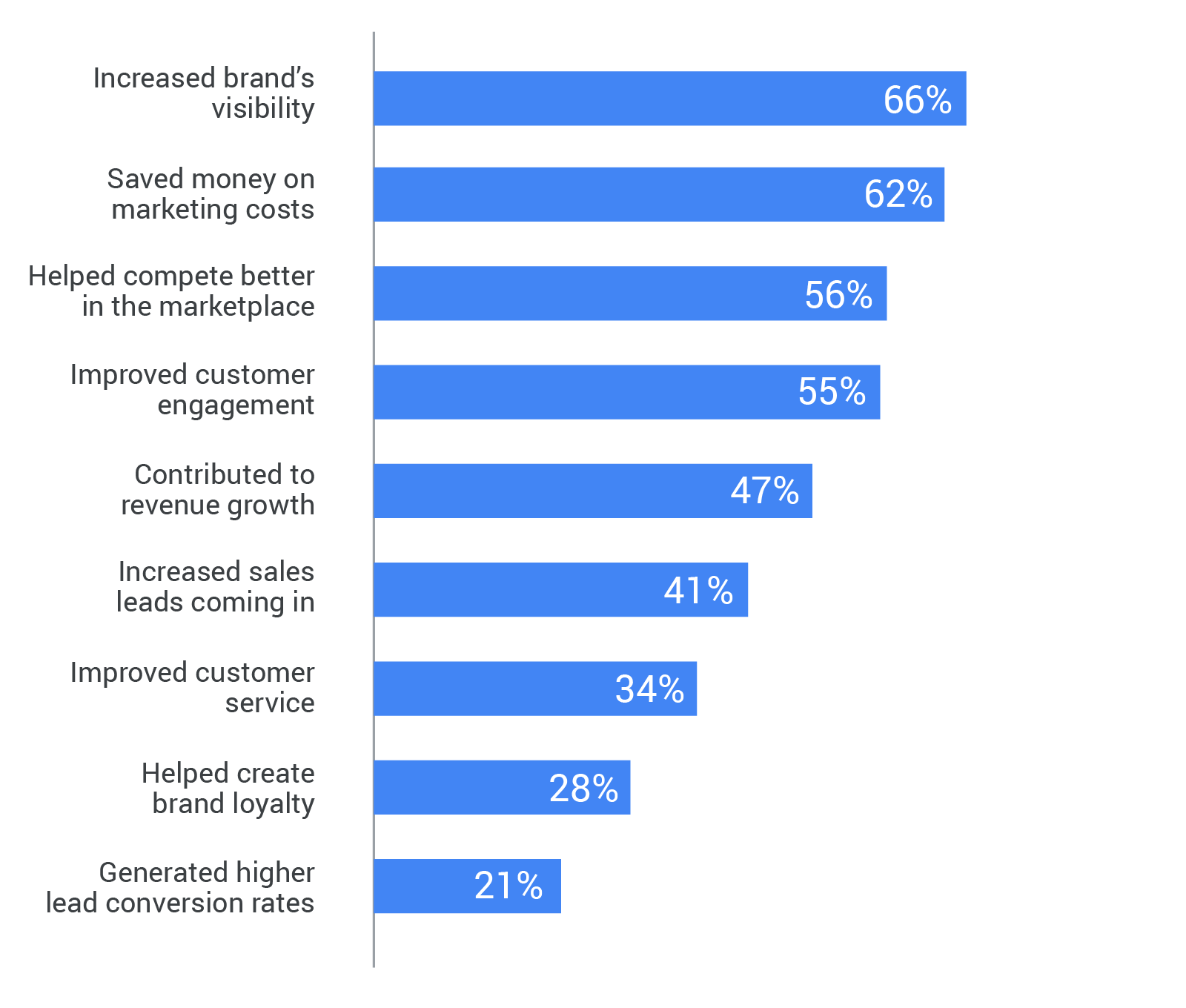 Aussie SMBs driving success with digital
For many SMBs, investing in digital can be as simple as launching a new website or setting up a free online business listing. Other business leaders like Rob Knight and Mark Valencia have found ways to turn a tight budget and DIY attitude into impressive reach and growth.
Rob founded Bruny Island Long Weekend to create the "perfect Tasmanian short break" for visitors. After learning from free online tutorials, he used digital marketing to attract visitors from around the world, and through online analytics, he was able to refine his messaging based on travellers' search interests.
Next steps to get your business online
With the right tools and a sound strategy, Aussie SMBs have a real opportunity to take their marketing efforts to the next level. Founders like Mark and Rob are great examples of growing a business in the digital era without a big team or budget. With resources and training from Grow with Google, as well as other free resources available online, any business — no matter how digitally savvy — can learn how to build and maintain a website, create and upload social media content, and use online analytics to optimise their marketing campaigns in real time.