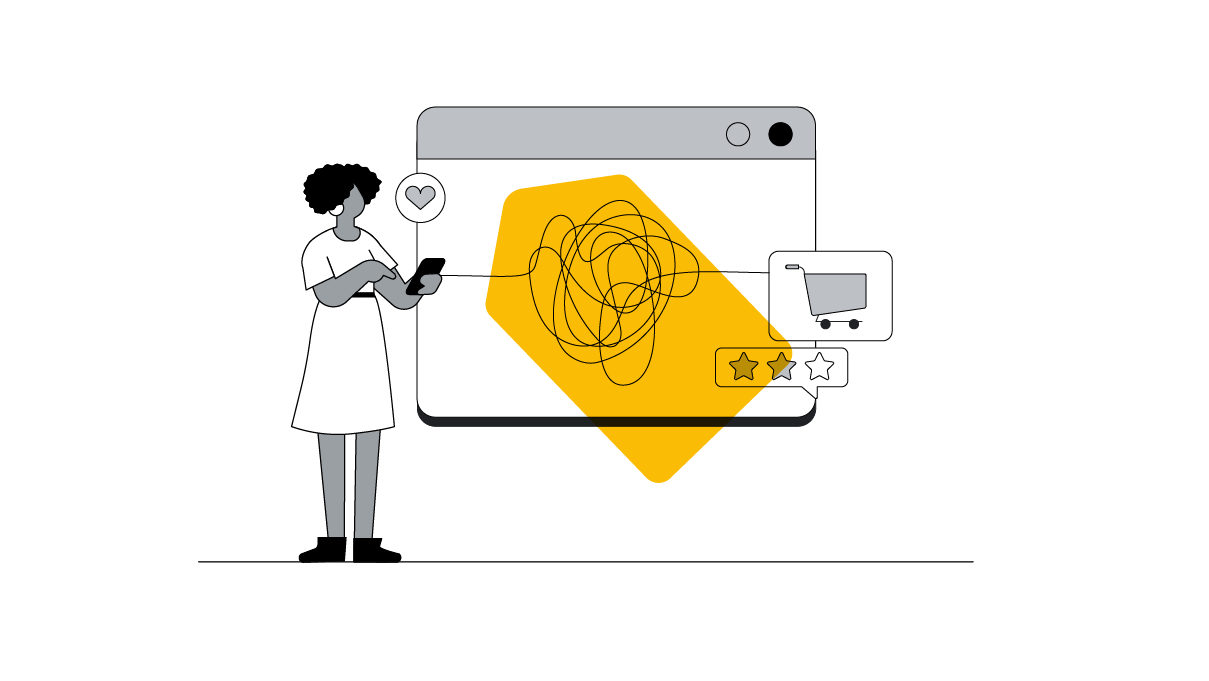 No two consumer journeys are exactly alike. A lot of factors come into play between the first trigger to purchase, right through to the purchase itself, and we know the path people take is rarely direct.
We call this in-between stage 'The Messy Middle'.
First introduced in 2020, this concept was explored in our original Messy Middle research, in which we revealed groundbreaking insights into how people decide what they buy online.
Our findings confirmed that marketers need to ensure they're showing up with the right message, in the right place, at the right time — and that they can do this by leveraging key principles of behavioural science to provide consumers with the information and reassurance they need to make a decision.
For this latest iteration, we studied online shopping journeys across five categories in Australia, to investigate how people decide where to buy things from (i.e. the retailer or store). For the first time, we get insight into the brand versus retailer relationship, and the dynamic between the two for purchase decisions.
This research is particularly pertinent now, as we continue to grapple with ongoing uncertainty. The physical constraints of the pandemic may be behind us, but its effects - particularly economic effects - continue to linger.
Rising interest rates, inflation, and the growing cost of living, are all impacting consumers. In fact, more than half of us are only buying the essentials1, and almost half of us are feeling less confident about making large purchases2. This means people are re-evaluating not only the price tag, but also what value means to them more broadly.
This research untangles the next layer of consumers' purchasing journeys, and delves deeper into the ways marketers can connect with consumers beyond discounts and promotions, in order to protect profit.
Why product is power
As consumers navigate ongoing economic uncertainty, the Messy Middle shows us that people are focused on the product they want and are more loyal to what they buy, rather than where they buy it from.
Shopper insights show that retailer selection is currently far more fluid than product selection. In fact, when presented with their preferred and second choice retailer, almost 1 in 2 Australian consumers will switch to their second choice, whilst only 1 in 4 switch to their second choice product brand3. We see similar behaviour on Google Search, where more than 60% of retail searches in Australia and New Zealand are for products or product brands, versus for retailers4.

With consumers focused on the product they want, they're shopping across multiple retailers (omnichannel shopping), with their purchase journeys spanning online — across multiple devices — and offline.
This means that simply being present during exploration and moments of intent can drive buyer behaviour.
Considering 78% of people look online when researching products5, it makes sense that brand and retailer decisions are often happening on Google Search; it's still the #1 platform for people to discover new brands and explore their options during the busiest peak retail period6. Even when it comes to buying offline, 9 in 10 in-store purchases during the peak period are influenced by consumers searching online7.
That's why it's so important to be there with the right products when consumers are navigating this messy middle journey.
If you're a retailer, you have a huge opportunity to increase your products' digital visibility across all touch points - including your website, app, and on Search. Across Australia, an estimated 50% of SKUs are not active on Google Shopping8. So now is the time to increase your digital exposure and get your products in front of consumers by making sure you have high SKU coverage in your product feeds, meaning you're seen and closer to being chosen for that sale.
Make sure your product range marries up with your digital exposure

How behavioural science can balance price
No marketer will be surprised to hear that pricing and discounts have a significant impact on a consumer's final purchase choice. However, a race to the bottom with prices isn't ideal for any business.
We now know that smart usage of tested behavioural science principles can help balance out the impact of significant discounting across all categories⁹.
This means you can protect profits while still influencing the shopper's choice, by communicating value that goes beyond just price.
Established behavioural science principles can help consumers make better decisions, and have a strong impact on preference. Our research has consistently shown how vital it is that marketers understand these principles and know which will have the most impact on their customer's shopping decisions.
So, when it comes to consumer decision making, we looked at these five principles covering product (what) and retailer (where):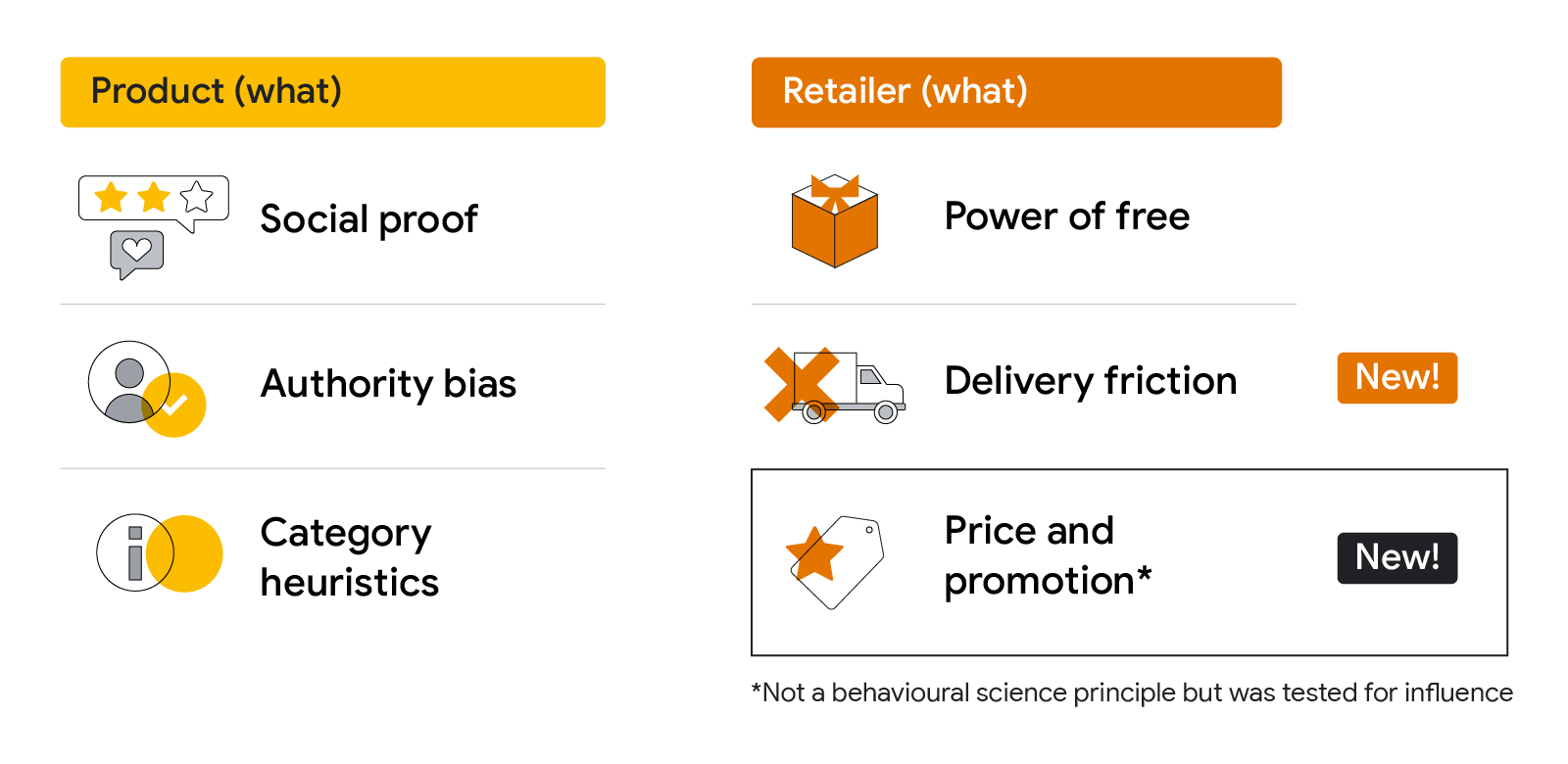 Let's look at these in a little more detail:
Reducing delivery friction - for example, by offering fast next day delivery, store collection, free returns - means consumers can be more confident in their purchase decisions.
Harnessing the power of free by offering a free gift with purchase, free accessories or servicing, is always an attractive proposition. The research found that almost 2 in 3 consumers switch to their second choice retailer if they reduce delivery friction and use the power of free⁹.
Leaning into social proof by showcasing 5 star ratings, or showing the opinions of other shoppers, is an extremely effective way to influence purchase - and the research found that social proof is the most powerful behavioural science mechanism to counteract discounting⁹.
Authority bias through reviews from experts or authority figures (like industry awards, dentist recommendations, or content creator/ publisher reviews) lends extra credibility to a particular product or store - but keep in mind that the people and organisations considered to be authorities will evolve and change over time! For example, the research found that in the laptop category, a recommendation from a YouTube creator proved to be the most effective authority bias⁹.
Finally, category heuristics can save your customers time and mental energy, showing them short descriptions of key product specifications to simplify purchase decisions. An example would be stating a laptop has a category leading 12+ hour battery life, or that pet food contains 100% natural ingredients.
Applying just two of these behavioural science principles - offering something free and reducing delivery friction, can be as compelling to consumers as a 10% discount⁹.

Applying all five of these behavioural science principles can have as much impact as discounting by 15%⁹.
Completing the puzzle
So, in practical terms, how can you ensure you set yourself up to take full advantage of this new knowledge?
First, remember that Australian and New Zealand consumers shop with products in mind and are more likely to switch retailers than products. This means maximising the digital availability of your products. You can do this across Search, Shopping and YouTube campaigns. Use reporting in Google Merchant Centre to help assess your products' digital visibility by ensuring a high proportion of your product SKUs are eligible to serve in Shopping Campaigns.
Second, consider how you can be compelling to anyone who may be scanning past your offer. People will always love a discount - but smart uses of behavioural science principles will enable you to communicate value beyond pricing strategies. Lean into social proof ratings, authority bias, category heuristics, the power of free and showcase reduced delivery friction in your communications and creative, including ad copy.
Finally, with your breadth of products available to show up for consumers when they're searching, and a range of compelling ad creative - you can then use Google's AI-powered ad solutions to drive those deep consumer connections at scale. Use Google Search with broad match and Smart Bidding to capture additional related search queries, and set the right bid on an auction-by-auction basis. Pair Search and Performance Max campaigns together to reach consumers and multiply results across all of Google - including Search, YouTube, Display, Discover, Gmail and Maps.
Doing this will help you show up with the right compelling message for the right consumer at the right moment, whether they're looking to purchase a product online, or checking availability before heading to store.