When gyms shut around the world, fitness brands were faced with the challenge of how to show up for their members when they couldn't break a sweat in person. Here, Industry Manager Pablo de la Vega shares how Les Mills used YouTube to generate subscribers for its on-demand platform and app.
Over the past 50 years, New Zealand-based Les Mills has brought its mission of creating a fitter planet to the world through group fitness classes like BODYPUMP®, RPM®, and GRIT® offered at more than 21,000 clubs worldwide. With the introduction of its LES MILLS On Demand app in 2015, the fitness brand made its most popular workouts accessible to subscribers across the globe from the comfort of their own homes.
When the COVID-19 pandemic hit in 2020, Les Mills knew it needed to invest in new streams of revenue that didn't depend on physical gym memberships. With searches for ways to work out at home on the rise, it became clear that the LES MILLS On Demand platform was the best opportunity to both attract homebound audiences and give the business a boost through paid subscriptions.
Taking advantage of the at-home fitness boom
LES MILLS On Demand's cinematically filmed workout content was a natural fit for YouTube's TrueView for Action, a campaign format that allows viewers to pause an ad and click to learn more. Operating under a strict cost per action, Les Mills used machine learning and automation to stay within budget while generating reach among qualified audiences and enhancing search performance. Les Mills also used Video and Display campaigns to boost awareness, which contributed to a steady growth in paid subscribers, even after the initial spike of demand.
Before settling on an ad format, Les Mills needed to determine which creative would work best for its campaign objectives. Testing multiple creative iterations and comparing results against a control group helped Les Mills prove which ads would drive the highest performance. After experimenting with voiceover, ad length, and background music, ads that used voiceovers emerged as the clear winner for promoting brand recall and awareness.
The campaign was initially rolled out in more than 40 countries across multiple high-propensity audiences, including custom intent, in-market for fitness, and remarketing. For the custom intent audience lists, Les Mills used brand keywords, competitor keywords, and generic home workout keywords to reach viewers who were more likely to subscribe to its platforms.
Making gains with YouTube
Using brand lift studies, Les Mills was able to measure the impact of its YouTube campaigns on key brand metrics. Beyond the spike in general brand searches and lift in brand awareness, viewers in the UK for example searched for the LES MILLS On Demand platform 80% more than the control group after being exposed to the TrueView for Action campaign. This led to a significant increase in platform subscriptions among qualified audiences.
The results of these studies convinced Les Mills to scale its Video and Display strategy further, priming the brand for future success on digital platforms.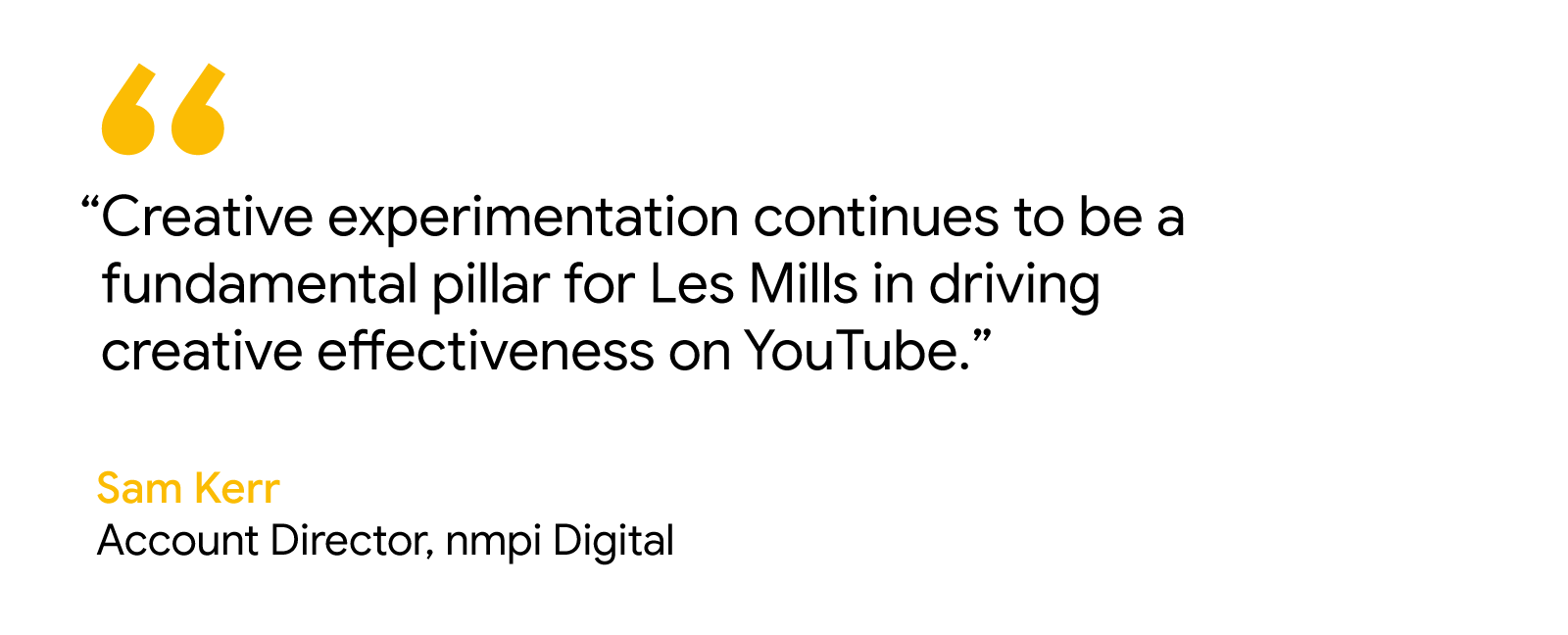 Even as cities ease their restrictions and gyms begin to open back up, on-demand workouts will continue to serve as an important stream of revenue and key differentiator in the group fitness space.
So what should brands looking to succeed keep in mind?
Test and learn. Try out various forms of creative until you've proven what works, then apply your learnings to different campaigns for maximum performance.
Let machine learning do its job. It can take some time for the system to figure out what works best, but automated bidding makes a significant difference in the long run, especially when operating under a tight budget.
Bundle your performance targets for better results. Instead of using separate performance targets for YouTube and Search, Les Mills blended its objectives. This gave the brand more freedom while testing against cost per trial.
With more brands offering their services online every day, those that are willing to test innovative new solutions and learn from their setbacks will thrive.