Gone is 2022, the year suitcases were dusted off and holidays were gradually back on the cards. Now, well into 2023, reluctance has subsided and – international travel is back in full swing across Australia and New Zealand. With 75% of people across the APAC region keen to travel as much as possible in the near future1 and search interest in "international accommodation" rising 144% in Australia and 181% in New Zealand2, travel is clearly in hot demand.
However, with ski season quickly approaching here in the Southern Hemisphere, and the Northern Hemisphere beckoning Australians and New Zealanders away on summer holidays, your travel brand will need to understand more than sweeping generalisations to deliver strong business results.
What you need is the latest information on where travel demand is peaking and which destinations are showing fast-growing interest. This lets you deliver timely, relevant travel offerings to optimise your campaigns and maximise bookings.
Based on our analysis of Australian and New Zealand travel trends, we've identified both countries' top five destinations for inbound and outbound travel. The countries with the highest demand to come to Australia and New Zealand made the inbound interest list; and the countries Australians and New Zealanders most frequently rank as must-visit destinations made the list for outbound interest.
Here's what search demand revealed about inbound and outbound interest for Australia.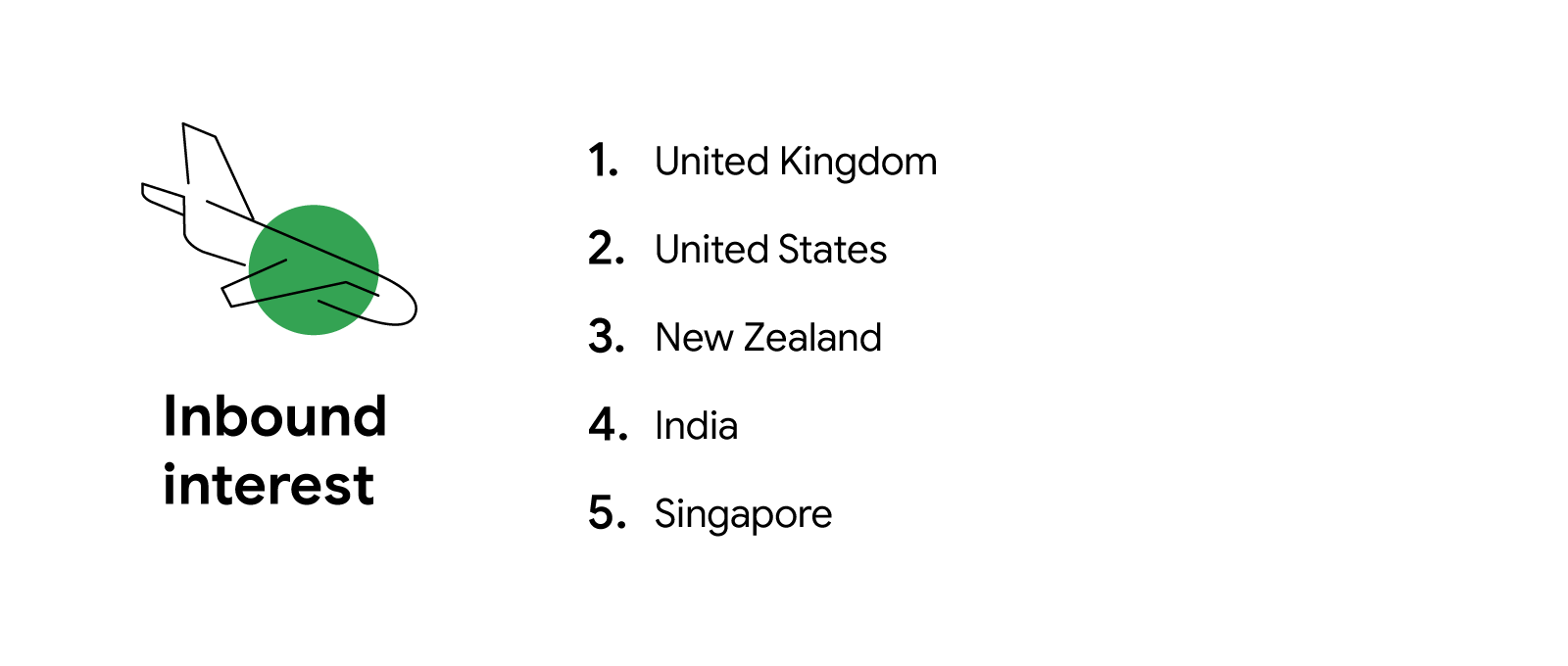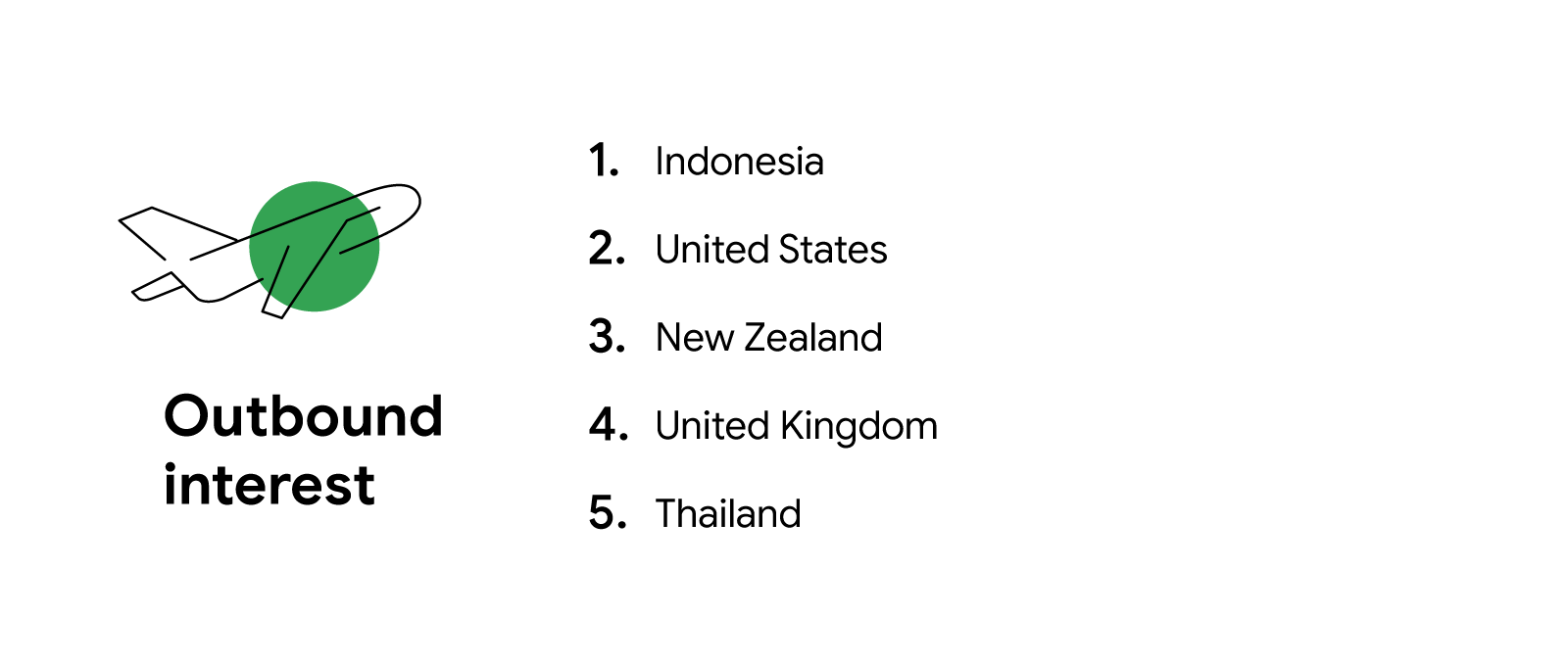 And these are the top five destinations that have seen the highest growth in demand for Australian travellers wanting to go abroad.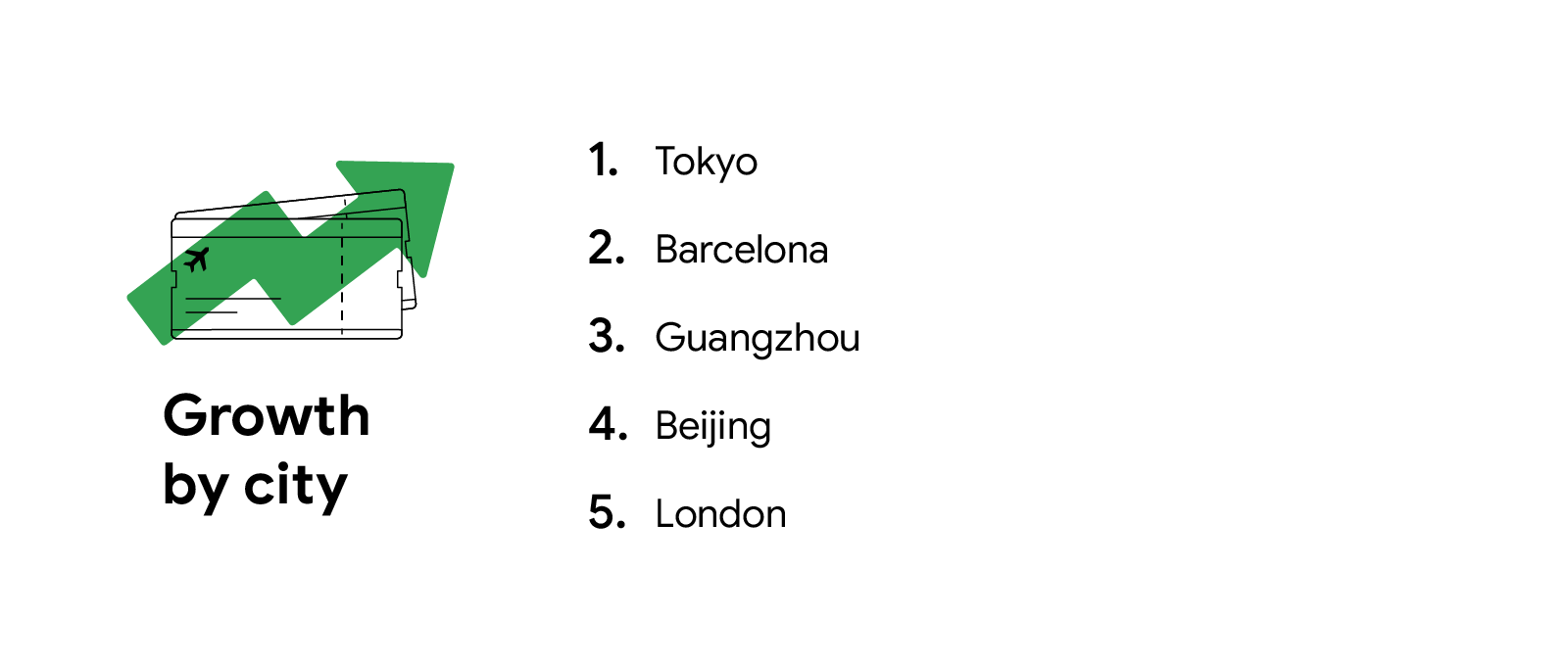 For New Zealand, here's what search demand and outbound interest are telling us.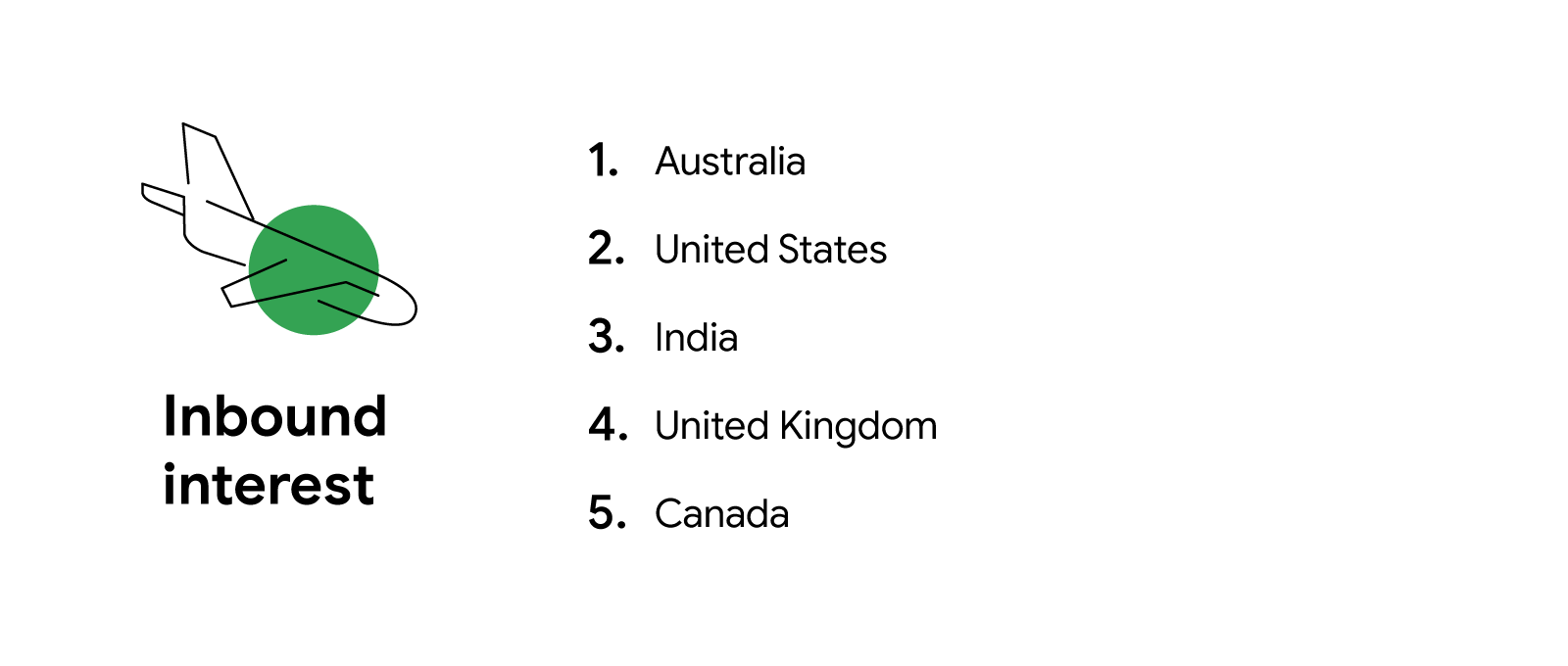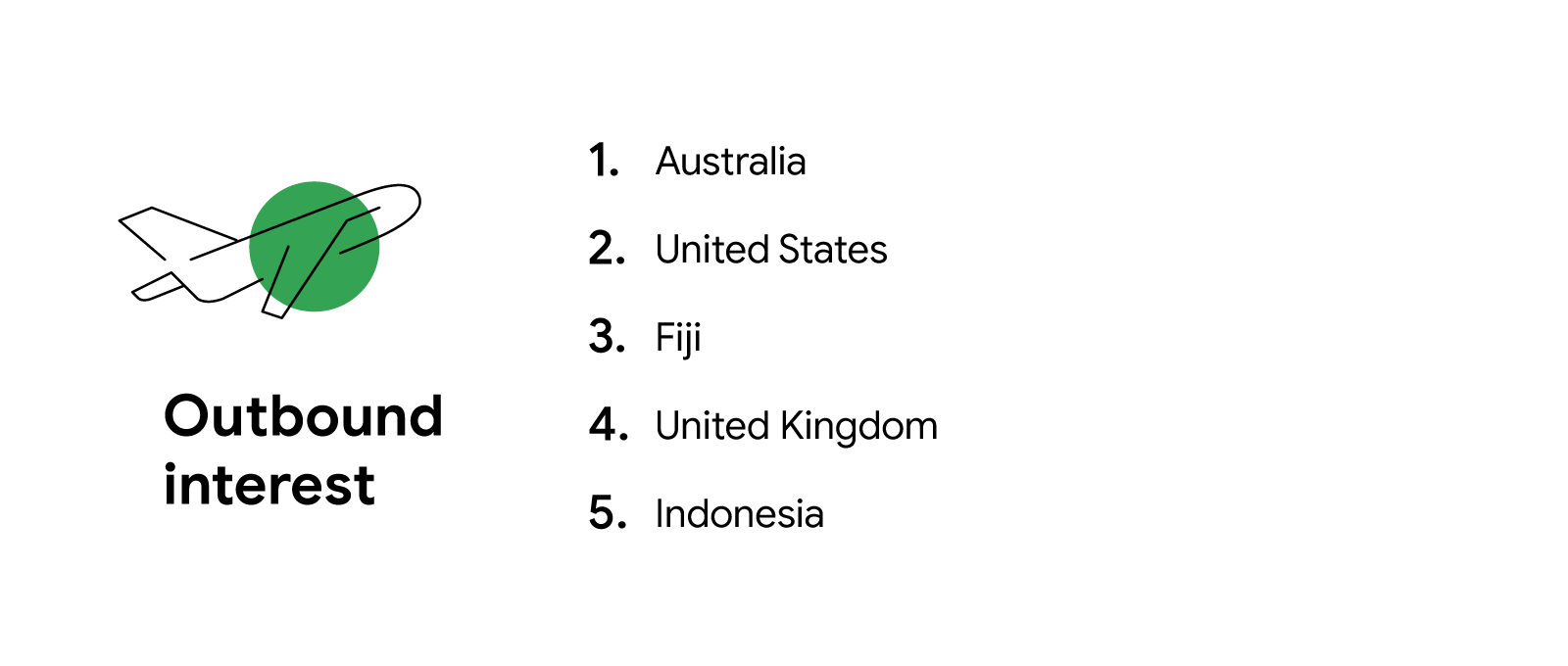 See how the top five destinations with the highest growth in demand ranked with New Zealanders.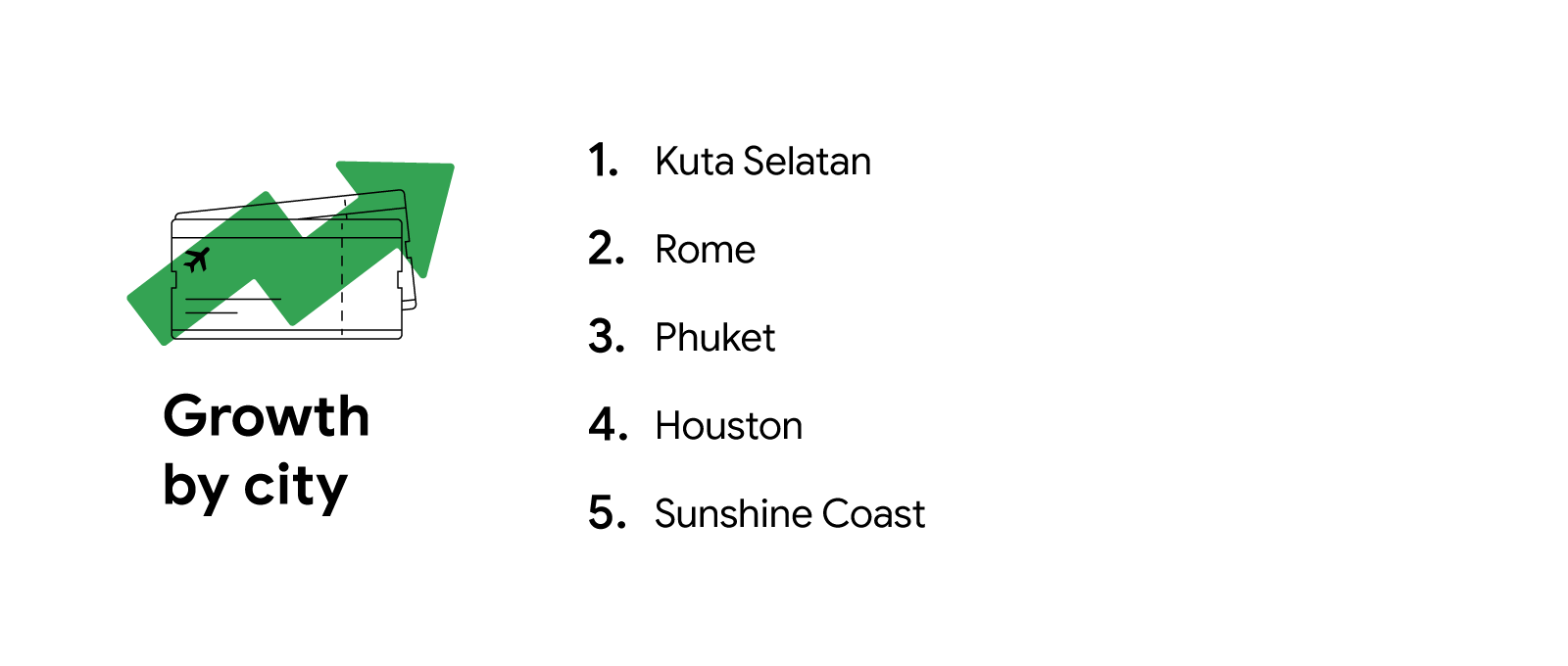 These lists, however, may change with time since interest in a travel destination can be influenced by TV shows, viral pop culture moments, social media trends, and mega events. For instance, when the hit American drama "White Lotus" was airing, searches soared for the hotels where each season was filmed. Searches for the first season's Hawaii resort rose 120% from six months prior. And after the second season aired, searches for the hotel in Italy increased 28X as compared with six months before.3
To fully unlock the business potential of this international travel boom, you need timely insights into destination demand and interest – so you can meet travellers in their moments of need with the hotels, flights, or activities you provide and promote.
An easy, timely way to keep up with travel demand and interest
Google's Destination Insights is a free, publicly available online tool that keeps you up-to-date on the latest travel demand trends – positioning you ahead of the curve.
With Destination Insights, you can easily identify markets with growth potential and create campaigns to win traveller preference.
Drawing on Search data from as recent as five days ago, Destination Insights provides a view of top inbound and outbound destinations in every market. You can also use it to zoom into interest and demand for specific cities, states, and regions that are important to your business and marketing strategy.
This invaluable information helps you create campaigns to win travellers' attention and preference during the critical period when they are weighing their travel options and open to trying new brands.
On average, travellers spend 28 days in the "dream" phase and 24 days in the "plan" phase of their travel purchase journeys. And in the process, they're considering five to six brands when deciding on things like flights and accommodation – with nearly 1 in 4 making bookings on platforms they haven't used before.4
How to make sharper business decisions with Destination Insights
Using the latest information on destinations that are currently in demand, or show the highest growth in demand, you can refine your campaign to be more relevant to travellers. Add these trending places to your campaign if they aren't already included, and target ads to these specific geographic locations. You can also use the destination insights to test your campaign in multiple new and relevant geographies, and find valuable customers.
Singapore Airlines, for example, used insights on geographic demand to determine which markets it should prioritise when it expanded the rollout of a campaign using value based bidding with data-driven attribution. The optimisation resulted in a 46% increase in traffic on its website and a 26% increase in conversions.
Singapore Airlines used insights on geographic demand to optimise its campaign
You can also optimise your business with Google's Destinations Insights by updating the creative in your campaigns to match travellers' interest and demand. Tailoring the visuals and messages can help drive conversion among those in the "plan" and "book" phases of their travel journeys.
In particular, your video campaign creative should be refreshed to cater to shifts in demand and interest. The reason: More than half of those surveyed say they look to video touchpoints in their travel journeys, and notably, 41% turn to YouTube specifically.5
The changes you make to your creative in Video action campaigns, for example, will cascade across YouTube and other Google video partner platforms where the campaign is run. This boosts your brand's relevance, at scale, to people in various phases of the travel journey, and drives conversions at the lowest cost per action.
Given Australia and New Zealand's growing appetite for travel, the time is now for travel brands to shine. By keeping a firm finger on the pulse of traveller demand and interest, you'll be able to identify and maximise opportunities for business growth, and help your travel brand soar high this season and beyond
Discover the latest travel trends on Destination Insights and raise the bar on marketing for tourism.