Ben Jones is the global director of Creative Works at Google, where he works with brands and creative teams all over the world to make the most of their digital campaigns. Here, with Fiona Walford, head of Creative Works for Australia and New Zealand, he shares how brands can drive better business results with more effective creative.
With the rise of automated marketing tools, any brand can buy the same improved efficiency as their competitors — and your media strategy can only take you so far. The last unfair advantage for ads that work is good creative.
It's only natural that marketing and creative teams develop their own "rules" about what makes effective YouTube ads. We often find those rules could benefit from a reframe. The truth is, successful brands on YouTube use creative strategies and mindsets that bust assumptions.
Here are a few misperceptions we've encountered and some suggestions for how you might reframe them into best practices for YouTube creative.
Myth 1: Finding success on YouTube is a total guessing game.
The reframe: Take creative risks that pay off by evaluating an ad's structural and strategic elements.
You should absolutely take risks on YouTube, but that doesn't mean shooting in the dark to find what works. Now, more than ever, we can get insights about what makes a great ad by analysing its core elements.
There are some basic principles to making effective YouTube ads, and these principles can inform which risks are worth taking.
In the core ad itself, editing style, narrative structures, messaging strategy, and storytelling approaches are all important elements to consider.
We can then break down an ad even further by examining it through multiple lenses. Which marketing objectives does it support? What are the target audiences and geographies? What outcomes does it achieve? Asking these strategic questions before building your ad can help inform the creative risks you want to take.
Myth 2: Good YouTube ads have a certain look and style.
The reframe: There are all kinds of effective YouTube ads, and many don't even necessarily look or feel like ads.
While there are certainly creative principles you can start with, that doesn't mean there's a one-size-fits-all approach to execution. Looking at the wide spectrum of effective YouTube ads across marketing objectives around the world, we've found that focusing on what your ad says and how it makes people feel is more important than the way your ad looks.
Tourism New Zealand, for instance, stood out on YouTube by putting people first in its "Good Morning World" campaign. New Zealanders are the first people on Earth to see the sunrise, so the brand asked locals to greet global viewers on YouTube every day for an entire year. This bold cadence, coupled with Tourism New Zealand's heartfelt approach, was a hit on YouTube.
An effective YouTube ad can be many things, such as a movie star with no clothes on. It can be a five-episode cooking show with a beloved New Zealand creator who has a large, engaged audience to drive organic views. It can even be a tour of Australia's best holiday travel destinations.
YouTube is a breeding ground for creativity, and advertisers have as much of an opportunity to participate in that as anyone else on the platform. Effective ads give viewers a taste of your brand, product, or service — and that leaves a lot of room for creativity.
Myth 3: Lower-funnel ads aren't as creative as upper-funnel ads.
The reframe: You can be creative about being direct.
Sometimes advertisers shy away from encouraging viewers to take action because they're concerned about cheapening the story or selling the brand short. But we've seen brands get really creative with calls to action. It just requires thinking about the ad as the start of the viewer's next action, which allows the work to extend beyond that one impression. This is especially important on YouTube, where 63% of viewers in the markets we've studied say they bought from a brand as a result of seeing it on the platform.1

A compelling way to customise lower-funnel ads is to align with viewers' passion points and make a more personalised offer. Take MILO, a brand that drummed up excitement online for a new version of its chocolate-malt mix with less sugar. By highlighting its healthier option in a YouTube-first campaign, MILO encouraged more Australian and New Zealander mums to try its latest product.
You can also get creative with your testing. Suncorp, one of Australia's largest financial services brand portfolios, experimented with a few different approaches to boost conversions with online video. The brand set up A/B tests using video experiments on YouTube for a clean audience split to understand and measure the impact of emotional versus rational messaging. After showing both audiences the same long-form emotional ad, it served two different sequenced 15-second video ads to see which drove more action. The results were clear: emotional messaging saw 8% higher view-through rate, while rational messaging drove 27% more clicks and 6X more conversions.
Myth 4: My TV spot will work well on any platform.
The reframe: Build for digital, and find success on all platforms, including TV.
Creative is a driving force behind performance on all channels: it makes up 62% of return on investment across video and display versus 38% for media.2
But tailoring assets for each platform usually requires more work than most brands and creative teams can spare. We found that when you start with a digital audience in mind, your ads will perform better everywhere — including on TV. You can grab attention immediately by building for mobile with tighter framing, large-type text, and colour contrast for visibility on smaller screens.
We put that digital-first ad strategy to the test by optimising TV commercials for YouTube and then running them back on each channel. These made-for-YouTube spots performed better on both screens — they did 60% better on YouTube, and when we reran them on TV, they did 21% better than before.3
It's important to play around with your creative to find out what works on different channels. "Experimentation isn't about delivering a right or wrong outcome, it's about learning, iterating, and constantly maximising potential," said Mim Haysom, CMO of Suncorp Australia.
Myth 5: Experimenting with creative campaigns is too much effort.
The reframe: An experimental approach can reap long-term benefits and break your reliance on assumptions.
There's a difference between having an experimental approach to creating video ads and conducting a one-off test. The former is a mindset that produces deep learnings and keeps you from relying on long-held assumptions. The latter is a thing you do every once in a while, and works best for campaign-specific learnings.
An experimental mindset doesn't have to slow you down or cost you more, and it'll pay off in the long term. Think of every campaign your brand puts out there as an experiment. Find out what you can learn, which new questions emerge, and what needs to be optimised. Advertisers that successfully used video experiments saw 60% higher ad recall from the better-performing creative.4
Take Australian online fashion retailer The Iconic, for example. Using Video action, the brand experimented with an interactive, attention-grabbing campaign that ultimately delivered an 87% higher click-through rate than the TrueView for action benchmark.

You can start by changing a variable in each of the three ways to approach creative: surface, structure, and substance.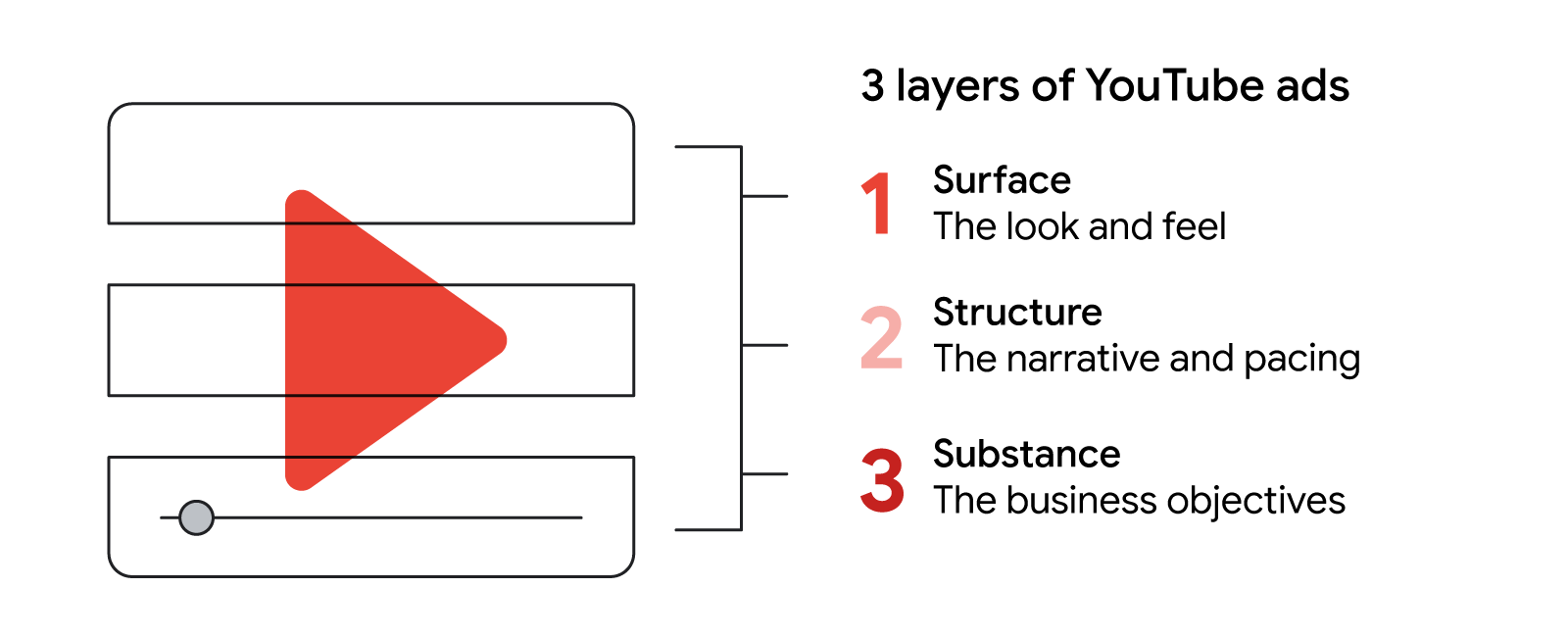 Surface: This first layer has many variables — such as framing, logos, device, contrast, and use of supers — that you can edit pretty easily.
Structure: The second layer is about storytelling, and includes everything from how the ad starts and finishes to how the story builds. Although significantly more impactful, changing narrative elements is harder to do in editing. It's best to incorporate structure into the brief upfront.
Substance: In the last layer, you can create the ad for its business objective, like ad recall versus purchase intent. This requires an understanding of how products are presented at a vertical level, which likewise is best to do when first building the ad.
Even the smallest changes can make a big impact. The more you experiment, the more you'll understand not only what levers to pull creatively for your brand, but also deeper insights about your audience.
Great brands around the world are constantly pushing to rethink long-held assumptions about what works on YouTube.
Creative is becoming more and more important as media automation levels the playing field for advertisers. And we have more insights into what makes a great ad than we've ever had before. The best part is you don't need new technology to unlock creative that drives results — you can build it with the team and resources you already have.
Use the foundational principles of effective ads, think creatively, build for digital, and take advantage of the capabilities YouTube offers. If you embrace these best practices with an experimental mindset, you'll be well on your way to making powerful video creative.