Recently, as part of PwC's partnership with Google, I conducted research on the future of creativity as it relates to marketers and creative agencies. We called this paper "Joining the Dots" because we found that connecting creativity, data, and technology illuminates new possibilities that can grow marketers' businesses and future-proof agencies. Interviewing some of the top innovators who are leading creative agencies and marketing teams in Australia gave us an invaluable cornerstone for our research. Here are a few of the major trends we found and some pearls of wisdom directly from the thought leaders.
Marketers and creatives have more insights available
For marketers, the growth in both first- and third-party data sources has been a boon, allowing for a richer understanding of what customers really want. Creative agencies have always understood the power of unearthing the human "truth" (i.e., a deep and accurate insight that instantly resonates with audiences) and over time have developed the research capabilities to surface them. Emerging now through technology such as data management platforms (DMPs), machine learning, and other tools and techniques is the ability to sort and stitch vast amounts of data together, which leads to insights ripe for creative attention.
The opportunity for agencies is to find ways to use these insights to design creative that has deeper human "truths" than ever before. Using data to increase empathy, as one creative leader posited, works to supercharge this traditional creative capability.
Where insights for marketers and agencies come from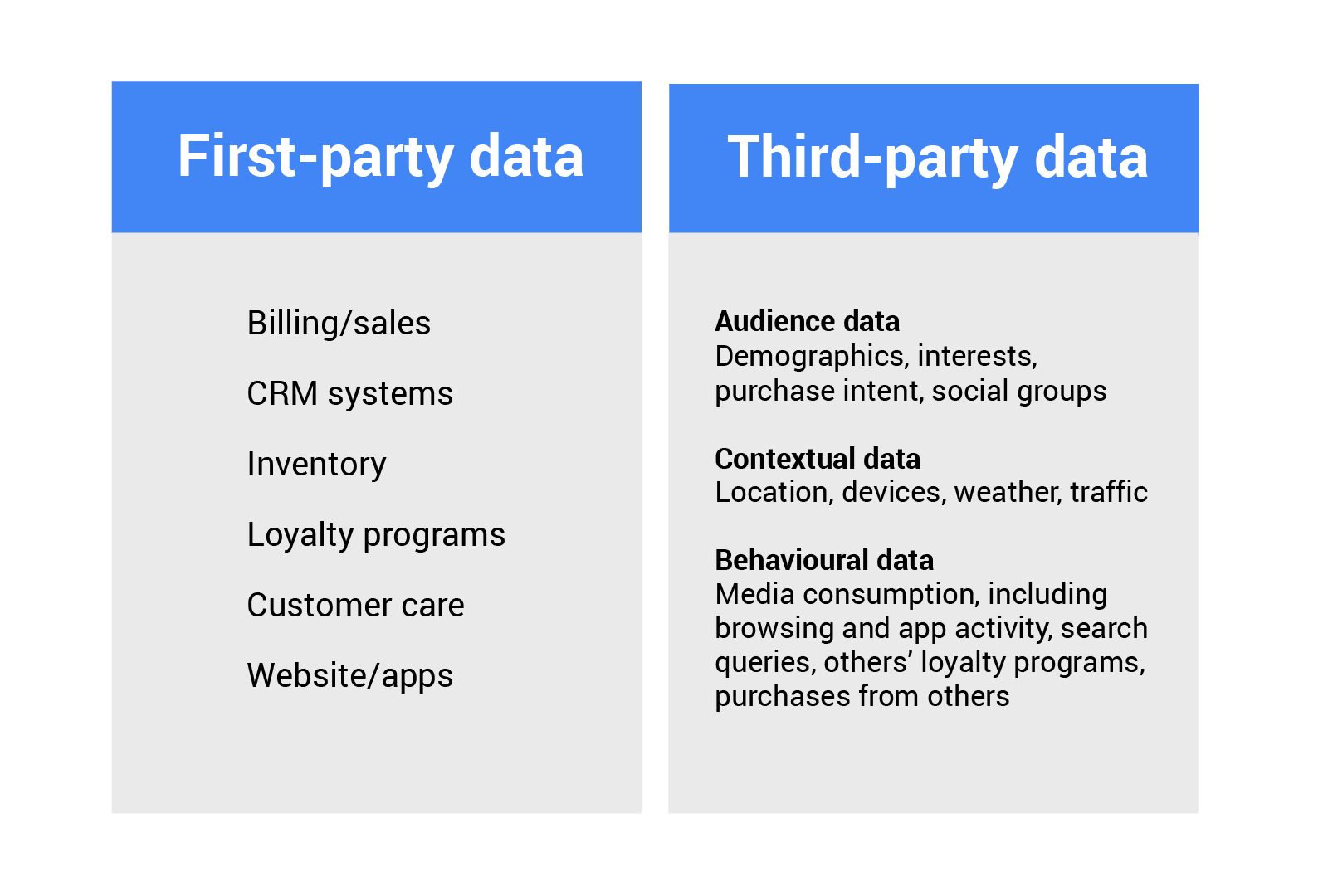 Newer channels are widening creative boundaries
Often painted in a negative way as the "fragmentation of media," the growth in channels on which to express a brand's personality can be recast more positively. For example, there are numerous new paths for streaming audio — including podcasting, voice-activated smart speakers, internet-connected headphones, and music services — that open new ways for brands to form a sonic identity, and augmented reality enables brand-enhancing utility (see Choice's CluckAR app, a free-range egg detector).
Google's research into video viewed on mobile has surfaced numerous tips for more engaging creative — from adjusting camera angles to bring the subject closer to altering traditional story arcs with attention-grabbing openings.1 These new creative opportunities are being embraced by creative leaders, and they take into account not only the channel but also changes in user behaviour as a result of the newer channels.
Designing creative for the channel for which it is intended is not a new concept; however, too often it has been paid lip service and not executed, so campaigns built for one medium get shoehorned into another. The solution here is better collaboration between marketers and their creative, media, data, and other specialist partners, such as technologists or media owners. This village can test ideas and offer suggestions that leverage the best attributes of all the chosen channels.
Featured Quotes
"This generation of consumers won't necessarily wait for a crescendo because they've always had the ability to hit skip, scroll past an ad, or even simply look at another screen. So modern creatives know there isn't just a traditional narrative arc to explore. They can tell stories the way their friends do — often starting with the best bits first and in different ways for every channel."
"You can reframe data as a form of empathy. Through a creative lens, data is more than who an audience is. You can see what works and what doesn't so you can constantly evolve and iterate."
"The best have always tailored their advertising to the medium they are using. The worst outdoor ad is the end frame of a television ad; the worst radio ad is the TV ad voiceover. Every medium has its own strengths. That principle holds online."
Ads must be relevant to resonate
Improved relevance arises from knowing more about the target audience – not just traditional demographic information but also where they are in the customer journey. Virgin Airlines' award-winning campaign for its awards program, "The Billion Point Giveaway," demonstrated how rich data contributes to a better creative experience. Conceived and executed by CHE Proximity, forty video assets were created as part of a series that tells the story of an intern who accidentally sent a promotional email offering a billion points instead of a million. The humorous videos were served to individuals sequentially, so users were always delivered the next episode in the series.  
Xfinity Mobile's "Data into Dollars" campaign is another example of the power of relevant marketing. The campaign used pre-roll space to explain the price of the data viewers would be using up by watching the upcoming video. By making the creative relevant to viewers' devices and content choices, the ad was more compelling than a simple message about the costs associated with mobile data would have been.
Relevance has become more critical as consumers increasingly avoid advertising across video, text, and audio with ad-blocking technology and paid subscriptions to ad-free content. But this ad avoidance has been positive in many ways. Developing creative tailored to the channel helps hold viewers' attention rather than annoy them. Designing and producing creative with these factors in mind leads to more pieces of creative, which requires new approaches and more technology. Agencies are working with partners such as Google and others to automate part of the creative process around copy, video, and audio. Advanced data analytics are also helping media agencies predict which creative elements give the best results. For example, IPG's MediaBrands in The Netherlands used Google's Vision API to build a click-through rate predictor based on variables such as colour and logo placement.
The shift to multiple, more relevant creative assets highlights the need for a strong brand strategy to glue all the components together and make a brand's narrative hold. This means a creative professional's input is critical across more areas and must be applied in ways that scale their skills, a problem technology can help solve.
The other solution to ad avoidance is more budget for online creative. Nielsen research shows a greater ROI comes from creative than media placement,2 yet online creative is regarded as less important than traditional creative (e.g., television and print) by marketers — and sometimes by the creative industry itself. Such bias may stem from the legacy concept of "above the line" versus "below the line," viewed as mutually exclusive categories in which producing brilliant creative is essential for "above the line" but optional elsewhere. The internet has made this demarcation obsolete, but sub-par budgets for online creative persist despite rapidly increasing digital consumer touchpoints.
Australia's marketers need to use every tool and human resource at their disposal to find growth and embrace the global economy's data-driven future. In this environment, leveraging the skills of their creative partners has never made more sense. At the same time, the strongest creative agencies are seizing the opportunities of more data, new channels, and reorganising so they can meet the challenge. For those with energy and an openness to new ways to build value for Australian businesses, the future looks bright. 
Featured Quotes
"As a marketer, I push for integrated media upfront, where creative understands the media strategy and it's not just 'TV and matching luggage.' There's an opportunity for agencies to focus more on how the channels are evolving and make creative bespoke for that platform."
"We can apply creativity more than ever before to solve business problems. Now we know — and can control — who sees what when, and we can create value where it didn't exist before and measure it. We can design our activity to serve 'moments' where customer behaviour exists, not a marketing calendar that suits the organisation."
"Some left-brain marketers use digital as an excuse not to have a brand strategy, but that's not true … data leads to a better strategy. It allows us to put forward more compelling ideas because we've moved from 'I think' to 'I know."