Consumer expectations are changing, with the environmental impact of products and services becoming a key part of people's purchasing decisions. In a recent Kantar survey in Australia, 63% of respondents said they feel they can make a difference to the world around them through their choices and actions - indicating shoppers are looking for ways to do good.1
Internationally, Google's user experience (UX) specialists have conducted extensive research into the sustainability measures people want to see along the path to purchase — and where the opportunities lie for brands. From reporting emissions to guiding shoppers towards greener choices, here are three key areas of focus to implement into your UX.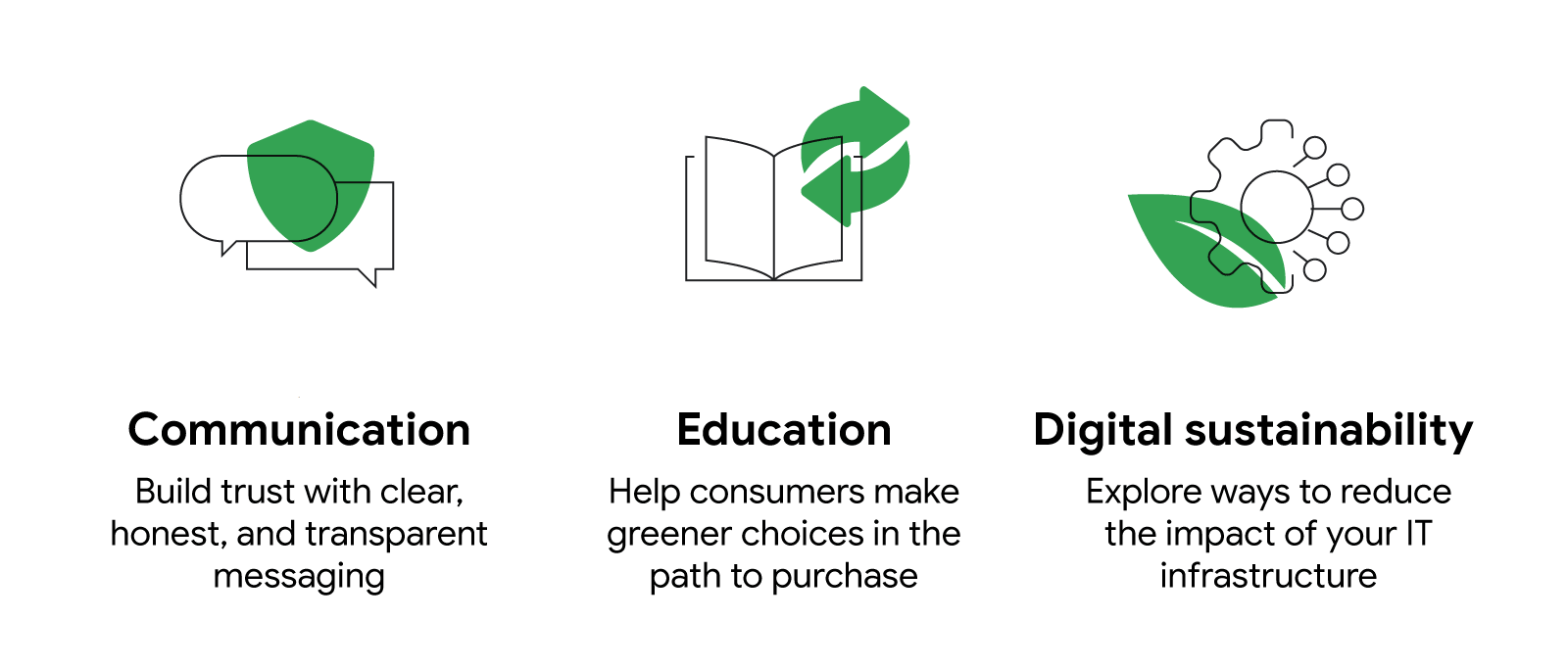 1. Communicate: Be clear, honest and transparent
Sustainability is a nuanced subject, and consumer loyalty can be won and lost in how honestly and openly you communicate your claims and initiatives. In our recent international Sustainability UX research – including participants in Australia and New Zealand – 41% of respondents said the information a brand shared on its sustainability efforts would affect their level of trust.2
From a design perspective, you can make it easier for users to find information and make greener choices.
Creating a dedicated space on your website or app to share your sustainability goals and achievements is a good place to start, but users shouldn't have to look for this messaging. Instead, ensure prominent positioning of your sustainability credentials throughout the full user journey: both online and offline, and across all communications such as emails and campaigns. From a design perspective, you can make it easier for users to find information and make greener choices by highlighting sustainable options throughout the path to purchase, especially in those early browsing stages. This could include icons or badging that indicate if a product is organic, recycled, or has less impact on the environment compared to other choices on offer.
The perils of greenwashing
Whether you opt for badging, emails, or highlighting environmental initiatives on your homepage, making claims without evidence can leave you open to accusations of greenwashing. And with 78% of respondents saying they were sceptical when they hear a brand claiming to be sustainable, it's more critical than ever.3
Being open is far better than bending the truth, so be upfront about what can still be improved.
To establish trust, it's important to be transparent with your consumers. When using your website to show what you stand for, be prepared to back up your messaging with links to real-world examples and data to demonstrate your efforts and impact.
For example, when making a statement about reducing the use of raw materials in your production process, provide numerical values showing how much you've cut back with a link where people can find out more.
In our study, one user told us when a company says it will "plant a tree for every order", they want to see the evidence that this has happened. This sentiment was echoed in user interviews across our global study.
You can't simply cherry pick the positives. Being open is far better than bending the truth — or ignoring it all together — so be upfront about what can still be improved.
2. Educate: Inform and empower your users
The consistent growth in search interest around sustainability topics provides a clear indication that consumers have a strong desire to learn more — and take action.
Kantar research found that 67% of Australian consumers believe it's companies and businesses responsibility to solve and tackle climate issues.4 Brands can engage with shoppers and win loyalty by using their UX to make these shifts easier.
This support and guidance needs to start in the upper funnel and move all the way through the customer journey, from homepages and newsletters to browsing and checkout, and even product repairs.
Informing decisions throughout the marketing funnel
By guiding users towards more sustainable options at different stages in the purchase journey, you can help inform and shape buying decisions — especially when it doesn't cost consumers any extra.
When an online supermarket in Norway added an estimated carbon footprint to shop receipts, it saw a drop in the number of carbon-intensive products sold, including red meat.

Sometimes it's just about understanding and meeting an existing need — 83% of our respondents said they would use a repair service if a brand offered it.5
Consider providing users with a final chance to add a more sustainable alternative to their cart. This should be clear, optional, and offer them value in some way. It's never too late to nudge someone in the right direction.
Australia's largest energy provider, Origin, launched a DIY online tool for customers to understand how solar energy could perform at their homes. Powered by Google Cloud and Accenture, the Origin Solar Assessment Tool combines 3D data, visual AI and advanced analytics to give customers an accurate indication and quote in under 10 minutes. Empowered with this insight, Origin customers could make better and faster decisions to reduce their carbon footprint.
3. Drive digital sustainability
The risk of greenwashing also extends to the data infrastructure you're using to share your sustainability messages. The energy needed to run mobile devices and wireless networks produces small amounts of carbon dioxide emissions, all of which can add up.
Once our research participants were informed of the scale of this issue, 90% said it was important or very important for the environment.6 And 87% said they would like brands to showcase how digitally sustainable they are.7
The aim is to make processes faster, greener, and more efficient by improving the source of energy used to power your website and assets, for example.
You can also use less energy in your website UX by lighting fewer pixels on a user's screen through dark mode, compressing and optimising dynamic content like video (large file sizes require more energy for hosting and playback), and lazy loading, which ensures non-critical content only loads when people need it. Not only does this help reduce carbon emissions, but it also makes for a better user experience.
Although in the case of compression, it's worth noting that 73% of participants said that they would be likely or extremely likely to browse a more sustainable site even if it impacted image quality.8
87% of people surveyed said they would like brands to showcase how digitally sustainable they are.
To conclude: 3 ways to deliver sustainability through your UX
Communication
Build trust with clear, honest and transparent messaging throughout the user journey. Be open about where you've made progress and where there's still work to do. Don't let your messaging get ahead of your company's reality or make claims without evidence — or you may be at risk of greenwashing.
Education
Inform consumers on how they can make greener choices in the path to purchase. Offer more information and help guide users with icons or badging to help indicate if a product is organic, recycled, or has less environmental impact compared to other choices on offer.
Drive digital sustainability
Explore ways to reduce the impact of your IT infrastructure, from using a hosting service powered by clean energy to more efficient load times on your site.