In the mid-1990s, the status of newspapers as the main source of news to society felt both indisputable and permanent. The internet was a novelty. We accessed the web on dial-up modems, surfed pages using Netscape, and searched for information on Yahoo!, Excite, and Lycos. Around the same time, across the Pacific, Amazon had only just launched an obscure online bookstore.
When I began my career as a journalist in 1995 at The Advertiser in Adelaide, the web was so niche that there were fevered debates about whether we would need one "Internet terminal," or perhaps two, for an entire newsroom. Newspapers back then could afford to take their time with technology — there was no rush. They were unassailable and spectacularly profitable, thanks largely to classified advertising. Rupert Murdoch once described classifieds as "rivers of gold."
Today, as we all know, the landscape is vastly different. The print rivers of gold have dried up and print circulation has sharply declined. Google recently asked the economists at AlphaBeta to dig deeper into how newspaper revenues have changed over nearly two decades and to explore when, how, and why the old business model for newspapers broke.
Entering the digital era of news and publishing
On the face of it, the news business has never looked so vulnerable. Newspaper revenues have declined from $4.4 billion in 2002 to $3 billion in 2018 — with 92% of the decline resulting from the loss of classifieds.1 To me, and anyone else who has worked in print or simply loves newspapers, this has been a painful process. My dad worked in newspapers — it's in our blood.
Sources of declining newspaper revenues (2002-2018)

In 2002, Australian newspapers collected 96% of all classified advertising in the country, which amounted to $1.6 billion.2 By 2018, the total classified advertising market had grown to $1.9 billion, but only 12% of that was going to newspapers.3 The rest had splintered off to specialist online providers such as Domain, Realestate.com.au, Carsales, and Seek.4
Classified advertising revenues (print versus online)*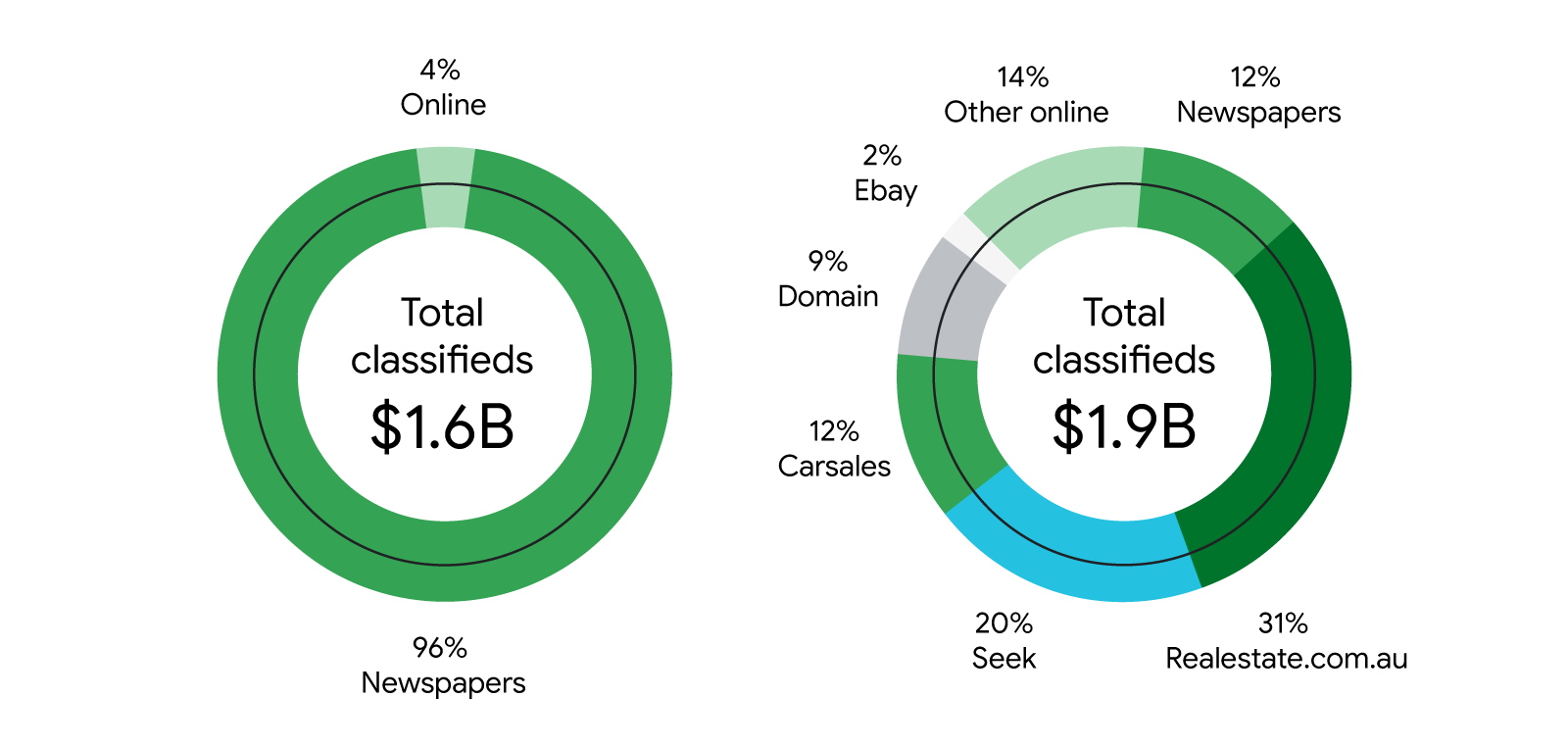 As technology started reshaping the news industry, it also began transforming people's daily lives. We moved from sitting at bulky desktop computers with slow connections to carrying a supercomputer in smartphone form, with instant access to news and information. Australian newspaper revenues peaked at $5.5 billion in 2008,5 just as Apple introduced the iPhone. With smartphones in our pockets, we were able to access the content news publishers made available for free on their websites, which was almost a perfect disincentive to buy the next day's newspaper. We now consume more news but fewer newspapers — between 2002 and 2018, total Australian newspaper revenues decreased by 32%.6

Shifting from print classifieds to digital ads
That's not all that has changed, of course. Over the same period, we've seen the transformative development of search and social media platforms. Google launched ads in 2003, and it has grown to become a global business as the web itself has expanded to hundreds of billions of pages. Facebook was founded in 2004, and today almost 3 billion people use it to connect with each other around the world. Together, Google and Facebook earn billions of dollars in revenue from commercial advertisers in Australia.
Evolution of Australian newspaper revenues*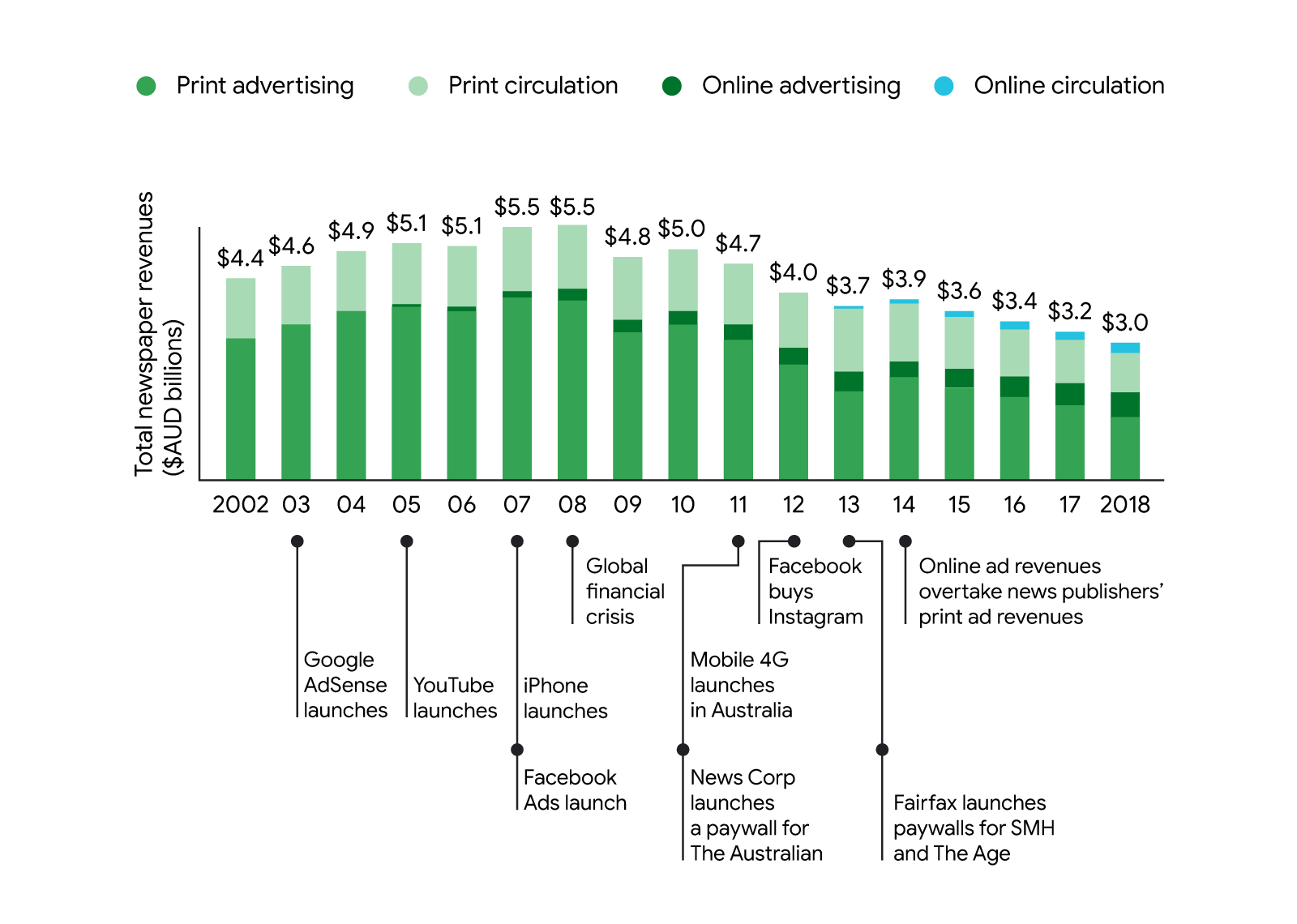 A widely held view is that if Google and Facebook didn't exist, much of this revenue would've stayed with news publishers — that these tech platforms directly disrupted the newspaper business model. But research disproves this theory: It wasn't Google or Facebook specifically, but rather technology in its entirety.
Take Search advertising, which allows businesses to reach specific audiences at the exact moment they're seeking a product or service — and they only pay if a user actually clicks on their ad.

What's more, Google's Australian clients include a wide range of small- and medium-sized businesses that wouldn't have taken out a lot of print classifieds. If there's an incumbent publisher that has been disrupted by search ads, it's directory operators like the Yellow Pages.
Estimated sources of online search advertising revenue*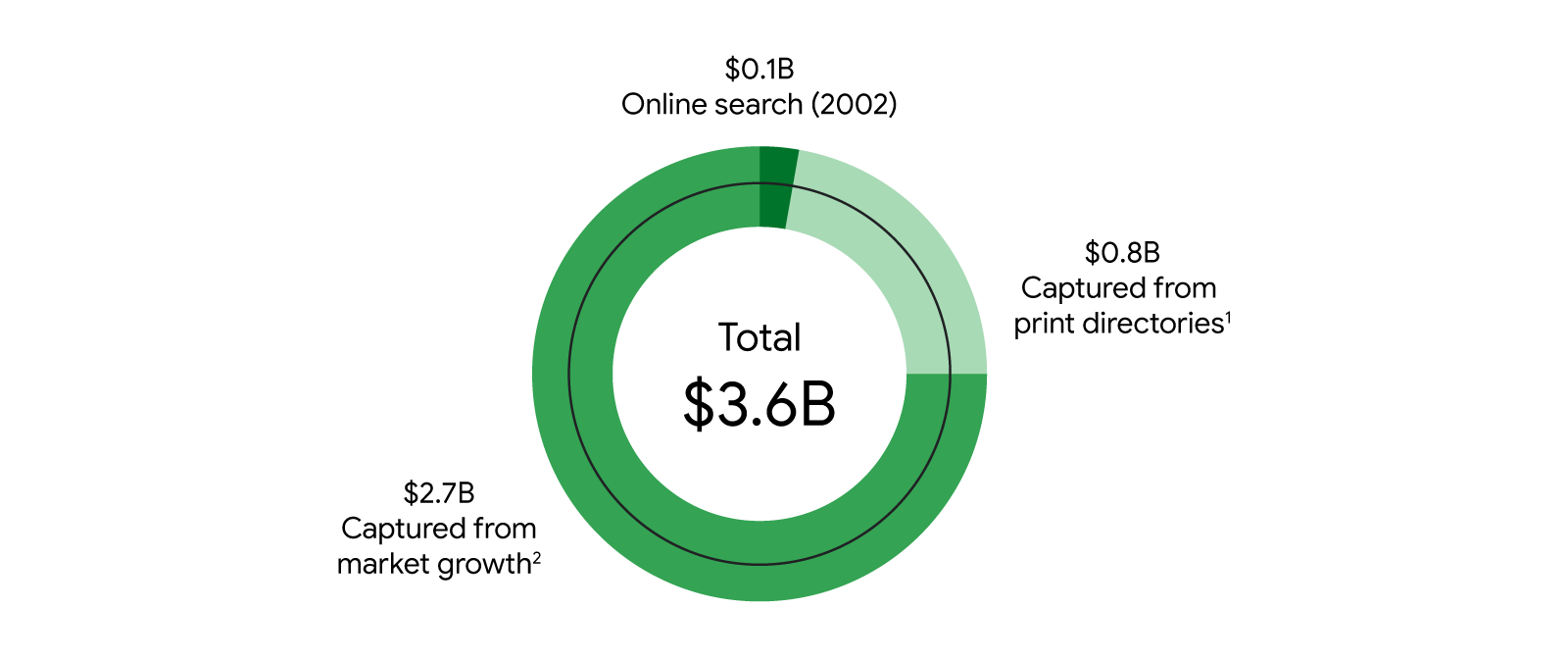 The total Australian advertising market almost doubled between 2002 and 2018 from $8.9 billion to $16.6 billion,7 and almost all of that growth came from search and social. But to suggest that this money would've otherwise gone to news publishers would require news publishers to have built their own search engines and social platforms. They didn't.

Every time people use Gumtree to sell a bike, browse Domain for a place to live, or flick through Carsales, money flows away from newspapers. Major publishers still own large stakes in these digital classifieds businesses, but the revenues no longer fund journalism.
Evolution of Australian advertising revenue*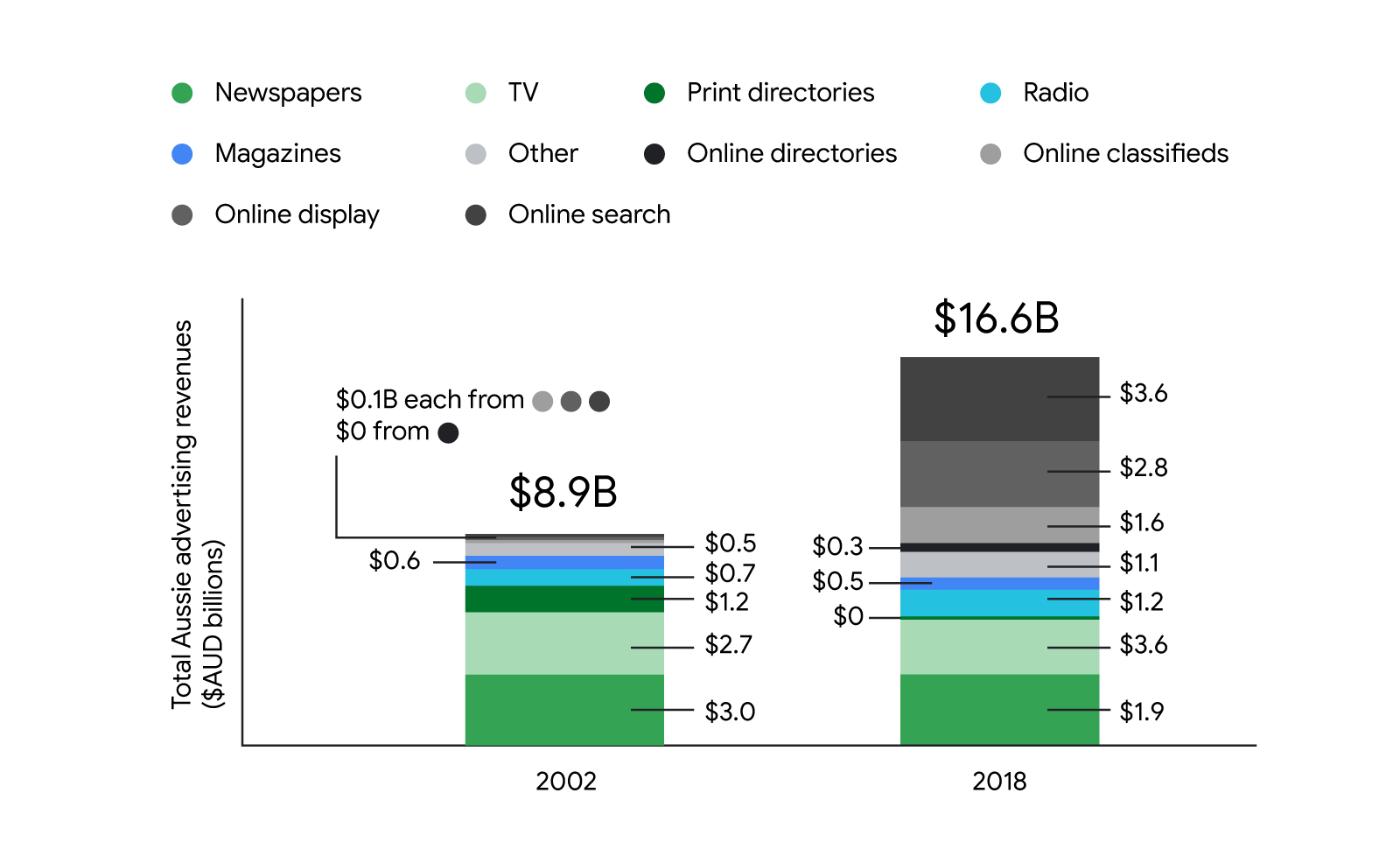 Embracing an organisational transformation
Research shows that the news industry is rebuilding its business model by making the most of advances in storytelling, distribution, and analytics while diversifying revenue sources — especially when it comes to reader contributions. When I was working at News Corp's The Australian a decade ago, we spent over 18 months creating a premium subscription model. It was News Corp's first paywall in Australia and many people said it'd fail. Today, News Corp's Australian newspapers have attracted more than 647,000 subscribers.
Around the world, more people are choosing to pay for news online.8 The global average of daily paid digital circulation increased 307% between 2013 and 2018,9 presenting newsrooms of all sizes the opportunity to roll out subscriptions. We're seeing more and more smaller-sized newspapers creating their own patronage models. And although these will take some time to mature, they'll ultimately drive sustainable growth.
Global average of daily circulation*

Looking ahead at the future of news
In the quarter of a century since I first began as a fledgling print journalist, the news industry has been radically, and often painfully, transformed. It has taken years of trial and error, but there are paths that now lead to publishing profits and prosperity. There are even green shoots of growth amid the COVID-19 pandemic — Telum Media reported that more than 30 new digital mastheads have emerged this year. As the news industry continues to expand, publishers can differentiate themselves from competitors by surfacing insights from data, finding attentive readers online, and delivering high-quality news in whatever format the audience wants, whenever they want it.
Investing in the right tools and talent is difficult during the best of times, let alone during a period of economic hardship. But more than half of Australian adults prefer to access news offline in 2020,10 which means many publishers can still nurture their print businesses while they start growing their digital capabilities. We've also been working with our partners to help small and regional publishers hit hardest by the pandemic reshape and rebuild by making better use of technology.
In the quarter of a century since I first began as a fledgling print journalist, the news industry has been radically, and often painfully, transformed. It has taken years of trial and error, but there are paths that now lead to publishing profits and prosperity.
As we look to achieve a workable code of conduct between digital platforms and media businesses, it's my hope that Google can continue to support the news industry. We look forward to working with news publishers for many years to come — just as we have been for almost two decades — through partnerships, programs, and new products that pay them for high-quality content.