Shoppers constantly search for the best: best product, best price, best reviews. In part three of this five-part series on shopping micro-moments, we look at how shoppers increasingly turn to mobile to compare products—both in the store and online.
The Nike running shoes or the Asics? The down pillow or the foam? The $59 headphones or the $199 pair? As today's shoppers narrow their options, comparing, contrasting, and conducting further research, they enter the realm of which-one's-best moments.
With more information literally at our fingertips, we're all more informed shoppers. And data backs this up: Fifty-nine percent of the online population is making more informed decisions about what to purchase now versus a few years ago.1
Enter: smartphones. Mobile makes comparison shopping all the easier in these micro-moments. In fact, mobile searches related to "best" products grew by more than 50% year over year.2 And online reviews carry a lot of weight: Eighty-eight percent of consumers say they trust online reviews as much as personal recommendations.3 So it's no wonder that the number of product review videos on YouTube grew 50% year over year.4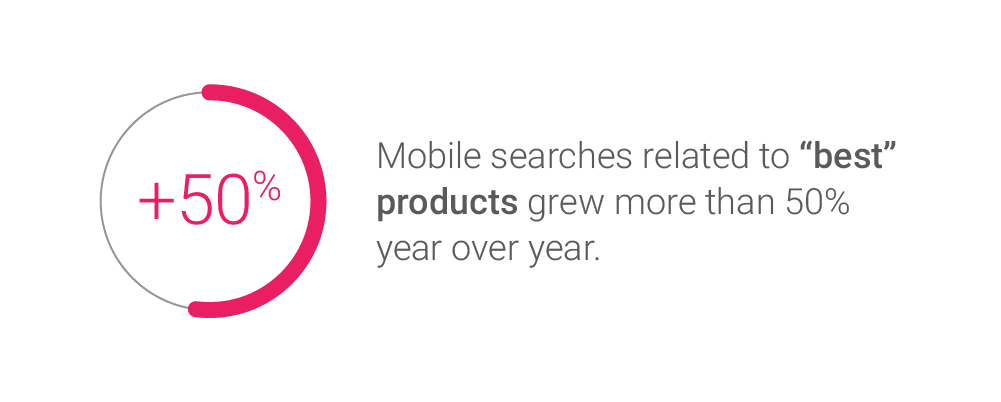 A real-life look at the consumer decision journey: a shopper's micro-moments
When it comes to shopping research, we all know that online interactions play a role in influencing the ultimate purchase decision. But how much so? New clickstream data from Luth Research's opt-in panel5 (which shows the online pages a user visited) and Mindswarms mobile video surveys6 provide just that type of insight.
By analyzing a shopper's micro-moments (in the form of searches, clicks, and website visits) over the course of one month, we can start to see exactly how and how much digital played a role in influencing her purchase decisions.
Meet Kaitlyn, a 27-year-old from Wisconsin who frequently shops on her phone and regularly scouts online deals before making a purchase. Over a one-month period, Kaitlyn had nearly 1,000 retail interactions across a variety of sites, 89% of which occurred on mobile. During that time, she was on the hunt for some new yoga pants, a new area rug, and some personal care products.
Here's a high-level look at the digital touchpoints (searches, visits, and clicks) that shaped Kaitlyn's shopping micro-moments that month.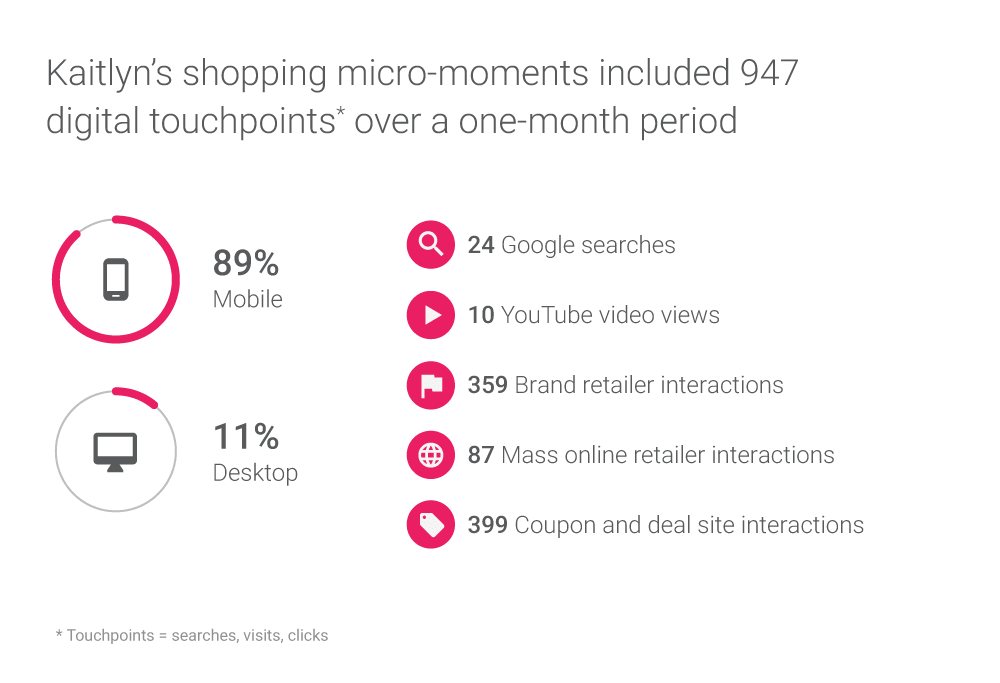 Snapshot of a real consumer's comparison shopping
Kaitlyn was on the hunt for two new area rugs for her home. She wanted affordable rugs that were 7x9 in size and relatively neutral in color. After searching on Google for both "cheap 7x9 rug" and later "7x9 rug affordable," Kaitlyn compared her options on four different retailers' sites. She ended up purchasing one rug on Retailer D's mobile site, where she was able to find a discount and use a credit she had.
During her search for area rugs, here's what one of Kaitlyn's which-one's-best moments looked like: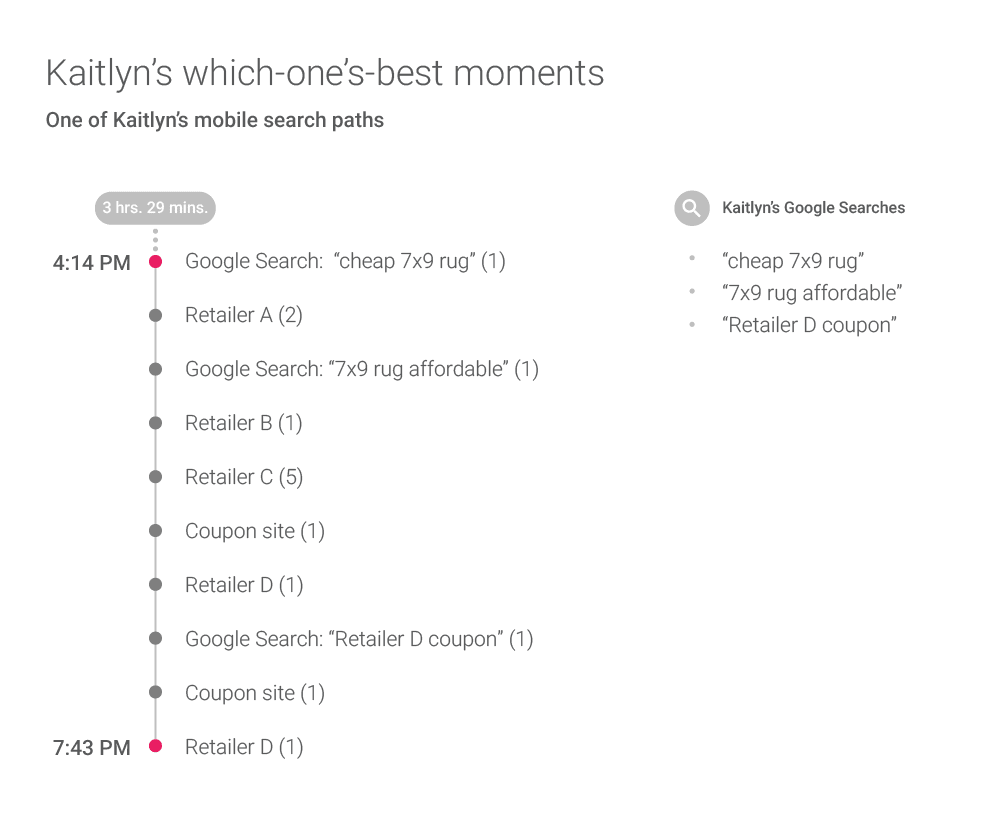 How to win which-one's-best moments: Be there and be useful
As a retail marketer, which-one's-best moments are your opportunity to put your best foot forward and differentiate your products. Here are a few concrete ways to do that:
Feature product reviews. Make it easy for consumers to choose you by letting others speak on your behalf. If you gather product reviews on your site, highlight your reviews in the form of stars on your Shopping ads to make your products stand out. 
Promote your best sellers. Once on your site, consumers may still grapple with making the right decision. Promote your best sellers on desktop and mobile to guide those who may not know how to distinguish between two lengthening mascaras or two different brands of SLR cameras.
Feature products in context. Just like it's easier to sell a home that's staged, it's easier to sell purses, dining room furniture, or jewelry (or ... anything) when you show the products in use. In fact, 64% of women who shop for apparel on their smartphone agree that seeing images of products in context positively influences their purchase decision.7 Highlight the product in context either through multiple images or video.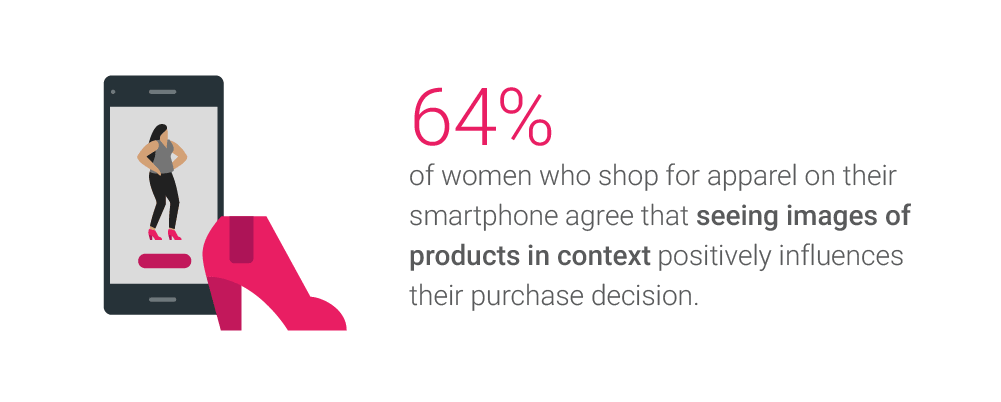 Show local availability of products. Six in 10 internet users check whether a product is available in a local store before visiting a store.8 Local inventory ads can help you turn comparison shopping into action by enabling people to see whether the exact product they're searching for is available in a nearby store.
How leading retailers are engaging consumers in which-one's-best moments
Global beauty retailer Sephora has taken steps to make the most of which-one's-best moments that play out in its store aisles. After observing that shoppers were turning to their phones mid-shop, the retailer realized that shoppers weren't necessarily price comparing—they were searching for product ratings and reviews online before they put something in their basket.
Sephora built their app experience around this insight, allowing customers to scan products to read consumer ratings and reviews, view purchase history to remember the exact shade of a product they already have, and save loyalty information so they can earn points and redeem for gifts.
Since optimizing its mobile app for in-store, Sephora's mobile orders increased 167% in one year, and loyalty members spent twice as much annually and purchased twice as frequently as other Sephora customers.9
There's a lot more to learn. Check out this more detailed feature on Sephora's approach to which-one's-best moments, including a video complete with interviews from the people driving this thinking for the brand. 
Consumer electronics retailer Best Buy faced a different challenge. As the nature of consumer electronics has gotten more complex, so have the questions that shoppers ask of the famous Blue Shirts. For example, today customers come into the store and say, "I want to stream photos from my SLR camera, onto my television, from my phone." They want to understand how products interconnect to make their lives better.
To address this need for more information, Best Buy shifted its broadcast budget to digital where they can scale information more easily. The brand now uses ads that surface product availability in stores closest to where the customer is searching. The brand also created mobile buying guides on its site and on YouTube.
Last holiday, Best Buy saw that local inventory ads, which surface the availability of products in-store, drove over 1 million store visits.The brand also found that mobile Shopping ads on Google outperform television in terms of return on investment.
There's a lot more to learn. Check out this more detailed feature on Best Buy's approach to which-one's-best moments, including a video from Best Buy's Chief Marketing Officer.
Read on for the next article in this series.