To lower cart abandonment, Fancy implemented Android Pay. The result: a better mobile checkout experience for consumers and an increase in conversion rate for the online retailer.
Results
2X increase in conversion rate
The Challenge
From trench coats for dogs to self-sealing water balloons to plasma-ignited lighters, Fancy is the platform to find—and buy— these rarities. It's a crowd-curated storefront of unique goods that benefits from impulse buyers who need the next cool thing. But impulses can be lost quickly when buyers are confronted with long payment flows. Fancy's challenge was the same problem as many e-commerce platforms: cart abandonment.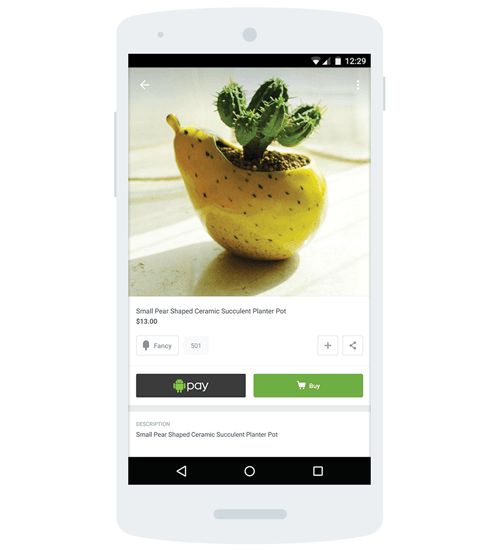 The Approach
To lower cart abandonment rates, Fancy implemented Android Pay, a simple and secure way for Android users to check out on mobile by entering their payment and shipping information with a single click. For Fancy, this simplified its eight-field checkout process and turned browsers into buyers.
Not only did Android Pay simplify the payment flow for millions of users on Fancy, it actually doubled the site's conversion rate. Now, 20% of Fancy's Android users check out with Android Pay at no additional cost to Fancy.