Every industry should constantly think about new strategies and approaches, even more so when times are tough. Among the industries most affected by the global pandemic, the auto industry has been especially challenged. Why? The industry relies largely on generating leads through in-person test drives and direct engagement with customers. Securing onsite user test drives has become incredibly difficult at a time when people are encouraged to stay home and limit contact with others.
Like every automaker, Kia Australia has to think critically about the marketing obstacles we're facing. How do we continue to interact meaningfully with our users in such a fast-changing media landscape? How can we generate online leads for our latest Seltos SUV model when our traditional marketing methods and channels are largely offline? Does our test drive booking experience need to adapt to the times? Answering these questions required exploring a marketing strategy we hadn't previously considered: our voice channel.
Voice marketing as a viable source for leads
Generating offline leads has been especially challenging for automakers in recent months. In our approach, we needed to think about what has become most important to our users' experience and how we could innovate to meet a new kind of demand. We've recently seen a surge in engagement with digital content. Consumers are seeking out content that entertains, inspires, educates, and informs. That's when we decided to use Google Assistant as our voice channel and a new source for generating leads and booking test drives.
The official voice assistant of Kia Australia, powered by Google Assistant, has become a key touchpoint for thousands of users looking to engage with our brand.
The official voice assistant of Kia Australia, powered by Google Assistant, has become a key touchpoint for thousands of users looking to engage with our brand. Voice marketing differs from traditional advertising in that consumers actively participate in the brand experience. For example, a user can simply say "Let me talk to Kia Seltos" to their smart device and instantly get information about the vehicle, learn about dealerships in their area, book a test drive on our app, or get any of their other questions answered. This uniquely interactive channel granted us an opportunity to build an ongoing relationship with users and deliver a quality digital brand experience.
Lasting engagement with the Kia brand through Google Assistant
Our initial expectation for the voice channel was conservative, with an engagement average of a few hundred users per week. However, the results far exceeded this as we quickly hit thousands of engagements within the first few days. Since activating our voice assistant, we've been able to engage 32,000 unique users, 20.8% of whom returned to the voice app after one week and 15.5% of whom returned after two weeks. We've also seen approximately 33,000 conversations take place and 159,000 messages sent since the beginning of the pandemic.
With Google Assistant, we were able to host meaningful digital experiences that allowed users to interact directly with our brand and potentially book test drives from anywhere. By innovating how we engaged with our users, we also made ourselves more accessible to a younger audience that was previously difficult to reach through traditional channels.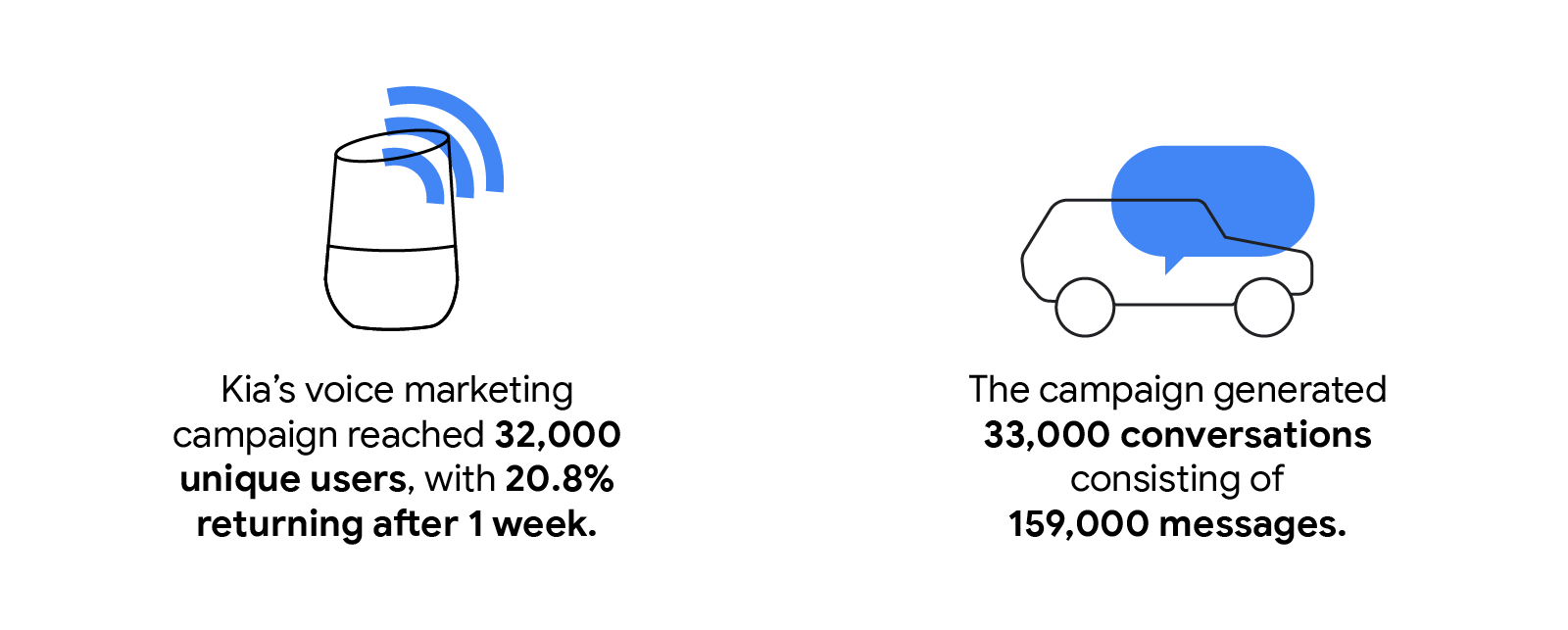 Although solutions will look different across industries, what has become abundantly clear is that every industry must innovate to survive. Touchpoints like voice marketing are valuable sources of potential lead generation that have the opportunity to become true game changers. Google Assistant has been instrumental in the success of this innovation, and the execution would have been impossible without our strategic partnership with Google.
We're considering expanding our voice marketing portfolio to include more Kia vehicles as well as after-sales services in other global regions. Our voice channel has proven reliable for fostering continued engagement with our users and delivering a quality brand experience. The great news is our voice assistant can remain always on — alongside our traditional channels when they're back in full swing.
At Kia, we've learned that voice technology can significantly improve a consumer's experience, making it a powerful and exciting tool for brands to experiment with in today's fast-paced marketing landscape.