Though it's hard to beat the comfort of a home-cooked meal, more Aussies are embracing the convenience of having dinner delivered right to their front door. Here, we unpack our latest research with Kantar TNS to help quick-service restaurants (QSRs) understand how Aussies research and choose online food delivery options.
When Aussies' stomachs start rumbling, they have a plethora of food options at their fingertips. Online search and the rise of food delivery apps like UberEats, Menulog, and Deliveroo have made it easier than ever to find a bite to eat nearby — and the country's QSR industry has drastically evolved in the last five years as a result.
Aussies spent $19 billion on fast food in 2018,1 and QSR revenue from online orders reached $278 million after growing 72% annually since 2014.2 Moreover, searches for "food near me" have grown 97% in the last year — the majority of which were made on a mobile device — making it the second most-searched term in its category.3

Thanks to the speed and convenience of online delivery, Aussies often make up their minds in less than an hour when they're ready to eat.4 In those impulsive moments of intent, digital-first strategies and seamless online experiences will be crucial for brands to stay top-of-mind with hungry consumers.
"In other industries, such as retail and travel, we've seen a separation between the brands that rapidly and repeatedly adapt during times of significant change and those that struggle," said Richard Wolstenholme, Google's QSR industry director. "QSRs and the wider food industry have the opportunity to fully embrace these learnings to continue to grow."
To better understand how Aussies research and compare their options, we partnered with Kantar TNS for a quantitative and qualitative study that explored the typical path to purchase for 500 consumers.4 Here, we'll break down three lessons with actionable takeaways for capturing attention and driving online orders.
1) Home delivery apps are leading the charge
Convenience is key when Aussies want to eat at home without the hassle of cooking. Home delivery apps give consumers a wide range of choices, which is why the majority of respondents (79%) said food delivery apps are their go-to source for ordering food. Plus, 67% said they prefer using those apps to ordering food directly from the restaurant.
Millennial and Gen Z Aussies are especially heavy users — 52% use food delivery apps as their primary ordering method. Our research showed they're 2.6X more likely to default to using delivery apps compared to older audiences, which isn't too surprising, considering they've grown up on digital.
While they're loyal to online delivery, they're not very loyal to brands. Most consumers (70%) who use online ordering apps say they regularly order from different restaurants rather than stick with what they originally had in mind.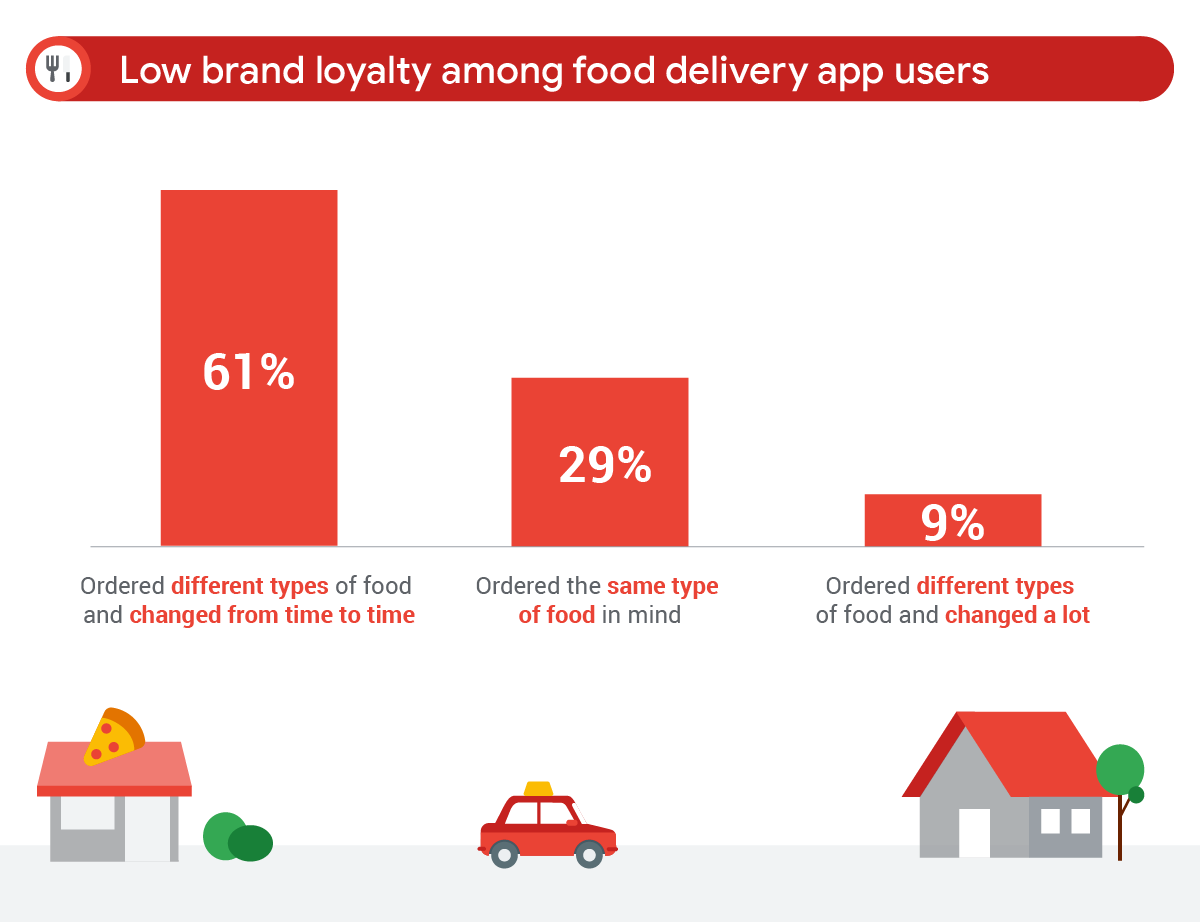 Key takeaway
Home delivery apps may be more favourable than ordering directly from a brand app or website for the time being, but QSRs still have the opportunity to catch up. Give Aussies a reason to order directly from your restaurant — a fast, well-designed website and app with easy navigation works wonders — and promotions and loyalty programs are a great way to encourage return visits.
Because younger audiences are clearly the most eager to order food online, consider experimenting with digital-first strategies. Brands like KFC and Domino's have tapped into YouTube features like Director Mix to launch new promos and tailor their marketing to the right audiences, which has led to impressive sales — despite fierce competition.
2) Search is increasingly crucial for undecided diners
Along with food delivery apps, more and more Aussies are turning to search for ideas and inspiration. While 63% of surveyed consumers claimed to know what type of food they wanted and where to get it from when they started searching, the data tells a different story: 61% of restaurant takeout and delivery-related searches are generic, and searches in that category have grown 22% in the last year.3
When Aussies turn to search, their attention — and appetites — are up for grabs. In fact, one in five undecided Aussies discovered a new food brand they hadn't previously considered while searching for ideas.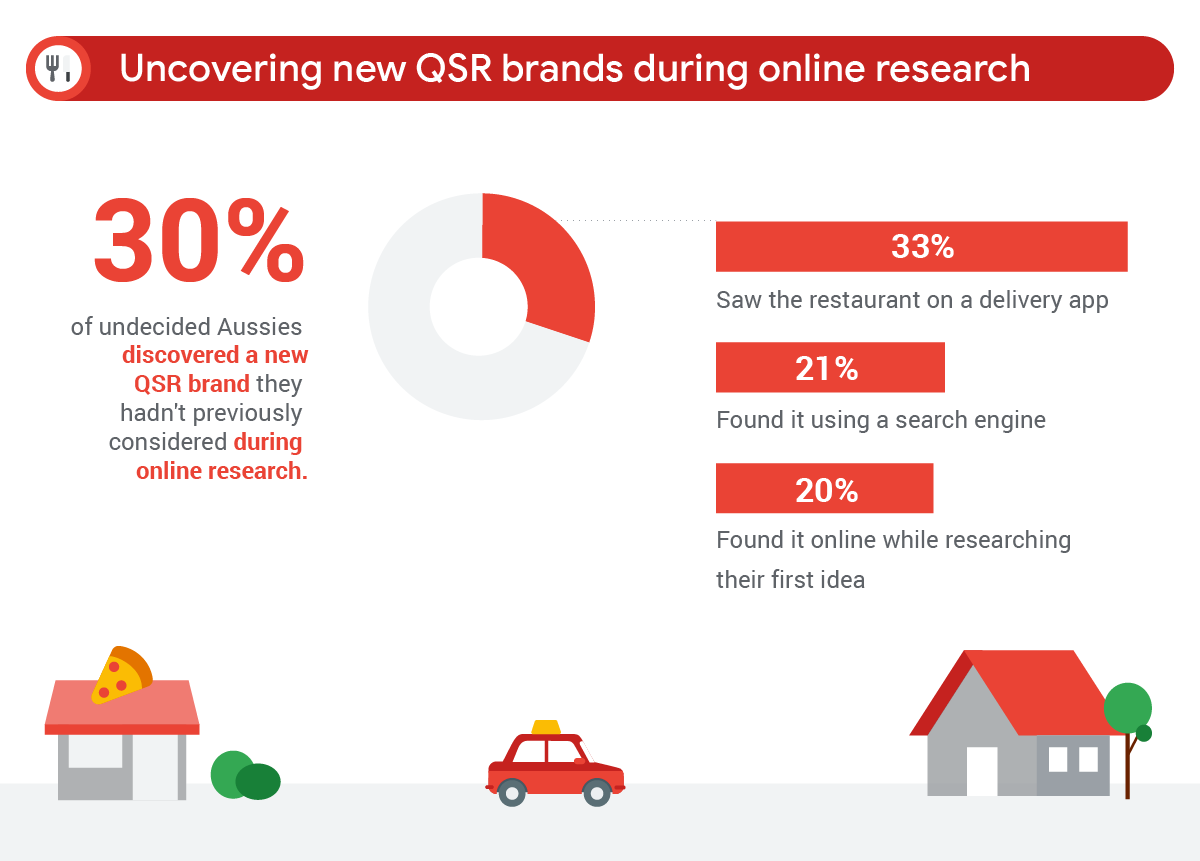 But while they're open to new options, they don't take long to decide — 61% of consumers claimed to spend less than 30 minutes researching food ordering options.
Key takeaway
Simply being present is crucial in the short time Aussies take to decide on their order. Machine learning and automated solutions are valuable tools to ensure you're investing in the most relevant generic keywords. That will give your brand a better chance of capturing attention while Aussies are searching so you can guide them to your site or app to place an order.
3) Aussies crave a seamless ordering experience
When it's time to order food, there's no room for friction. That's where QSR brands have some catching up to do. More often than not, Aussies encounter a lacklustre experience on QSR brand apps — 56% of respondents claim that food delivery apps are easier to use, and 43% said food delivery apps tend to load faster.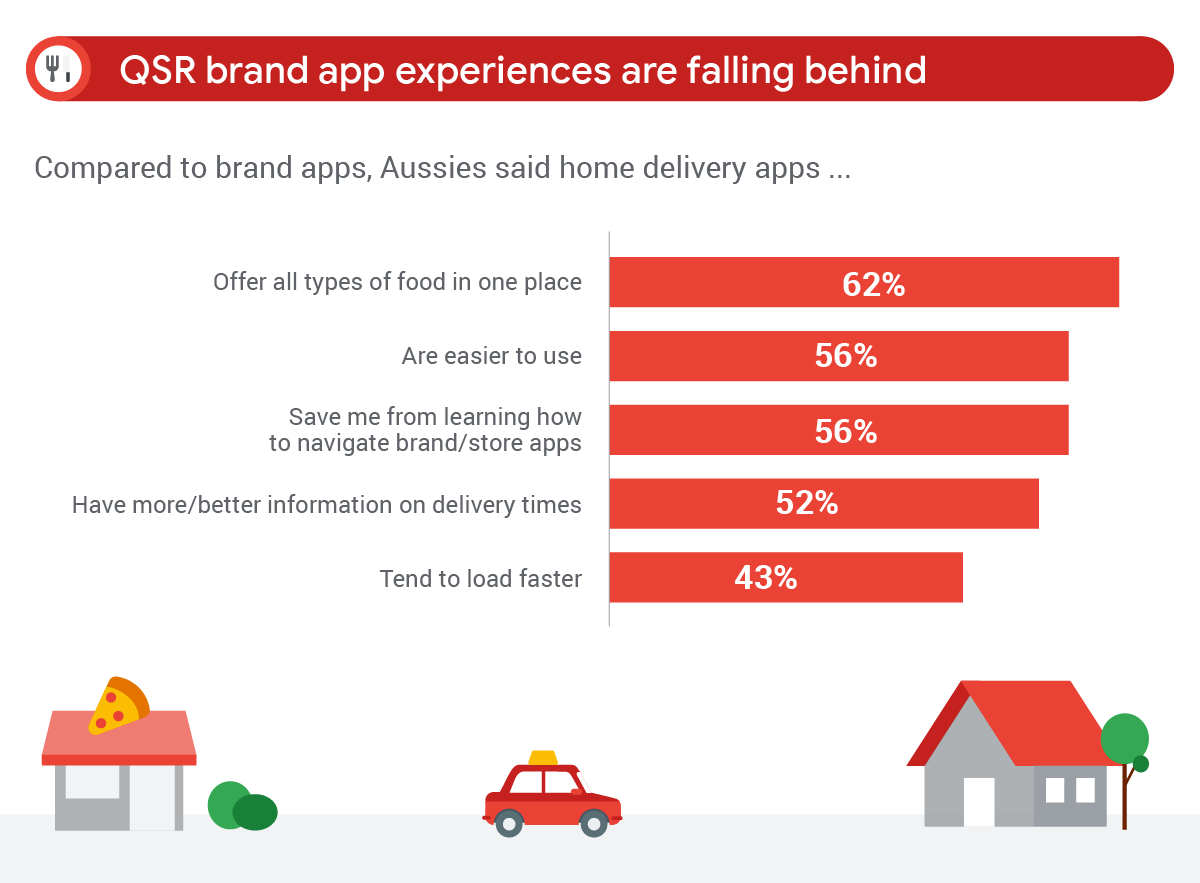 When it comes to QSR brands, Aussies in our survey rated Domino's as the clear market leader. "We've had to reinvent and adapt on several occasions," said Michael Gillespie, Domino's group chief digital and technology officer. "Investing in experimental technology like delivery robots and drones is critical in helping us maintain our position in Australia and our other eight markets across Asia-Pacific and Europe. Launching our new and improved mobile app is just the latest step we've taken to provide the best and fastest customer experience across all online and offline touchpoints."
Key takeaway
Invest in solutions that make online ordering as fast and smooth as possible. The first step is ensuring Aussies can order directly on your site without lag or friction. Next, use tools like Accelerated Mobile Pages and Progressive Web Apps to deliver a faster, streamlined experience on desktop and mobile while minimising the memory load on users' phones.
Deliver on digital to win Aussies at meal time
When Aussies go online to explore delivery options, the most helpful and relevant brands get a seat at the table. Online competition is only going to get more intense, but tapping into digital tools and ad formats can help QSR brands meet the challenge.
Don't hesitate to experiment with automated solutions, shake up your search strategy, and ensure your brand's website experience and mobile site speed are up to par.
Methodology
Google partnered with Kantar TNS to conduct quantitative and qualitative research to explore the QSR path to purchase (where consumers look for information, where they purchase, their brand loyalty, etc.).
We spoke to 500 Australian consumers aged 18–65 years old who have eaten fast food or ordered food via a home delivery app in the last month.