Even as offline spaces open up, people are choosing to stay online. From brand apps on their phone to YouTube videos on their connected TV, people are embracing new and convenient ways to discover, research, and take action across online channels and digital devices. For brands, however, this poses the challenge of reaching people effectively across often complex customer journeys and meeting their expectations. It's why those ahead of the curve are turning to marketing automation to grow their business.
Marketing automation tools use machine learning to assess audience signals in real time and at scale, providing marketers with an understanding of consumer intents and preferences. This enables them to ensure that campaigns show up at the right moments in people's journeys, and that they connect with high-value customers at scale.
Brands are also relying on automation to simplify the management and optimisation of their campaigns. In fact, over 80% of Google advertisers are using automated bidding to improve ad performance and free up time for other tasks.1
3 ways marketing automation enables business growth

Savvy brands across Australia, New Zealand, and APAC are maximising the power of marketing automation by using Performance Max. It consolidates all your performance advertising activity into a single campaign that runs across Google channels, including Search, YouTube, Display, Discover, Gmail, and Maps. Brands that have used Performance Max campaigns see an average increase of 13% in total incremental conversions at a similar cost per action.2
Here's how three brands tapped into marketing automation with Performance Max to reach high-value customers in relevant moments and at scale to improve bottom lines.
Find valuable new customers: Luxury Escapes
Travel company Luxury Escapes wanted to increase its revenue by 10X in three years. So, the brand used Performance Max campaigns to separate revenue KPIs for new and returning customers to focus on bringing in more first-time Australian customers.
First, Luxury Escapes created a new customer acquisition goal and set aside a dedicated budget to find new customers. Then, the brand prepared an asset group — a collection of creative assets for a target audience — showcasing its premium packages and destinations. With its new batch of ad creative, the brand launched a country-wide test, optimising for new customer sales with a maximise conversion value bid strategy.
And to get even stronger results with Performance Max, the brand used first-party data to compile lists of people who might be interested in Luxury Escapes' travel offerings to find valuable new customers.
Luxury Escapes saw a 45% increase in new customer revenue, a 21% increase in return on ad spend (ROAS) compared to its standard Performance Max campaigns, and a 35% decrease in cost per sale for new customers. These results proved that connecting with new audiences with similar interests as its most valuable customers can help the brand hit its revenue goals.

Efficiently drive business results: AA Insurance
With so many people searching for insurance online these days, AA Insurance wanted to take a digital focus to generate more leads for its car, home, and contents insurance products. To do that, the brand needed to connect with New Zealanders online through the right channels at the right time.
AA Insurance used Performance Max to find more customers and ramp up conversions across a range of Google's advertising channels and inventory, including YouTube, Display, Search, Discover, and Gmail. The campaign was designed to increase online insurance applications with an automated bid strategy that found customers who'd shown interest in applying online for a policy.
After a four-week test period, AA Insurance's Performance Max campaign drove a 12% increase in online policy applications at a 64% lower cost per acquisition than Search campaigns that used non-brand keywords. Plus, the automated approach saved the brand's marketing team a lot of the time they would have spent setting up and managing manual campaigns.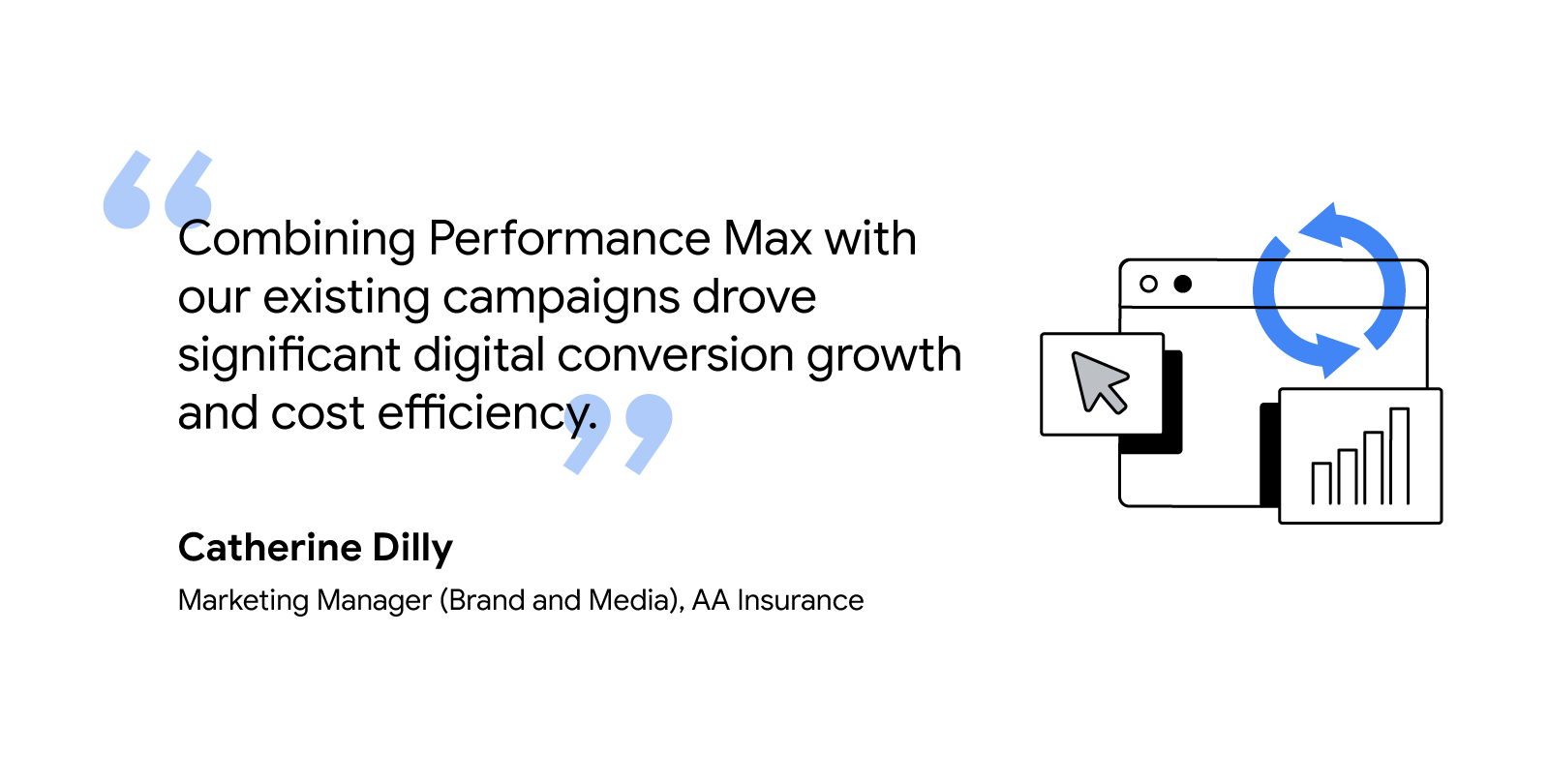 Show up at relevant moments during the shopper journey: Nespresso
With people staying indoors during the pandemic, coffee aficionados searched for ways to enjoy a cuppa from home. This led to a significant jump in coffee machine sales and Nespresso wanted to tap into this consumer buying behaviour to increase its online sales. It made use of Performance Max campaigns to get in front of people searching online for ways to enjoy a cafe experience at home.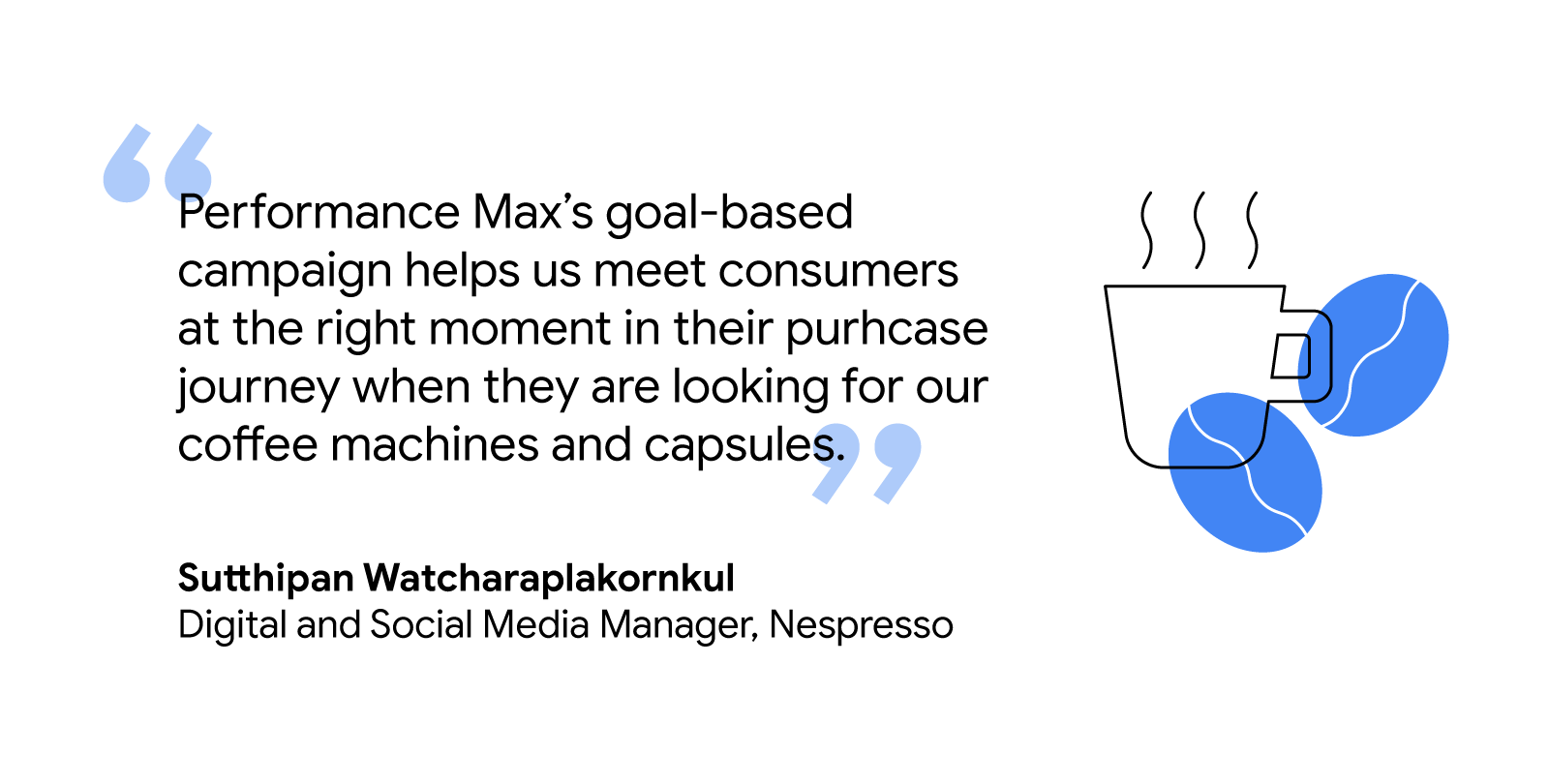 Nespresso Thailand integrated creative assets and data from its Google Merchant Center shopping feed into Performance Max to run advertising across multiple channels quickly and efficiently, and to maximise online sales. The marketing automation power of Performance Max also enabled Nespresso to use the most relevant creative assets to reach shoppers most likely to convert. The result: conversions improved by 55%, and cost per action was reduced by 3% compared with the brand's existing campaigns.
As more marketers use Performance Max, more best practices will emerge, including how to set the right conversion goals and bid strategies to optimise results. And the more creative assets and options you give to Performance Max, the more combinations it can create to help you automatically meet the right audiences in the right places and, ultimately, your business goals.