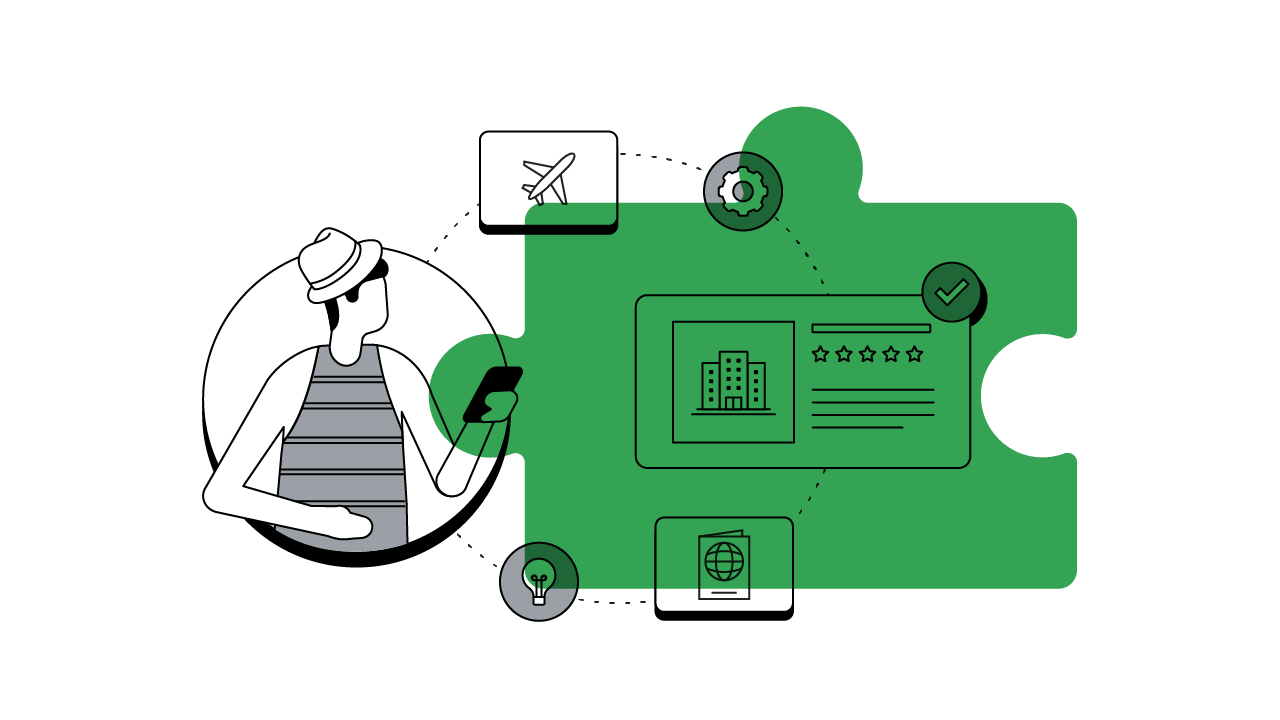 Whether it's chilling in a new city, experiencing new cultures or savouring new cuisines, travellers simply want to check out of their busy lives.
Our research shows that across APAC, the top motivation for travel is relaxation, unwinding, and de-stressing.1 Yet the process of getting there is often taxing and time-consuming. We know from our Messy Middle research that being present with the right messaging during exploration and moments of intent can drive buyer behaviour. For travel brands, making the process as smooth as the holiday itself can help boost bookings and profits.
Having grown accustomed to experiences of uncertainty in travel, especially during the pandemic, people are now spending more time planning their trips and deliberating over decisions at every stage.
Travellers relax when they're confident about their booking decisions, and you can power this "confidence shift" for them with AI-driven marketing.
We found that 81% of people spend either the same amount of time or longer at each stage, compared with before the pandemic. Many take between three to four months to go from dreaming about their next trip to actually having it organised.2
In addition, they use at least seven touchpoints at every stage of planning, including Google, Google Maps, YouTube, travel agent sites, and trip review sites. And on average, they consider a total of 16 brands across airlines, accommodation, and activities.3
Travellers relax when they're confident about their booking decisions. And when your brand creates the "confidence shift" by helping them go from wondering to knowing and making confident decisions with less effort, you open the door to growth and profits.
A new AI-powered web application, Travel Planner, for example, takes a fun and effortless approach to the trip planning experience. It's as if users are talking to a well-travelled friend who's helping plan their trip. After a conversation about their travel interests and preferences, the chatbot-based web application, developed by the Google Partner Innovation Team, generates personalised travel itineraries.
Your brand can also power the "confidence shift" among travellers, at speed and scale, with Google AI-powered marketing. The following three examples from leading travel brands in Australia and across APAC show how AI-powered solutions for travel advertising helped them analyse insights, predict their most valuable customers, and generate the most relevant information for travellers – driving conversions throughout travel journeys.
How Scoot met travellers' needs across various channels
Scoot, a Singapore-based low-cost airline, wanted to meet travellers' needs with timely, relevant information to drive incremental conversions.
To understand what travellers were looking for in the first place, Scoot paired the Google AI-powered Performance Max with its Search campaigns to analyse traveller intents and preferences at scale and speed. This allowed Scoot to identify new search queries that were not covered by its existing keywords, and new segments of customers to engage across Google's full suite of channels like Search, YouTube, Display, Discover, and Gmail.
By pairing these AI-driven ad solutions, Scoot was also able to deliver ad creatives with information relevant to people's travel intent, and help them feel confident about making bookings. Additionally, Scoot could optimise towards valuable and potential consumers, whichever channel they were on, to drive incremental conversions at scale.
Following the incremental success from pairing Performance Max with Search campaigns, Scoot is exploring rolling out Performance Max in 11 additional markets.
How Minor Hotels helped travellers make considered bookings
With 500 properties across six continents, including Oaks and Avani in Australia and New Zealand, Minor Hotels wanted a simple setup to drive consideration and direct bookings from travellers at scale.
It used the newly launched Performance Max for travel goals to help create ads for various properties efficiently, and deliver them to the right potential guests across Google's full range of advertising channels and inventory, including Google Maps, Search, and YouTube.
The AI-powered ad solution drew on creative assets from the chain's existing online listings to come up with suggested messages and assets for promoting each property, and provided recommendations on budget optimisation for each property as well. Minor Hotels' marketers then used their expertise to decide on the creative assets that were the best fit, and the most strategic booking goals and budget for the campaign.
Using the full power of Google AI, the ad solution also helped Minor Hotels identify new potential guests looking for similar properties to its own across Google channels. It then delivered the best performing, visually-rich ads to them at scale and at the right frequency to help them feel confident about making a booking.

How Virgin Australia showed up for travellers' every query
Virgin Australia wanted to connect with travellers and provide them with information customised to whatever they were searching for, so it used Google AI-powered Search solutions.
With broad match, Virgin Australia was able to connect its travel offerings to potential customers with related queries based on their search intent, and not just those whose searches matched exact keywords. And with responsive search ads, it was able to create and serve ads with messages that more closely matched travellers' search queries.
Virgin Australia also used value-based bidding to help connect with its most valuable customers and optimise its ads and bidding strategy in real time to get better returns.