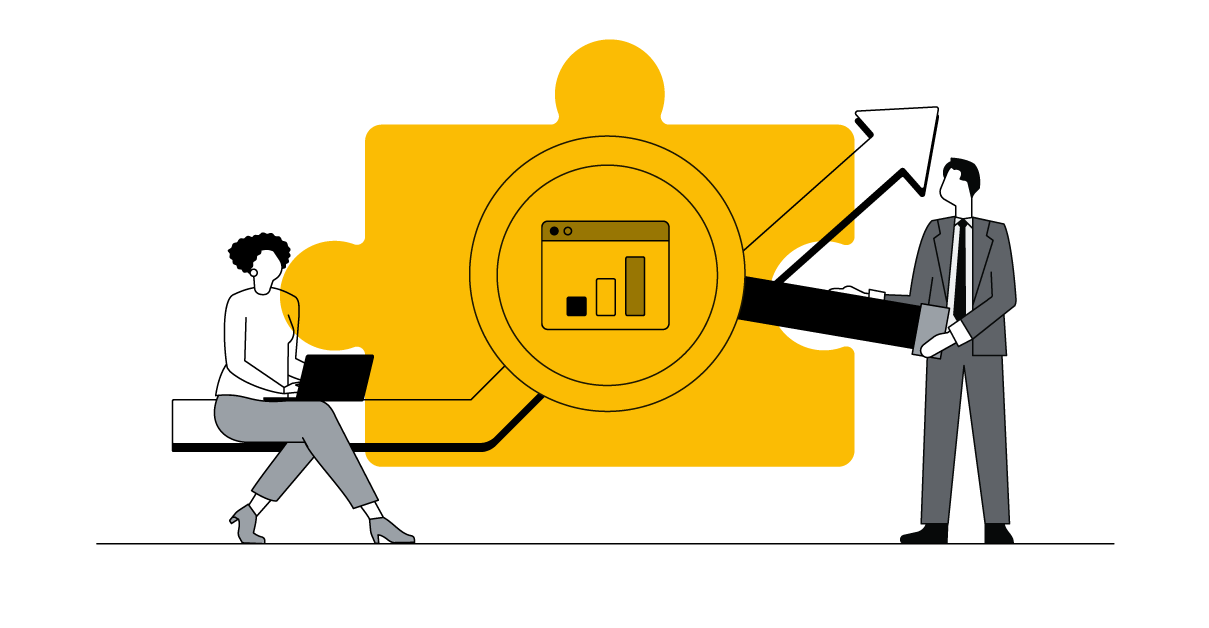 When it comes to growing profits and optimising results for their business, performance-minded marketers have a non-negotiable: they have shifted from measuring marketing metrics to measuring business growth metrics. They know that measuring their media investments with solutions that are accurate, durable, and linked to their business KPIs is imperative for bottom line growth today.
Waves of disruption and change have placed businesses and marketers under pressure to drive profitability; they need to deliver both short-term results and long-term growth. As for customers, they're finding it hard, amid today's uncertainty, to feel confident about their purchase decisions — 74% of Australian consumers want to feel they've done their due diligence, putting enough time into research to make the right decision.1
Performance-driven measurement lets businesses help customers make confident purchase decisions every time.
It's no longer enough for businesses to simply show up if they want to drive results. They need to create a "confidence shift" that moves customers from a place of questioning — if, and which products, they should buy — to knowing and making confident purchase decisions.
To create the "confidence shift," businesses need to use measurement solutions that meet customers where they are in their journey, and accurately and responsibly capture insights about customer engagements. So as technology and consumer behaviour change, including increased user privacy expectations, measurement must change as well.
To unlock the full potential of measurement solutions to drive profitability, here are four forward-looking measurement strategies marketers can adopt and advocate for across their businesses.
1. Shift from measuring marketing metrics to business growth metrics
Part of this shift in measurement is to democratise the language of what success looks like across the business, enabling marketers to better integrate marketing metrics within the organisation's wider goals.
It can be easy for a goal set by one part of the business to become diluted by the competing priorities across other teams. A key accelerator for growth is having a specific target that all stakeholders have agreed to, and aligning measurement to a goal that directly moves the needle – like revenue, profit or higher lifetime value.
Once all C-Suite executives are on board, this big-ticket goal becomes the north star for measurement – and for the AI-powered measurement tools building an accurate, holistic, cross-platform view of how customers contribute to business growth as a whole. Using Google AI, marketers can shift measurement to high-value customers and optimise for profit.
2. Capture and utilise valuable first-party data to train AI models
In order to optimise campaigns towards aligned marketing and business objectives, marketers need a strong foundation of first-party data.
If possible to get it, first-party data is a highly valuable business asset, and a competitive advantage. It's unique to each business, and in the new measurement mindset, it becomes the crucial, initial dataset from which Google's AI-powered tools help to predict outcomes, engage with audiences and optimise campaigns towards marketing and business objectives.
As the internet moves towards increased user privacy, and third-party cookies are being phased out, marketers will need to do more with less personal data. This means that marketers have a new opportunity to activate consented first-party data to deliver trusted information on the right platforms to the right customers, and drive purchase and profits.
Taking a more intentional approach to measurement, marketers can help businesses harness AI to replace the personal data of the past, while still forging meaningful connections with customers, at scale, to deliver a strong return.
The way businesses design their first-party data strategy affects how well they're able to measure their performance and optimise results.
A first-party data strategy that is designed to capture and surface insights on what matters most to customers, empowers businesses to meet customers' needs.
While there is no one-size-fits-all method when it comes to designing a robust first-party data strategy, here are the best ways to start.

Web-based businesses need a strong tagging foundation to generate actionable, consented first-party data. Robust sitewide tagging with Google Tag, for instance, helps measure everything from how long customers spend on a site to when they purchase.
The data, responsibly captured with Google Tag, can easily integrate with, and support Google's measurement and analytics products. This means businesses can develop a first-party data strategy that is optimised to address specific customer needs at every touchpoint in the purchase journey.
To drive even better performance, businesses can take steps to improve the accuracy of their conversion measurement. By using enhanced conversions, businesses can supplement their existing conversion tags with hashed first-party conversion data from their websites or apps. This lets businesses predict and attribute conversions, even when there are data gaps such as when customers browse across websites or go from one device to another. Businesses can also implement this feature across their entire account quickly by using the new account-level controls available in Google Ads.
Then, a unified measurement solution like Google Analytics 4 can give businesses a single view of their data across web, apps, and offline, while delivering relevant insights, predicting future consumer behaviour, and adapting to privacy and technology trends as they evolve. Google Analytics 4 is a pathway for a business to future proof its approach to measurement.
3. Assign values to optimise toward business objectives
Once businesses have established a robust first-party data strategy, it's important to define how much each conversion is worth. That is, to assign values, based on what signals a whole business (not just the marketing function) values the most. The value assigned is based on the unique KPIs and goals of each business, such as revenue, profit margin, or lifetime value. This lets businesses optimise toward more valuable conversions and further unlock the potential of performance-driven measurement solutions.
For example, by assigning customer lifetime value, businesses can easily identify customers who will drive the most impact for their bottom lines, and spend their marketing dollars on these customers to drive maximum returns.
Businesses can also tap into this combination of first-party data and assigned conversion values to adopt value-based bidding. Value-based bidding uses these values to optimise Google AI-powered campaigns toward business goals and create a virtuous circle of high-value conversions. Advertisers who use this strategy see an average 14% increase in value at a similar return on ad spend.2

One standout example of a business that used effective measurement solutions to drive performance and profits is Grab. The Southeast Asian tech company wanted to grow its driver recruitment sustainably to meet the rising demand for its ride hailing services.
It used enhanced conversions for leads to connect its first-party data with Google Ads and optimise its campaign toward qualified leads. This meant that it was able to deliver ads to people who were more likely to sign up and qualify to join the company as drivers. This solution resulted in Grab recruiting 82% more qualified drivers at a 35% lower acquisition cost.
4. Build organisational advocacy and trust around a new measurement journey
This all signals that it's time for a mindset shift when it comes to measurement. Rather than simply a technology change, setting up for success with measurement is an organisational change that powers results across the business. AI is allowing businesses to more accurately determine how marketing impacts the customer journey, and how that activity drives profitable growth for the business.
Measurement is now able to directly link marketing results with broader organisational objectives in ways that have never been possible before. It's enabling new levels of visibility and certainty around the impact of marketing on the bottom line.
While the measurement journey isn't the marketing department's responsibility alone, marketers can play a big role in building trust. Measurement requires collaboration across all functions – from marketing to IT to finance to the C-Suite – to define a strategy, agree on what success looks like and set it into motion. Once alignment is achieved across the business, privacy-first measurement solutions and AI-enabled advancements can begin accelerating business growth.
Effective measurement solutions have long played a crucial role in driving performance. Especially in times of uncertainty, aggregate, predictive measurement lets businesses better understand what matters to customers and meet their needs. Now is the time to design a robust first-party data strategy that is optimised toward conversions which drive business goals, today and in the future.
Looking for more insights about the Confidence Shift? Explore all-new content unpacking customer complexity and driving profitability – including more about the six confidence signals, how Google AI-powered tools can power a "confidence shift" and an opportunity for retailers amidst changing loyalty trends.