As digital advertising is reshaped by a number of significant, privacy-driven changes, investment in first-party data is emerging as a key strategy that can help marketers and publishers adapt.
People prefer ads that are relevant and helpful, but they also want more transparency into how their data is being used online and more control over their experiences with digital advertising. Regulations like the EU's General Data Protection Regulation (GDPR), Thailand's Personal Data Protection Act (PDPA) and Korea's Personal Information Protection Act (PIPA), have provided people with new ways to manage how businesses use their data. At the same time, web browsers and mobile operating systems have begun restricting the use of third-party cookies and mobile identifiers, which have been used for years to deliver relevant ads and enable critical measurement use cases.
This can put marketers and publishers in a tough spot. How can you grow your business with the kind of tailored advertising consumers prefer — and that delivers stronger performance — while also respecting their wishes when it comes to privacy?
First-party data can help you do just that.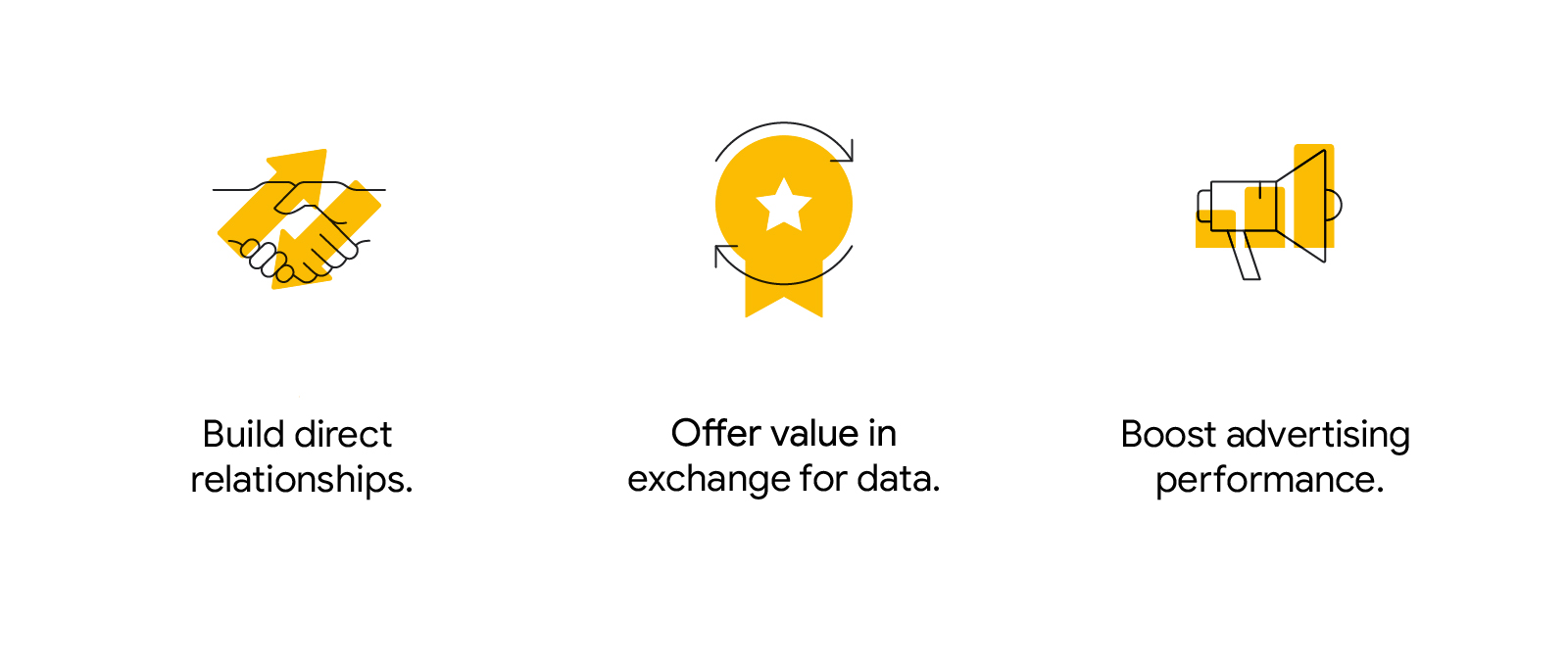 Build direct relationships
At its core, first-party data signifies a direct relationship between a person and a business. At key moments along the customer journey — whether a purchase, an account creation, or a subscription sign-up — people share information about themselves and trust that the other party will protect it and use it responsibly. Over time, as people engage regularly with their preferred providers, those businesses learn more about their customers or audiences, and can use those insights to serve them better.
In fact, research shows that people expect businesses to use information about them to personalise their experiences, and that they are willing to share more under the right circumstances. A 2019 survey conducted by Harris Poll for RedPoint Global found that 63% of consumers surveyed across the U.S., Canada, and the U.K. expect personalisation as a standard of service. The study also found that a majority (54%) of the 3,000 participants expressed a willingness to share personal information if it would be used to create personalised experiences; that number jumped to 70% and 72% when focused on millennials and Gen Zers, respectively.

An important part of creating a privacy-forward, first-party relationship with users is clearly communicating what they are agreeing to. Make sure your privacy policy is easily accessible and up to date with your latest practices. Be transparent with your customers about how they can exercise control over the data being collected, including how to opt out of tracking or submit a request to have information deleted.
If you are not able to develop a first-party data strategy without external support, choose to work with external partners who share your values and prioritise user privacy.
Offer value in exchange for data
You learn more about your customers and audiences through each interaction you have. But there are also deliberate steps you can take to collect the information you need to deliver great experiences or provide great service.
For example, brands might offer customers exclusive content, personalised offers, novel digital experiences, and merchandise rewards, like a deal or coupon, if people provide their email address or phone number.
Nissan in ASEAN and Oceania is an example, found in our recent first-party data playbook, of a brand that recognised early the importance of building direct customer relationships. As the marketing landscape shifted at the height of the pandemic, Nissan worked to develop a direct relationship with automobile shoppers and a first-party data strategy to support consumers in their purchase journey. That strategy carefully considered the value being offered in exchange for establishing a relationship.
In 2020, Nissan offered compelling personalised content recommendations, supporting online car researchers by helping them find the best dealership options near them, as well as creating virtual showrooms — digital dealerships — to help customers view cars on display from the safety of their homes. These digital dealerships used advanced marketing analytics and machine learning on their website data to fuel personalised digital campaigns. In exchange for relevant car information, people provided their contact information to request test drives or to speak with experts at the dealership. The value exchange resulted in positive business trust and yielded robust results: 5X higher test drive requests submitted via their website at a 9X lower cost.
"Our customers in this region are unique. They are more digitally native and online, and we reflect this in our marketing strategy, by connecting, engaging and nurturing our relationships from initial research through to handing the keys over within the dealership... Against the backdrop of a challenging 2020, the successful result of our agile precision marketing approach has inspired us to use more of our own data to drive sales and build foundations for predictive marketing efforts in the future. Our partnership with Google has enabled us to use our data to future proof our growth," explained Nirmal Nair, VP of Marketing at Nissan in ASEAN and Oceania.
Boost advertising performance
Perhaps the most appealing benefit of investing in a first-party data strategy is the performance lift. According to a 2020 Boston Consulting Group study commissioned by Google, marketers that use all of the first-party data available to them can generate double the incremental revenue from a single ad placement, communication, or outreach.
Personalisation has led … to higher engagement and additional first-party data assets, while giving customers what they want and building trust.
First-party data holds promise for ad monetisation as well. This is why digitally mature publishers like Summit Media, the Philippines' largest digital lifestyle network, are doubling down on efforts to responsibly collect and deploy first-party data. Summit Media uses its data platform to collect and organise audience data from multiple touchpoints, including offline, digital, websites, apps, and social, which then enables Summit to personalise its digital experiences.
Summit Media's portfolio of digital media brands has something for nearly every audience — except travel-loving readers. Not having a publication dedicated to travel-related content, Summit Media used audience insights to create tailored ad experiences on evergreen travel articles across its network. With help from Google Analytics 360 and Google Ad Manager, the company reached a wider audience of travellers on its existing publications and increased return on ad spend (ROAS) for a key advertiser by more than 700%.
When Summit Media collaborated with Cebu Pacific Air in this way, the airline saw an impressive sales boost from tailoring ads to a travel-hungry audience that was reading content on Summit Media's websites. By using travel content insights to personalise Cebu Pacific Air's ads for specific audience segments, the publisher achieved an uplift in clickthrough rates (CTRs) by more than 900%. More importantly, with a holistic measurement setup, Summit Media was able to properly attribute Cebu Pacific Air's conversions and seat sales to its insight-driven display campaign for the airline.
"Our ambition is to enable first-party data as a cornerstone of digital transformation in the JG Group of companies, parent of Summit Media. Summit Media took the time to understand what our readers are interested in, our network is better positioned to orchestrate the results that our advertisers care about. Not only were we able to drive awareness, but we also helped grow sales and revenue for Summit Media's partner brands, such as Cebu Pacific Air," concluded Azaleah Amina Rillo, Vice President of Digital Transformation at JG Summit Holdings Inc.
Relevant ads are preferred by consumers, more effective for brands, and more profitable for publishers. But businesses today have to be more careful than ever to use personaliation in a thoughtful way that respects people's privacy choices.
To learn more about how to grow and implement your first-party data, download Google's first-party data playbook, as well as marketer and publisher privacy playbooks.