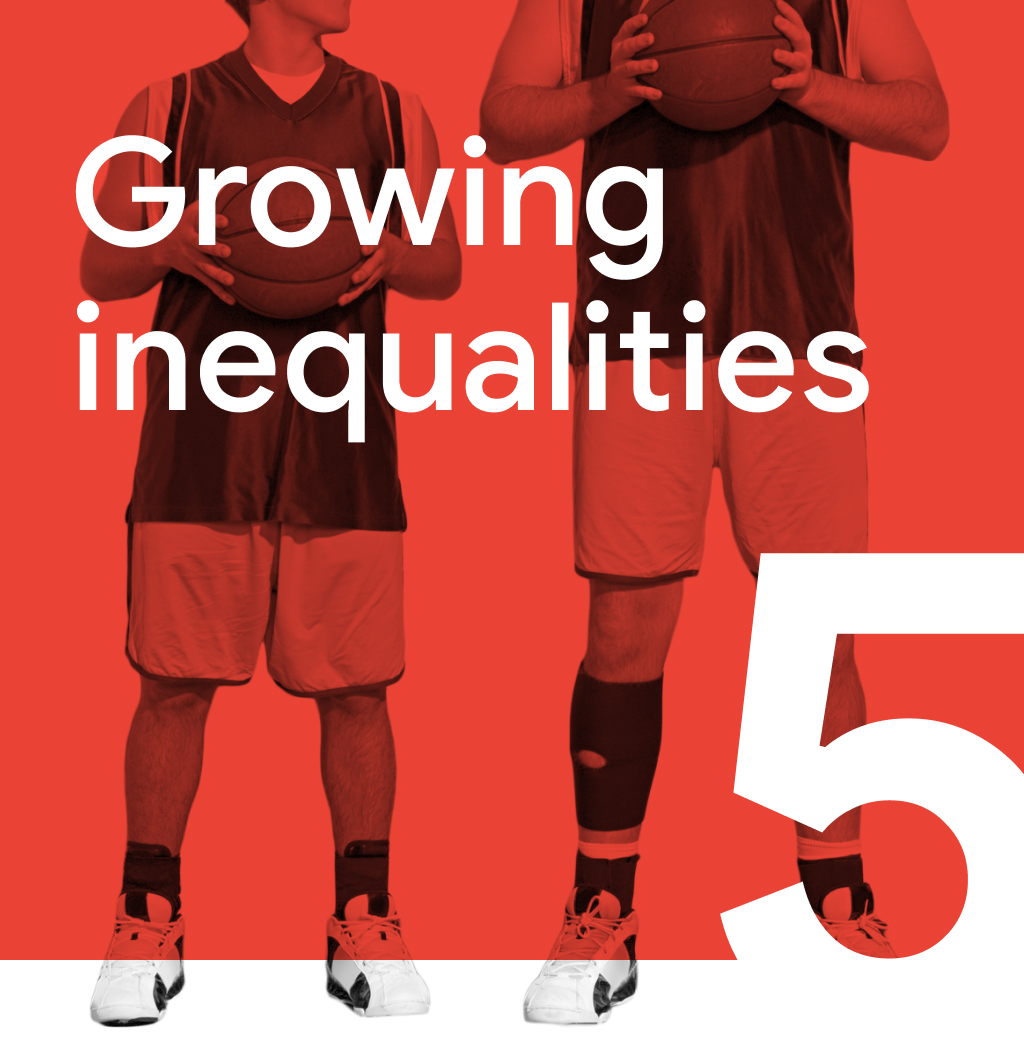 As the pandemic undoubtedly affected everyone across Australia and New Zealand differently, we saw existing societal inequalities highlighted or exacerbated. When combined with our isolation from the rest of the world, many people turned to the internet in search of community – a place to overcome their own challenges, to support others, or to help adjust to the 'new normal'.
Dubbed the "inequality virus," the pandemic has exposed many societal fractures in wealth, race, and gender across the world, and within Australia and New Zealand. While many of these inequalities existed before COVID-19, there's no doubt that the pandemic has exacerbated them further.
Those in lower income households were hit the hardest globally, with children in these families missing twice as many school days as those in high-income families.21 Those feeling the tightening grip of the pandemic turned to the internet in search of a community to help themselves or others overcome the challenges, with search interest for help reflecting the growing number of people from across the community looking to give or receive help.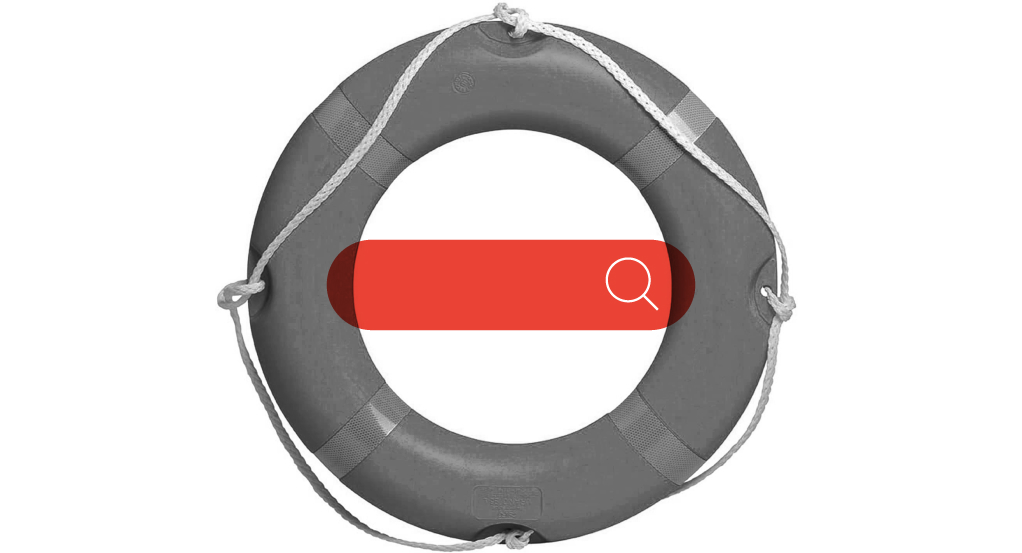 With a recognition that these inequalities can't be solved by governments or non-profits alone, consumers now expect brands to become leaders in the way they demonstrate social responsibility. This means brands need to become part of the community and actively address inequalities for Australians and New Zealanders.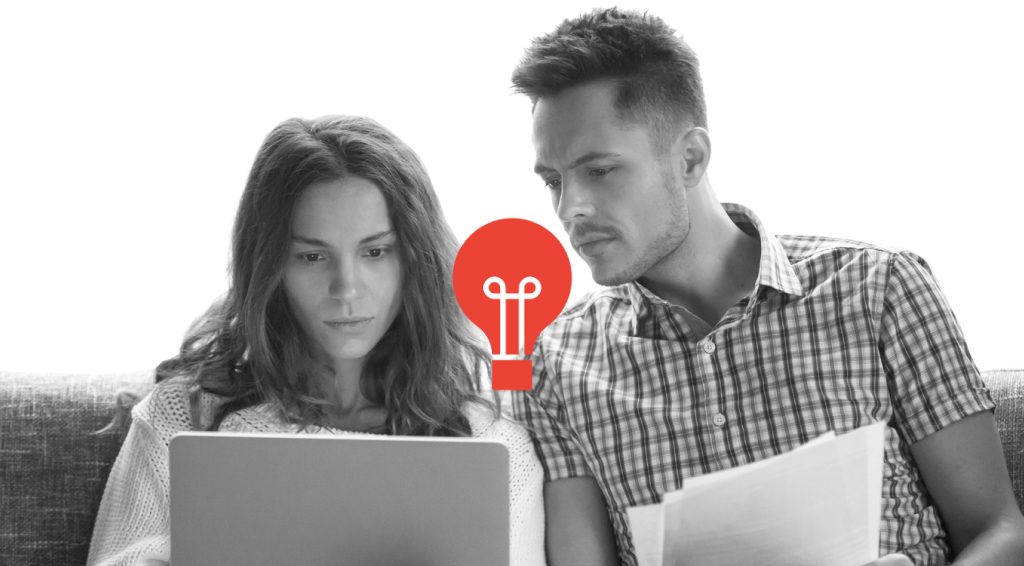 The need for financial support
Extended lockdowns meant many Australians and New Zealanders lost employment and searched on Google and YouTube for support.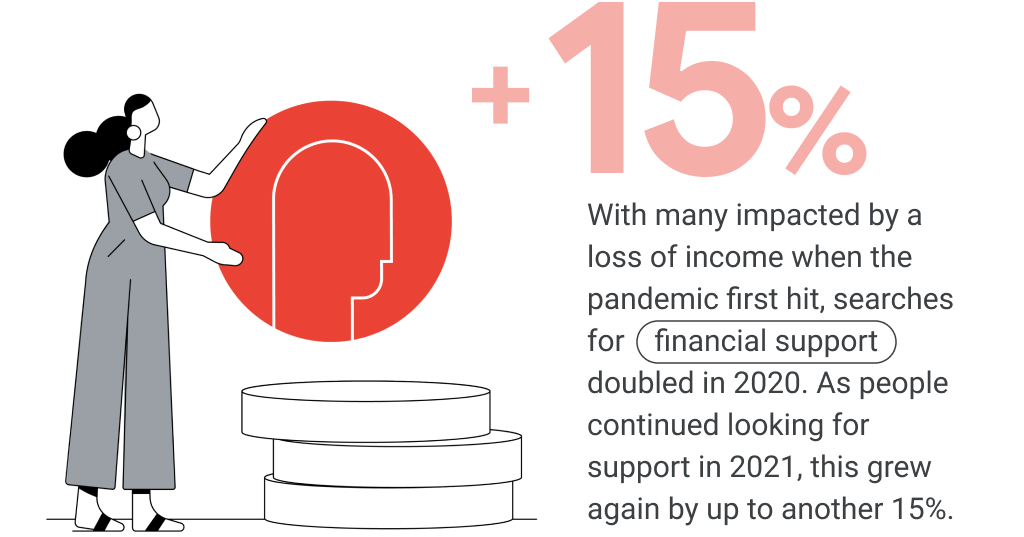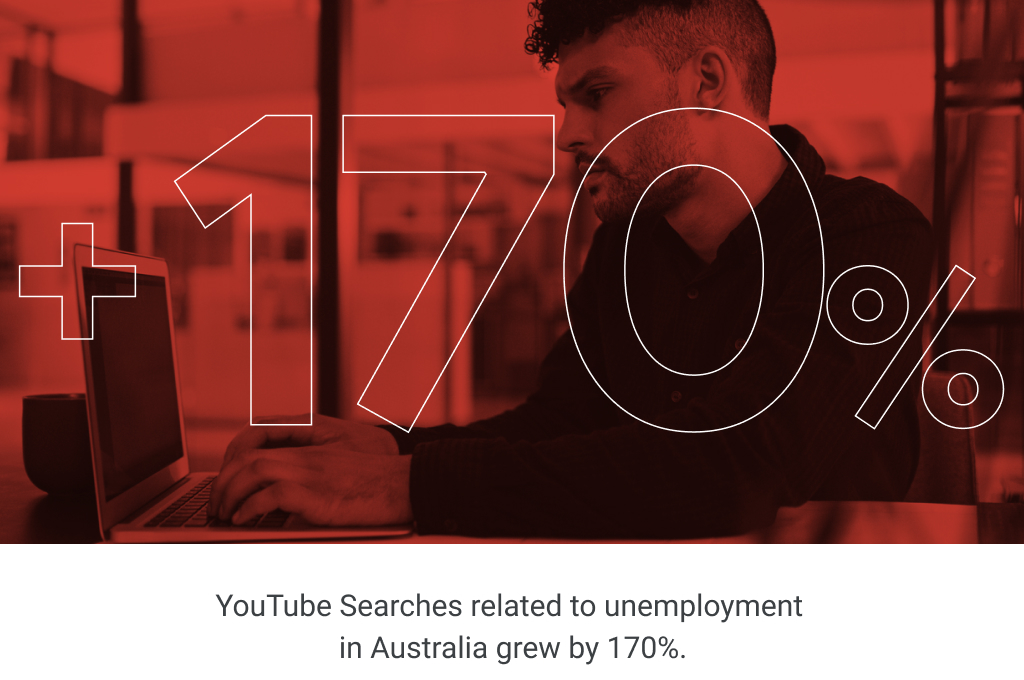 Helping each other
People also searched for ways to help their community whether it meant giving their own time, or anything else they could spare.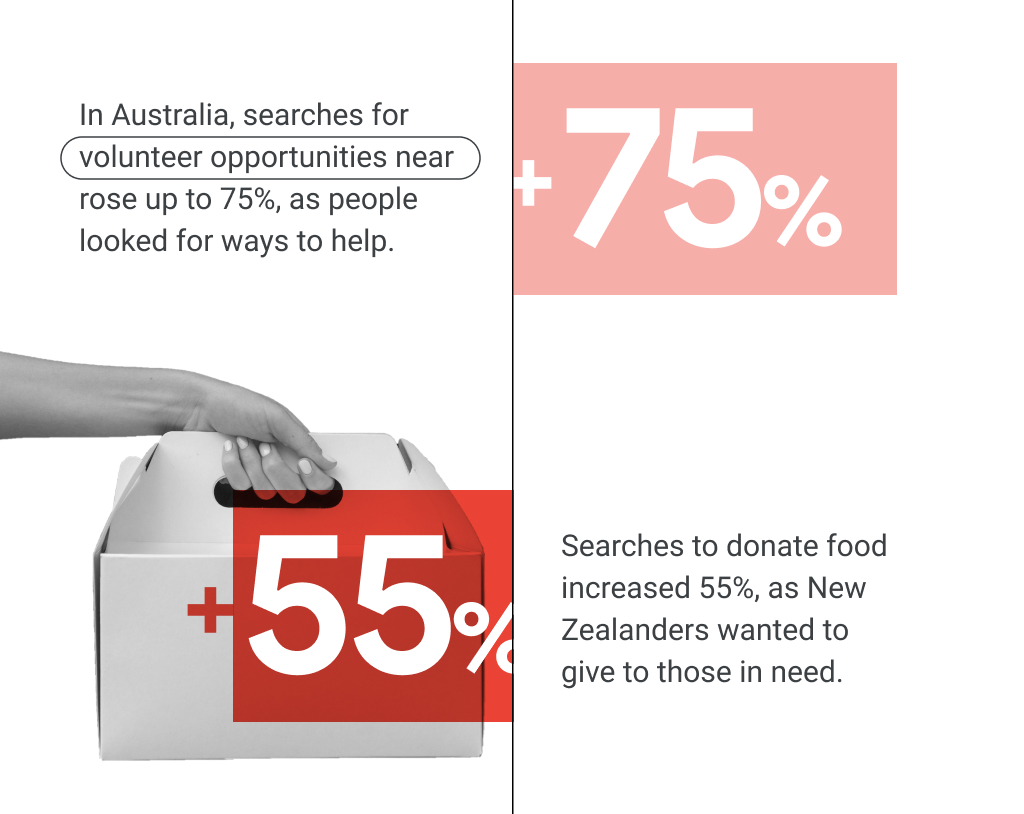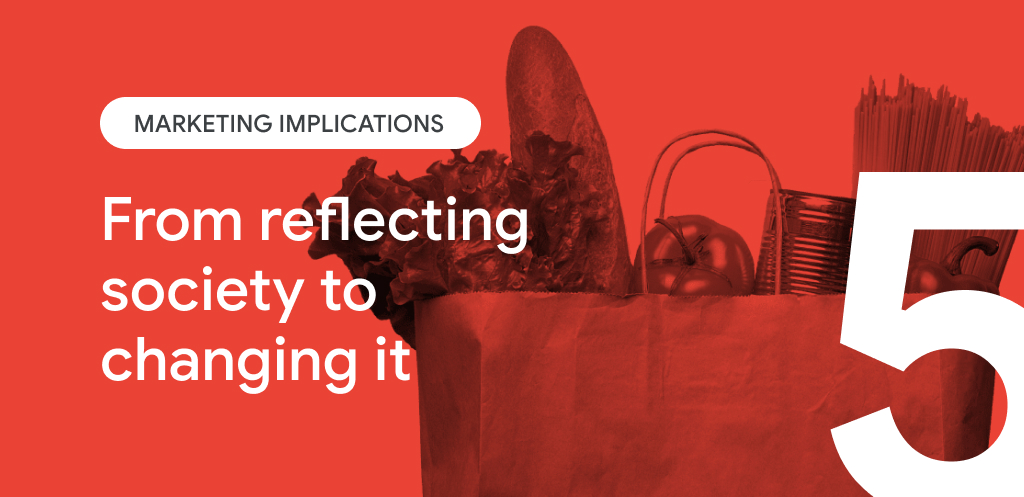 Creating real change is not just about prioritising diversity and inclusion, it's also about taking action to ensure equality as well. The inequalities exacerbated by the pandemic have led to brands being expected to take action and seek out opportunities to support those in the community needing assistance.

"With four converging global crises over the last year - COVID-19, economic insecurity, financial and health inequities, and systemic racism - brands that take a stand foster greater trust. While this evolved role for brands offers a new opportunity for marketers, there is a real risk if they fail to recognise consumers' calls for brand action."

Consumers are drawn to brands that focus on "we" over "me." While 63% of consumers surveyed were more attracted to "brands that focus on making the world a better place," only 37% said they preferred "brands that focus on making me a better person." The same survey found that 86% of respondents expect brands to act beyond their product or business to contribute to society and the rest of the world.22

Stand for something bigger than profits.
It's time to redefine business success to build a more inclusive and sustainable economy. Brands need to exceed their traditional business boundaries, for both consumers and employees.

Better That is an online marketplace that donates up to 25% of its net transaction fee to good causes. The Sydney-based retailer stocks a wide range of goods, from fashion, beauty and home to sports, electronics and toys. When customers reach the point of checkout, they can choose from approximately 50 community groups and charitable organisations to donate to.
In March 2021, Google Australia integrated a 9-question mental health questionnaire into its search engine tool to encourage those suffering from poor mental health to seek help. People searching for depression on Google are offered the questionnaire to better understand their condition and connect with appropriate mental health support services, including Black Dog Institute and Lifeline Australia. Google has also taken steps to ensure only trusted information appears for these searches.


Build inclusive marketing strategies that benefit people and your bottom line.
Consumers are 4.5X more likely to buy from a brand if it addresses human rights and 3.5X more likely if it takes on economic inequality.23  As marketers, we can drive authentic and meaningful change through the teams we build and the stories we tell. You can find inspiration with our inclusive marketing best practices.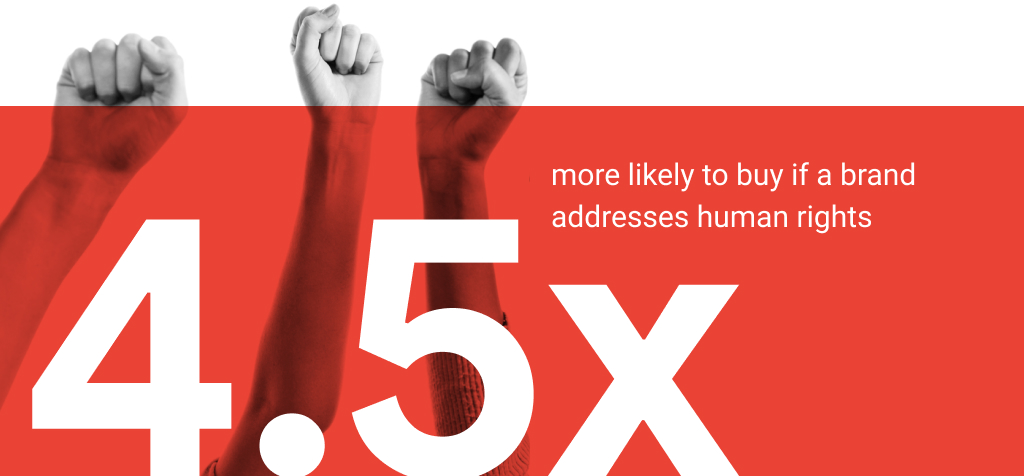 In February 2021, 6 established Indigenous designers were paired with 6 growing First Nation designer brands as part of the Pathways Program. Led by the Darwin Aboriginal Art Fair Foundation's Indigenous Fashion Projects (IFP) and retailer David Jones, this program was designed to nurture the growth of Indigenous businesses. Participating designers showcased their collections at Afterpay Australian Fashion Week, held on Gadigal Country in June. Ngali, a label that participated in the program, also won the Fashion Design Award at the National Indigenous Fashion Awards in August 2021.