In Australia's increasingly competitive credit card market, financial institutions need more than a recognisable name to stay on top of consumers' minds. Here, Google Australia & New Zealand's Laura Parr explores our new research with Kantar that shows why digital-first strategies are crucial to engage today's consumers and what brands can do to set themselves apart.
Despite recent regulatory changes and the rise of "Buy now, pay later" providers, consumer demand for credit cards remains strong. Search interest for credit cards in Australia was consistently high throughout the 2019 fiscal year,1 giving businesses the opportunity to speak to audiences already invested in their products.
Because financial providers can't rely as heavily on loyalty and rewards programmes to separate themselves from the competition, getting noticed and considered by consumers will take some new tools and strategies. Aussies' affinity for researching nearly every purchase online creates a wealth of moments for digital-savvy brands to reach new consumers and inspire loyalty from existing ones.
"As open banking creates new channels of digital revenue, financial service providers need to be thinking differently and more creatively and planning digital-first."
"The credit card market in Australia is undergoing significant change and is increasingly competitive, and this is only going to accelerate with the open banking regime," said Catherine Melville, Google's financial services industry director. "As open banking creates new channels of digital revenue, financial service providers need to be thinking differently and more creatively and planning digital-first."
Considering 1.8 million Aussies intend to apply for a credit card in the next 12 months,2 the opportunity is ripe for providers that show up with helpful, relevant solutions when people go online to find more information.

To get a better understanding of how Aussies research and apply for credit cards, we conducted new research with Kantar to explore their typical paths to purchase. Here, we'll break down three key insights to help financial providers reach consumers in the right moments and continue driving growth in a crowded and competitive market.
1) Digital dominates the entire journey
Today, Aussies rarely need more than a WiFi connection to fully understand their credit card options. In fact, 86% of Aussies said they research credit card information online before signing up.3

Looking up information online also gives Aussies the chance to uncover new options they weren't aware of. In our study, 35% of consumers said they discovered new providers during online research.4
Key takeaway
Invest in being present where Aussies are searching, comparing brands, and signing up. And when they discover your brand and click through to your site, make sure they can easily find what they're looking for on a fast-loading landing page. Keep an eye on popular search trends to make sure you're highlighting the information consumers are keen on, and craft your ad messaging around relevant offers and card features.
2) There's a short window of opportunity to show up
Compared to other financial products like insurance or home loans, credit cards are typically easier to understand. Plus, most Aussies already own a credit card, so they're often familiar with the benefits. The majority (79%) of consumers in our study spent less than one week doing research before signing up, and 37% spent just one hour or less.5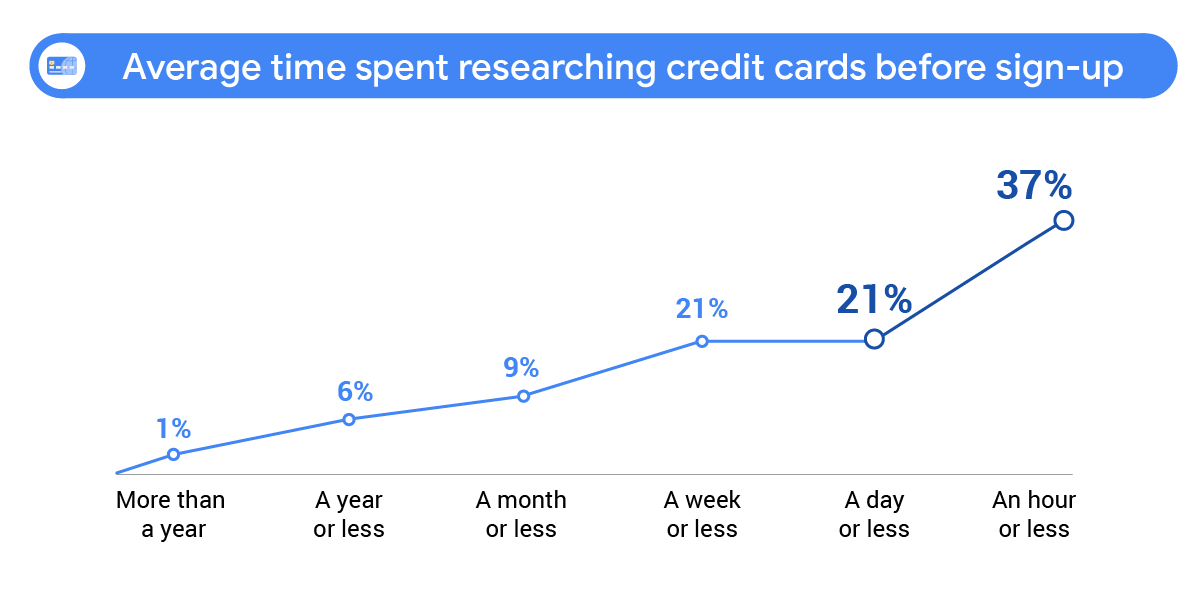 Once consumers kick off their research, brands might have only a few days — or even a few hours — to either be considered by new consumers or to keep existing ones from signing up with another provider.
Key takeaway
With such a relatively short amount of time to get noticed, it's essential to show up when consumers first start their research. Ensure your brand is visible across both brand and generic terms to reach consumers in the moment, whether it's a first-timer looking to explore new options ("best credit card for university students") or an existing consumer who needs help with their current card ("how to pay off card").
3) Aussies are typically uncertain before sign-up
Being spoiled for choice means most Aussies aren't set on a specific provider when they start their research. While researching online, 54% of consumers were considering multiple providers, and 11% said they were totally undecided.6
The most common search queries speak volumes about Aussies' curious mindset — seven in 10 credit card searches in our study didn't include a specific provider.7 Most of the top credit card-related questions on searches in the past 12 months follow the same trend:8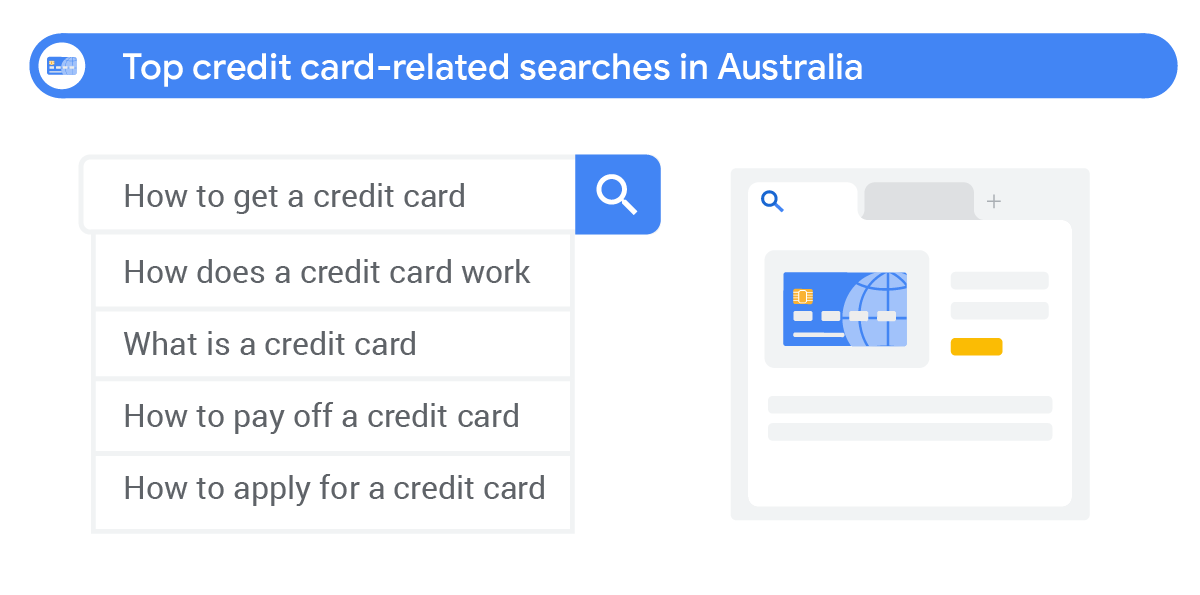 Most credit card-related searches are generic, but many of them are driven by clear intent. Someone searching for "how to get a credit card" is just starting their journey to purchase; "which credit card is best" indicates someone comparing their options, while "how to cancel my credit card" shows someone at clear risk of defecting.
Key takeaway
It's important to tailor your marketing and ad messaging for different stages of the customer journey. Help people understand the basics of applying and making payments by directing them to relevant pages on your website, or direct high-intent consumers to take action right from an online video ad.
Plan digital-first to meet your next customers and keep your best ones
In such a fast-paced and competitive market, having a strategy to reach consumers at every stage of their research can be the differentiator for brands big and small. Being helpful and relevant in the moment is key — and that goes for existing customers who might be looking to make a change.
Consider how digital tools and insights can help you develop informative content and tailored messaging for prospective consumers, and be sure to continue building on existing relationships to drive steady growth into the future.
Methodology
Google partnered with Kantar TNS to conduct quantitative and qualitative research to explore the path to purchase for credit cards in Australia (where consumers look for information, where they purchase, their brand loyalty, etc.).
We spoke to 500 Australian consumers aged 18+ who have signed up for a credit card in the past six months.