Developing cross-media ad strategies that integrate online video and linear TV is becoming more common in most brand campaigns. But with the state of the global economy, maximising your marketing dollars has never been more urgent. Here, Deepak Chandran, Head of YouTube Ads Research at Google APAC, and Juliana Lisboa, Regional Product Lead at Google APAC, share tips on how to effectively measure the value of your reach.
Traditionally, advertiser goals for awareness meant setting aside expansive budgets to run TV ads at higher gross rating points (GRP). But the idea of relying strictly on GRP has shown some decline, just as linear TV viewership has waned in many markets. While GRP remains an important metric for advertisers, as a standalone measure, it's more of a blunt tool.
Pair that with the fact that audiences are capitalising on the content choice of dynamic media platforms to understand why advertisers are looking for more efficient ways to reach audiences.
Plus, for many of us, our lives are framed within the four corners of our monitors — now the shared space through which we interact with colleagues, family, and friends. Given this new normal, it's easy to imagine why audiences are creating new viewership habits. How do you effectively measure reach when your audience is scattered across screens and there's no such thing as device fidelity anymore? To help answer that question, we explore a few brand strategies that drive home the value of reach on YouTube.
A fresh take on Febreze in South Korea
Procter and Gamble (P&G) sought to address this question with an experiment in South Korea with Febreze, one of the leading brands in its portfolio. After analysing past data from its TV and YouTube campaigns, the brand looked for ways to plan more efficiently and reduce ad waste. P&G augmented its TV spend with ads on YouTube with a cross-media strategy that lowered ad investment inefficiencies on lone TV advertisements by reaching a distinct audience (21.2% incremental to TV) and enabling a more balanced frequency distribution.

Despite its ad budget split of 24.6% (YouTube) versus 75.4% (TV), YouTube garnered a 41.3% reach compared with TV (48.9%). The cost per unique person reached was 2.5X lower than what was spent on its TV campaign.

"Our internal study uncovered that YouTube could achieve a higher level of incremental reach beyond TV, while also showing a lower cost per rating point," said Hyojung Hwang, media director at P&G. "The results have helped us decide to fully leverage YouTube in future brand campaigns."
That's how I like my Pepsi ads
Similarly, Pepsi experimented with its cross-media strategy across TV and YouTube in Vietnam during Tết, the first day of the lunar new year, considered the most important national holiday in the country. The marketer set out to learn if its YouTube ads performed better and reached audiences more efficiently alongside TV ads in the 18- to 44-year-old demographic.

Even with just 17% of the total media budget, Pepsi's ads on YouTube reached 39.9% of the population, driving an incremental reach of more than 14%, in addition to TV.

Giving your ads a little lift
As marketers, we've learned to rely on data. It's now easy to lean on reach and exposure numbers as effective ad spend. But we still might wonder if YouTube and TV ads have a similar effect on moving brand metrics.
Just as audiences become more proficient at juggling screens, they're also getting better at ignoring ads that aren't relevant. Therefore, as reach and frequency are still metrics that matter to enable cross-media strategies, it becomes even more important to understand the audience's attention to each screen. And that's the goal — to ensure audiences are watching your ad each time it runs.
A meta-analysis of over 8,000 Brand Lift surveys in APAC showed that YouTube drove an increase in ad recall over 10% on average and at a very attractive cost.1 Google's Brand Lift surveys measure the effectiveness of ads appearing on YouTube. By using surveys on a randomised control group that did not see a brand's ad and an exposed group that did see the ad, we can causally measure the moments along the consumer journey, including brand awareness, ad recall, consideration, favourability, and purchase intent.

The fact that YouTube alone drives brand impact is great, but we also wanted to understand why this is happening and how this compares with other video channels.
We partnered with Kantar and Eye Square in Australia, where we analysed more than 2,800 ads. Examining over 741 minutes of eye-tracking footage on free-to-air TV, YouTube, and catch-up TV across devices such as TV, phones, laptops and tablets, we found a significant correlation between the attention paid to an ad and a lift in unaided ad recall. The longer there were eyes on the ad, the higher the recall of the ad. The eye-tracking also identified YouTube viewers consistently had more eyes on screen than catch-up TV and free-to-air TV.2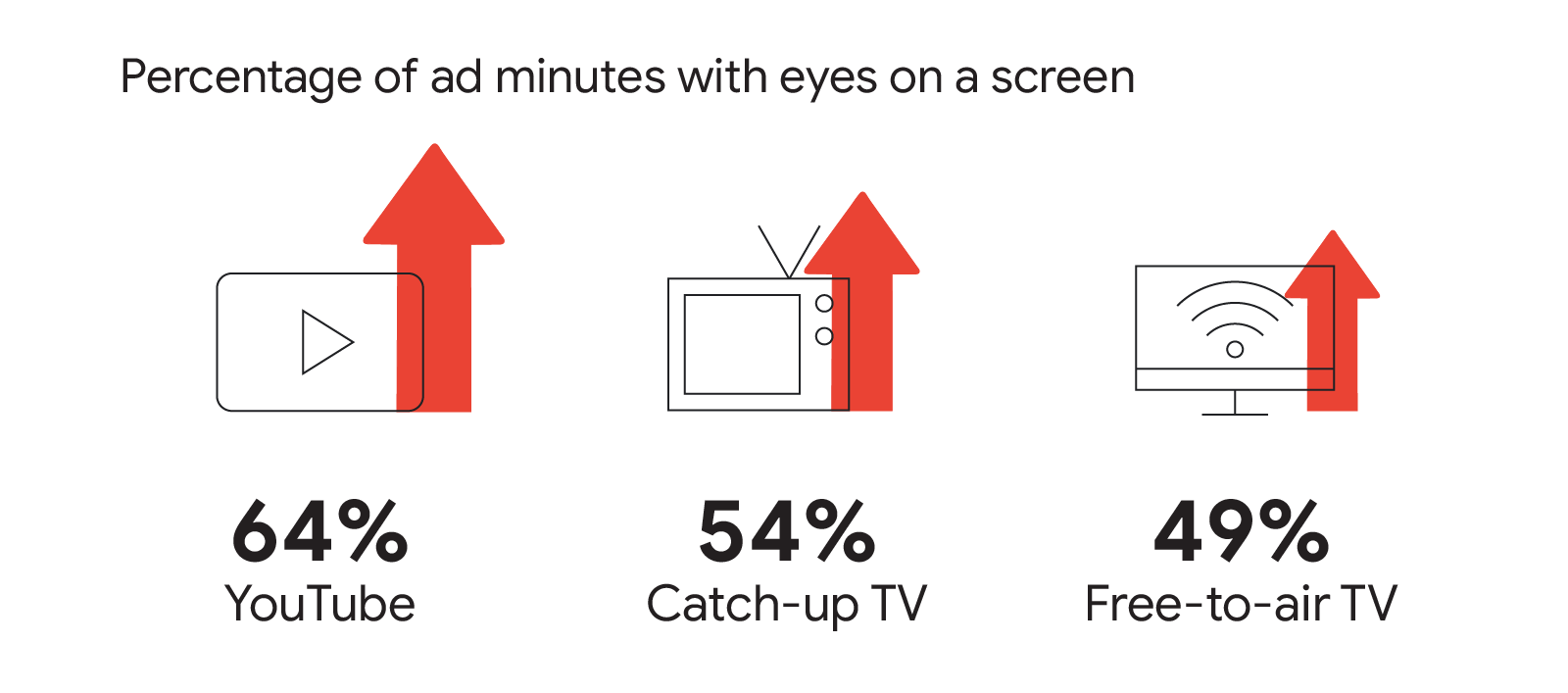 What does this mean for marketers?
Marketers must understand how to plan for unique reach accurately to get the best results from their marketing campaigns. When they want to reach audiences where TV simply can't be as effective, Reach Planner in Google Ads can make it easier to determine the balance of ad spend, especially when it now includes TV data. They should also close the loop by using cross-media reach reporting measurement and Brand Lift surveys to better understand how the mix is moving the metrics they care about.
In these tense times, brands are walking a tightrope as they try to maximise brand reach while battling the constant news noise across media platforms. The last thing you need is to wonder if you've made the right call in ad spend. It's for these reasons why having the right tools to help you better understand how to optimise your media spend today has never been more important.
For more tips and ideas on how to build your brand, visit our awareness collection on the Advertising Solutions Center.