In a world where viewers have total control and an ever-growing array of content to choose from, traditional primetime has been replaced by personal primetimes — moments of engagement that are completely driven by the viewer and their passions rather than by what may make for the best Thursday night lineup. For instance, in our latest study with Nature Research, where we surveyed 1,500 people aged 18-65, Aussies said content that aligns with their personal passions and interests was the most valuable to them.1
As personal relevance and viewer passion take centre stage, marketers need to rethink their approach to video. Inspired by brands that are already embracing this, here are five lessons to apply to your own video strategy.
1. Capture attention immediately
You might have heard that attention spans are shrinking, but the research behind that viral claim has been well and truly debunked. Here's what has changed, though: with more content choices available than in the past, people are getting quicker at deciding where they want to focus their attention.
As more people create their own personal primetimes, marketers need to develop creative that aligns with their passions and piques their interest from the get-go. After all, if something doesn't grab viewers' attention right away, they're ready and able to skip, scroll, or fast-forward.
The key to catching viewers' attention from the jump? Captivating their sense of sight and sound. Research shows that people pay 2.4X more attention to ads served on platforms that support audio, video, and motion.2
Viewers are fascinated by immersive and interactive experiences, like the South Australian Tourism Commission's 120-hour live-stream journey through the state. By sparking people's wanderlust with a stunning video tour, the government agency was able to increase leads to tourism operators by 96%.
2. Be truly helpful
Viewers turn to online video to meet a huge variety of needs in the moment — everything from learning how to hang a picture frame to speaking another language. Increasingly, they're also heading to platforms like YouTube for shopping inspiration. For example, over 50% of Aussies say that YouTube helps them decide which brand or product to buy.3

To stand out in a sea of ads, brands might want to consider creating helpful content that meets these new consumer needs. For example, through a video series, Ikea has been tackling one of the biggest challenges in home décor: knowing how to combine furniture in a way that works. Ikea sent a squad of store staff on a home makeover tour, leaving them to shoot and produce their own video series along the way. The Ikea Home Tour series now features over 100 episodes, has racked up tens of millions of views, and offers the kind of content that YouTube viewers love: focused inspiration and advice for common situations, perfectly tying Ikea to the idea of affordable and beautiful home improvement.
If you can teach and inspire audiences, they won't just watch — they'll become loyal, long-term advocates of your brand.
3. Relate, relate, relate
Understanding your audience is table stakes. When people are deciding what to watch, relating to their passions is 4X more important than whether it's a show everyone is watching and 2.5X more important than whether it has high production value.4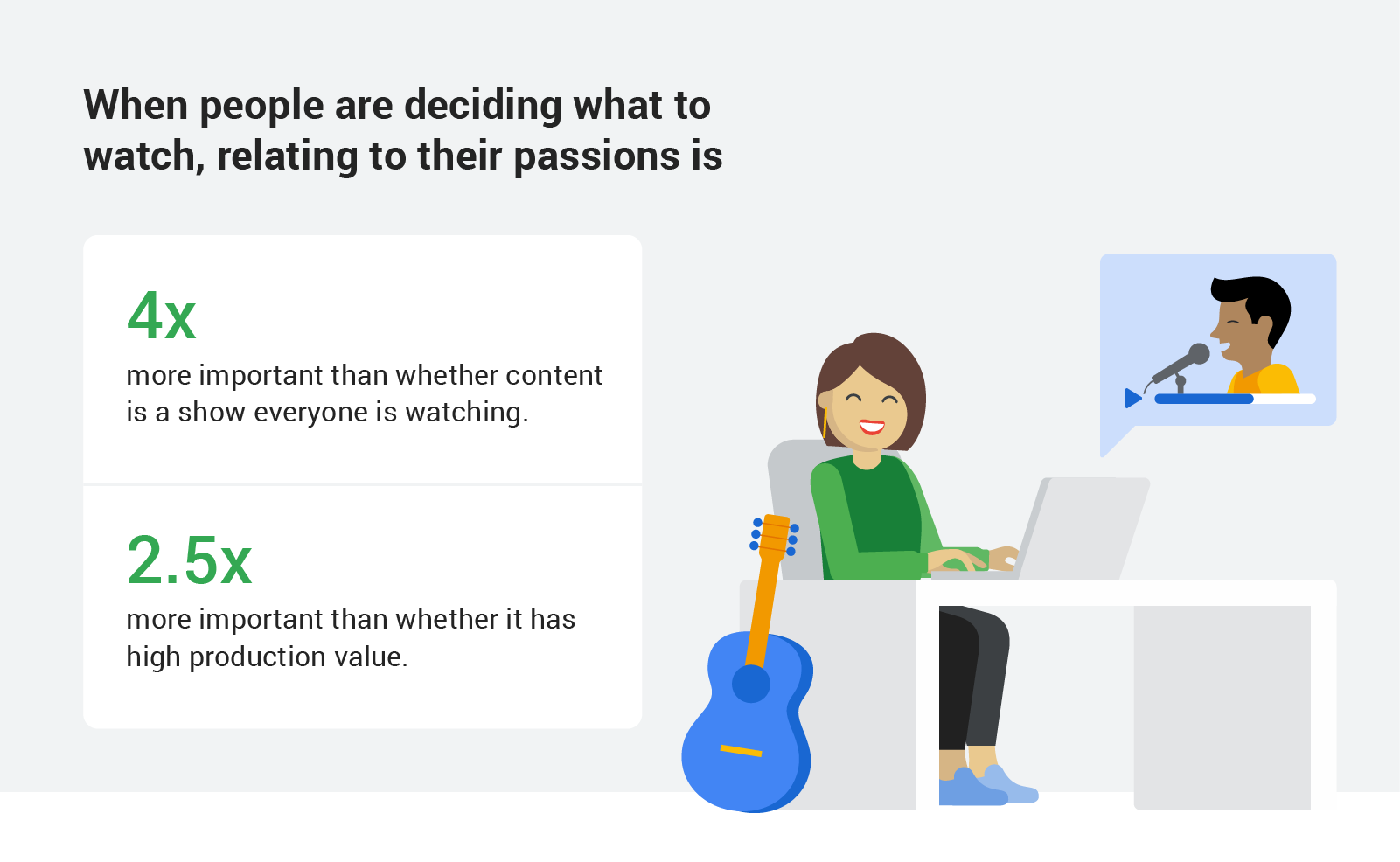 Open your marketing toolbox to see which tech solutions can help you get a better idea of what viewers like to watch. Once you've uncovered some fresh insights, you can use them to develop more personalised creative — just like Domino's did when it set out to test online video's ability to drive sales.
The brand made Aussies' giant appetite for pizza even bigger by serving up mouth-watering YouTube campaigns in Queensland and Western Australia. With ads that catered to Aussies' love for digital (and pizza), the brand increased sales by 0.5 to 1% overall.
When you can frame your brand in the context of things people care about, it drives results. And you'll likely see even better performance if you serve your ads on the right channels.
4. Lean into YouTube creators
Video is a unique and immersive way for influencers to build relationships with people. On YouTube, creators can break the fourth wall, listen and have a two-way dialogue with their fans, and build relationships based on their personalities. More viewers than ever are becoming loyal fans: According to Nature Research, 48% of Aussies ages 18-39 say that they rush to YouTube when their favourite YouTubers release new content.5

And YouTube doesn't just entice audiences — it attracts talent. To launch its Galaxy A phone, Samsung tapped into the zeitgeist with a self-aware #SponsoredPost written by YouTube stars Aunty Donna. Shot entirely on the Galaxy A, the music video made the product features self-evident while using the creators' point of view to inject just the right dose of irony — and earn more than one million views.
Collaborating with creators is a high-impact way to reach engaged audiences, but you can also reach customers through the creators they love by serving ads alongside the relevant channel.
5. Encourage action
In their moments of personal primetime, viewers are ready to take action. Not only are they in lean-forward mode, they're also turning to YouTube to get things done. According to Nature Research, over two-thirds of Aussies say YouTube helped them find answers they couldn't find anywhere else.6
Strong video creative that has an enticing call to action and makes it easy to take the next step, like visiting a website or making a purchase, allows you to both build your brand and drive business results. When Universal Pictures wanted to drive Aussies to theatres for its premiere of "The Grinch," it used Director Mix to create more than 625 spots tailored to Aussies' favourite Christmas-related content. The brand also helped viewers plan a trip to theatres by featuring local showtimes at the bottom of the trailer.
Compared to industry benchmarks, Universal Pictures saw 43% more click-throughs to the film's website thanks to its customised video campaign. Best of all, "The Grinch" became the No. 1 family movie on its opening weekend.