Ben Jones is the global director of Google's Creative Works, and Fiona Walford is the head of Creative Works Australia and New Zealand. They lead efforts to help brands drive better business results with more effective ads.
When it comes to content, the past two years have reset our typical patterns — and video was at the heart of our new media habits. In 2021 alone, top YouTube videos were viewed by 2 billion people across more than 100 countries. We turned to video for entertainment, connection, education, distraction, comfort, and inspiration. We gave more of our time to video in all its forms than to any other media. Today, our content recommendations and libraries are worlds made of what we love.
What excites viewers in the moment might be a day or a decade old, rendering the conventional wisdom of the TV-dominated era obsolete. We're fascinated by these moments of tuning in because they represent a call to the industry to design creative that not only reaches people but also resonates with them.
Here are three critical things to keep in mind as creative teams navigate a content landscape that has been transformed by seemingly infinite viewer choice.

Creative is the critical differentiator
As privacy regulations shift and automation builds media efficiency, standout creative will increasingly become a crucial driver of strategic differentiation and ROI.
Two worlds of content are emerging: the long and short. People are watching lengthier, studio-produced films with high production values on connected TVs. At the same time, they're also watching super short, creator-produced videos meant for small screens. The simultaneous growth of these two opposites tells us viewers don't care about formats or production quality. They measure quality by relevance, intellectual stimulation, sensorial experience, and emotional resonance. Essentially, viewers define "good content" by what matters to them.
We're also underestimating how hungry people are for content — and billions in studio-produced investment aren't enough to keep up with this insatiable demand. Rather, understanding how strategic tweaks to your creative perform across audiences will soon matter more than simply getting ads on specific screens.
We've never been able to measure ads the way we do today. With better data and tools, we can now break down ads into smaller elements and analyse them through the lenses of marketing objectives, outcomes, audiences, and geographies. This understanding provides us with more opportunity while simultaneously pushing us to face more complexity. Your online video marketing's effectiveness is determined by how it resonates with who's watching — regardless of whether your ad plays against product reviews or shows up during a viral comedy sketch.
According to a study by Ipsos in Australia and New Zealand, 77% of people say they're more open to advertising and branded content when a piece of content is relevant.1 They also said YouTube is No. 1 at delivering relevant content compared to other ad-supported platforms.2 So, for marketers, following viewers' lead means YouTube is quickly becoming a central place to tell brand stories.
Optimise ad length for attention
According to Nielsen Digital Media Ratings, YouTube reached more than 17 million Australian adults in May 2022.3 That's more than 85% of the Australian population.4 With such a vast scale, it's up to brands to pivot and optimise for the platform their audiences keep going back to. But our collective attachment to the past is leaving us unprepared for the present.
The vaunted 30-second ad is too long for top-of-mind awareness, too short to convince, too complex to be automated, and too simple for this age of seemingly infinite information. Six- and 15-second ads have proved to be much more effective and efficient for awareness, while the top-performing length for changing hearts and minds is two to three minutes.5 Our internal global study measuring long-form creative impact showed YouTube skippable in-stream campaigns using videos between two to three minutes long had the highest consideration lift, effectiveness, and efficiency.6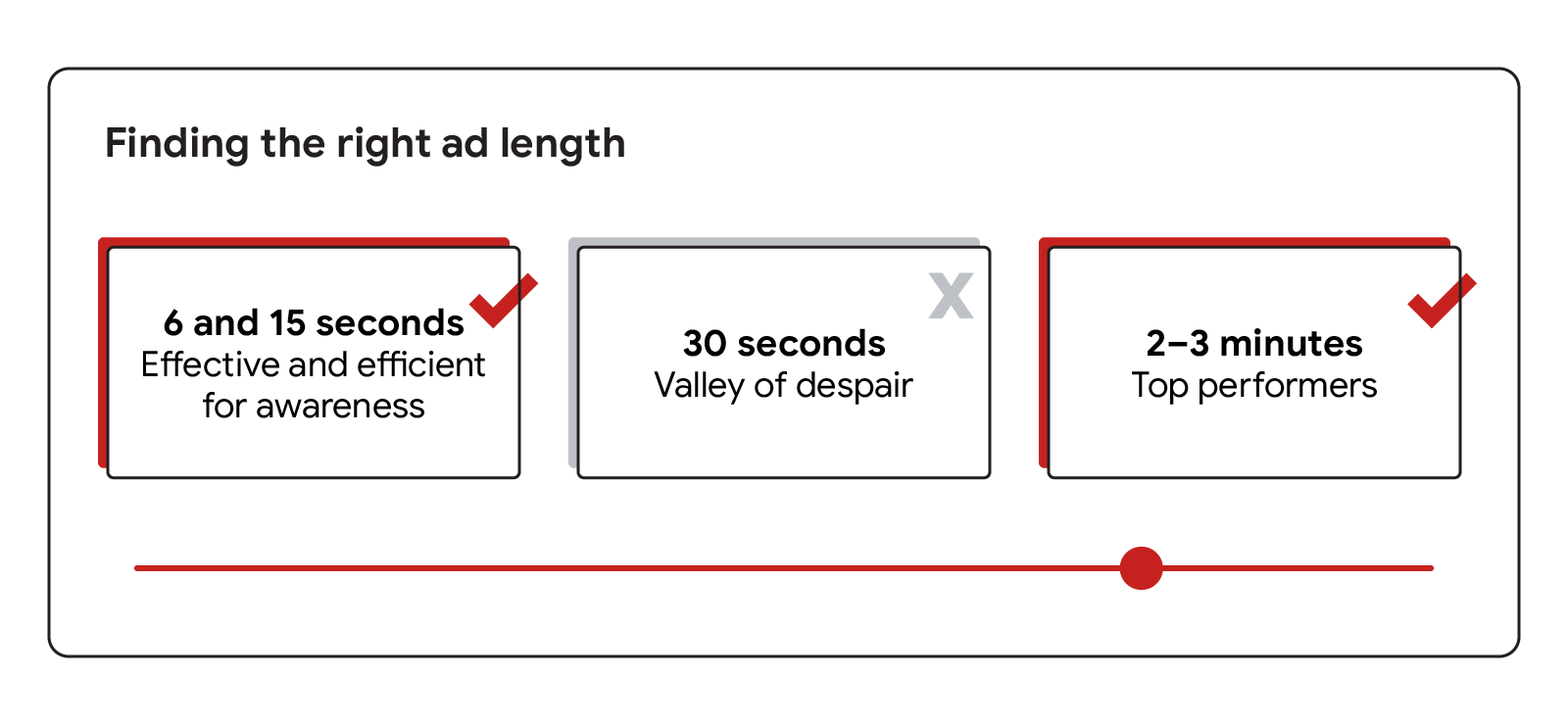 A long-form ad is one of the most powerful — and most misunderstood — tools we have for influencing and inspiring. It's increasingly used by all types of brands to drive consideration and, like movie trailers, to lean into story-first approaches. A cursory look at Cannes winners from 2020–2021 tells us that over 80% of the ads that won at least a Silver Lion had run times of 60 seconds or longer. The trend reflects the truth that only long-form video can accommodate the full creative potential of an idea or the "big story." Short-form videos are helpful for staying top of mind or harvesting demand, but their purpose is to connect you to the full story that brands want — and need — to tell.
Ads have clear "attention windows" — opportunities where advertisers can either gain or lose audiences' attention. With the 30-second ad performing the lowest for ROI by a wide margin, the prognosis is clear. Advertisers must go short or go long, but stay out of the valley of despair.
Embrace strategic experimentation
So, how should you think about building a partially automated, video-driven, privacy-safe, data-rich, objective-focused, creative-led growth engine? The task for agile brands will be to wrestle with the complexity introduced by the demands of time, cost, and competing priorities. Finding audiences, targeting, scaling, and even selecting formats and simple creative optimisations will be increasingly automated — freeing the people behind the work to focus on more complex creative expressions.
Brands should get the most out of every campaign by aligning each configuration of assets with a specific objective.
Creatives will get to produce longer, richer stories that move and persuade. But to get those stories in front of people, brands will need to approach ad campaigns like Formula One drivers, skillfully steering powerful machines. There's still a place for imagination, courage, and skill — but in combination with technology and the support of a team feeding in data and insights.
Brands must embrace experimentation in a way that combines human creativity with machine learning. Doing this well means refining creative techniques. When constructing good creative, it's helpful to think in terms of surface, structure, and substance. Surface optimisations are mostly about visual language, and a layer deeper are structural edits that are primarily about how we construct our stories. At the deepest level we have substance, which deals with the DNA of your ad — how you present features, products, and your brand.

The ABCDs of YouTube will help guide your teams as they test and optimise different ad elements. Most brands are already well versed in these principles, but they could be doing more. Nielsen identified a 30% increase in sales lift associated with following the general ABCDs, but fewer than 30% of assets are aligned with these principles.7 Multiply that by your media spend, and that's a lot of available value.
No matter how mature your business is, you should always be experimenting. Start small and iterate. Rather than investing in sporadic experimentation that treats the platform as a monolith, brands should get the most out of every campaign by aligning each configuration of assets with a specific objective. More advanced brands rely on structural improvements: scaled monitoring, scaled experimentation, integrated media and creative, and objective-based planning. With every new launch, they optimise and scale according to what they find.
Marketing teams shouldn't fear the complexities of a content landscape that has been reshaped by the interests, questions, and aspirations of millions of people. These viewers are ready to be reached. Equipped with the knowledge of how best to deliver multiple messages to those most receptive, brands can unite creative and media to unlock the potential of both.