In today's attention economy, views are no longer enough. To drive valuable engagement, brands must capture attention – and transform that attention into action. In this series, we explore how to meaningfully connect with audiences to generate results that matter
Whatever the size of your business and budget, Return on Advertising Spend is a key metric. Whether you're spending £100, £1,000 or £1,000,000, you want to get as much bang for your buck as possible – and views, likes and clicks on their own are no longer enough.
YouTube is the go-to place for smarter ad spending: it allows for experimentation, analysis and iteration at a relatively low cost, while providing granular feedback that can help shape long-term strategy. Measurable KPIs can demonstrate success across a variety of areas, including brand uplift and recall – and they can also be used to make course corrections mid-campaign, allowing spending to be refocused into the areas in which it's most efficient and successful. And when it comes to formats, six-second Bumper ads can powerfully complement the effect of longer, skippable TrueView spots, boosting brand recall while keeping costs down.
For smaller companies and start-ups, as well as larger brands, creating and amplifying video content on YouTube can be fine-tuned to a precise budget and targeting pool in a way that isn't possible in TV advertising. Crucially, TrueView in-stream ads only cost you money if someone watches them: if the video is skipped before the viewer watches 30 seconds or to the end of a shorter ad, you aren't charged. Meanwhile, users who watch ads for more than three seconds experience higher Brand Awareness, Ad Recall and Consideration.1
With plenty of opportunity to take charge of who actually sees your ads, you're ultimately able to optimise on the go, shifting targets to ensure effectiveness and avoid repeatedly targeting the same consumers. Which is a great place to start, no matter the size of your budget.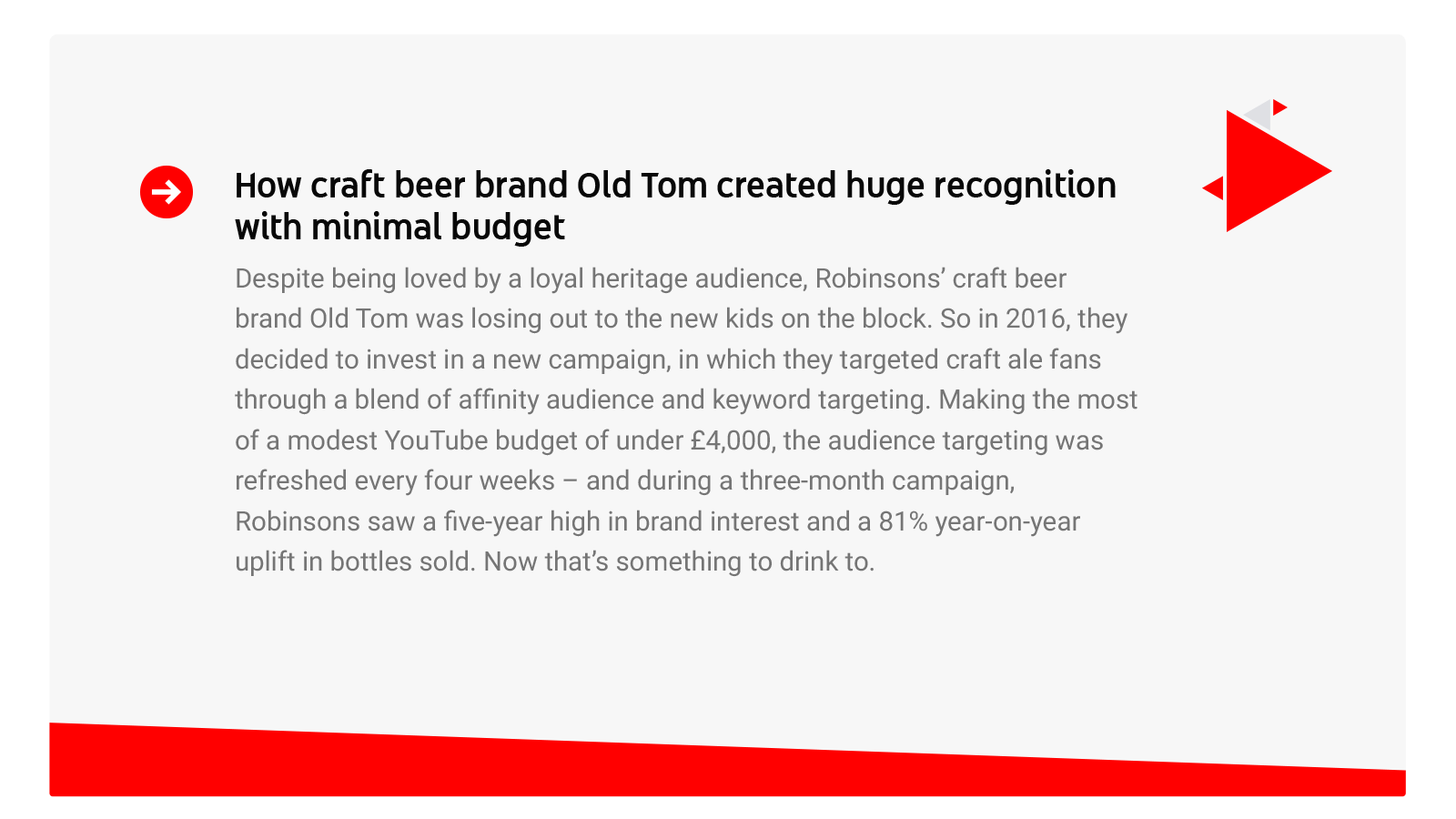 See how Old Tom got customers raising their glasses here