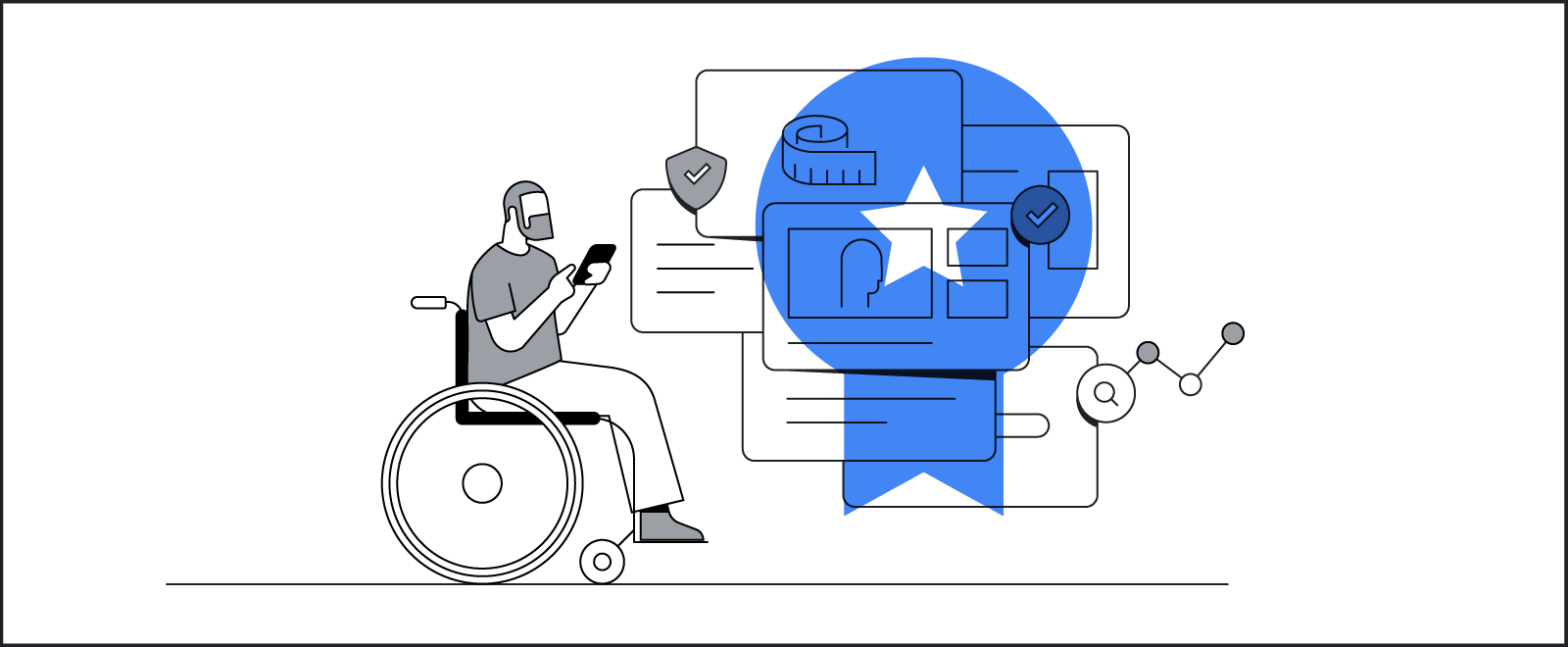 Much like 2020, this year was one marked by uncertainty, market fluctuations and drastic changes in consumer behaviour. While many thought we would see a return to normal in 2021, it quickly became clear that marketers would need to understand and adapt to the "new normal".
This change forced us to figure out what behaviours were likely to stick, control what we could, and be prepared (as best we could) for what's next. So, with the year coming to a close, we looked into our data to find out what Think with Google Canada articles resonated most with readers.
This year reflected an interest in how marketers can be catalysts for diversity, equity and inclusion; how COVID changed the consumer journey, and how one iconic Canadian brand rolled up its sleeves to transform its digital approach.
Back to Basics: 5 ways marketers can help design a positive user experience
User experience (UX) design is more than visual design — it's about ensuring products and marketing materials are accessible, and aims to offer everyone an enjoyable, seamless experience. The ease of a digital journey can create a positive customer experience and can have a big impact on marketing and a company's bottom line.
"Marketers can play a big role in the usability and accessibility of products as well as websites, apps, marketing materials, social posts and business communications, and in turn, the customer experience", says Roberto Faria, program manager for Grow with Google at Google Canada. "With marketers often working across teams and products, they are well-positioned to influence the usability of them." Here, Faria explores five ways marketers can incorporate the foundations of UX design into their work.
Read the full piece.
How marketers can move from promoting products, to offering solutions
Over the past year, people have been looking for more than just products — they've been searching for ways to better themselves and improve their quality of life. We've seen this play out in a number of ways, from people learning new skills on YouTube to the rising interest in fitness trends and the real estate boom, as people adjust to new realities.
We need to work to better understand these new, dynamic needs, and shift from being product-first to human-first.
What does this mean for marketers? We need to work to better understand these new, dynamic needs, and shift from being product-first to human-first. Ceren Koca, strategy and insights lead at Google Canada shared four ways marketers can keep up with Canadians new, dynamic needs.
Read the full piece.
Canadians have changed, and so have their streaming habits
With people accustomed to spending more time at home, the TV screen has become another extension of our connected lives. As such, Canadians are discovering new content and ways of watching along the way. They continue to turn to digital video as a way to inform, entertain and learn new skills, and are now watching the content they love from their living room. Jamie Gargatsougias, Head of Brand Strategy at Google explores four Canadian streaming trends marketers need to know.
Read the full piece.
Google's CMO shares her team's inclusive marketing toolkit: 'We have to be all in'
Advertising is one of the most common forms of communication in our world. In fact, each of us sees approximately 2 million ads per year. But too often the people in those ads don't represent the people seeing them, or, when they do, they rely on hackneyed cliches that reinforce harmful stereotypes.
Find out how Lorraine Twohill, CMO at Google, is working to improve inclusivity across all of Google's marketing efforts.
Read the full piece.
Research shows small businesses are prioritizing online reach — here's how to do it
Research conducted by Maru/Matchbox on behalf of the Canadian Federation of Independent Businesses (CFIB), found that a year after lockdown, reaching customers online tops the list of business priorities. The research also showed over one third of small business owners say selling online has been essential to survival through the pandemic. And it looks like this trend will be here to stay — 48% of small businesses said they will stick with e-commerce after the pandemic ends. Explore three ways small businesses can focus on growing their online presence and their customer base.
Read the full piece.
COVID changed the consumer journey, but what's likely to stick?
As marketers look toward a post-pandemic future, one of the primary questions that remains is: Which of these changes are more likely to stick around? To find out, we teamed with Kantar to conduct research in markets around the world, asking consumers about current behaviors and possible future shopping habits.
Brands need to structure teams and budgets with an omnichannel mindset and focus on possible pain points.
One thing became immediately clear. The pandemic has reinforced what brands and retailers should continue to focus on: enabling people to shop when they want, how they want, and where they want, all the while providing a pleasant and frictionless experience. Or, put another way, brands need to structure teams and budgets with an omnichannel mindset and focus on possible pain points.
Read the full piece.
How marketing leaders can be catalysts for diversity, equity and inclusion
In 2020, many brands were quick to announce the importance of diversity in marketing and a commitment to action. This year, consumers are holding those brands accountable by shifting their dollars to support brands with diversity and inclusion at their core.
We spoke to three Canadian marketing leaders: Nadine Spencer, president of the Black Business and Professional Association (BBPA) and CEO of BrandEQ Group Inc., Kevin Johnson, CEO of MediaCom Canada, and Alyssa Whited, Head of YouTube Canada Marketing, about what real action looks like. They shared ways leaders can open the door to authentic, diverse campaigns that drive results and prioritize diversity, equity and inclusion.
Watch the video.
Scrap these 5 creative assumptions for better YouTube ads
One thing that separates the expert from the novice is a practitioner's understanding of rules and best practices. But rules, as they say, are meant to be broken. In fact, many successful brands advertising on YouTube use creative strategies that run counter to common assumptions — these brands have uncovered some basic advertising misperceptions.
Ben Jones, global director of Google's Creative Works discusses a few misperceptions he's encountered and some suggestions for how you might reframe them into best practices for YouTube ad creative.
Read the full piece.
Why Tim Hortons' digital rebrand was a powerful play for the future
For 36 years, quick service restaurant chain Tim Hortons had Canadian consumers rolling up their coffee cup rims in hopes of winning a range of prizes. But when the pandemic hit, the brand had a matter of days to shift from their traditional campaign to the Tim Hortons app. In 2021, the team made the decision to stick with their digital approach. Matt Moore, VP of digital and loyalty at Tim Hortons, shares their story.
Read the full piece.
The all-new marketer's playbook for delivering performance and privacy
One way to prepare your business for what's next is to invest in data and insights. But shifts in consumer expectations challenge you to find safer ways to show people ads and measure campaigns. We've updated our privacy and performance playbook with the latest Google ads and measurement solutions to help you get ready for these privacy shifts and drive strong performance.
We've also included case studies, showcasing how companies have used these solutions to accelerate their growth.
Read the full piece.