Holiday shoppers may have different approaches to where, how and when they buy, but they also have something in common: their shopping journeys usually start online.
Last year, a joint holiday report between Google and Ipsos found most Canadian holiday shoppers are omnichannel. They use multiple sources while shopping (such as visiting a website or heading to a store) and split their time almost equally between online and offline channels.1
While omnichannel has been a buzzword for a few years now, the truth is, it's just how we shop — we use multiple touchpoints. We're all omnichannel shoppers, researching and buying both online and in-store.

While the lines between channels have blurred, Canadian brands often still operate in channel-specific silos. The holiday season is an opportunity for teams to unite — to think about the reasons why these channels work together, and what holiday shoppers are looking for in an omnichannel experience.
So what's driving so many Canadians online, offline and back again?
Holiday shoppers are heading online to decide where to shop
Canadian holiday shoppers are choosing which stores to visit based on their online research. Today's omnichannel shopper is more informed and intentional.
The report found that 39% of holiday shoppers were looking up local store information, and 31% were searching for nearby stores.2 Of the shoppers using search, millennials are the generation least likely to choose a physical store over an online one, with most of their purchases happening online. However, when they do shop in-store, 82% of millennials are searching online first.3
While omnichannel has been a buzzword for a few years now, the truth is, it's just how we shop — we use multiple touchpoints.
People are researching which products to buy
Omnichannel customers head online to help inform their purchase decision, whether they end up making their purchase or not. Last year, 53% of holiday shoppers searched online for specific products,4 and more than three quarters of those who visited a store had also searched online, visited a website app, or watched an online video related to shopping.5
Shoppers want to feel more confident
Shoppers have access to a world of products and reviews online, but some people need to see a product to believe in it. Interestingly, the report showed Canadian holiday shoppers are more likely to shop in-store than U.S. or U.K. shoppers, with 6 in 10 Canadians doing their holiday shopping offline.6 Top reasons for heading in-store include wanting to feel confident they're making the best possible choice,7 and wanting to see the product in-person.8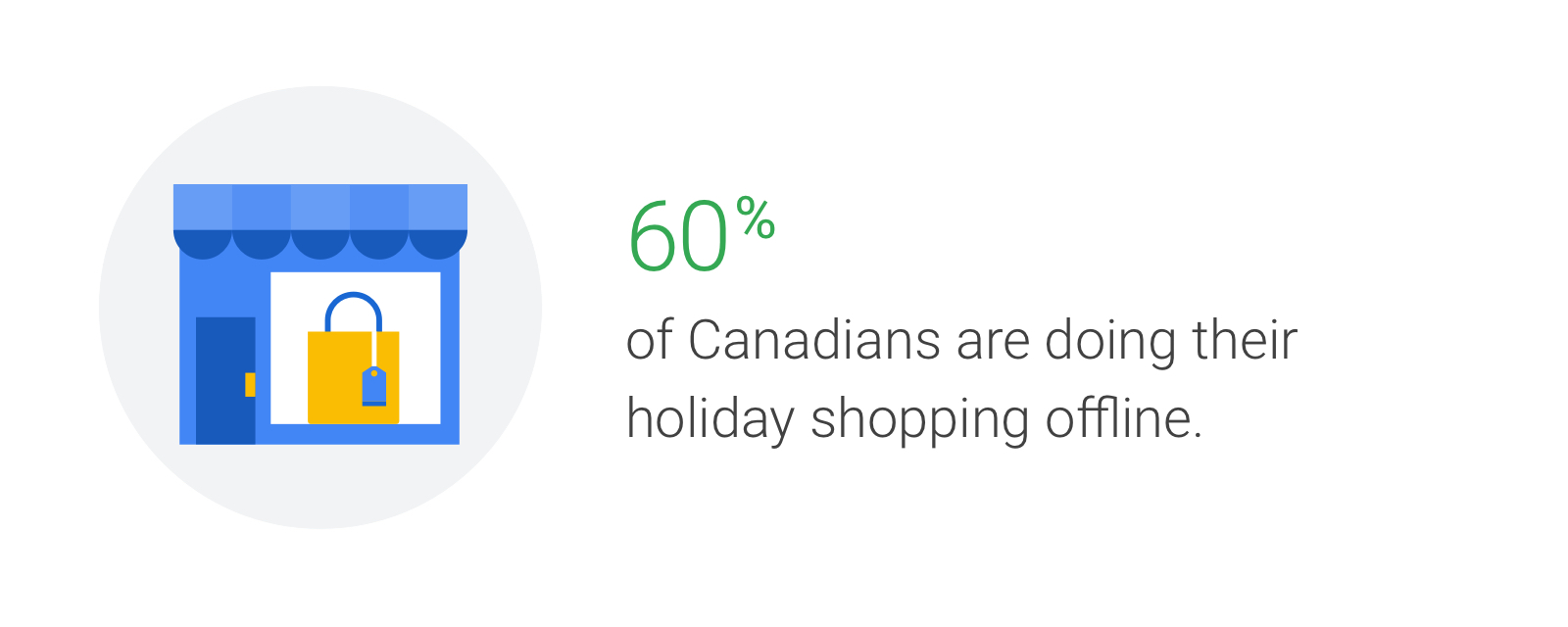 Shoppers are looking for convenience
While Canadian holiday shoppers are still skewing slightly offline, the report found they may be more willing to make online purchases when it's a convenient option. Twenty-three percent cited not having to travel as a reason for buying online instead of in-store.9 Almost half say getting their shopping done as soon as possible is important to them. Quick-and-easy access is also a priority, with 44% of holiday shoppers saying they want to quickly receive the item they're buying, and 32% choosing where to buy gifts based on how soon they can get them.10
Customers are hunting for deals
Holiday shoppers also want to feel certain they're getting the best deal, and are using their smartphones to shop around while in stores. Almost half are using their smartphones to compare prices with other stores, and 41% are checking for deals.11
What does this all mean for retailers?
With so many Canadians turning to more than one shopping source during the holidays, companies should plan for ways to reach customers online and offline. Although the holiday season has begun, there's still time to execute omnichannel plans now.
Encourage data-sharing between teams — and share success: Facilitate the conversation between online and store teams early, and encourage data sharing to measure success together.
Prepare your website and open the doors to your store: Think of your digital ads and online presence as the doors to your online store. Make sure your store product inventory is available online before Black Friday, Cyber Monday weekend, and holiday hours are updated and accurate on your website and on Google Maps through Google My Business. Keep reviews front-and-centre to greet shoppers, and make sure your mobile site is working and ready to handle the increased load. You can test your website speed with Google tool Test My Site.
Drive campaigns to your store: Online advertising doesn't just drive online sales — it drives omnichannel sales. Adding drive-to-store campaign types and strategies that achieve both online and offline goals will allow you to capture holiday shoppers as they engage with your brand across multiple channels.