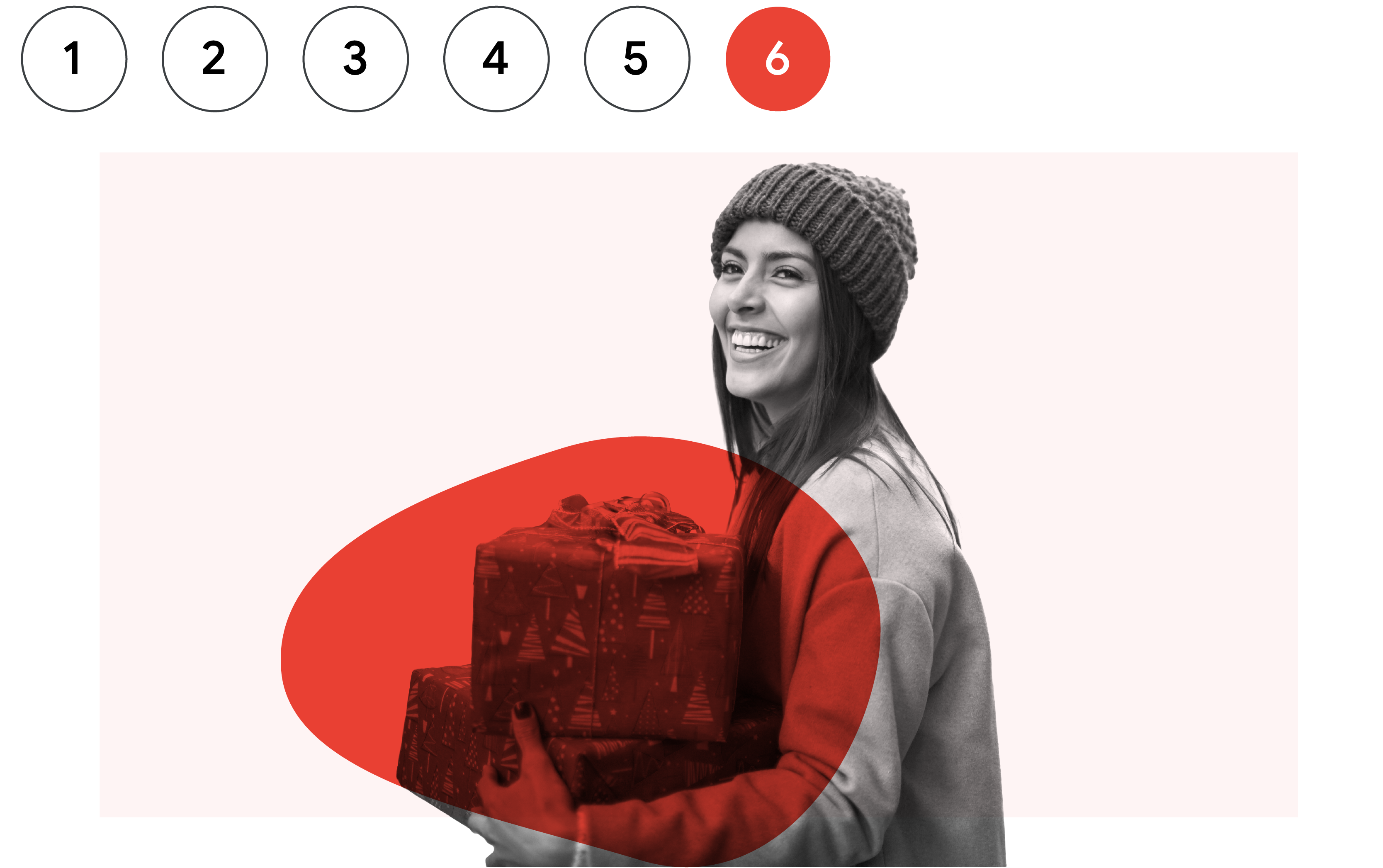 31% of Canadian holiday shoppers say their holiday shopping experience has made them consider shopping much earlier for other milestones this year
In the last few years, we've seen the holiday shopping season stretch out and flatten, resulting in longer periods of more consistent shopping with less dramatic peaks in demand. In fact, 31% of Canadian holiday shoppers say their holiday shopping experience has made them consider shopping much earlier for other milestones this year.1
With shoppers continuing to combine online and in-store shopping, preparing an omnichannel holiday strategy early will be critical to reaching shoppers along their purchase journeys.
Holiday shopping is a marathon, not a sprint
Holiday shopping is happening earlier and across several months, and we expect this trend to continue this holiday season. In June 2021, 20% of Canadian shoppers said they had already started their holiday shopping for the year2 and 29% of Canadian shoppers who shopped last holiday season said they wished they had started earlier.3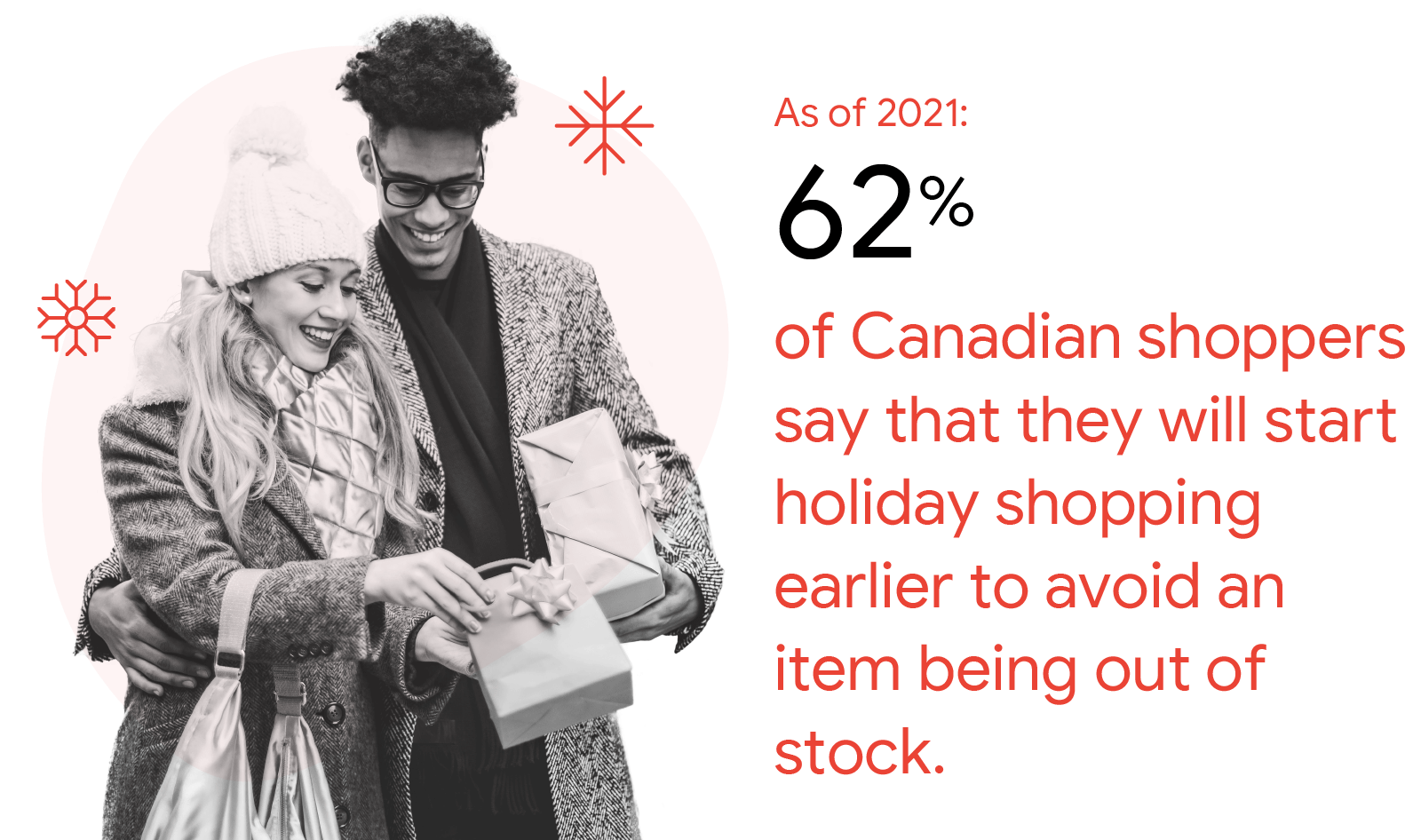 Last year we saw that stock issues were top of mind for holiday shoppers, with over 60% of Canadian shoppers surveyed saying they would start holiday shopping earlier to avoid an item being out of stock.4 Given the unpredictable nature of the supply chain this year, it's possible that we'll see similar issues this holiday season.
The best retailers in Canada start early to capture shopping demand, make the most of the Black Friday and Cyber Week peak, and finish strong into December to capture last-minute shoppers. This shopping demand varies significantly by category. Search activity is a leading indicator of both research and purchases — it's information that's publicly available, and almost always starts sooner and ramps up faster than you think.
Be in step with consumers and adjust your strategy as needed. If there is more interest in your brand or products, change your website and advertising accordingly.
Set yourself up for seasonal success by using sales and promotions as key tools to drive demand at off-peak times. Check your channel measurement strategies, upload your products and holiday deals sooner, and reveal shipping and return offerings to attract holiday shoppers early.
Prepare your holiday strategy earlier this year with Google
Omnichannel shopping is the new normal
Holiday shoppers continue to embrace omnichannel shopping, with the line between online and offline shopping becoming increasingly blurred. In 2021, only 7% of Canadian holiday shoppers surveyed did not use digital channels for their shopping.5
Of holiday shoppers surveyed in 2021

Convenience is key for people, and they want to be able to choose how and where they shop. This is especially important for last-minute shoppers, who rely on local and nearby stores. We've seen this trend in Google Maps, where searches for "gift shops near me" have grown globally by over 60% year over year.6
Offer online visibility to your in-store inventory and a range of delivery and collection options to make the purchasing experience as seamless as possible.
Connect with omnichannel shoppers
Holiday shoppers are turning to Google for inspiration
Shoppers seek inspiration from Google when they don't have a specific product in mind. Forty-one percent of Canadian holiday shoppers that used Google said they did so to get gift ideas, and 59% said they did so for discovery and inspiration.7 For retailers, visibility is critical to capturing these shoppers.
Shoppers seek inspiration from Google when they don't have a specific product in mind.
Show up throughout the purchase journey with not only clear information about products, availability, and offers, but also inspiration-based content to pique their interest while browsing.
Meet your customers where they are
Promote your products to the right customers at the right time across Google surfaces, like Search, YouTube, Gmail, and the Shopping tab. Performance Max campaigns provide access to this inventory through automated bidding and placements.
Inspire and engage shoppers as they browse Google's personalized feeds on YouTube, Discover, and Gmail with Discovery campaigns.
Use the power of video to inspire your customers to take action with Video action campaigns, and add a browsable product feed to show your best sellers directly alongside your video ad.