Companies should stay empathetic right now, and plan experiences that help comfort today's nervous consumers. Behzad Ghotb, consumer research and insights lead at Google Canada, sheds light on ways brands can respond to how consumers are feeling now.
With economies now open across Canada, many marketers are eager for data that sheds light on what the "new normal" may look like for consumers. The future remains to be seen, but recent research shows that this summer, consumer behaviour shifted. The way people shop — and feel about shopping — has changed.
Marketers need to recognize the sentiment and adapt campaigns to address current needs, or risk an experience that falls flat — or worse — offends.
Consumers are feeling nervous. They're still feeling concerned about their health, safety, and their finances. They're still turning to contactless experiences like delivery and curbside pickup.
Marketers need to recognize the sentiment and adapt campaigns to address current needs, or risk an experience that falls flat — or worse — offends.
The consumer mindset has changed
Many consumers are returning to old habits. In Canada, in-store shopping has increased throughout the summer, with 75% of Canadians surveyed saying they are shopping for the majority of their needs in-store.1 This is exciting news and many businesses are eager to welcome customers back to the pre-pandemic experiences of dining in restaurants, heading to attractions, wandering aisles, or filling fitting rooms with clothes to try on.
However, that old carefree consumer isn't back just yet.
Many shoppers are anxious: 29% of Canadian consumers say they're nervous about shopping in stores,2 and 42% say shopping in person is more stressful than shopping online.3
They've picked up new online habits: Over half of consumers globally discovered at least one form of online shopping — like purchasing products online or through smartphone apps, ordering items online and picking them up in stores—and claim they plan to continue.4
Shoppers are still making fewer trips and are looking for online solutions: 73% say they are consolidating their shopping trips,5 and 56% think buying online and picking up in-store/curbside will be a beneficial way for them to shop even when there are no restrictions.6
Recognizing the shopper mindset has changed — and may continue to change — is critical.
As the consumer mindset changes, marketers must: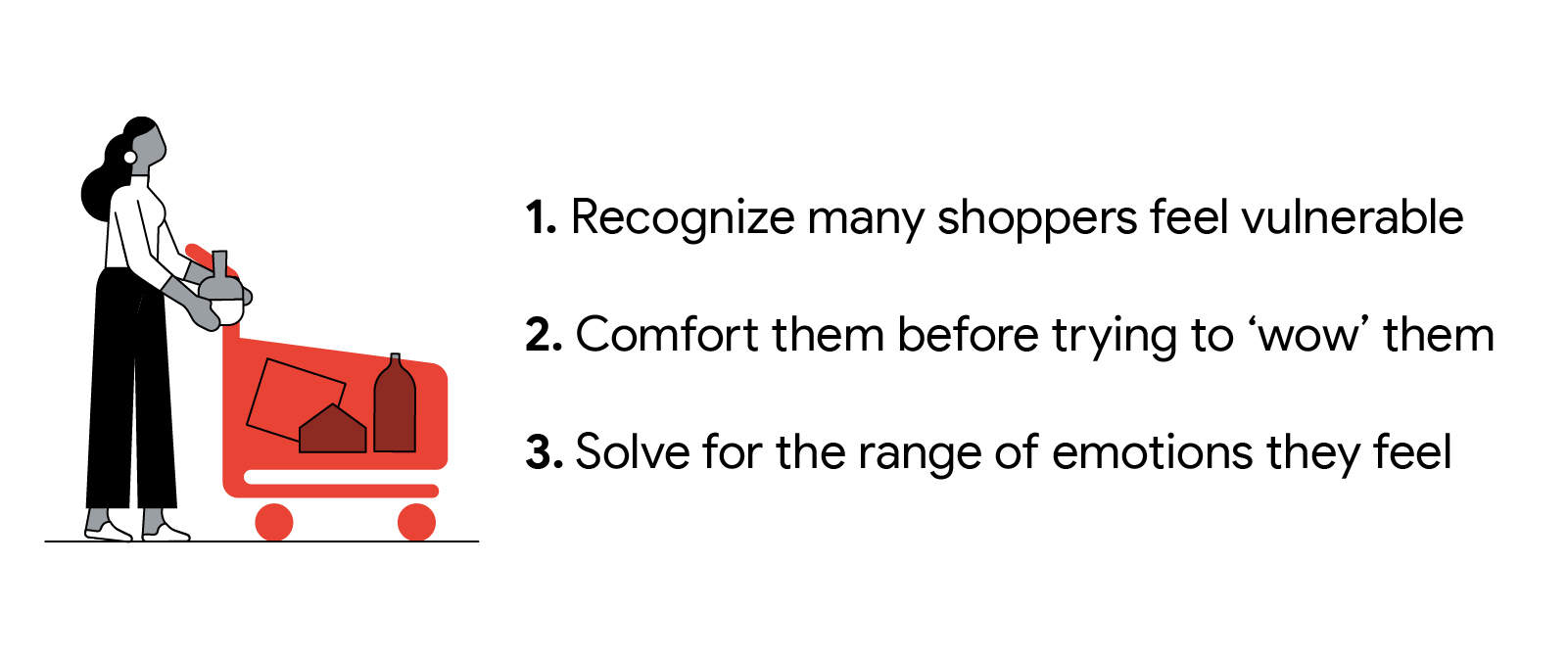 Recognize many shoppers feel vulnerable and are looking for options
A marketer's first order of business should be to address today's challenges, brought on by COVID-19. People's feelings have changed and so should the experience you deliver.
Trying to upsell isn't as important as offering them an experience that meets their needs. Customers don't want to hear "look what you need"— they want to hear "we recognize your needs and we're here to help you." Research shows 65% of consumers say that how brands behave now will have a "huge impact" on what they will buy in the future after the COVID-19 crisis subsides.7
At the start of the summer season, Dairy Queen (DQ) and their agency partner denstu x quickly shifted DQ's traditional messaging from trying to drive in-store to reminding customers that they have options. Instead of "visit a DQ now," they shifted messaging and video end cards with voiceovers highlighting access options like takeout, delivery and drive-through. They also adapted their online to offline strategy to include local campaigns, so customers could easily understand how their local DQ was adapting to the current situation.
Comfort consumers before trying to 'wow' them
Think about experience and all of the barriers along the way. Are there ways to address them? Tell them how you made them safer. They need to hear another voice, grounded in values of caring and empathy. Let them know their health is more important to you than their wallet.
Early on during the pandemic, adidas adapted its digital marketing efforts to highlight how their products are supporting "staycations" and activities like home workouts, nature hikes, and days spent with the kids. The brand also built an at-home workout community #hometeam, featuring video workouts, inspiring stories from professional athletes, and curated collections of adidas workout gear. This summer, as restrictions eased in many places and sports teams began to play again, their "Ready for Sports" video series has continued to reassure and encourage people to return to sports at their own pace and focus on personal training and goals.
Solve for the range of emotions they feel
Consumer behaviour is part of a larger picture, and must be assessed in relation to how customers are feeling — even if those emotions aren't positive. It's essential that marketers realize that consumer comfort levels have changed.
Marketers need to ask what consumers are feeling and respond accordingly. Keep an eye on the pulse of both consumer behaviour and feelings, and land on messaging that feels right for their brand right now, and for their customers