Many Canadians are finding themselves doing things that they wouldn't have anticipated just months or even weeks ago due to the coronavirus. Search interest in "do it yourself" has spiked globally in the past few months.1 And while some of this is about making hand sanitizer or protective equipment, there's also a rise in topics like sprucing up your patio or building a greenhouse.2
All organizations will be touched by this pandemic. Consumer behaviour is changing daily, and many marketers are asking how they can be more helpful to their customers in these fluctuating moments.
Google data can give insight into that. At a high level, there are five behaviours playing out in Google data across markets, reflected in how people are searching.
5 behaviours reflected in how people are searching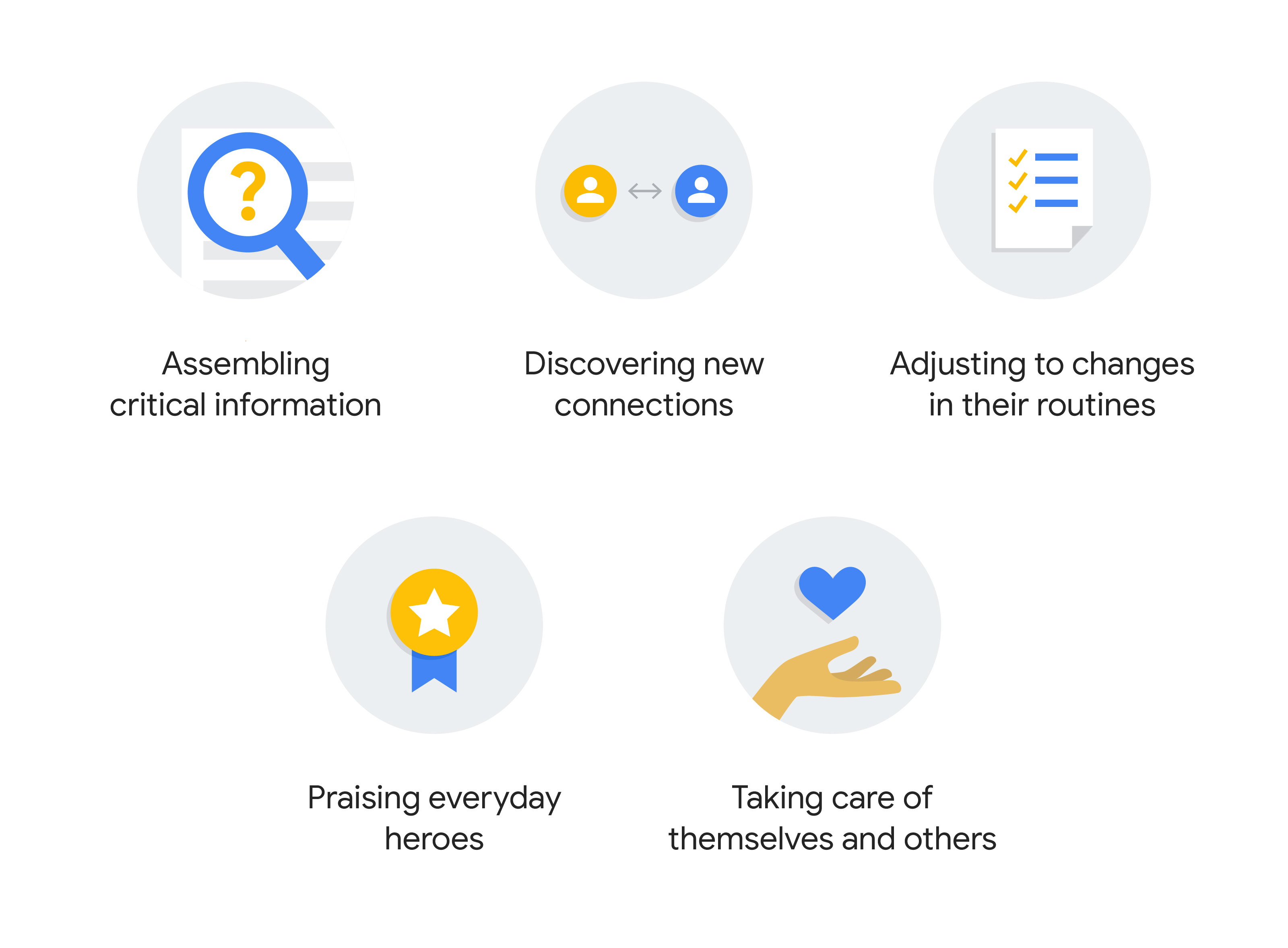 Assembling critical information and content they need to get by
The coronavirus has made normal life anything but normal these days. With retailers adapting to delivery or online models, schools closing, and much of the workforce staying home, people are looking for clear, specific information about where, how, and when to get the things they need.
Search interest related to online grocery has spiked in Canada over the past few months as people try to find new ways of getting food.3 And as people limit their trips to grocery stores, there's been spikes in search interest for things like "can you freeze" and "home delivery" in Canada.4
How brands can help consumers: Be useful as people's needs evolve
Acknowledge the new reality.
Give people credible, detailed, and current information about your operations. Reinforce that you're there to help.
Regularly update communications across your website, blogs, social handles, and even your Google My Business page to ensure people are in the know.
Be flexible. Help customers with cancellations, refunds, and customer service.
For example: Ford Canada is encouraging their customers who are leasing or financing and impacted by COVID-19 to reach out for help.
Discovering new connections and nurturing relationships
Even as people physically distance themselves, they're discovering new connections and nurturing relationships, whether virtually or in their own household. On YouTube, for instance, there has been a rise in "with me" videos, where people film themselves going about ordinary tasks like cooking, cleaning, or shopping. Since January, global views of videos containing "study with me" in the title are over 50% higher compared to the same period last year.5 And YouTube creators are inviting audiences to join them by creating content like "bulk cook with me" or "disinfect with me."
People are also looking for new ways to connect with people from afar. Search interest for multiplayer video games has spiked in Canada in the past few months.6 And global search interest for "virtual happy hour" has spiked in the last 90 days.7
How brands can help consumers: Forge new communities and connections
Look for ways to connect your customers, locally and globally.
Consider if your brand has a role to play in creating or enhancing shared experiences, virtually or otherwise.
For example: Ikea Canada is tapping into the emotions associated with home to encourage people to stay inside.
Adjusting to changes in their routines
As routines and schedules change to meet the demands of isolation, so do people's online habits and expectations. In Canada, search interest for "at home" has risen as the home has become the reference point for exploring new routines.8 For example, search interest in "how to cut hair at home" has spiked as Canadians consider how to change their grooming habits.9
Workout routines are getting an overhaul in Canada too. There's a spike in search interest for "bike" and "dumbbell set" over the last 90 days.10
One noticeable adjustment, whether consuming local news, national news, or even late-night shows, is that production value is necessarily taking a back seat as people film in their homes. And people have an appetite for "scrappily-made" content, as seen in the recent "Stronger Together, Tous Ensemble" COVID-19 stay-at-home concert that raised money for Food Banks Canada. An authentic production style has long been a hallmark of YouTube creators and is now shared among brands and celebrities.
How brands can help consumers: Adjust to people's nonroutine routine
Let people know that solutions are available whenever, wherever.
Assess when people need you most, whether through your own first-party data (like site analytics or email opens) or Google Trends, and adjust your communications strategy accordingly.
Update or publish often. There's a need for content that informs, entertains, connects, and promotes wellness. Production value doesn't need to be perfect.
For example: In their latest video, Destination British Columbia pivoted from their typical messaging strategy and is encouraging travellers to follow stay- at-home orders so people can experience the beauty of travel sooner.
Praising everyday heroes
There has been a growing appreciation for the new everyday heroes among us. Whether health care workers on the front lines or cashiers and delivery people keeping Canadians stocked up, many are risking their own health or safety to help others.
The notion of "thank essential workers" has taken a sudden upturn in search interest in Canada.11 In addition, national monuments around Canada including the CN Tower paid tribute to health care personnel and essential workers.
How brands can help consumers: Support heroes
Look for people who are helping, and find ways to support or celebrate them.
Consider who the heroes are among your employees, your customers, or even your local community.
Consider whether you have nonhuman heroes that can contribute, like your technology, your operational rigor, or your equipment.
For example: Bauer has begun manufacturing protective visors for doctors, nurses and first responders. Dove Canada also paid a tribute to health care workers, thanking them for their courage and care.
Taking care of themselves and others
As boredom, anxiety, and uncertainty set in, people are taking care of their own physical and psychological needs as well as those of friends and loved ones. In April, we started seeing a spike in search interest for "puzzles" in Canada compared to last year.12 We also started seeing spikes in search interest for "virtual tour"13 as well as "zoo tour" in Canada,14 as people look to experience something beyond the walls of home. And even outdoor home projects seem to be trending, with rising search interest in gardening compared to last year.15
How brands can help consumers: Find ways to enrich people's lives
Facilitate virtual collaborations with outdoor spaces and the cultural institutions people yearn to visit.
Join the conversation about home-based health and well-being.
Pivot to platforms and formats that make sense for people staying home.
For example: The City of Toronto is encouraging folks to virtually enjoy the High Park cherry blossoms through their live BloomCam.
According to Edelman, sixty-five percent of respondents surveyed say that a brand's response in the crisis will have a huge impact on their likelihood of purchasing it in the future.16 The more helpful brands can be, the better they'll fare now — and even more importantly, in the long run.