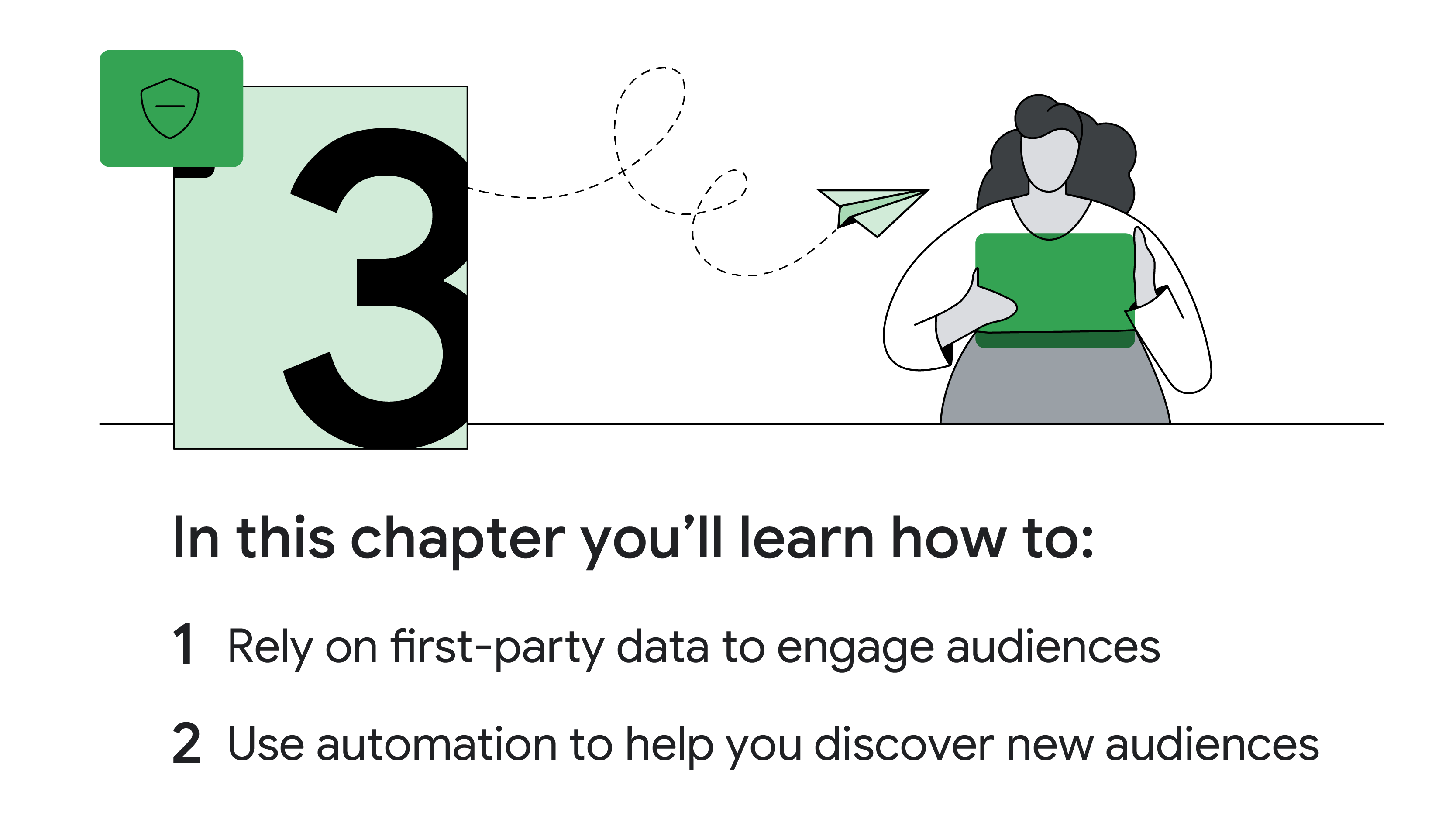 Use first-party data to engage audiences
When marketers analyze first-party data for insights, they can better connect with audiences by delivering more meaningful experiences in a privacy-safe way.
For instance, you can use first-party data to engage with your best customers. When people share their contact information with your business, you can use Customer Match to reach those same users again as they're moving across Google properties, including Search, the Shopping tab, Gmail and YouTube.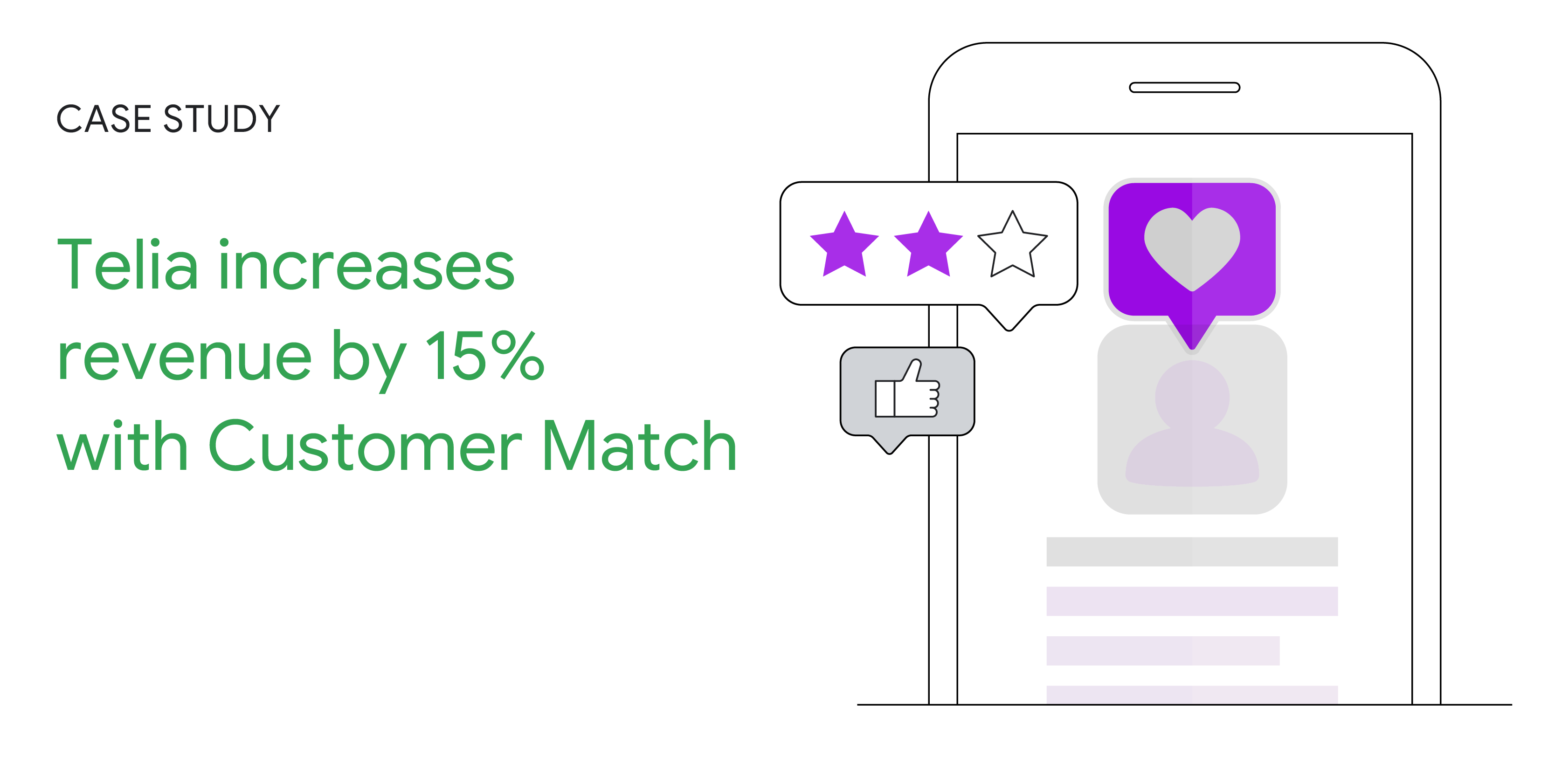 Approach
Norwegian telco Telia was looking for ways to convince existing customers to upgrade their contracts. After exploring their CRM data to find eligible customers, Telia worked with its media agency Carat to reach these customers with highly personalized ads. Using a secure hashing algorithm, email addresses were uploaded into Google Ads through Customer Match so that they could launch personalized campaigns that reflected the mobile usage and existing contract status of these customers.
Results
Telia managed to drive 69% of upgraded mobile plans at a conversion rate 22% higher than the average campaign. As a result, cost per acquisition fell by 23% compared to the average, and both Telia Smart and Telia UNG have seen overall revenue increases of 15%.
In addition to helping you re-engage your best customers, Customer Match lists can also provide useful signals to boost the performance of your other Google campaigns. For example, Smart Bidding takes your Customer Match lists into consideration to understand who is valuable to you.
Use automation to help you discover new audiences
One of the most exciting benefits of machine learning is its potential to help marketers reach qualified audiences - even when some signals are limited.
Google Audiences can factor a wide range of signals with the help of machine learning to reach interested users and optimize what ad to show them.
Signals are attributes about users, including:
Who they are (their demographics)
What their interests might be (based on websites and apps they use), and
What context they're in at the time of the auction (such as the content of the web page they're browsing)
Here's how it works
Google Audiences will rely on as many of these signals that are available at the time of an auction to help advertisers deliver the most appropriate message possible.
For instance, even when cookies are available, Google Audiences will combine those user signals with contextual ones to determine someone's interests and preferences. And in cases when cookies are restricted - either because of browser restrictions or consent choices - Google Audiences will automatically turn to other signals, such as the context of the ad placement, to determine relevance.
Advertisers can also take advantage of automation to find new and relevant customers, either with Optimized Targeting in Google Ads or Targeting Expansion in Display & Video 360.
Advanced Solution: Supercharge your marketing with cloud technology
​​Cloud-based solutions are increasingly being used by marketers to manage data while protecting user privacy. That's because cloud technology offers inherent privacy and security advantages when it comes to storing and organizing large data sets, such as encrypting all data by default and setting parameters for who has access to that data.
By consolidating first-party data into a cloud-based data warehouse like BigQuery, a data scientist or analyst can help you do more advanced analysis on the data. When you uncover new and more powerful insights, you can easily act on them by integrating with your marketing tools.
For example, data scientists can train machine learning models using historical customer information to predict or anticipate the outcomes of future interactions with your customers, and those like them.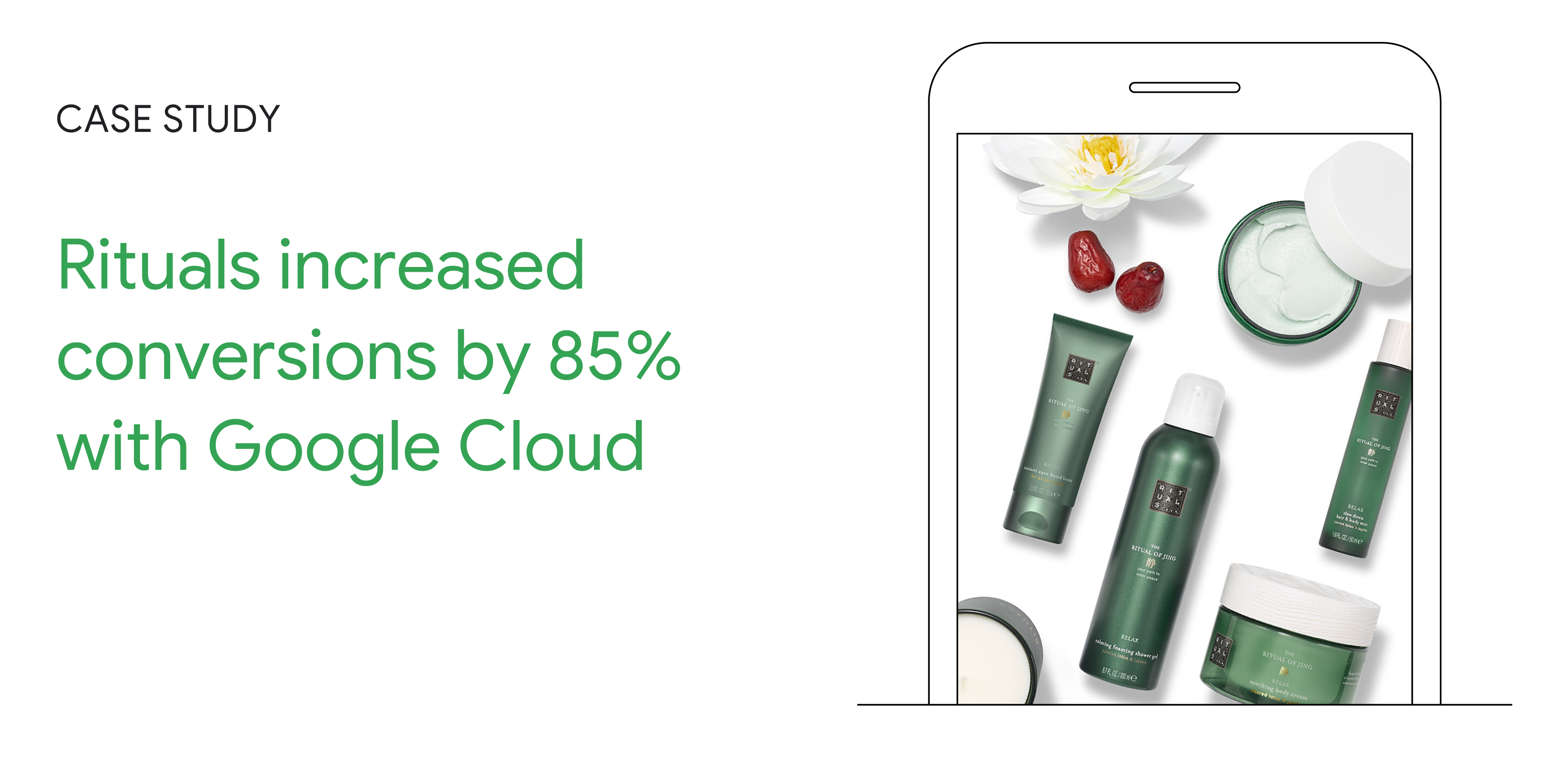 Approach
The digital marketing team at bath and body retail company Rituals wanted to scale how they could find a greater number of valuable customers.
First, they brought all of their first-party data from Google Marketing Platform, their CRM systems, and point-of-sale transactions into BigQuery. Then, with Google Cloud's advanced machine learning capabilities, the team created models that could predict how likely customers were to make a purchase, including if the purchase would happen in a store or online, which items they were likely to buy, and when.
Audience segments were created based on these propensities using Google Analytics 360, and were then shared with Display & Video 360, where a campaign was created to reach certain groups with tailored messaging.
Results
After launching the campaign, Rituals saw an impressive 85% increase in conversions with a 15% decrease in cost-per-acquisition.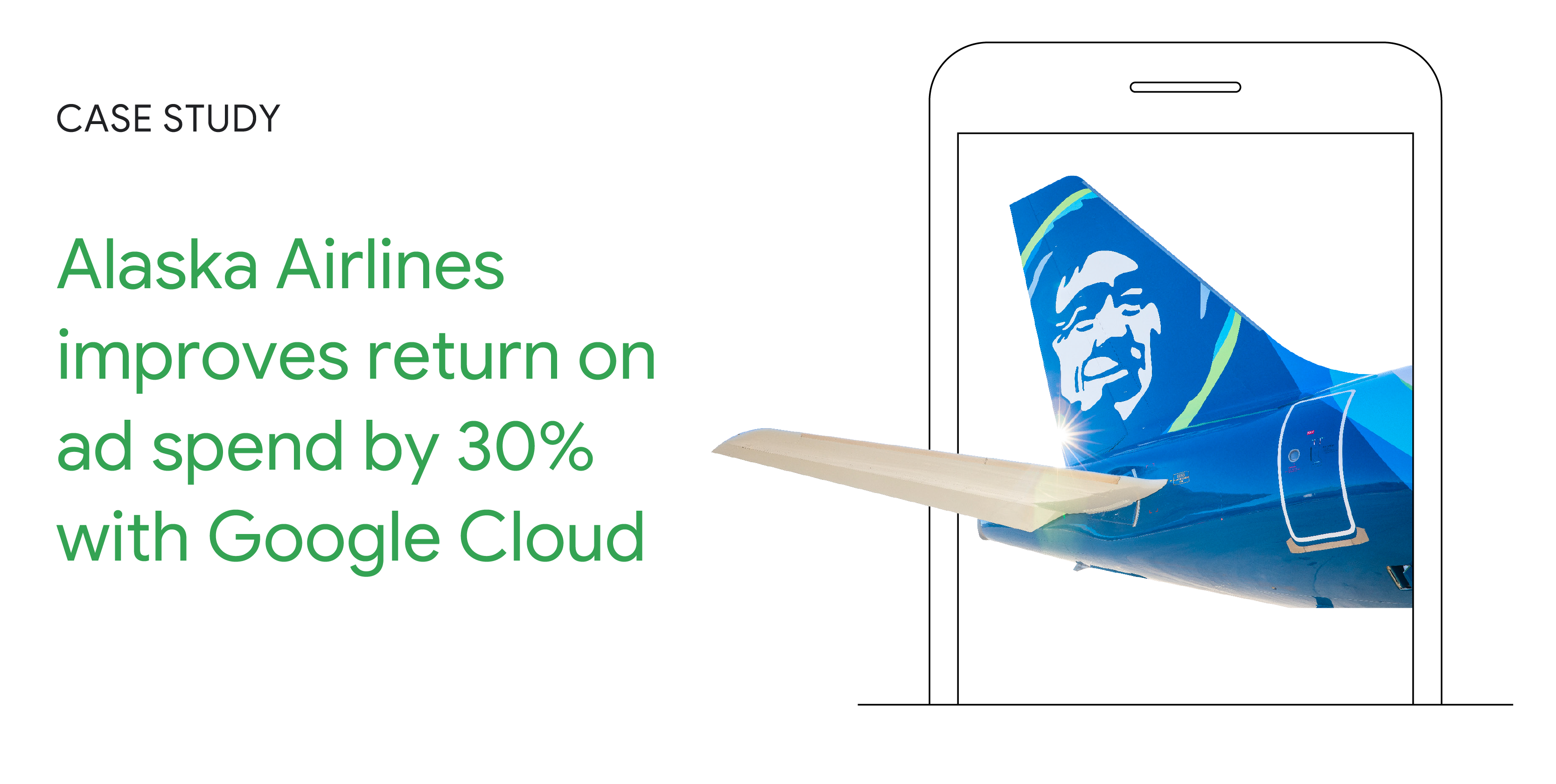 Approach
When the COVID-19 pandemic put travel to a halt, Alaska Airlines had the foresight and optimism to prepare for when travel would eventually recover. They partnered with their Google Marketing Platform partner Adswerve to build a marketing data warehouse using Google Cloud, which tied together first-party data across their CRM systems, media campaigns and site analytics.
Once the warehouse was in place, Adswerve helped Alaska Airlines use Google Cloud's advanced machine learning capabilities to uncover new audience insights and growth opportunities. For instance, Adswerve's data scientists were able to build models from the consolidated data that could predict a customer's lifetime value based on information like origin and destination airports, preferred travel dates, and loyalty program activity.
When the predicted values were fed into Search Ads 360, the marketing team at Alaska was able to adjust bids accordingly and increase the return on investment from their search campaigns.
Results
Alaska improved its return on ad spend (ROAS) from paid search by 30%.
Check out what the future looks like
Chrome's Privacy Sandbox aims to develop new technologies that can offer sustainable solutions for delivering interest-based and remarketing ads.
Here's how it could work for interest-based ads: a person's browser could help match ads to people based on their interests without tracking them across the Internet.
Here's how it could work for remarketing: when people visit a company's website, the website can tag people's browsers when they take an action that's valuable to the company, such as viewing a product. Then, when those people visit other websites with ad space, the browser helps inform what ad might appear without exposing people's browsing activities in the process.
The Privacy Sandbox technologies will work along with capabilities like first-party data and machine learning to power Google's audience solutions. For example, Google Ads and Display & Video 360 will combine the Privacy Sandbox technologies with a wide range of other available signals to match audiences with your interest-based ads. These signals include physical location and which website the ad appears on, so that you can continue to reach people, even without third-party cookies.
Preparing for the future
Growing concerns around user privacy have impacted every corner of the digital advertising industry. And while the digital advertising ecosystem continues to change in response to user privacy concerns, here are some additional steps that organizations can take today to stay ahead.
Create a center of excellence. Some companies have established a dedicated team of experts and vendors ranging from legal, data science, and marketing, whose focus is to stay on top of all the changes, consider different scenarios and come up with a plan for how to respond to each.
Learn about new privacy-preserving technologies. Chrome's Privacy Sandbox is an open source initiative to develop new technologies centered on advances in anonymization, on-device processing, and other privacy techniques. In fact, anyone can submit proposals and run experiments. So work through your industry associations or lean on your ad tech vendors to make sure your business needs are being considered as these technologies get underway.
As we've seen from the clients and agencies featured here, respecting user privacy doesn't have to come at the cost of business results. Quite the opposite: the tools and resources available to digital marketers today can create more opportunities to connect with customers than ever before - all with privacy in mind.