Unwrap the Consumer shopping Journey on Greek Market
Recent research shows that customer journeys involving mobile tend to be longer than their desktop-only equivalents, with more than twice as many touch points between brand and consumer, and that shoppers who use mobile devices are also more likely to research and purchase in store. To dig deeper into what these insights mean for businesses and to help them prepare for the seasonal sales opportunity, we've put together some additional research into the mobile path to purchase across four key product categories: Clothes & Footwear, Home Furnishings, Laptops and Skin Care.
The study looked at the basic moments of the purchase journey: when consumers first become aware of an apparent need; when they begin scoping suitable brands and products; when they hone in on the features and criteria that matter to them most; and when they choose the right deal, vendor and purchase method.
Clothing and Footwear is a category driven by impulse shopping, with 30% of the mobile shoppers surveyed saying that they made an on-the-spot decision . Shoppers in this category rely on their mobiles, with 26% of respondents saying that they research mainly on their smartphone, and a huge 60% of those mobile researchers saying that they watch video on their device about the products they buy. Convenience was cited as the big benefit of mobile research, with 47% saying that they searched on their smartphone for this reason. However, when consumers did go into stores, 26% said that they did so as a result of the research they'd done on their device.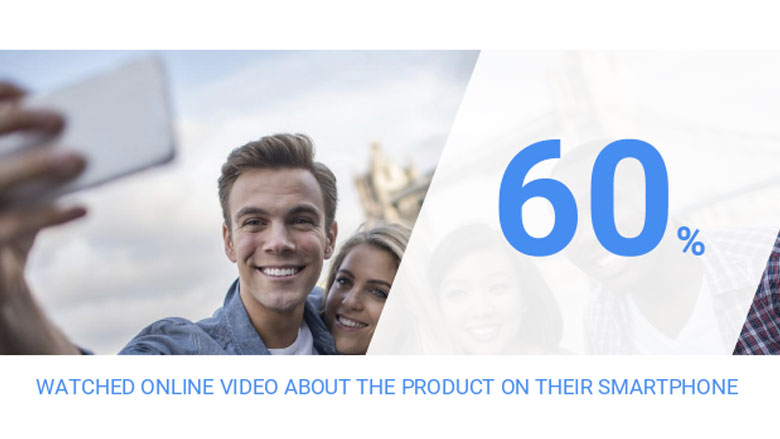 Shoppers in-market for a Laptop are more likely to use their smartphones for research than shoppers in-market for the other product categories in our study. 80% of consumers surveyed said they were undecided about the kind of laptop they wanted, leading to a level of research usage higher than for any of the other product categories. 4% is the mobile purchase rate for the category. 51% researched on smartphone doing so while out shopping for the product.
For Home Furnishing shoppers, the early 'what's out there' phase is crucial, with 92% spending time research in this phase and 40% using smartphones here. Smartphones drove 30% of all online product discovery in this category, with 40% of those who researched on smartphone doing so while out shopping for the product.
In the Skin Care category 35% of respondents used their smartphones for product research. The mobile purchase rate for the category is 2%. As with the other categories in the study, mobile drove a significant percentage of all online product discovery, with 19,5% of those who found a product online using their smartphone to do so. Likewise, mobile discovery is also popular with in-store shoppers, as 30% of those surveyed said they used their smartphone to research while shopping.
Mobile devices have transformed the way consumers explore products and research their most important purchases. Businesses that help customers discover the products they need, find the specific items they want, and then purchase seamlessly on their chosen device, will be well placed to win these mobile moments.