Croatia has more to offer than sun and sandy beaches. But with consumer attention at a premium, getting potential travellers to think beyond this postcard perception is no picnic. To shine a new light on the country, Croatia used Google's targeting solutions to serve up truly irresistible content.
Goals
Increase awareness and year-round consideration of Croatia's full travel offerings
Consolidate Croatia as one of Europe's top summer destinations
Approach
Showcased Croatia's travel offerings in a new, clickbait-style website: "Croatia Feeds"
Developed articles informed by popular Google Search queries related to Croatia's offerings
Drove traffic with targeted Google Display, Search, and YouTube ads using clickbait parody headlines
Results
+40% increase in Croatia-related search queries
+22% increase in tourists in 2017
3X higher click-through rates than average display campaigns
40% higher average site visits than set targets
Bringing to mind beautiful, sandy beaches and sunny weather might not sound like a challenge for a country's tourism board, but at the start of last year, Croatia was in a unique position. The country was still largely unknown for its wealth of other offerings aside from its seaside splendor, and wanted to stand out among other summer destinations in Europe.
On top of a competitive geography, Croatia's tourism board was up against a huge amount of other travel content competing for attention. Croatia needed to find a way to stand out to travellers and shine among Europe's summer getaways. Luckily for the country, being a relative underdog destination in the Mediterranean opened doors to exploring some cheeky, enticing, and unconventional forms of content.
Croatia adopts attention-grabbing techniques to stand out
To capture traveller attention, The Croatian National Tourism board teamed with BBDO Zagreb and Google ZOO to develop Croatia Feeds, a parody of popular clickbait websites that showcased all Croatia has to offer with trendy, sensational articles written across 17 languages.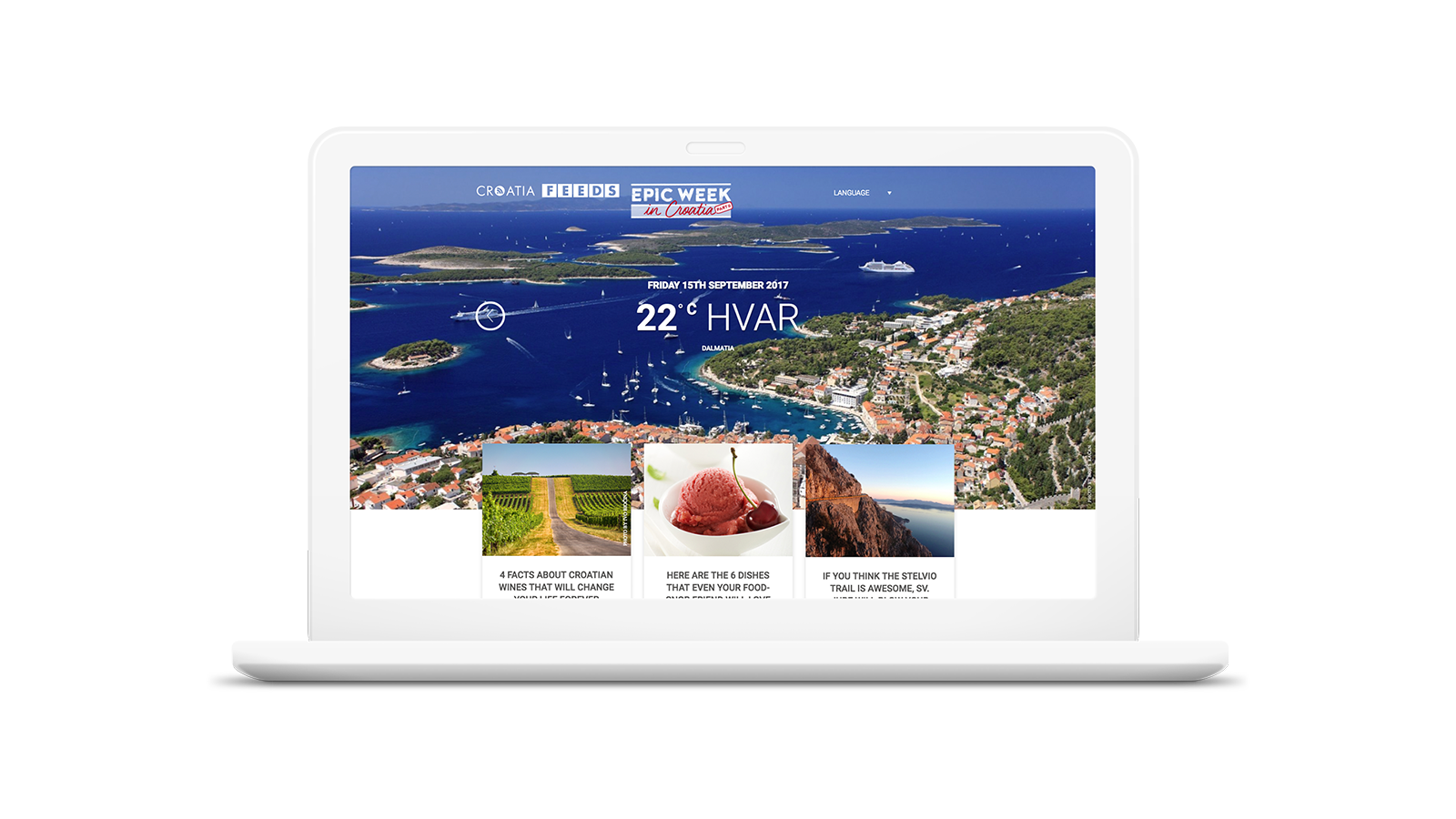 Instead of creating more run-of-the-mill travel articles, Croatia Feeds capitalized on modern consumers' familiarity with sensational clickbait-style content. It allowed travellers to be in on the "joke" of a cheeky underdog country showing off its offerings with blatantly over-the-top headlines and listicles.
Using popular Croatia-related search queries to create new content
Creating a fresh style for its content was only half the battle. The tourism board needed to tap into things that travellers wanted to experience in Croatia, so it used popular and trending Croatia-related search queries to inform what kind of activities and experiences would be featured. In that way, the board implemented a content strategy based on its targeting strategy, where articles could be broadly organised into three groups:
Interest: targeting the most popular passion points available in Croatia with ads placed in the right context
Other destinations: targeting destinations outside of Croatia with steady search interest during the year and intercepting with similar, suitable options offered by Croatia
Topical: targeting topical events with spikes of search interest
After Google ZOO helped define the three content groups for Croatia Feeds, the teamed used the same targeting to serve up search ads, YouTube ads, and Lightbox ads on the Google Display Network. That way, each ad creative would match particular topics, traveler interests, and search queries on the page it was served.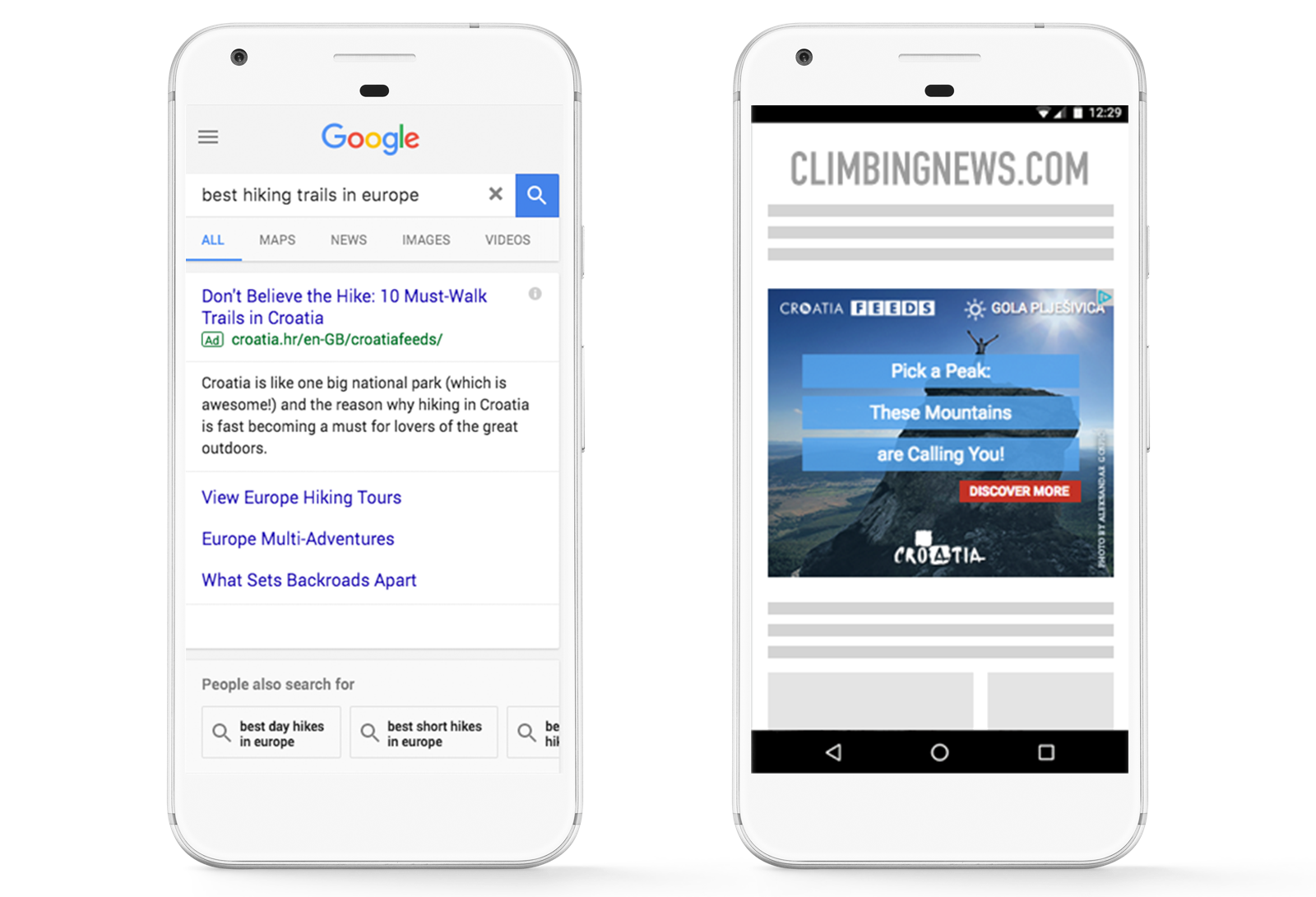 "It's all part of the switch we wanted to make from classic tourism communication to using data to improve campaigns," said Tina Jukić, advertising director of The Croatian National Tourist Board.
Clickbait-style campaign propels Croatia to the top of travellers' minds
The data-driven approach truly pulled the "clicks" out of "clickbait." During the campaign, the tourism board saw 3X higher click-through rate compared to its average display campaigns, and site visits were 40% higher on average than target values. Searches for Croatia in measured markets also increased by 40% YoY, which was the highest increase in search volume since 2012.
At the end of the day (or rather, end of the summer), the targeted content was so impactful that the tourism board moved the online content offline for TV and print campaigns in 20 markets across the world. And as for showcasing what Croatia has to offer besides sun and sea? Travellers got the message: The country's number of tourists grew by 22% in the first half of 2017.