YouTube is helping modern mums with everything from parenting advice, to entertainment during their priceless moments of downtime.
With the web having recently celebrated its 25th birthday, we now have a generation of adults for whom the world has always been connected. As many of these digital natives begin to embrace parenthood, they are turning to the web for advice.
Parenting in the online age
Preparing for the arrival of a new baby and keeping track of the various milestones during pregnancy can be both terrifying and exciting. Right from the first trimester, YouTube search data gives us an insight into expectant mums' evolving thoughts and concerns. From getting the right nutrition, to finding the best baby supplies and baby slings, mums are searching for information at every phase of pregnancy and beyond (fun fact - September 26th is the most popular birthday in the UK,1 so we've calibrated our chart to reflect that we actually see higher-than-average search volume for key pregnancy topics at these times of the year!).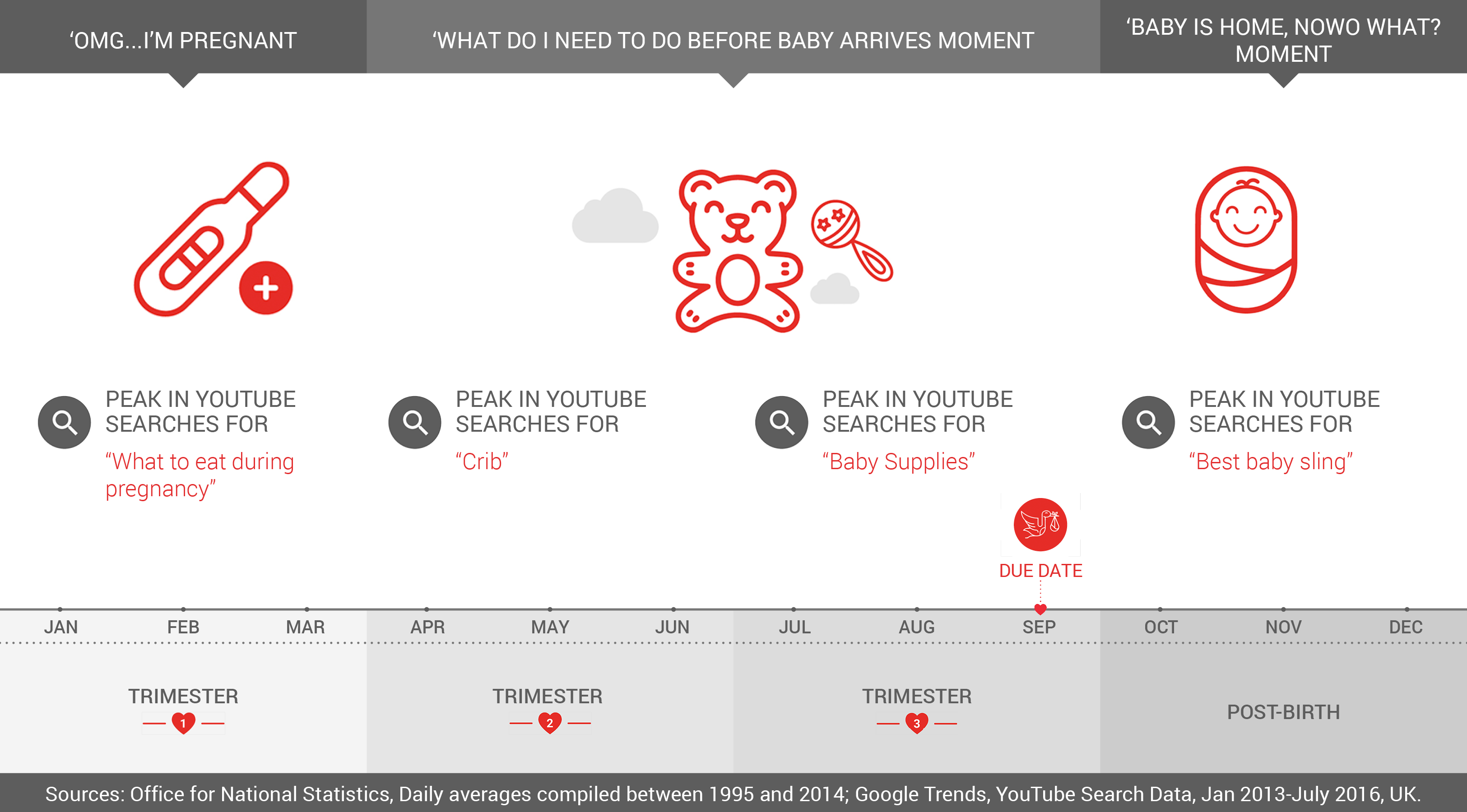 The questions range from the big to the small, the existential to the almost inconsequential - everything from "How do I feed my baby?" to "What bedding should I buy?" Whatever the moment and whatever the parenting need, modern mums know that with videos full of real-life experience and practical demonstrations, they can find more than just answers on YouTube.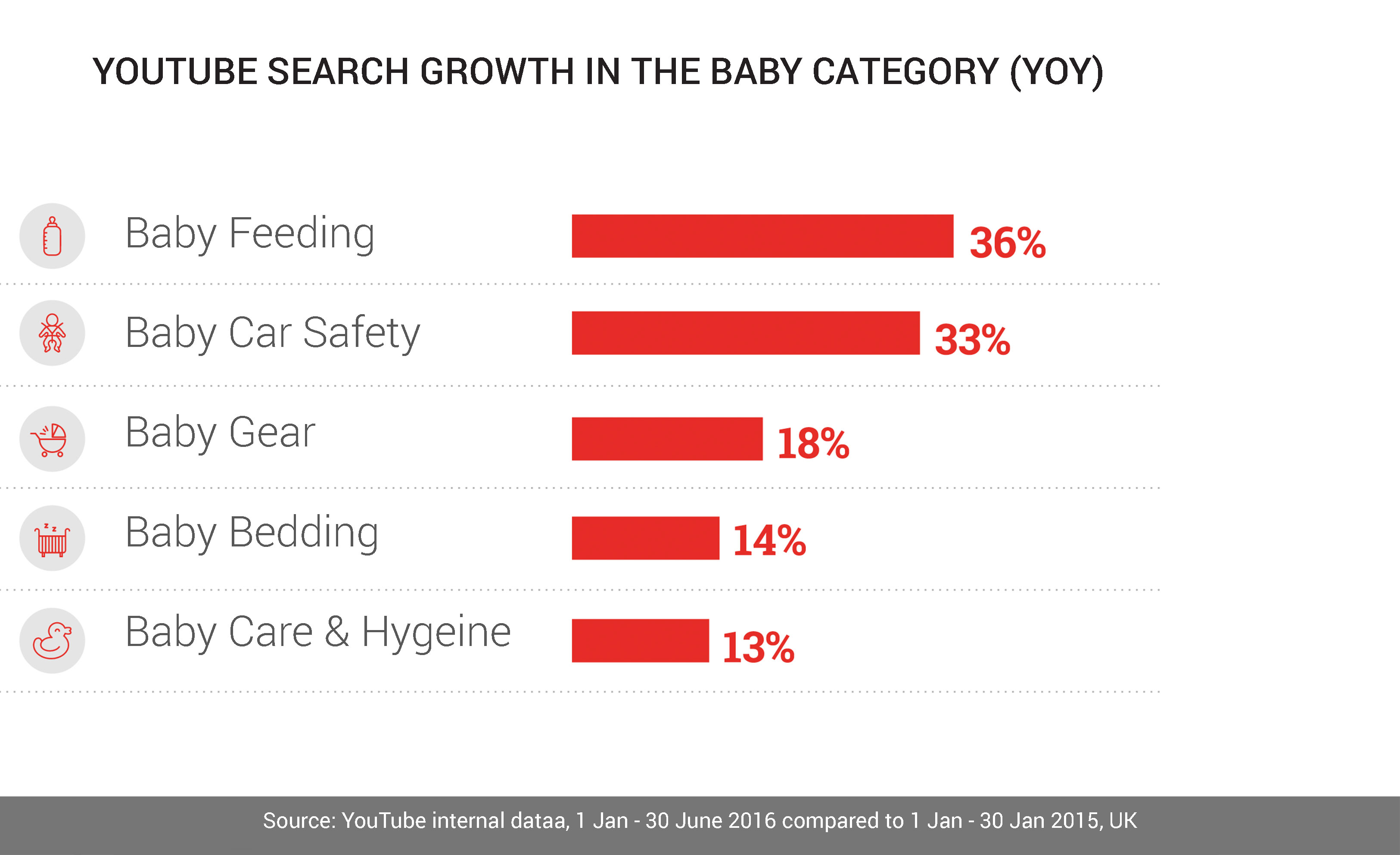 Advice on-demand and on the move
To try and better understand how online video fits into the busy lives of UK mums, in July 2016 we partnered with Ipsos on a research project. The responses to our survey revealed that 84% of all mums who are online in the UK use YouTube,2 and that convenience is a key factor in their usage patterns. With so many demands on their time, the ability to get answers from the nearest screen is invaluable, with mums of young children more likely to watch YouTube on a mobile than any other device.3 Searches relating to babies and parenting on mobile have increased by 20% year on year,4 giving a clear picture of just how important it is for mums to have access to information on the go.
Learning how to be a parent will always be time-consuming, but by giving seamless access to advice on a range of devices, YouTube answers a real and pressing need for many parents.
Trustworthy and entertaining
There are many kinds of content available on YouTube, and many reasons to watch. The survey results show that 51% of mums who watch YouTube 5 are now watching more content than they did two years ago, and that they are watching at different times to answer different needs. The most popular reason given was entertainment - both for mums 6 themselves and during family time - with information also cited as a common reason to watch.
According to our respondents, YouTube is now the third most popular online source for advice and tips about parenting, with nearly 33% of mums who watch YouTube 7 saying they watch "How-to"-type videos at least once per week.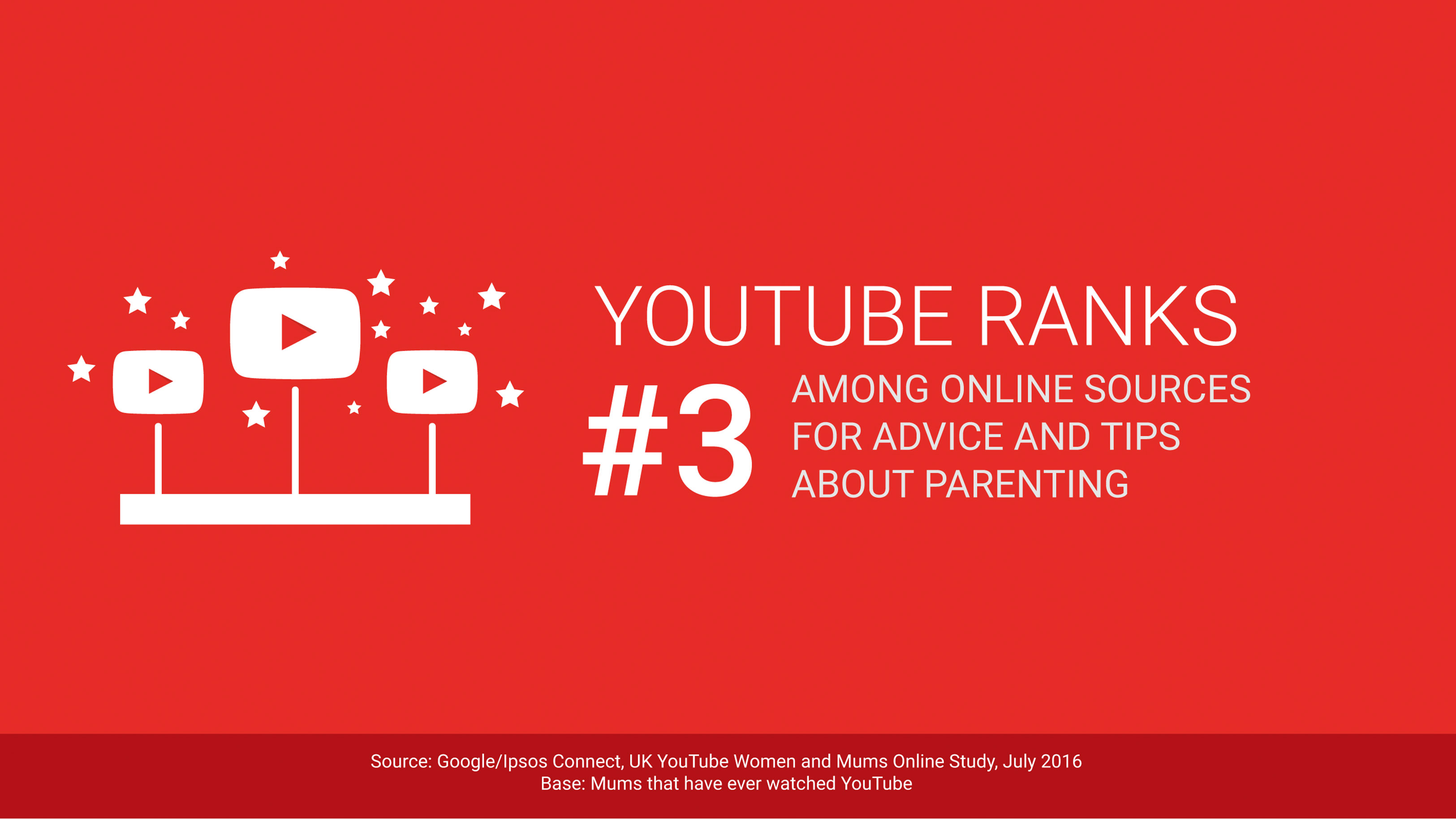 Channels from creators like SACONNEJOLY and communities like Channel Mum share priceless information, but also provide a forum where mums can ask questions, learn from each other, and enjoy a sense of empathy and shared experience during a new phase in their lives that could otherwise feel quite isolating.
Helping mums on the path to purchase
Whether they are buying for themselves, or addressing the never-ending list of items needed to feed and clothe a growing child, mums are constantly making purchase decisions. Our data shows that 66% of mums who reported that YouTube has helped them during a purchase journey bought something after watching a video, and that mums use the platform during every phase of the buying cycle, from researching products to looking for after-sales help and advice.8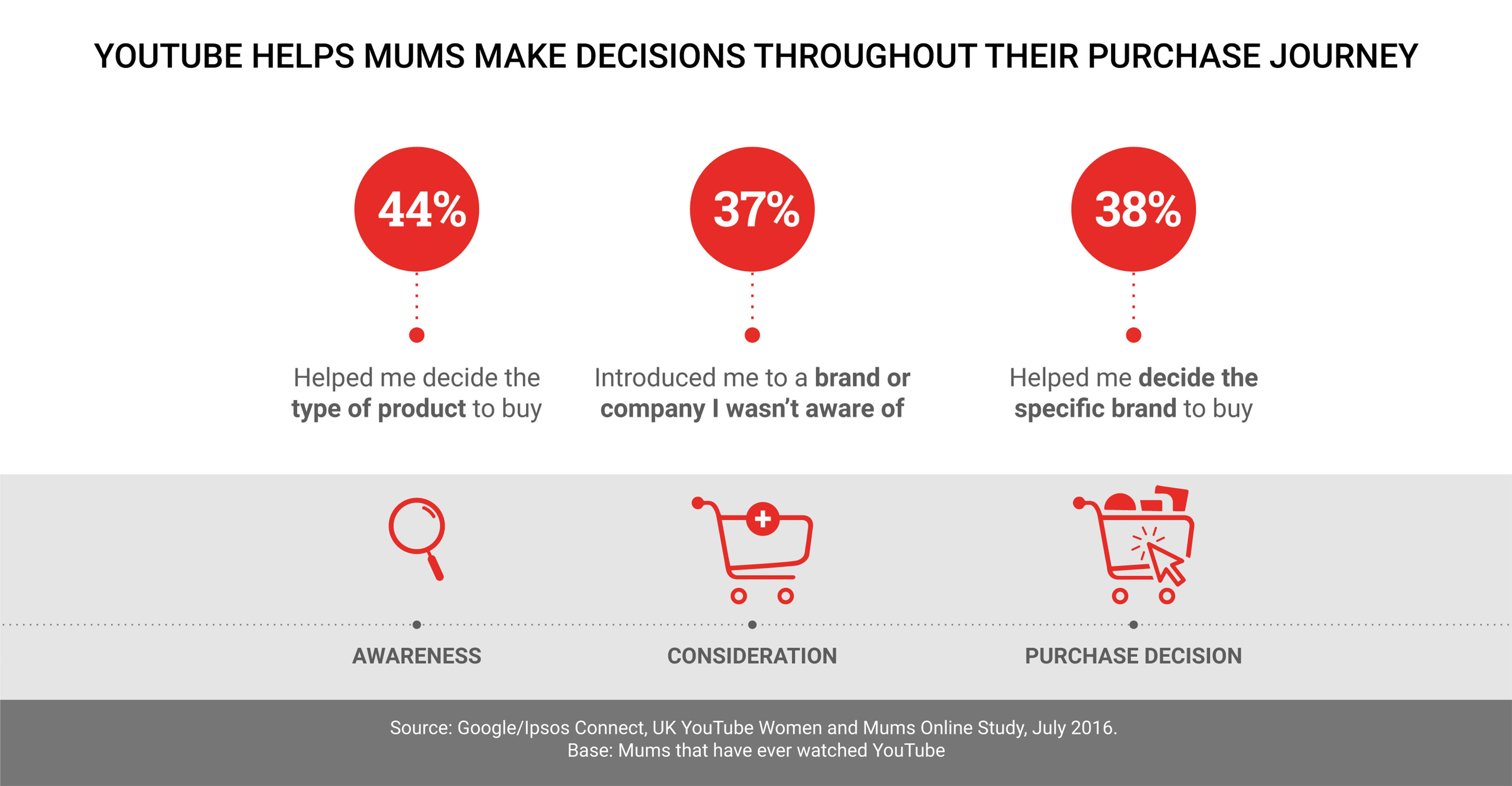 Using behavioural signals, advertisers can reach mums anywhere on YouTube, engaging them across the entire customer journey, from product consideration to conversion. For brands, YouTube's highly popular Parenting Lineups also provide a natural meeting place, where businesses can raise awareness and begin to make the connections necessary to inspire long-term customer loyalty. With useful content that modern mums love, a range of targeting, and a growing audience, YouTube gives advertisers an opportunity to address a growing community, informing and influencing some of the many purchasing decisions they make each day.