COVID-19 turned any plans we had for 2020 on their head. Uncertainty saw many marketers scramble to understand behaviours as people and businesses pivoted to the times. Lockdowns and travel bans have severely impacted global industries, the travel vertical in particular has been hard hit. As restrictions continue to ease in Poland, we analysed current tourism search trends to understand how Poles think of travelling and tourism during these unprecedented times.
In uncharted waters it's wiser to press pause and focus on the present. Google Trends provides an opportunity to understand what people are thinking and looking for right now. Businesses can use these trends to be more relevant today — and better equipped for tomorrow.
Bounceback in tourism-related searches
In Poland, accommodation-related searches started dropping in February, with a
41% decrease in the last week of April 2020 compared to the same period last year.1 At the same time, as the country began easing restrictions, searches began to bounce back 16% week-over-week in the second half of the month.2 The same pattern occurred for tourist attraction searches, which decreased compared to 2019,3 but showed signs of recovery with 12% week-over-week growth in the second half of April.4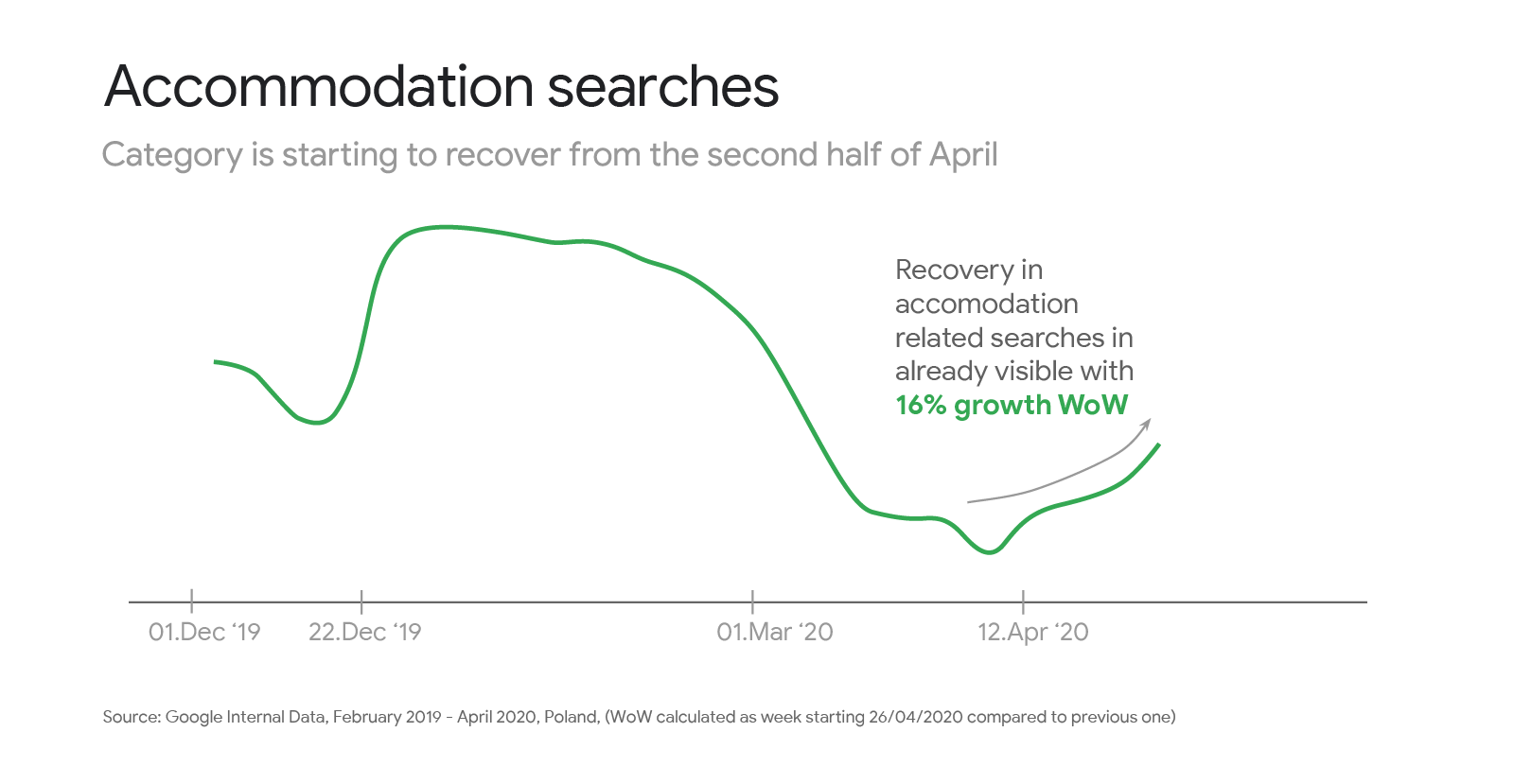 International travel searches show signs of recovery
In May last year, Poles searched for destinations near and far at almost an even split: 40% international and 60% domestic.5 This year, as leisure travel options are more limited, international searches dropped to just 16%, while domestic travel interest jumped to 84%.6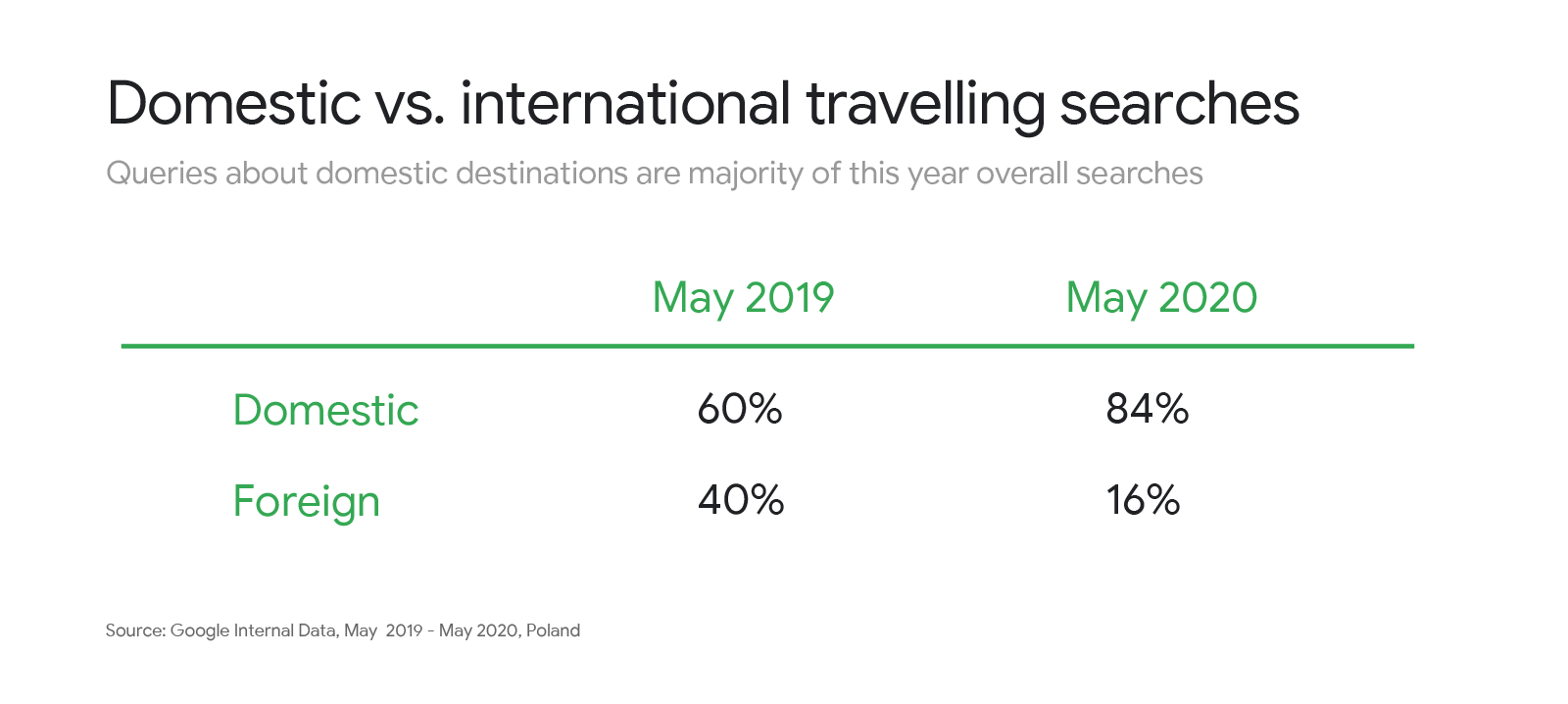 Across the globe, people are looking for holiday destinations closer to home. The restrictions on international travel and concerns with flights and airports have turned focus towards the domestic market. Travellers are embracing staycations as they're looking for travel locations in their own country.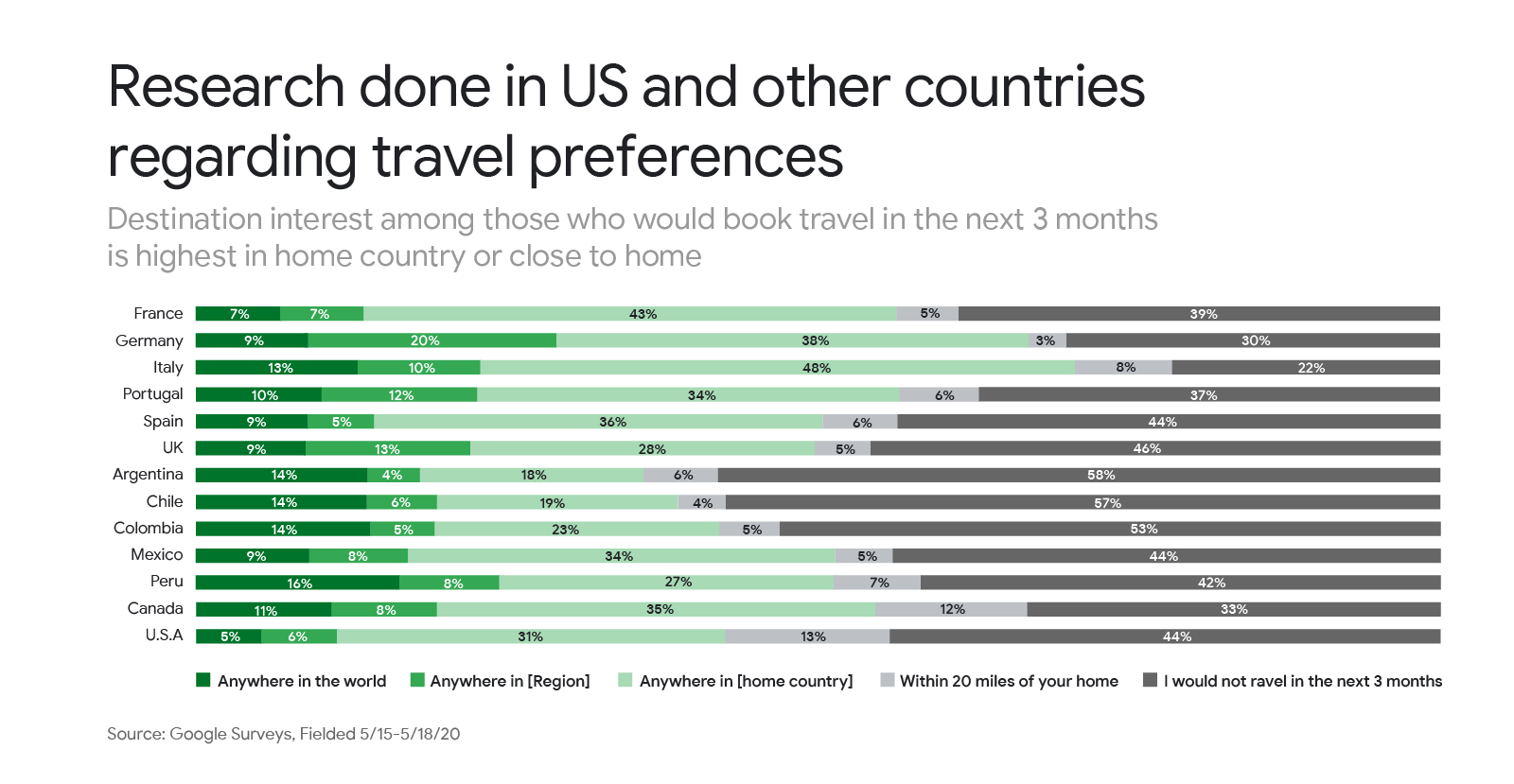 However, as of June 16, Poland re-opened its borders to other countries in the European Union and we're already seeing international travel interest spike. Holidays to Greece, the Maldives, and Croatia made it to the top searched keywords in recent weeks.7
Shifting accommodation preferences
Polish travellers may see holidays as a reality again, but they're keeping safety measures and social distancing top of mind. Hotels still make up the majority of searches, but less-crowded options like vacation rentals are becoming a larger piece of the pie; 16% in 2020 compared to 13% in 2019.8
Interest also piqued for locations where travellers take part in farm or village activities, with 'agrotourism' being a top searched keyword in recent weeks.9 Compared to May 2019, the rate of agrotourism searches declined significantly slower at 9% versus 41% of all accommodation queries this year.10 And week-on-week, interest grew 45% compared to 'accommodation' at just 16%.11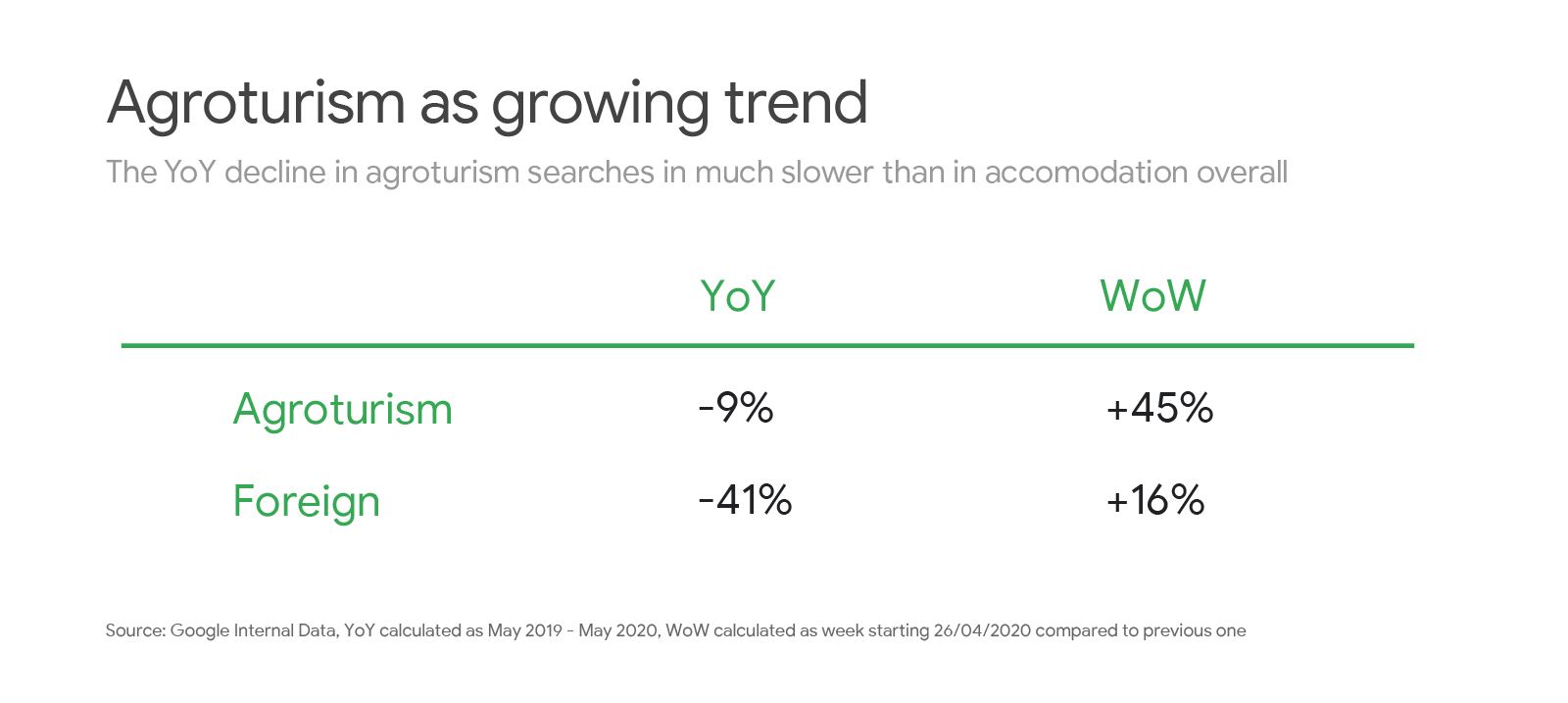 People look for lesser known attractions closer to home
Whether it's for minimal crowds, maximum space, or to reconnect with nature, travellers seek out more natural destinations and those more off the beaten track. Queries for places like amusement parks and zoos have declined compared to last year, while 'Tatra National Park' and 'Bialowieza Forest' have become popular in recent weeks. 12
In Poland, the majority of searches for domestic attractions are coming from locals living in that province. One outlier is the capital, where searches were more related to destinations in different regions that those of the people living in Masovian Voivodeship.13
Looking towards the future
After cancelled 2020 holiday plans, Poles are already thinking about their dream vacations for next year. In anticipation of heightened tourism, many organisations and travel destinations are incorporating certifications for clean and safe practices. Hotels and vacation rental services like Airbnb have published plans to ease traveller's concerns. And policies have been put in place in countries like Turkey, Spain, and Portugal to encourage tourism.
As the situation changes from one day to the next it's not easy to predict how consumer behaviours will adapt. Marketers can use insights from real-time searches in Google Trends to understand their customers better and faster ⁠— to address their needs in the ever-changing reality in which we live.