Mobile devices are now used at every stage of the shopping journey. Consumers use their mobiles to browse items, find out more about products, and make purchases (provided that speed and usability are optimal). Aware of the stakes, Cdiscount, a leading French e-commerce company, reviewed its organization to overcome technological challenges and completely overhauled the UX on its mobile site. Let's take a look at how this strategic transformation started—the meeting place of consumer expectations and the retailer's DNA.
A technological and structural investment
Mobile devices are an essential factor in the growth of the group. In 2017, 60% of Cdiscount's traffic and 38% of its business volume came from mobile devices. So the audience is increasing, but what about web performance? This is a key issue, because consumers are not prepared to compromise when it comes to the mobile experience. The UX must be simple, fast, and intuitive.
To ensure that it can better respond to—or even anticipate—consumer expectations, Cdiscount is working in partnership with Google's mobile experts on two priority areas: user experience and web performance.
To start with, Google conducted an audit and provided recommendations on the usability of the mobile site so as to improve the overall user experience (see a before/after on the product listing below).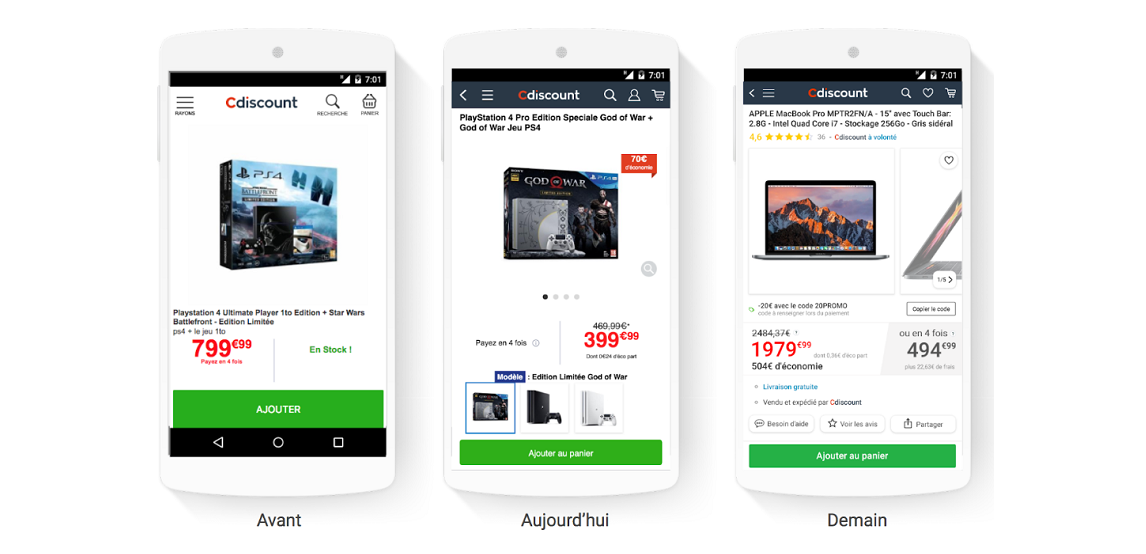 After the UX came web performance, and more specifically, mobile speed. Page loading times were improved by optimizing code and images.
At the same time, Cdiscount set up a task force and broke down the organization's silos. The marketing teams were mobilized to create an exhaustive list of market best practices (for the United States, Asia, etc.) and to use new customer analysis methods, both quantitative (e.g. ContentSquare heatmap) and qualitative (e.g. collecting user feedback).
Cdiscount made other investments too: it grew its IT team by a factor of six in 2017 and by a factor of ten in 2018. Focusing on both tech and the UX, it worked to adopt more agile ways of quickly and efficiently validating concepts and processes, or even the usability of a function (e.g. design sprints, guerrilla testing, and co-design workshops with representatives from different departments). At all times, the teams followed a test and learn approach, with optimizations guided by technical and business performance.
Loading time halved
A year of collaboration and internal engagement has produced convincing results. Cdiscount improved its mobile bounce rate by 10% and increased its share of mobile sales by 50%. What's more, the group was ranked as the second fastest mobile e-commerce site in France. It also halved its loading time: Cdiscount's Speed Index improved from 7 seconds in 2017 to 3.5 seconds, according to the JDN ranking in January 2018.
Further recognition of this improvement came in the form of a 2017 NetObserver ranking, which placed Cdiscount in the top three favorite mobile sites and apps among French consumers.
As a pole position can be lost as quickly as it is won, Cdiscount is continuing to invest in innovation by focusing on a third area with Google. This includes the deployment of a Progressive Web App (PWA) to improve user engagement with the brand, gaining a higher conversion rate than that of the native app right from the start. In addition to this, almost 100,000 Accelerated Mobile Page (AMP) landing pages were published online to accelerate access to the site's content.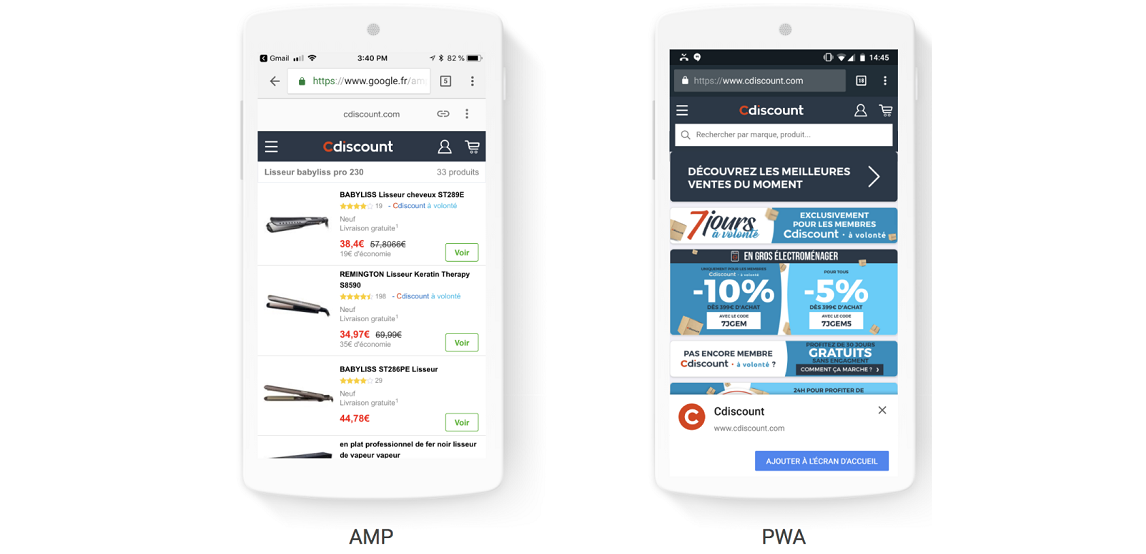 "For the last year, Google has worked alongside Cdiscount to improve customer experience on the mobile site," explains Antoine Pierart, Customer Experience Manager at Cdiscount. "Whether it is the continuous optimization of the design, the improvement of loading times, or even new technology areas such as Progressive Web Apps or Accelerated Mobile Pages, these advances make life easier for our customers. Google's expertise enables us to respond more quickly to new customer expectations by anticipating their requirements," he concludes.