The online world has broken down the barriers to commerce. And with more online choice, consumer expectations have risen. They demand seamless experiences. Learn how your business can increase conversions by following these simple pointers.
Today's shoppers don't think of borders when browsing. 70% of consumers globally already make at least one cross-border purchase annually1. Where in the world the brand might be physically located is irrelevant. We assume that we can buy from any website and that the product will be on the doorstep in a matter of days (or sooner). 
These assumptions have opened up new markets for brands but also brought along a new set of challenges — meeting increasingly demanding consumer expectations around the world. 
While consumer expectations may vary ever so slightly from country to country, there are universal UX laws that your website should have in place. Use these simple pointers and checklists to improve your experience and increase conversions, both at home and abroad.  
1. Establish a culture of testing 
Data-driven decision making is the best  decision making. The traditional way of designing and building then seeing if it worked no longer applies. Today, we need to be constantly testing to keep up with what your potential customers expect from online experiences.
Testing is the most scientific way of establishing consumer behaviour. And once we can establish what resonates with consumers, we get closer to them. Here's the rub — only 30% of A/B testing works2. 
That means that 7 out of every 10 tests that we carry on our sites don't have an impact on conversion rates and sales. But it's a case of "we don't know what we don't know" conundrum. When we fail to test we're completely blind of the impact changes have on websites. 
Try testing out smaller and simpler things first — like the copy you use for Calls to Action,  along with their positioning. 
2. Checklist for increased checkouts 
The key to increased checkouts is making life easier. 35% of users will abandon the checkout if a retailer does not offer guest checkout3. Be a good host and treat your online users as guests. Let them continue to checkout as guests and then offer them a value proposition to sign up for an account — maybe a discount for new subscribers or free delivery. 
92% of users will give up when signing in if they don't remember their username or password4. Make it smoother by allowing users to connect with their social or email account. 
Make the checkout process smoother with this checklist: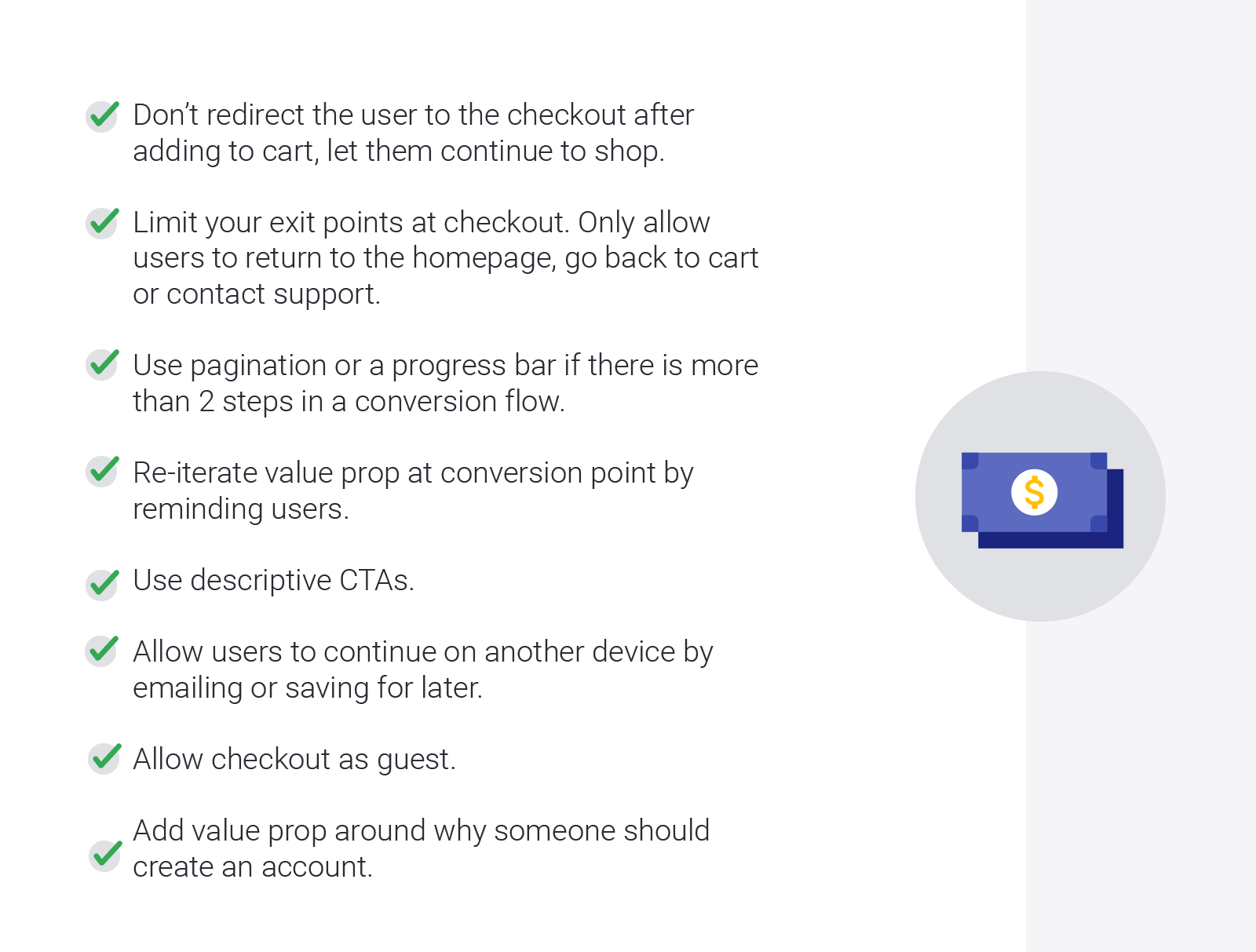 3. Online forms that are on form 
The user is ready to pay. They're just moments away from becoming your latest conversion. Then they leave your site. 69% of people say that they will abandon a site or app if there are too many steps involved5. 
It's extremely important to make the payment process as simple as possible and brands stand to increase conversions by over 35% with simpler and smoother check-out processes6. 
Typing on a mobile phone is difficult, especially when we're on the go — it's one of the reasons we use emojis so much. Allow auto-fill for credit card numbers and leave a space between every four digits so users can see clearly what they are typing. Ensure that you use the correct keypad option so the form knows when the user has to type in text or numbers. 
Google Autocomplete Address Form autofills customer details and with Google Pay users can remain logged in and pay with just a few clicks.
When shopping online, users want to be reassured. Brands can reassure users by having security measures in place like https and password encryption, and reassure shoppers with security seals of approval. 
19% of shoppers said they bought from an unfamiliar site because it included trust signs like Norton and McAfee7. Use the security displays early in the funnel and when the user needs to enter sensitive material like credit card numbers. Also test Calls to Action that reassure users, like "pay securely now". 
Use this handy checklist to ensure you're delivering a fast, seamless and reassuring payment process: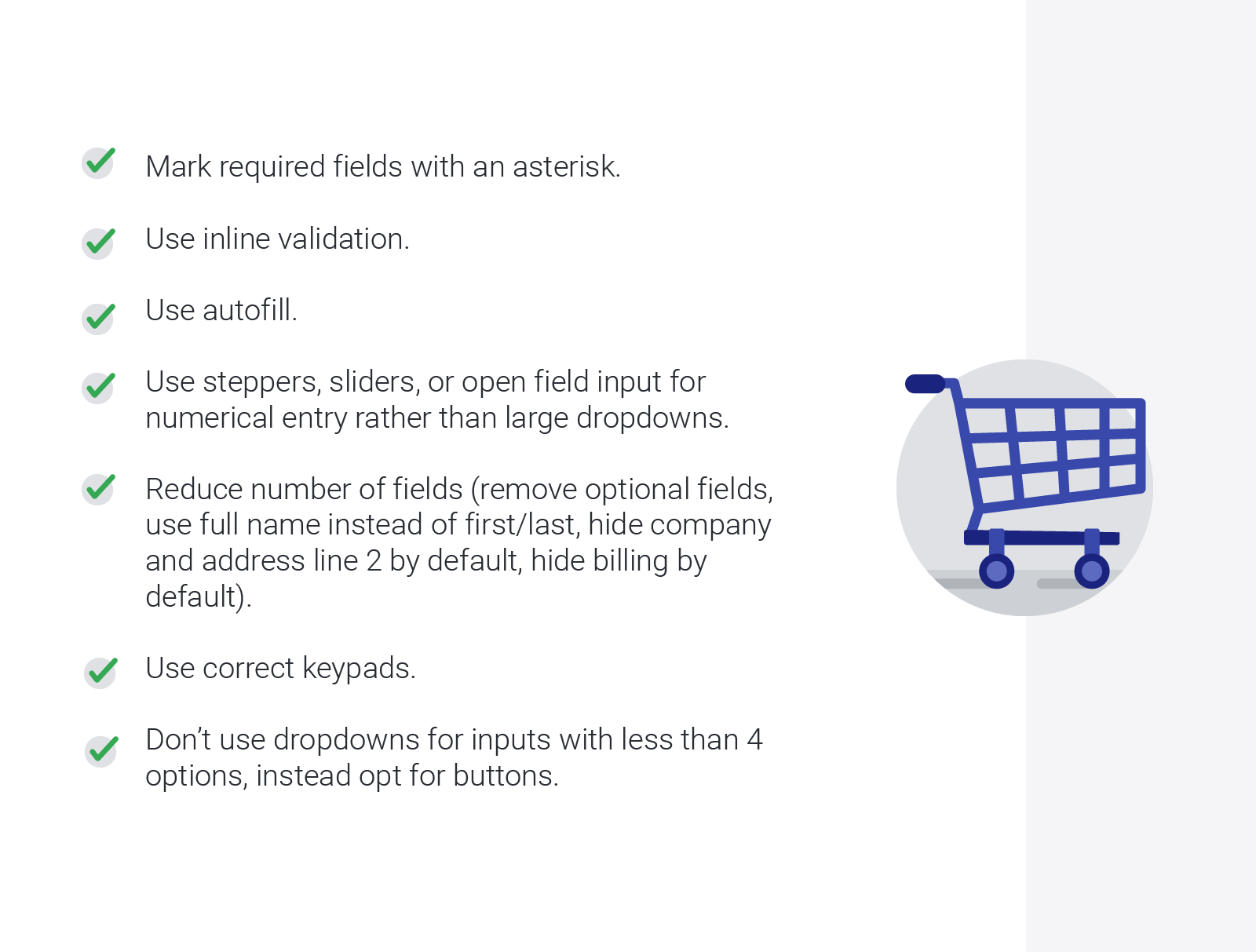 The digital world has opened new markets to both small and large businesses. Different markets also raise unique challenges. Most brands understand that they need to change how they speak to customers in different markets, but this also applies to interfaces and payment methods. 
For example, 20% of people in the UK say they will abandon a cart if they have to enter too much information, while in Germany 42% cite security concerns for cart abandonment8. Payment preference also varies from market to market. In Germany, 27% say that they would pay via bank transfer, 20% via e-wallets and 18% by credit card. While in the UK 32% pay with a debit card, 23% use e-wallet and 18% via credit card9. 
The best positioned brands put users' needs and expectations at the heart of their strategy, test what resonates best, and constantly improve their online experiences. Market Finder helps brands to understand what local customers value the most. Use the tool to research customers and improve your global conversion rate.