Six months on from the start of lockdown in the U.K., and as restrictions fluctuate, important clues have emerged as to which consumer trends may sustain in the long term.
As we embark on the journey to recovery in a complex and volatile environment, new Google data shows us not only the digital habits with potential staying power, but underlines that this crisis has not been the same for all.
We have analysed hundreds of Search and YouTube trends in the past few months — validating these insights with third party research and the opinions of key industry experts — and boiled down our findings to six key takeaways.
For marketers, they're a reminder of the uneven impact of the pandemic across different consumer segments and an opportunity to keep pace with what people value as new habits form.
1. We're rethinking the spaces we live in
In this year of change, our homes have become spaces that must fulfill all our needs. As other places have shrunk in significance — such as the office or gym — we are now discovering how to reorient our lives.
Not only are we still spending time and money on making our homes more pleasant places to be in, we are now also equipping them to fulfil their new roles.
Even during the easing of lockdown restrictions, "homemaking" and "interior decor" searches remained at sustained higher levels than 2019.
Brands focusing on products that help facilitate pleasurable moments within the home — or provide solutions for its new roles, from office to yoga studio — look set to benefit the most from this notable trend.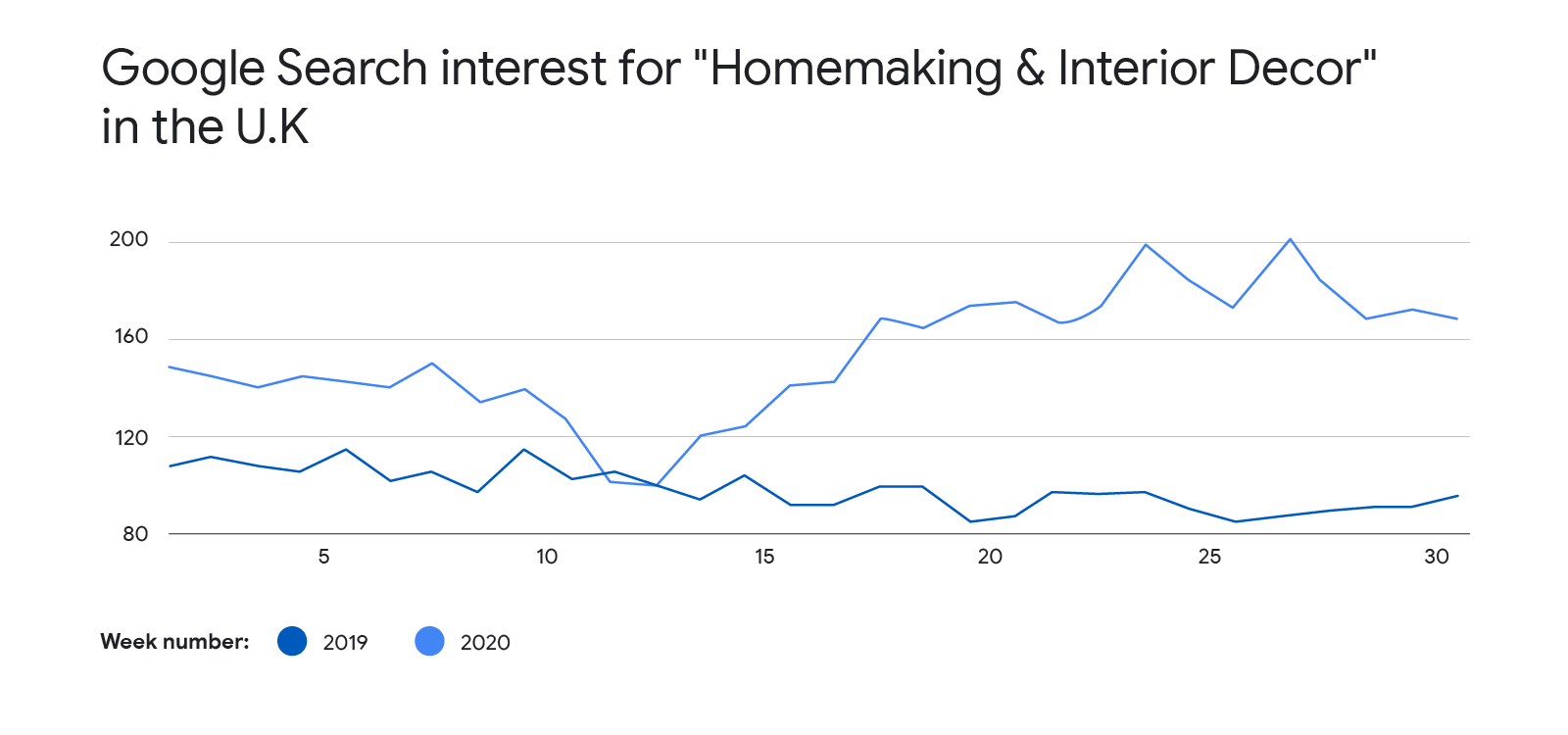 2. Localism is accelerating
While necessity encouraged many people to buy more from local stores and services in lockdown, social and environmental motives for keeping things local have sustained and strengthened too.
In U.K. studies, 43% of consumers believed that local businesses are good for the economy,1 while 57% of people said that, once restrictions were lifted, they were more likely to spend money at a business that offers locally produced products than they would have done before.2
With the statistics pointing towards a sustained interest in localism, it will clearly continue to pay for brands and marketers to highlight authentic, local aspects of their products and services.
3. We're seeking simple pleasures in the garden and beyond
Even as the initial lockdown eased, people across the U.K. continued to turn to Google and YouTube for gardening help at a significantly higher rate than in 2019 — another example of our increased appreciation and reliance on nature.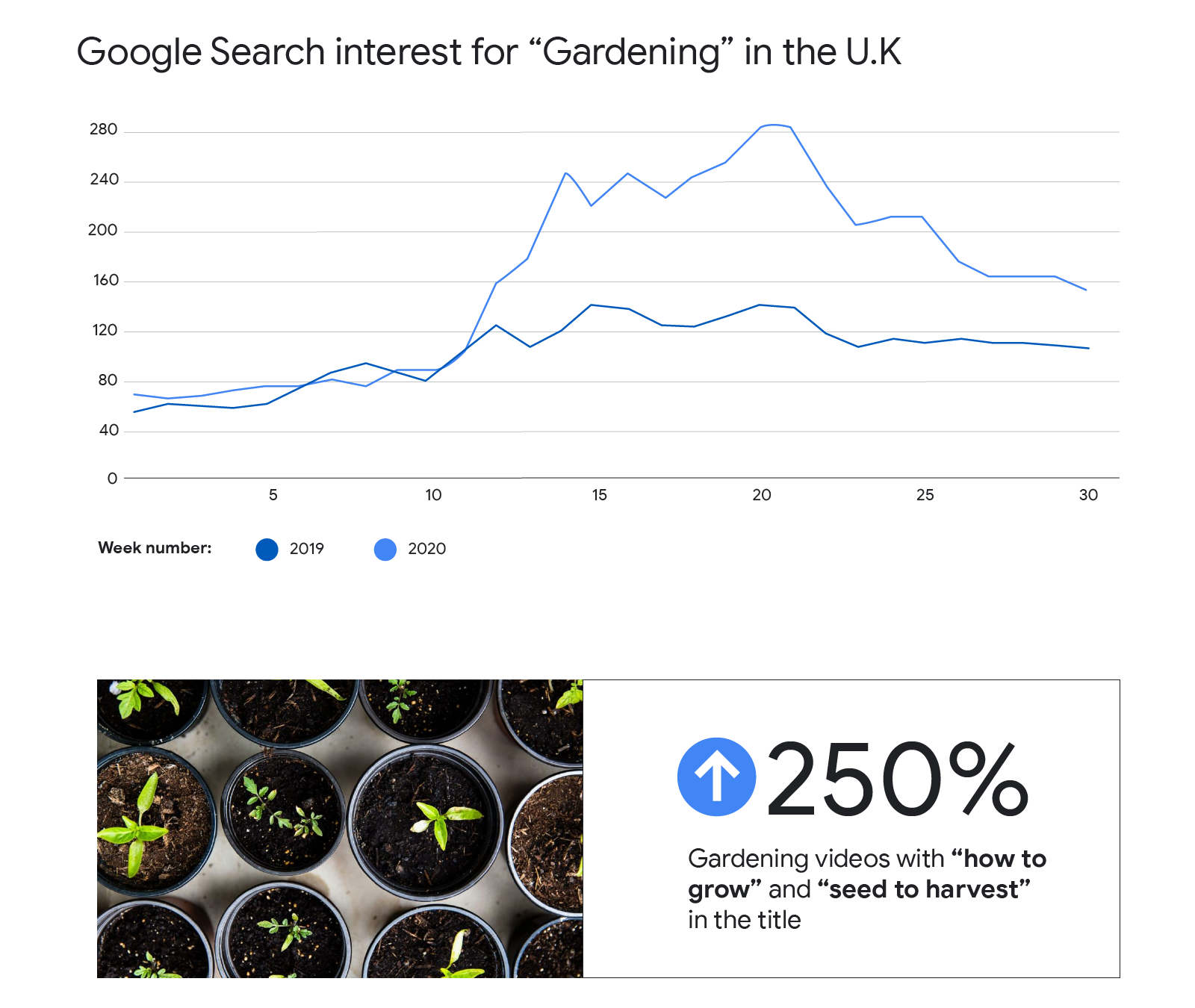 But this desire for green space extends well beyond our back gardens. With the rise in remote working, and less need to be close to the office, we've seen an corresponding increase in people searching for properties outside major cities, such as Cornwall and Kent.
With more people moving to smaller satellite communities, will there be a resurgence of local high streets? For brands, it's a trend to watch — and an opportunity to foreground ways in which they connect to local communities.
4. Our health and fitness habits have widely diverged
Searches for organic food and vitamins continue to sustain at higher levels than 2019, as many focus on their general wellbeing and try to guard against the virus. Activity trackers are also keeping pace, with searches remaining at sustained higher levels compared to 2019, as people seemingly continue with their new lockdown exercise habits.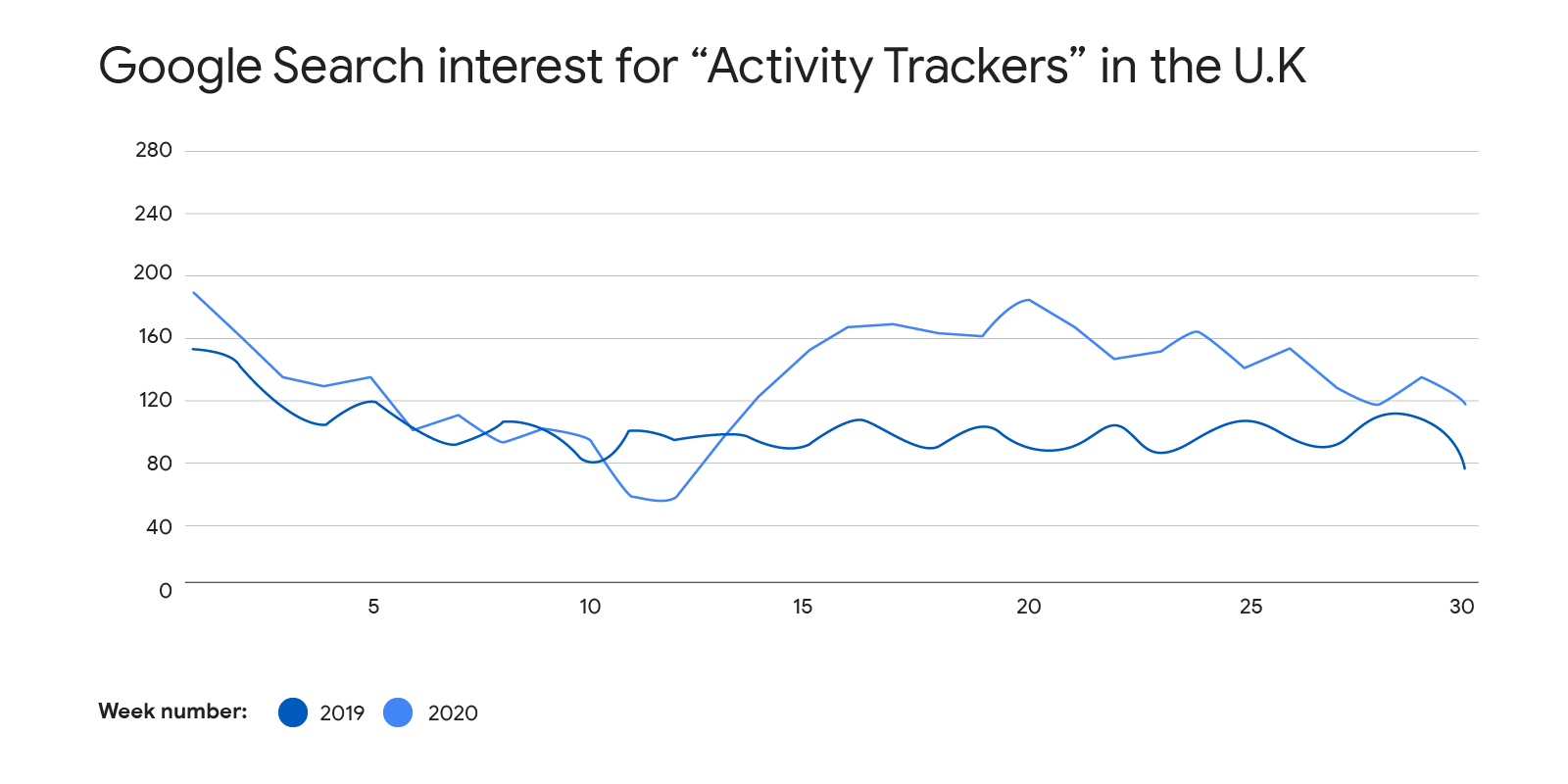 In the U.K., three out of four people reported a change in their wellbeing,3 with half of those experiencing a positive impact, having spent extra time focusing on sleep, eating healthily and their families. But for the other half, the impact has been negative with a disproportionate effect on women and ethnic minority groups.4 These diverging, and very different, experiences of the crisis are clearly shown in the data.
While we saw an increase in searches for organic food in the last six months, we've also seen a sustained decrease in searches for diets such as vegetarianism and veganism — suggesting that some people gravitate to unhealthy eating habits in response to stress or boredom. Additionally, a higher number of people claim to have exercised less as a result of the pandemic than to have exercised more.5
Our analysis also found a step change in focus on mental health. While there is a positive aspect to this, indicating a more open dialogue on the issue, it is likely being driven by the increased stress and strain felt by many.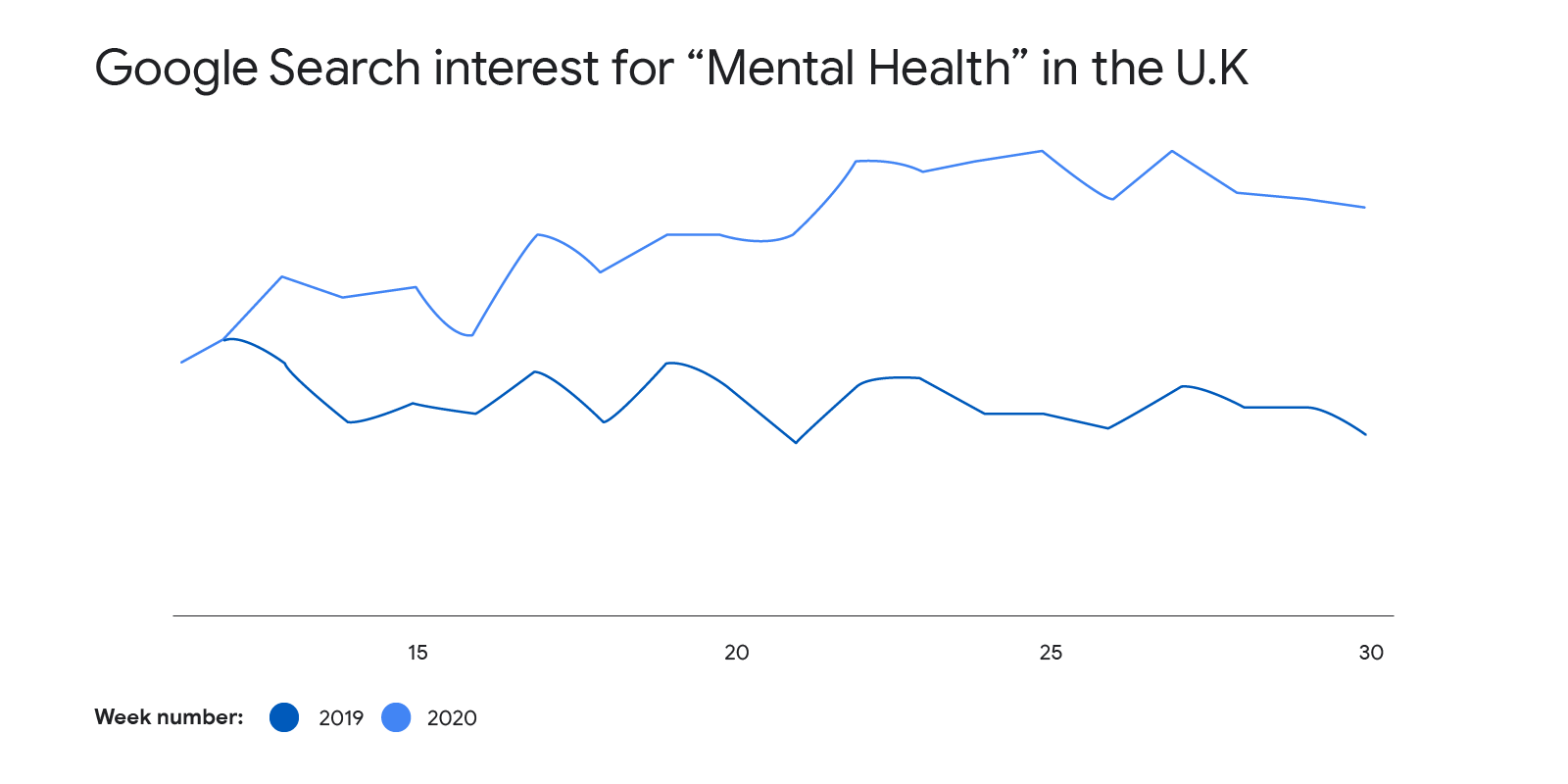 These asymmetrical differences in the behaviour and the experience across the U.K. population make vital reading for marketers seeking to connect meaningfully across different consumer segments.
It is clearly a time for brands to explore their more altruistic side, appealing to our stronger sense of compassion for others and prioritising products and messaging that can enhance personal wellbeing, including physical exercise, mental health, and self-care.
5. Increased online shopping equals higher consumer demands
The impact of accelerated digital adoption on consumer behaviour during the pandemic has been well documented, with Enders Analysis estimating that there were four years of e-commerce acceleration within the first three months of lockdown.6
While retail sales have returned to pre-pandemic levels, as wealthier households start to flex their pent-up demand, the bulk of this recovery has been directed online.
In the data, we see an increasingly online shopper driving new or higher consumer expectations. Searches for "live chat service", "virtual try on", "next day delivery" and "apps" are all at sustained higher levels as people look to enhance their online shopping experiences.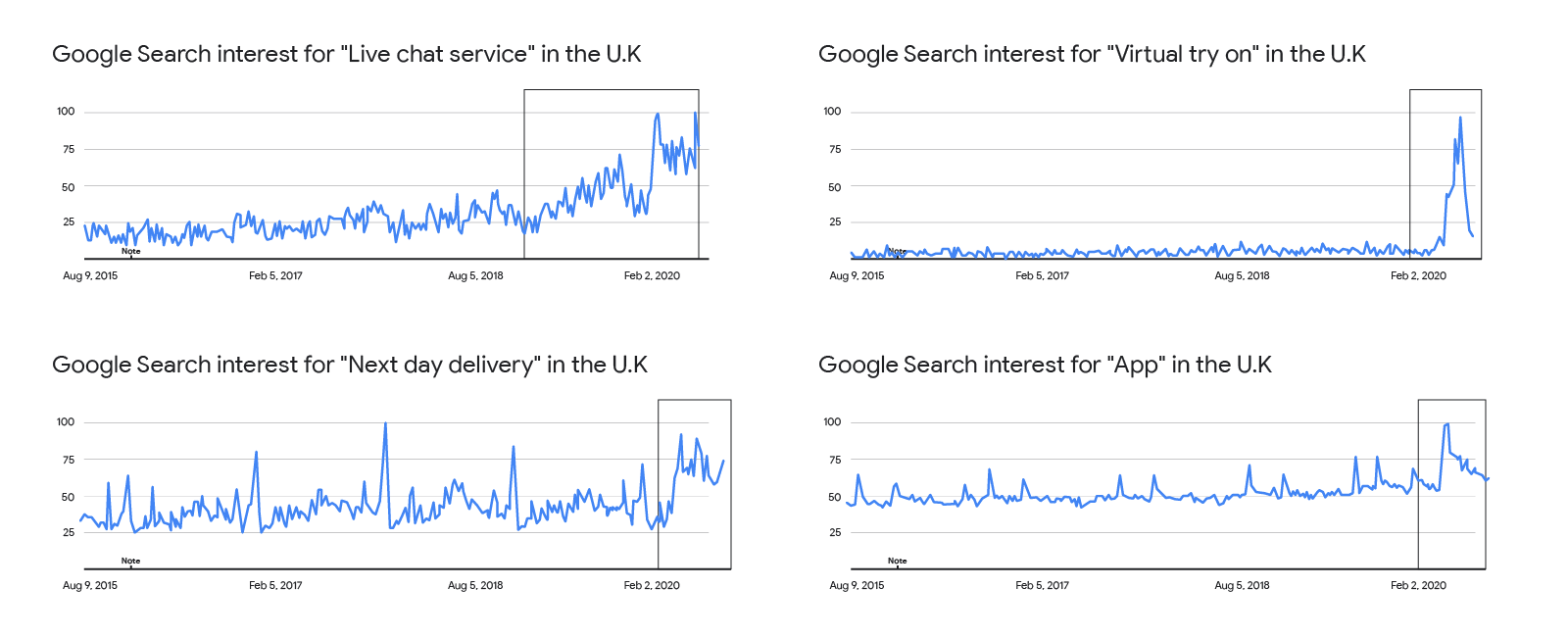 What's clear is that businesses must adapt faster than ever to keep pace with these changing consumer trends. To do this, agility and experimentation remain key — with automated digital tools crucial for meeting demand in volatile times.
6. There's an intensified focus on brands doing good
A turbulent year has triggered consumers to reevaluate their relationship with brands in general, leading to customer prioritisation of those seen to be 'doing good' or 'being helpful' in the context of the pandemic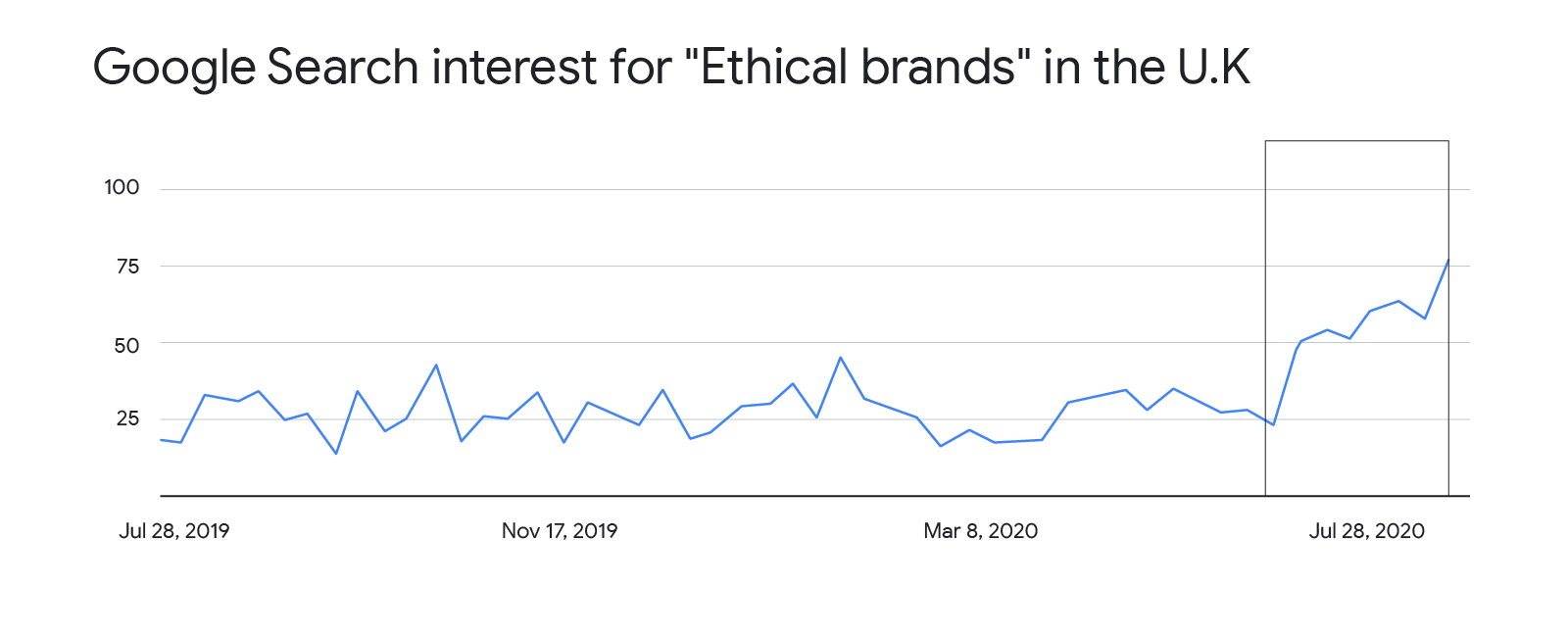 But our analysis suggests this is not uniform across all consumer segments. The financial pressures brought on by lockdown have impacted many, and pushed sustainability down the agenda for some. Searches for "single use plastic", "zero waste" and "carbon footprint" are all down slightly compared to 2019.
Despite this, 65% of people say that a brand's response to the pandemic will hugely impact their likelihood to buy its products, and there is a strong sentiment that businesses have a big part to play in helping society recover. Here purpose-driven organisations will likely have the edge, but all brands should be mindful of how they communicate what they're doing to be supportive during the crisis.
Trends formed or accelerated during these past six months, and disparity in experiences across consumer segments, look set to have long-term impact in the way we shop, work, and live our lives. While it remains a challenge for any organisation or marketer to make watertight plans for the future in the current climate, one thing is for certain: reorienting business models to be digital-first is vital for keeping pace of profound and lasting changes in consumer behaviour.