For consumers today, relevant and personalised digital engagements are expected. They anticipate assistive real-time outreach, interactions that predict their needs and even personalised offers, online and offline, from brands and retailers. But for many marketers, using digital information to create a relevant and helpful experience across the customer journey remains a goal to achieve.
The ability to meet consumers' needs using data insights and technology is the new battleground for growth, so what's stopping so many organisations putting this into practice? In many instances, businesses are challenged with trying to build in new skillsets, change organisational practices, and make the tough decisions about positions, roles and functions that underpin a full digital transformation.
However, there are companies that are succeeding and leading the way in marketing maturity. According to BCG's recent research, these leading companies report cost savings of up to 30% and revenue increases of as much as 20%.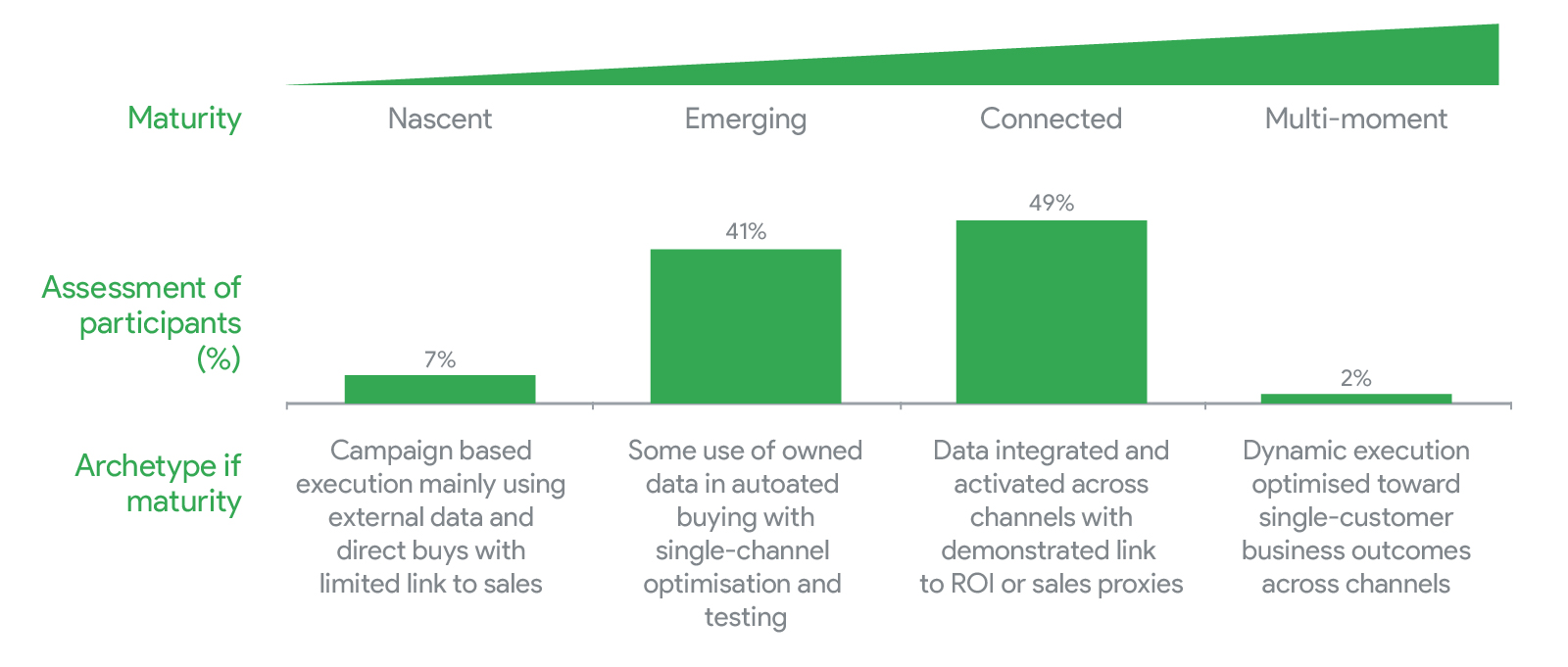 In studying the best practices that drive success, BCG identified six factors that successful companies have in place that enable them to navigate the maturity curve and seize the benefits.

1: Connected digital insights
Mature marketers link their digital information to better understand the customer. In the digital age, it's essential not only to marketing but also to applying new technologies to a host of business needs and functions.
2: Automation and integrated tech
Companies today need an array of marketing technology tools that permit automation at scale. The required tools include a web analytics capability, a CRM suite, an integrated advertising technology stack and automation tools for message and creative tailoring.
3: Actionable measurement
Insights-driven marketers can identify the value of each touchpoint with consumers along the purchasing journey to inform KPIs, and link these engagements to business outcomes such as sales and profit impact. These marketers know what their customers are thinking about, where they stand on the purchasing journey and why they buy what they buy.
4: Strategic partnerships
Technology is about ecosystems. Few companies, even digital natives, go it alone. The key for marketers is to collaborate effectively with agencies and marketing tech providers while maintaining ownership of technology and their digital information.
5: Specialist skills
It's one thing to identify, hire and train technical talent, such as in-house data scientists and measurement experts. But really capturing the benefit means integrating these people with other members of the marketing staff to produce effective cross-functional teams.
6: Agile teaming and a fail-fast culture
Done right, an agile transformation affects everything from internal processes to how employees spend their day to how people in the organisation interact. It requires rethinking structures, reporting, compensation and career paths. C-suite sponsorship is essential, as is a fail-fast test-and-learn approach. For most companies, this is the most difficult step to take – but it's also the one that brings all the others together.
They say growing up is hard to do. But the BCG research underlines the fact that maturity has its advantages. Mastering multi-moment marketing lets you achieve personalised campaigns at scale, build customer relationships, increase loyalty and gain revenue. The sooner you start (or accelerate) your organisation's journey to digital maturity, the sooner you'll see the benefits.
To learn more about how leading marketers are progressing through the maturity scale, download the full Boston Consulting Group report.