As marketers plan their budgets for 2024, a key question is at the forefront of their minds: how can we best drive profitable growth? Addressing this challenge requires a deep understanding of which channels are most effective, to what extent, and how to allocate budgets optimally.
Incrementality testing has become the industry's gold standard for understanding advertising's true impact in a privacy-first way.
Below, we'll explore why it's become a cornerstone of effective performance marketing measurement — and how to use it to maximise your profitability.
Measuring growth on a privacy-first web
The task of setting marketing budgets has been influenced by recent changes in privacy regulations. Yet there's an increased pressure to prove the value of investments due to ongoing economic uncertainty.
Traditionally, finance teams allocated fixed percentages of revenue to advertising, distributing funds across various channels based on estimated revenue returns using marketing mix modelling (MMM) and attribution reports. While these methods remain valuable, they have limitations when it comes to accurately measuring return on ad spend (ROAS).
For example, MMM excels in cross-channel performance evaluation but may fall short in terms of speed and granularity of results. It's best suited for overall budget distribution rather than pinpointing the exact amount of incremental return driven by a specific channel or ad format, which is necessary for establishing its profitability.
Meanwhile, attribution reports are helpful in day-to-day optimisation and providing key input for AI-powered ad campaigns, but privacy updates and the phase-out of third-party cookies have made it more difficult to use this method alone for decision-making around budget allocation.
Incrementality testing offers a solution as it provides a more nuanced and agile approach to measuring advertising effectiveness. Importantly, these tests are designed to preserve user privacy through methods which only require location data or aggregated user data.
Incrementality testing: How it works
An incrementality test is a randomised, controlled experiment involving two groups of people: those who are exposed to your marketing campaign (the control group) and those who are not (the treatment group). Tests can be run on any advertising channel and focus on revenue, profit, or any site or app action that drives value for your business.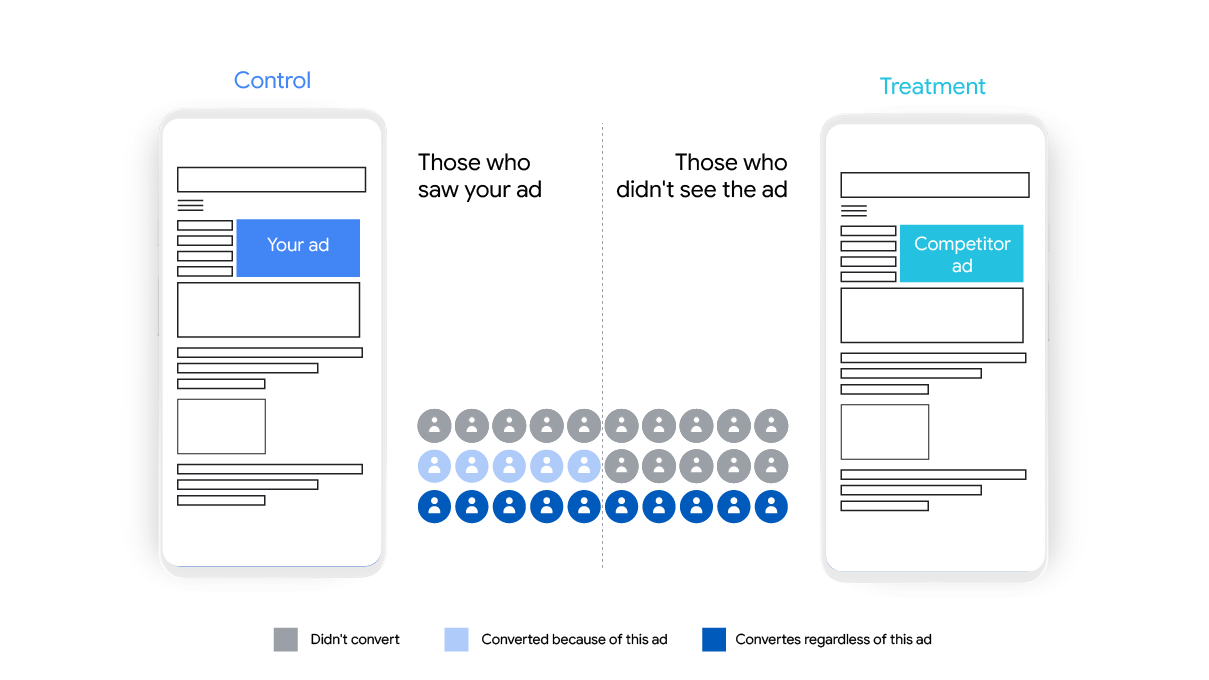 The latest Conversion Lift feature in Google Ads allows brands to run tests in partnership with their Google and/or agency teams. These tests can be based on either users or geography, depending on the type of conversion source you want to use and the level of granularity you need for the results.
Conversion lift based on users require smaller budgets and can run alongside planned Brand Lift or Search Lift tests. Metrics can be at campaign level or broken down by age and gender.
With conversion lift based on geography, advertisers can run tests for larger campaigns with any data source (such as first-party finance data) without relying on cookies for the execution. This method is based on some of Google's most sophisticated open source methods, such as Trimmed Match and Time-based Regression, and allows brands to plan and execute tests directly in Google Ads.
The results of an incrementality test enable marketers to quantify the incremental revenue generated by a specific campaign, determining the revenue your business would have missed out on had the campaign not been active.

To calculate a channel's incremental return on ad spend, you divide your newly discovered incremental revenue by your campaign's media spend. Incremental ROAS can serve as a key metric for budgetary decisions, allowing marketers to allocate spend more efficiently and boost profitable growth.
What incrementality testing looks like in practice
Scenario 1: A beauty brand runs an incrementality test for Performance Max — an AI-powered Google ads solution covering multiple channels — and learns its incremental ROAS is £6. This means that for every £1 invested in these campaigns, it makes £6 in incremental revenue, giving a 600% return on ad spend. Based on these findings, the brand may decide to increase the budget on its Performance Max efforts to further maximise revenue.
For most Google Ads campaign types, you can use Performance Planner to assess how changes to campaign budgets might affect key metrics and overall performance. This will help you establish how much to increase your budget.

Scenario 2: A financial institution runs an incrementality test on YouTube focused on driving sales and learns its incremental ROAS is £1.10 for every £1 spent. While it's making a gain, it's only getting £0.10 back. This gives marketers the heads-up and opportunity to get ahead of the curve by revisiting their marketing strategy and assessing what they need to refine on the platform to meet their business goals.

The growing focus on incrementality testing provides brands with a clearer insight into their profitable growth, enabling more precise and flexible budgeting and forecasting. In a world where efficiency and agility have become the norm, this allows finance and marketing teams to move away from the rigid, fixed budgets of the past. Instead, they can adjust investments to tap into proven demand — or cut back and avoid wastage if results are lacking.
3 actions for effective incrementality testing
Whether you're getting started with incrementality testing or want inspiration to up your testing game, here are three things to consider and action now:
Implement with ease: Incrementality tests used to be time-consuming and costly for brands to set up and run, but this is no longer the case. With Conversion Lift, you can run experiments directly in Google Ads. Work with your Google and/or agency team to identify the most important actions for your business, whether they are integrated through conversion tags or uploaded data sets.
Make an annual testing plan: While incrementality tests can uncover new growth opportunities and improve data-driven budget decisions, they do require careful scheduling and alignment with agency teams and planned media budgets or promotions. An annual testing plan will allow you to prioritise the most impactful tests and ensure tests across different channels are never overlapping.
Boost your profitability further with AI: For best results, incrementality testing should be complemented by AI-powered advertising solutions, such as value-based bidding, Broad Match, Performance Max, and Demand Gen. Running frequent tests to determine performance across channels will help you ensure the AI works optimally, identify key areas for growth, and boost profitability.