Search data from November-December over the past five years reveals the categories that benefit more from Black Friday and which should focus on the holiday season as a whole
Using a new, layered approach to Google query data over the retail peak period (November-December) in the last five years, we have identified new key insights for retailers' search marketing plans for the season.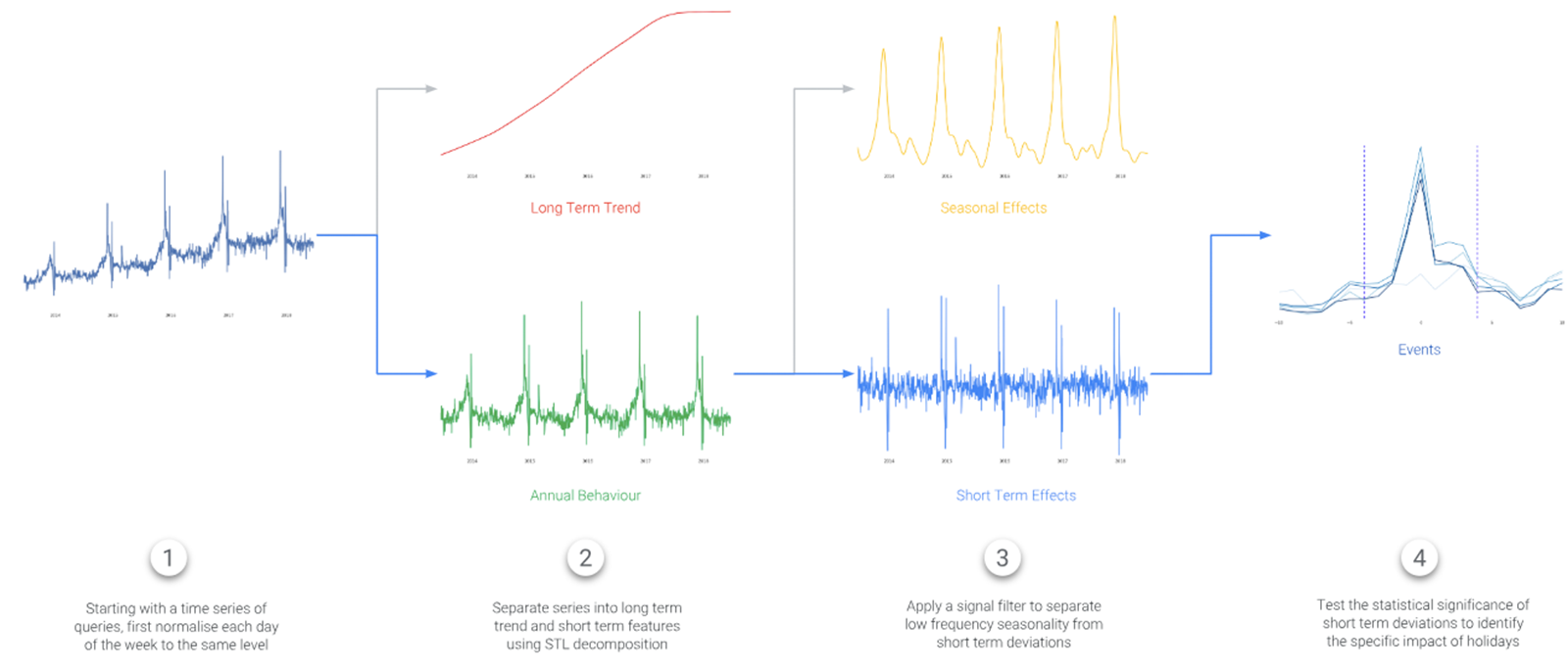 Our first finding is that Search volume is increasing year on year, but the impact of the season on search remains consistent.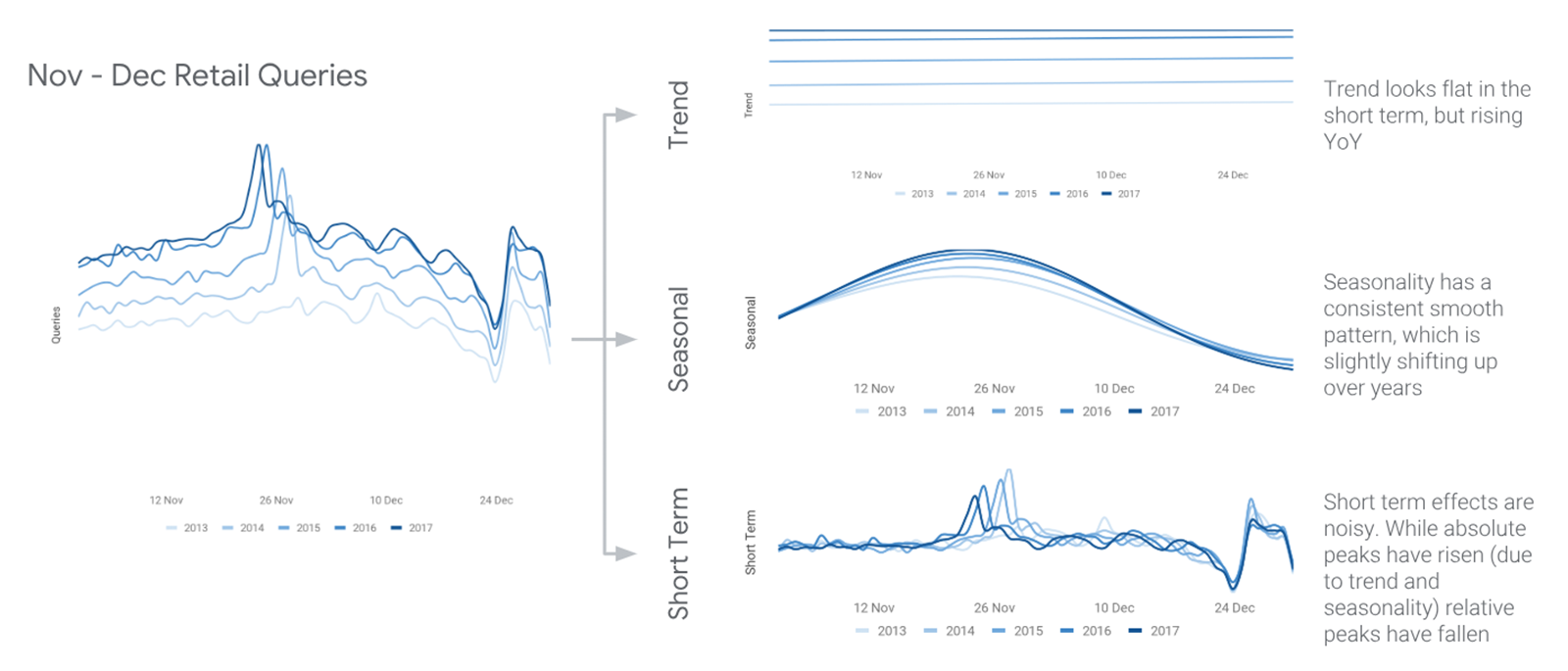 As a matter of fact, in the past 5 years, the Christmas season has grown.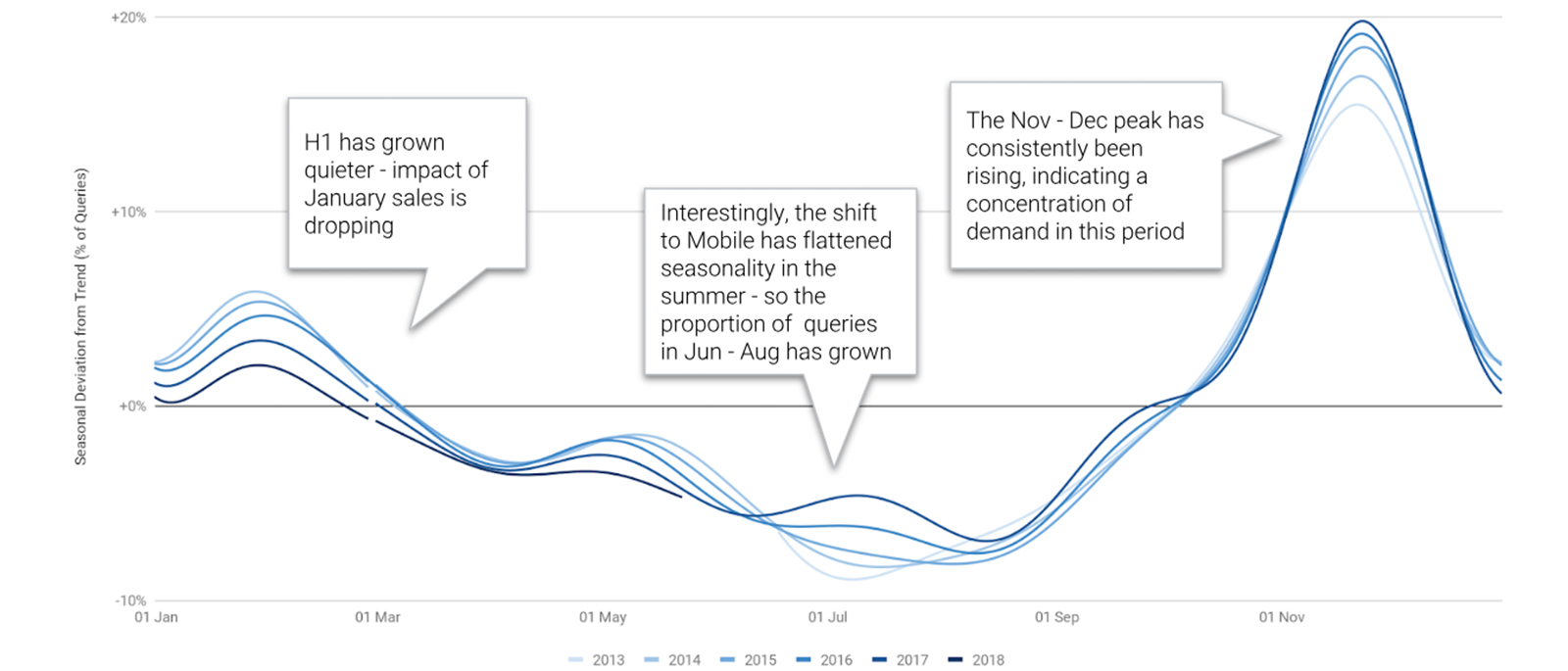 In contrast, Black Friday and Boxing Day events have shrunk as shopping behaviour in the UK evolves.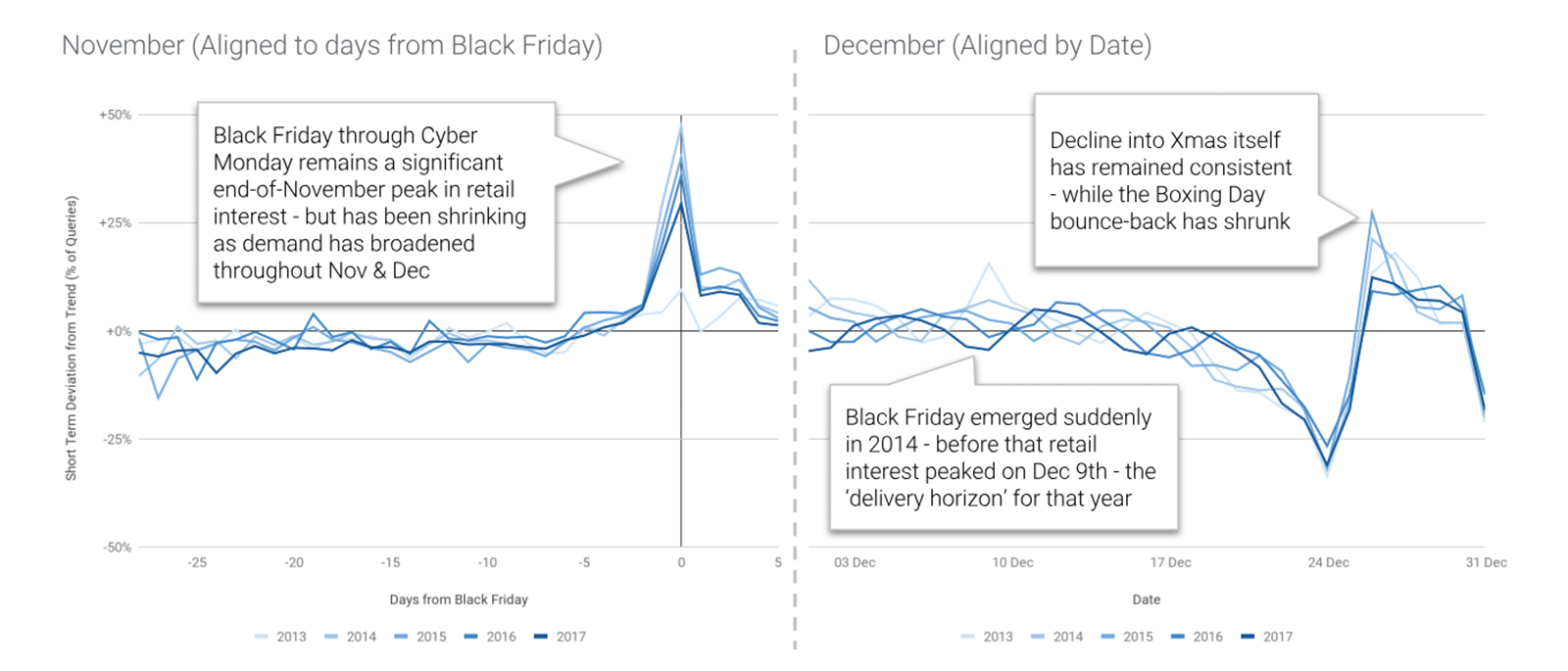 Our second finding was that whilst Seasonal and Black Friday interest tend to go hand in hand, there are clear category exceptions.
For example, while some queries like 'Televisions' over-index on Black Friday, others like 'Toys' or 'Perfumes' over-index on the season.
This insight should help marketers better invest their budgets, taking the characteristics of their categories into consideration when deciding between investing long-term following the seasonal pattern versus heavily investing on Black Friday focused on peak.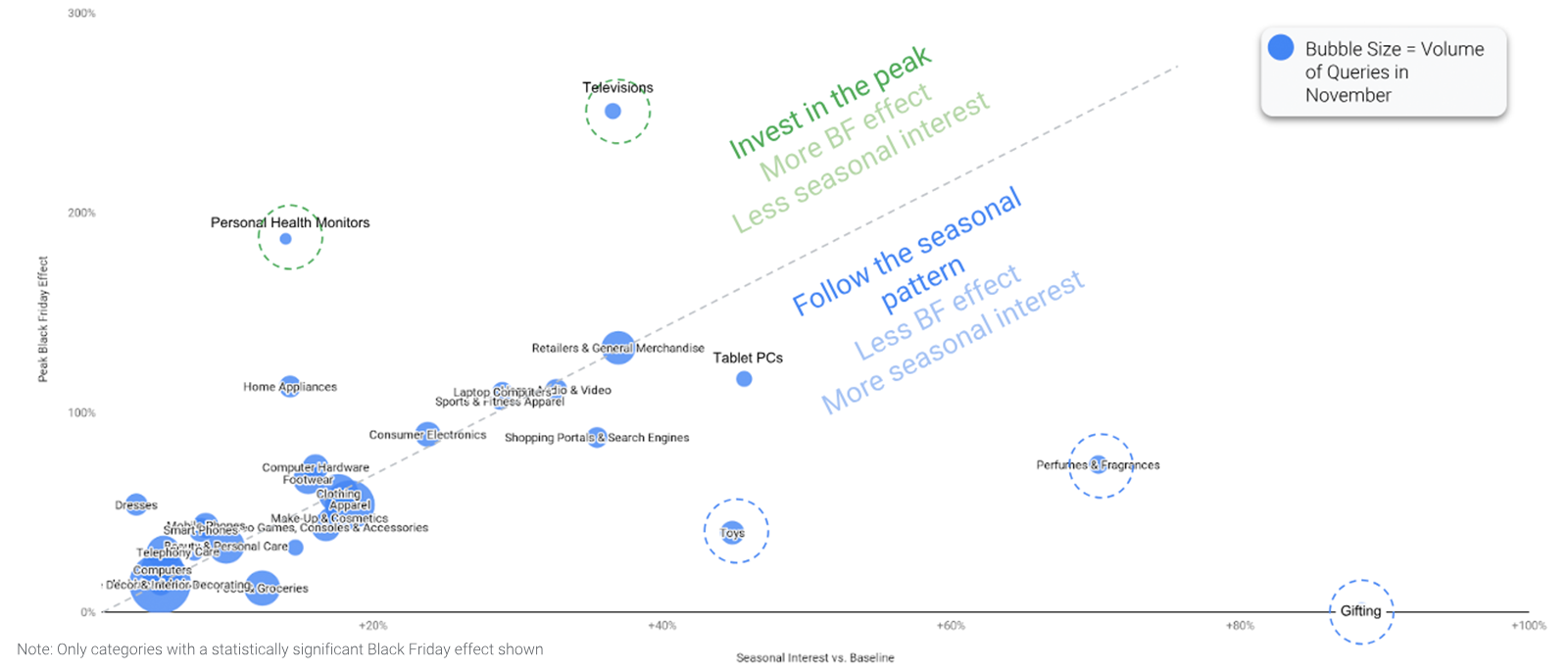 Black Friday scarcely affects the gifting categories at all, while seasonal interest in gifting is very high.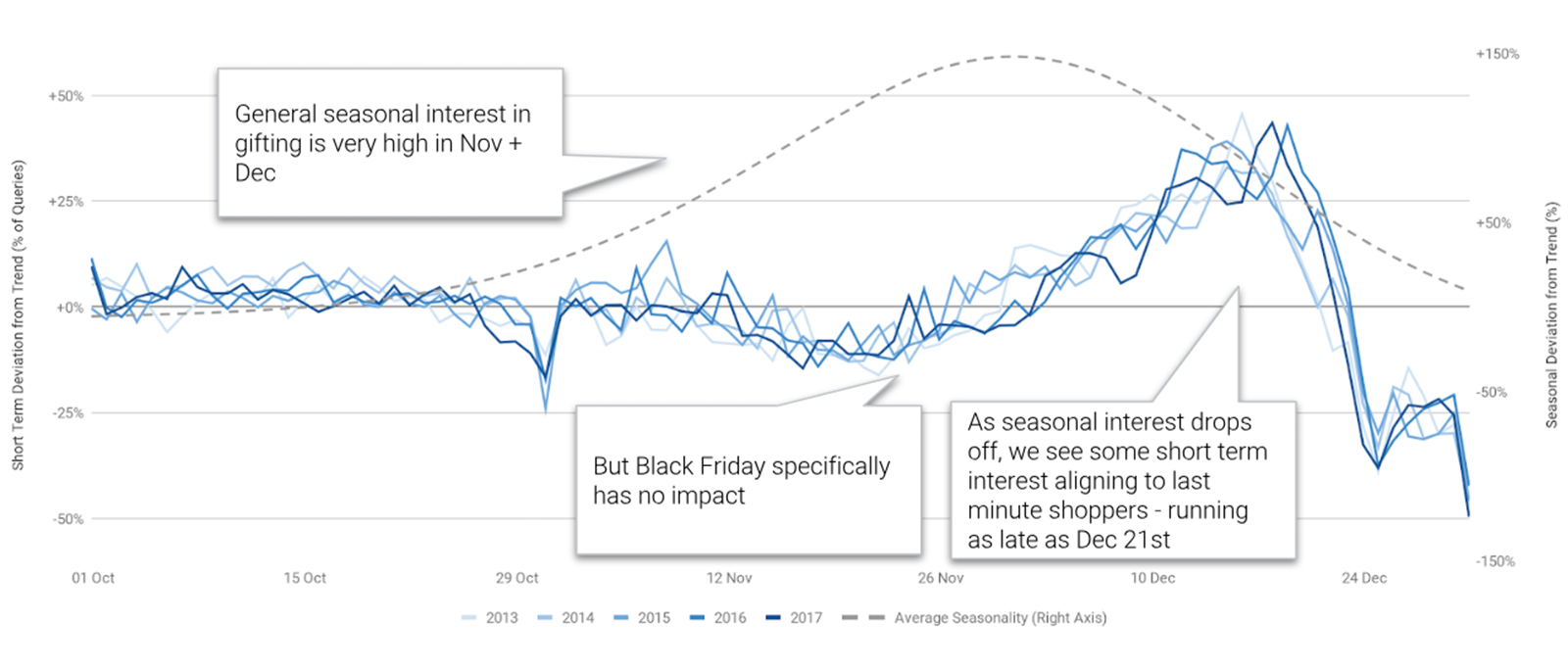 And gift shopping has grown more last-minute, as confidence in deliveries arriving in good time has grown.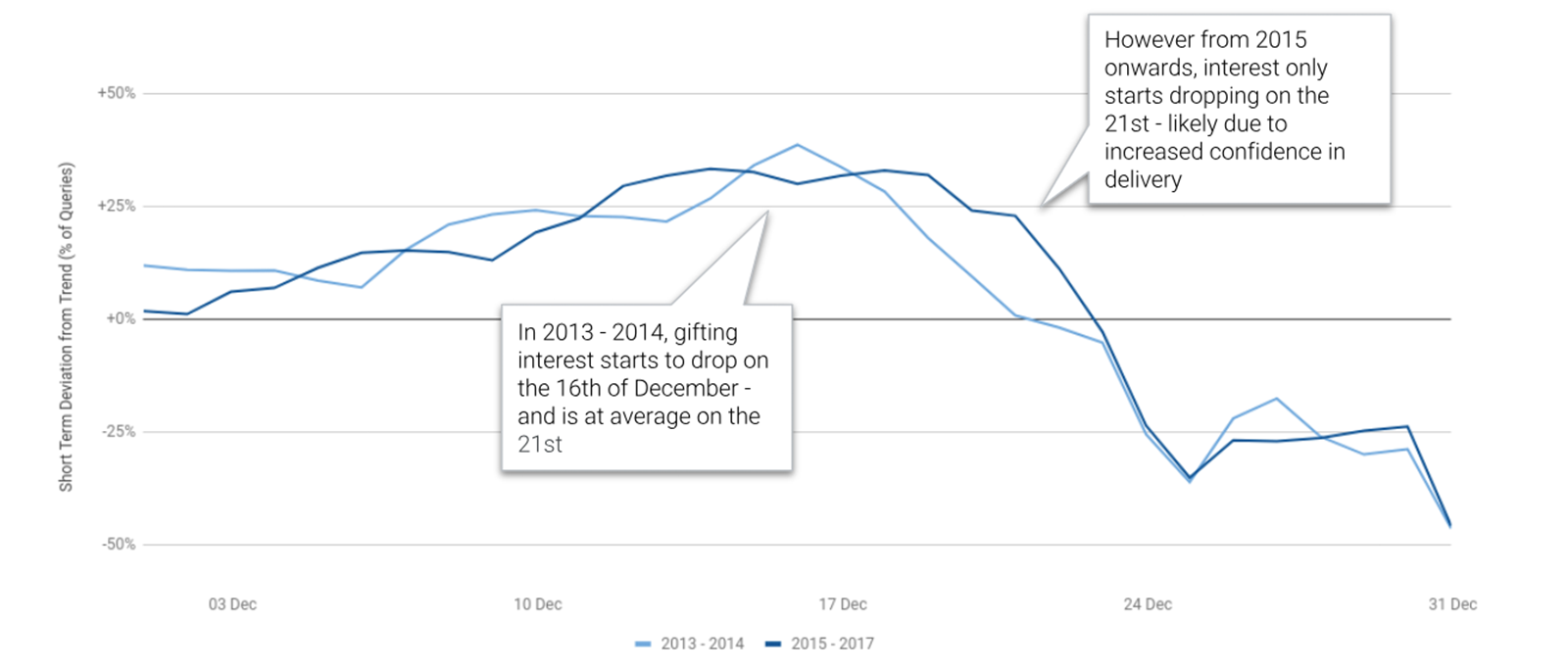 Take Action
Seasonal interest is strongest in gifting categories and electronics, but is still felt broadly across retail:
Consumer electronics: Black Friday sees more explicit consumer electronics searches 
Clothing: during Black Friday consumers are looking for deals, whereas later they are searching  for Christmas outfits
Gifting: search volume decreases after the free delivery weekends and focus shifts to last minute offline buying
Competition is crowded
Few advertisers pull back on their core categories in this season - but many expand into extra, seasonally relevant ones. As a result, competition gets more crowded as there are more major participants per category.
Martijn Bertisen, Director of Retail, Google UK, said: "The Christmas season is well understood as a crucial time for retailers, and the annual jump in sales that many see is matched by a jump in searches for retail queries.
"In recent years, a large proportion of retailers have focussed marketing efforts on Black Friday, but our data shows that for many it's worth spreading search marketing investment over the course of the season to make the most of heightened interest that continues fairly consistently throughout.
Some categories are still performing well around Black Friday, such as consumer electronics, showing that there are still gains to be made by some in this shorter term focus, but the crowding of competition around this time would suggest that rather than shouting to be heard around one set of offers, most retailers should invest to sustain long term interest over the whole season".