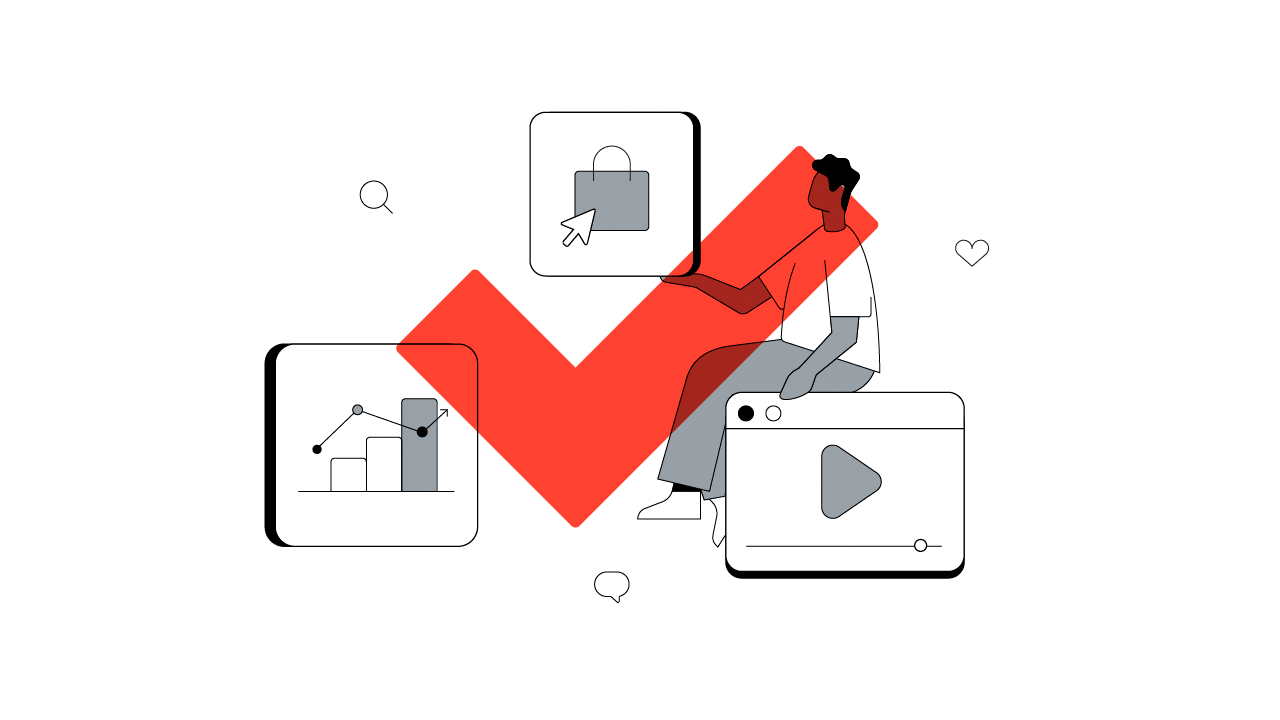 Relevant personal ads exceed at capturing a particular customer's attention. Still, getting these right today can be an obstacle for marketers. And especially for new brands and those expanding across borders.
But a fresh strategic approach, or a more direct one with new technologies can help you out here.
One way to create such ads is to build a communication strategy informed by market demand research that can help speak directly to your specific audiences.
As Hungarian and Slovakian based online retailer Divbrands discovered, this can open up a window — or TV screen — of opportunity.
Communicating unique storytelling through connected TV
The 'big' digital screen is displaying continued growth and change in consumer behaviour. In fact, YouTube and connected TV (CTV) are booming in Central and Eastern Europe and globally: and people are turning to it not only for entertainment and inspiration, but for taking action.
For Divbrands, this growth offered an opportunity to overcome its product awareness related performance roadblocks.
As a direct-to-consumer retailer, Divbrands creates unique apparel brands based on its own market research. And reported customer pain points surrounding existing product options are its main jump off points. In this way it develops new brands in a reverse fashion; where the customer is the creator.
That means launching items that are hyper specific to certain customers' needs — such as a hoodie with a dozen extra features, or orthopaedic shoes that are also stylish. It then evolves these further through brand-to-consumer data loops, increasing the relevance and personalisation of its brands, whilst growing the potential to communicate this in its advertising even more.
We saw exceptional initial growth among brand related searches, where relative brand awareness increased 11X.
Based in Bratislava and Budapest, Divbrands is pursuing international expansion and growth by exporting to niche markets around the world. But with new brands, there often isn't an existing product awareness to lean on, and achieving strong connections with its researched audiences proved to be a challenge.
The company identified that it wasn't gaining sufficient traction without the chance to first introduce customers to its brands' unique values and selling points.
Facing a high cost-per-action for popular non-branded keywords in its search advertising, Divbrands turned to long-form video ads on YouTube. CTV and video ads accommodated a new storytelling approach to connect with its audiences by speaking directly to the people who were sought. This allowed incorporating its customers' language, and introducing its brands to viewers by explaining the benefits of its products that matter to them.
Divbrands ultimately uncovered a new sales channel via YouTube that drives considerable product awareness growth. As company CMO Lourenço Maciel recounts, "With initial tests via Search lifts we saw exceptional growth among brand related searches, where relative brand awareness increased 11X".
The right ads for meaningful connections that count
Divbrands has an in-house creative team and film studio in Cape Town, South Africa, and has built relationships with model agencies, voice artists, sound engineers, and make-up artists to create video content quickly and at scale.
Its recipe for success focuses on just a few simple ingredients: relevant data, strategic creativity, testing, and the right product.
When it comes to apparel products, many shoppers still prefer to buy offline, for three main reasons:
They can try out the product.
They can avoid risky return processes that may cost time and money.
They enjoy visiting the physical locations of brands they love.
To combat these factors, Divbrands had to be sure it could connect with new customers who were highly likely to be pleased with their purchases. "Video allows us to take our apparel products beyond the white space of e-commerce and to inject them with the real humour, aspiration, and relatable localisation of our high potential customers'', Divbrands CEO, Jonathan Aeschlimann, explains.

Using Video Action campaigns, which serve a mix of skippable in-stream ads and displayed in-feed video ads on YouTube as well as Google video partner locations, Divbrands shifted to creating ads specifically for CTV guided by YouTube's ABCD creative principles.
Featuring additional ads with run times ranging from three to five minutes, the new campaign focus increased view rates from around 25 to 50% in the first three months, with CTV ads alone reaching some 53 Million unique viewers. This ensured its brands the chance to deep dive into the unique features of its products, and that viewers could find meaningful connection with the particular value of the pain points they solve.
Testing times and driving conversions
Impressed with the success of its new video ads at driving customers towards purchases via Search and its website, Divbrands' marketing team then moved on with testing whilst also looking further into direct conversions with its CTV ads.
Campaigns begin with a broad reach and longer keyword lists to help the company align with its niche markets worldwide, which means implementing its research on what specific audiences are looking for when buying clothes and other apparel. The data collected is then used to better direct its campaigns towards shoppers considered more likely to purchase — honing in on where the best value is coming from through top-performing keywords on a specific issue.
Feedback from customers is also directly connected to the product and design teams, who apply this to develop items in line with what shoppers are looking for. For example, the BAERSkin Hoodie 2.0, was entirely created using feedback from customers who had purchased the BAERSkin Hoodie 1.0. And video campaigns were then subsequently focused around its additional pain point solving features.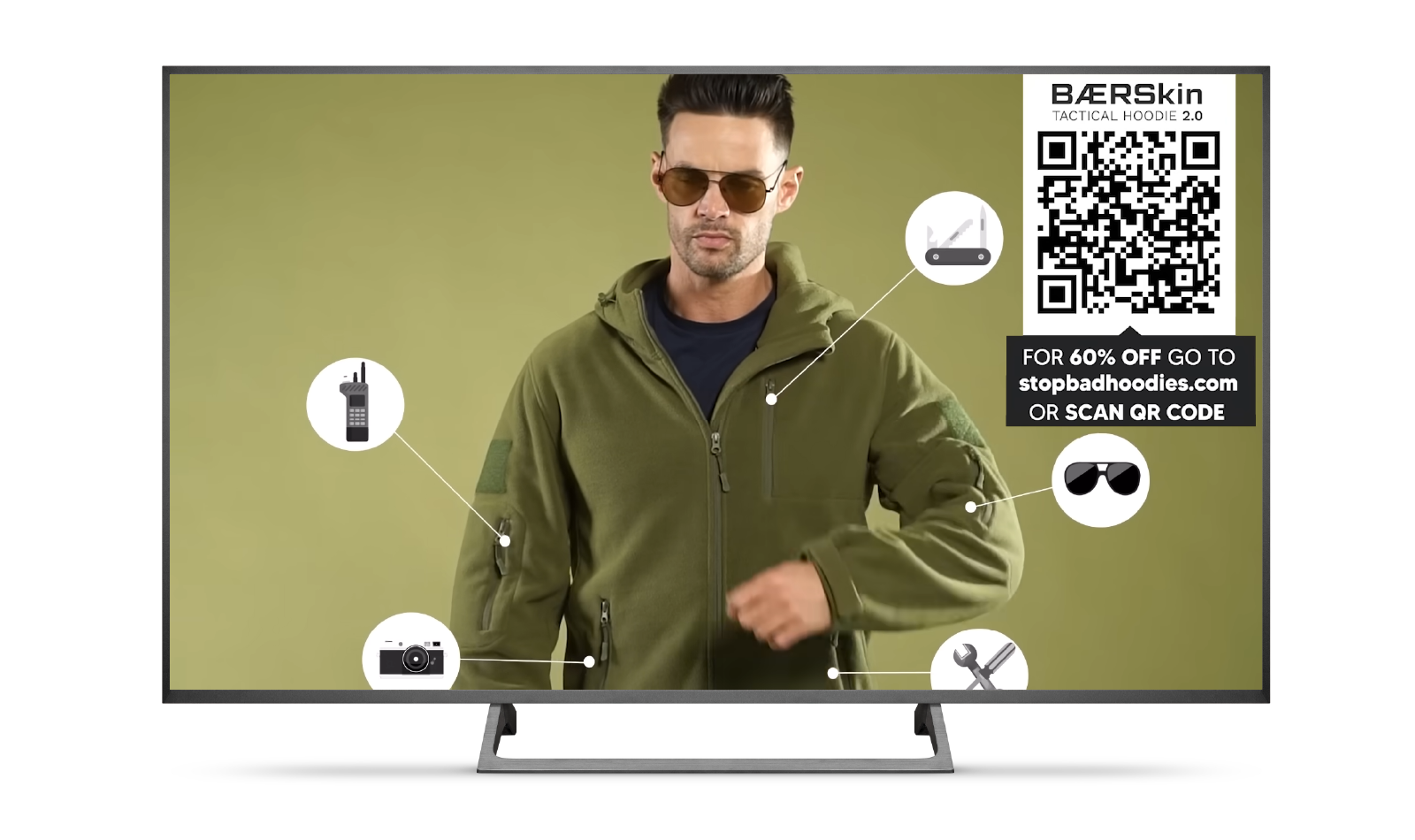 Ongoing testing has brought outstanding results — and as video is now its biggest driver of conversions, the company has shifted 60% of its marketing budget into online video campaigns.

And to leverage the success of its CTV ads at connecting with customers, Divbrands included QR codes to overcome potential constraints when it comes to buying directly via TV. Following this, direct conversions only from Divbrands' CTV ads grew to make up 50% of all conversions. Together with its move to long form videos ads, the company subsequently increased conversion rates by 2.5X across markets including the U.S., Canada, Germany, Australia, and the U.K.
As more people stream from their living rooms,1 there's ample opportunity for brands to break previously uncovered ground. Here are a few pointers for tapping into niche markets in a new digital environment:
Be methodical and data-driven: creative needs to have a purpose grounded in research and real numbers.
Don't be afraid of broad targeting: with enough data, Google AI powered Video tools will have more freedom to build more accurate learning and results.
Go in-depth: long-form videos give brands a platform to create richer storytelling angles that capture viewers' attention and connect with them.