The long Easter weekend traditionally marks the end of winter hibernation for a nation of DIY and Gardening enthusiasts. Understanding the customer journey in the home and garden sector at this important time of the year will give a spring clean boost to your marketing.
Improvements in the weather, fresh signs of growth underfoot and daylight revealing what really needs fixing-up. The long Easter weekend generates the second largest search volume in home and garden after Christmas, and so presents a crucial moment for connecting with customers.
As consumers look to prepare their homes for the summer months and with an extended break that gives them the time to do this, Easter is a big opportunity for the DIY category 1. And as with all big opportunities, preparation is key. We know that consumers have a four day weekend over Easter and that there is a high level of search activity over the four day break, but there are two days in particular that are worth noting.
Peak on Easter Sunday with mini-peak on Good Friday
DIY searches peak on Easter Sunday but what is more interesting is the mini-peak in searches on Good Friday as DIYers are eager to get started on their planned projects2. If you want to reach your customers this Spring, you need to make sure you are capturing the peak in demand on the Friday so that you don't miss out. And more crucially, that customers don't miss out on you.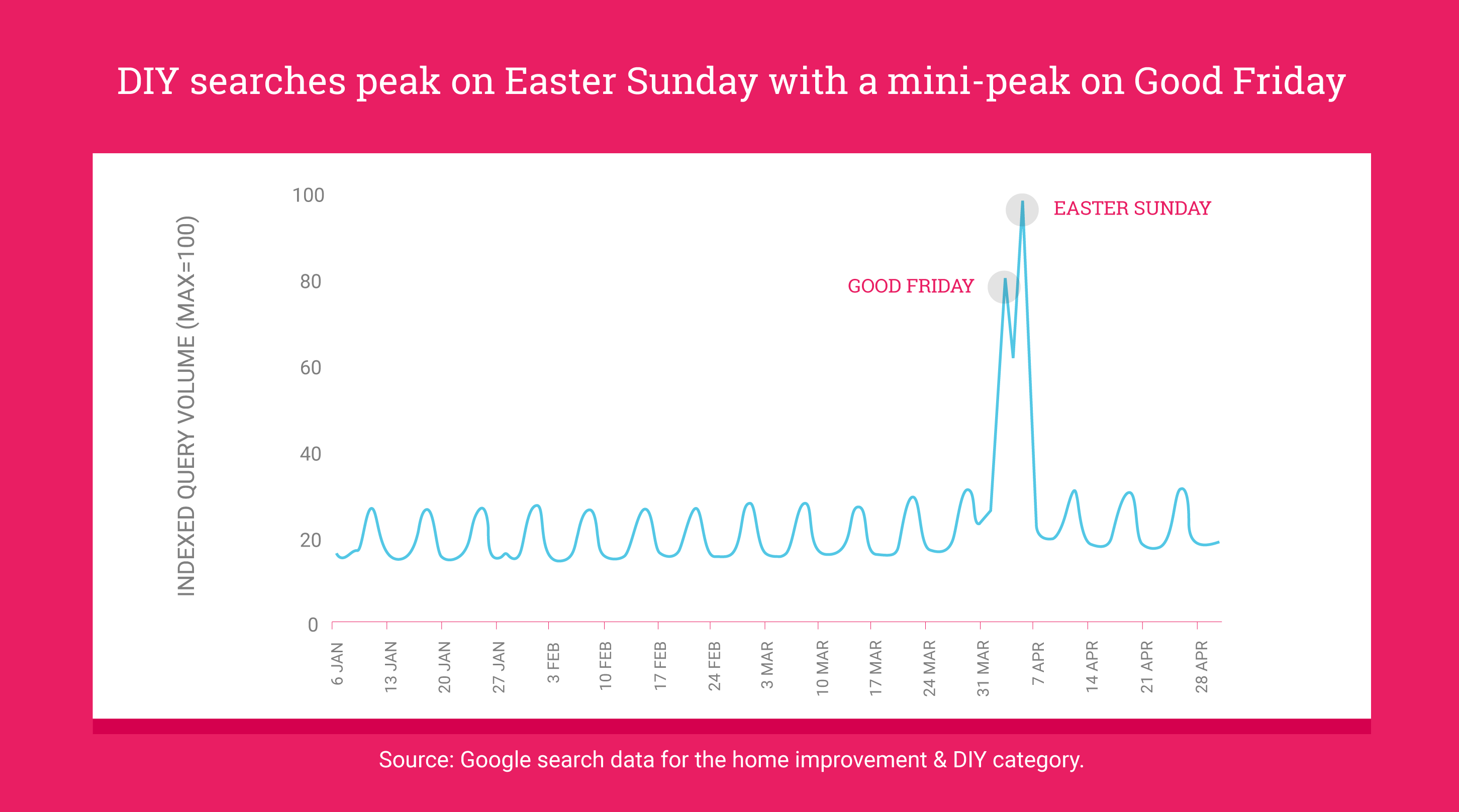 Online to offline dynamics
In terms of actual purchases, furniture is one of the fastest growing retail categories during the Easter period accounting for one third of total retail sales growth over Easter last year3. So in addition to a significant increase in online search activity in home & garden over Easter, we also see that home & garden products such as home furniture fuel overall retail sales growth during this period. This is a clear example of online to offline interaction with online research driving offline purchases.
Be mobile-first this Easter
We know that consumers are searching for DIY during this period but it's also important to know where they are searching. Over 60% of DIY searches on Easter Monday 2015 came from mobile4. Only 20% came from desktop. In 2015 there was a 39% year-on-year growth in product listing ad traffic over the Easter weekend. This was largely driven by mobile, with a 197% increase in mobile phone product listing ads over the same period5. Therefore, a mobile first strategy is crucial to reaching DIY customers this Spring.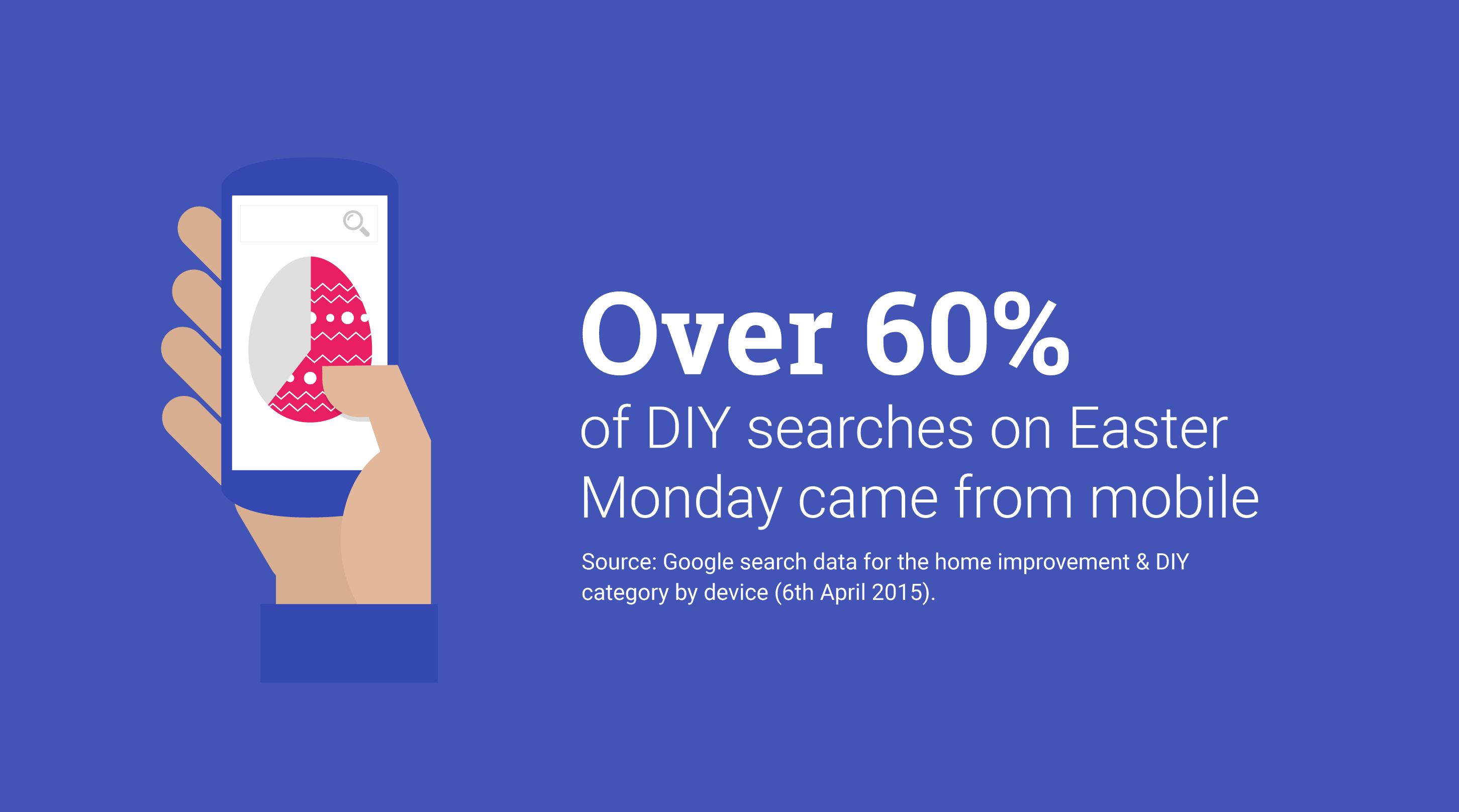 Completing the customer journey
Google Search is only part of the story. Nowadays, consumers are also using YouTube for their online research so it is impossible to get a complete picture of the customer journey without taking YouTube into account. In fact, nearly 500,000 hours of DIY videos were watched over Easter 2015 with an average engagement of three minutes per view. Over two thirds of these viewers were between 25 and 54 - a key demographic for home & garden retailers6. Going into Easter this year, connecting with potential customers on YouTube should be a key pillar of your marketing strategy.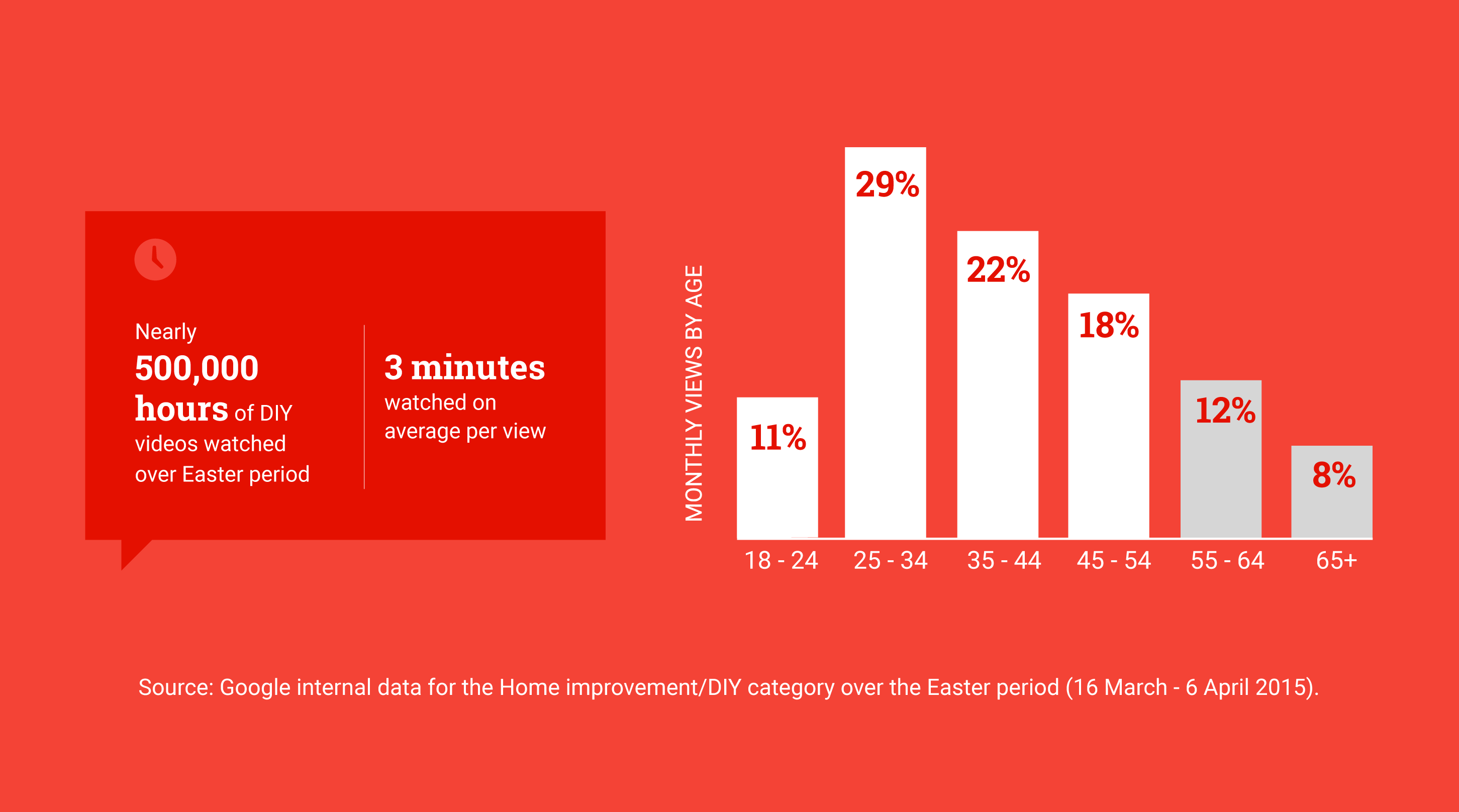 Help customers in their "I-want-to-do" moments
In the DIY sector, the customer journey doesn't stop at the point of sale. For example, when a customer buys laminate flooring, they want to know how to lay it in their living room.
In fact, nearly one third of consumers feel that they lack the necessary skills to carry out DIY work in their homes. Gone are the days of 50 page manuals on building a bookcase. Nowadays, consumers want a more concise, interactive and engaging format. That's why they are turning to YouTube for answers to their DIY questions in the form of "How To" tips and advice. To build brand loyalty and stay connected with your customers this Easter, make sure you have a post-purchase YouTube strategy.
Connecting (the dots) with your customer this Easter
Understanding who the customers are (25-54 year-olds), what they are looking for (home and garden products with a particular focus on DIY) and where they are looking for it (on mobile and also searching on YouTube in addition to Google Search) are the three crucial questions that you should be able to answer to make sure that your Easter 2016 digital strategy is aligned with all stages of the customer journey.