The 2014 World Cup drove a huge amount of online excitement in Great Britain. Far more than in past years, fans searched, shared, and watched YouTube videos and ads - even during the matches themselves. These developments point to massive shifts in consumer behaviour and present new opportunities for advertisers hoping to connect with British football fans.
The World Cup is possibly the most anticipated sporting event in the world. There have been more global searches for the World Cup between 2010 - 2014 than for the Olympics, Tour de France and Super Bowl combined - and those latter two events occur annually. While World Cup fever is not new, what is startling is the way consumer behaviour has changed since 2010. Globally, today's World Cup fan engaged much more heavily with the tournament online than they did in 2010. That was true in Great Britain as well.
Unprecedented Online Engagement with an Offline Event
Great Britain is a sophisticated online market, and has been for a long time. However, the 2014 World Cup showed us that there is still room to grow! For an offline sporting event, the World Cup drew an incredible level of online excitement. Search trends are one indicator of this.

In this year's World Cup, British fans searched more as they engaged with the tournament online. Let's look at a few ways they did so.
The Rise of the Second Screen
Fans were not just consuming football content on their TVs. They searched, shared, and enjoyed football content on their "second screens", too.

This gave advertisers a chance to engage fans during the match, even when TV ads were not airing. With recent research finding 25% of UK men admit to shedding a tear during a football match1, engaging with these passionate fans in the heat of the moment can be incredibly valuable for brands.
Mobile Brought Users Online in Real Time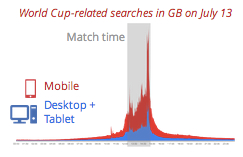 Partly because of the second screen phenomenon, the pattern of search behaviour has changed as well. In 2010, we saw search queries dip during the match, and peak at the end of the game. Not so in 2014. Brits searched throughout the match, with spikes around key moments like penalties and goals. Much of this activity took place on a mobile phone. Mobile searches were 68% of searches on the final match day. Compare that to 2010 when they were 20% of searches during the final! During the last minutes of the 2014 final game, mobile searches were 2x higher than desktop or tablet searches.2
Brands Captivated Fans with Content
All this online consumer interest presented an enormous opportunity for advertisers wishing to engage the UK market. Marketers successfully capitalised on this opportunity with YouTube ads.

Advertisers won with long-form, movie-like content, such as Nike Football's ad "Winner Stays", which was the most viewed video in Great Britain during the World Cup.
The New Playbook
The 2014 World Cup highlights how the British consumer has become even more digitally savvy in recent years. Search has become a common way of engaging with football in the tournament time period and even during matches. Today, no advertiser can afford to ignore the enormous role mobile plays in daily British life, and especially during major sporting events. With such high online interest, we saw video ads on YouTube shine this year like never before. The lesson for marketers is clear: there is a new playbook for brands trying to engage British fans, and it contains a lot of digital plays.