Shoppers search early for back-to-school supplies, while back-to-university shopping is on the up.
Back-to-school means big business for brands. With an estimated retail value of £550m in 2014, it was the second largest retail event after Christmas1, ahead of Easter, Halloween and Bonfire Night. And 2015 looks set to be even bigger, with growth of 19% expected in back-to-school searches.2 But it's not all last-minute panic-buying of PE kit and protractors, because plenty of shoppers are already on the hunt. So advertisers who want to get their attention should put their hands up now.
This year, an impressive 37% of back-to-school shoppers intended to start their research in May and June.3 And figures show that these are more than good intentions – searches for school uniform grants have already begun,4 so top marks there for organisation.
Back to uni via YouTube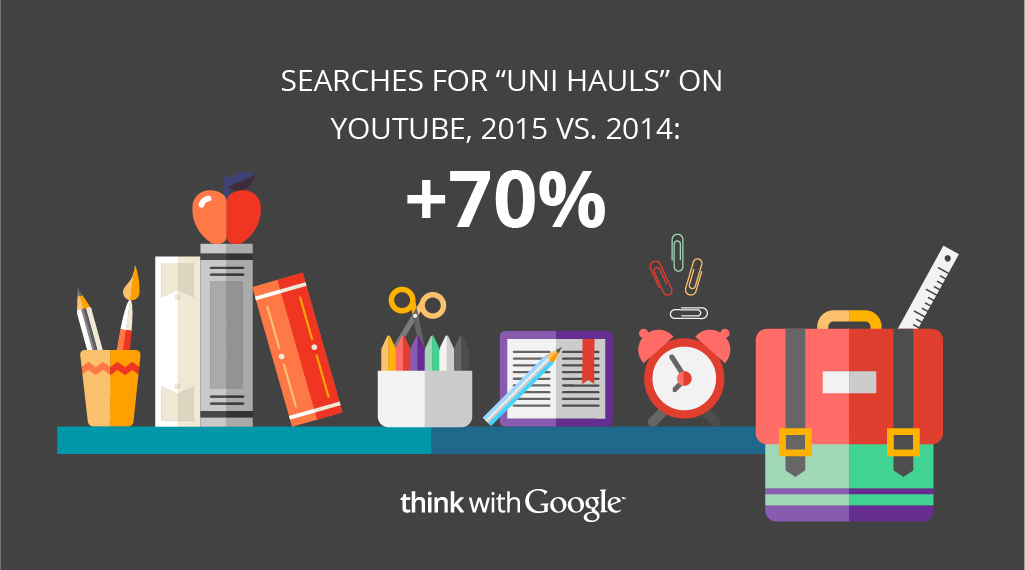 Brands need to school themselves in back-to-university buying habits too. Older students have to equip themselves for life away from home, with practical items, creature comforts and style all firmly on their (or their parents') shopping list. As they start to make their own buying decisions, many for the first time, this is a great opportunity for brands to win new and potentially life-long customers.
Electrical, decor and homeware products see a surge in interest during the back-to-uni period. Searches for decorative throws and pillows saw 20% month-on-month growth in August last year, as students planned to brighten up and personalise that basic room in halls. Small kitchen appliances also saw growth of 16%.2 After all, the humble toasted sandwich-maker is every student's life-saver...
And fashion is important too, with students finding inspiration for their uni style on using YouTube, where searches for uni hauls have rocketed by 70% this year.2 In fact, back-to-school-related YouTube videos got an eye-popping 385m views in 2014 – so brands have the chance to make a big impact by having a strong YouTube presence and providing useful tailored content.
It's a family affair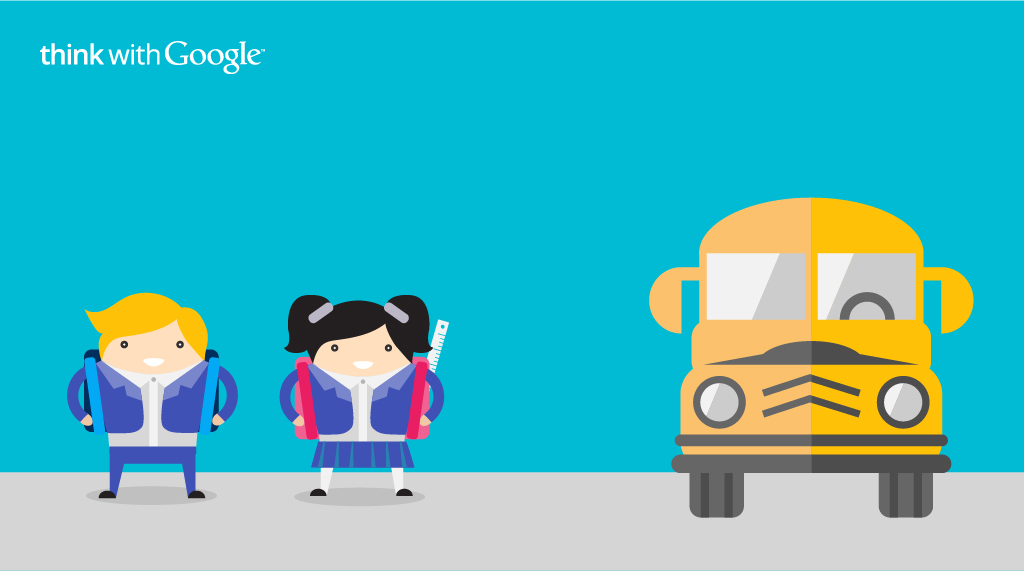 Women are top of the shoppers at this period, being 26% more likely to make back-to-school purchases. However, this year almost 20% of men are shopping for these products too. The most likely-to-buy age group is the 35-44 year olds, with 30% of the people who are buying for back-to-school coming from this age range.3
But brands also need to cater to the little ones. Kids can be very aware of what's hot (or cool), so keeping an eye on the latest trends is vital. Last year's rising searches included Disney's Frozen and Minecraft school bags, while top-of-the-class backpacks included those styled with the ubiquitous emoji along with PewDiePie (a gaming YouTube creator)-branded backpacks.
The ever-extending back-to-school-and-uni retail period holds great opportunities for brands. All it takes is a bit of homework.